Have you considered upgrading your Frenchie's diet this season? On that note, including fresh fruits and veggies is always a good idea – but you need to be careful with your choices.
Blueberries are a great refreshment alternative, and they're a well-known source of vitamin C – for you. The question here is, can French Bulldogs eat blueberries?
If you want to find out the answer – and learn more about including blueberries in your pup's diet – you're gonna have to scroll down!
In A Nutshell: 
Blueberries are allowed in your Frenchie's diet, but only as a treat!
How Healthy Blueberries Are For French Bulldogs?
If this was your choice, then you're in luck. Blueberries are among the first on the list of healthy – and highly recommended – fruits for your pup.
No, blueberries are not toxic. There's no need to worry about accidentally poisoning your French Bulldog pup. 
While we're at it, take a look at the nutritional value of 100 grams of fresh blueberries:
Calories: 57 kcal

Fiber: 2.4 grams

Water: 84%

Protein: 0.7 grams

Vitamin C: 9.7 mg 

Vitamin K: 19.3 mg 
Blackberries have a similar nutritional value and are also very good for Frenchies.
The Pros Of Feeding Your French Bulldog Blueberries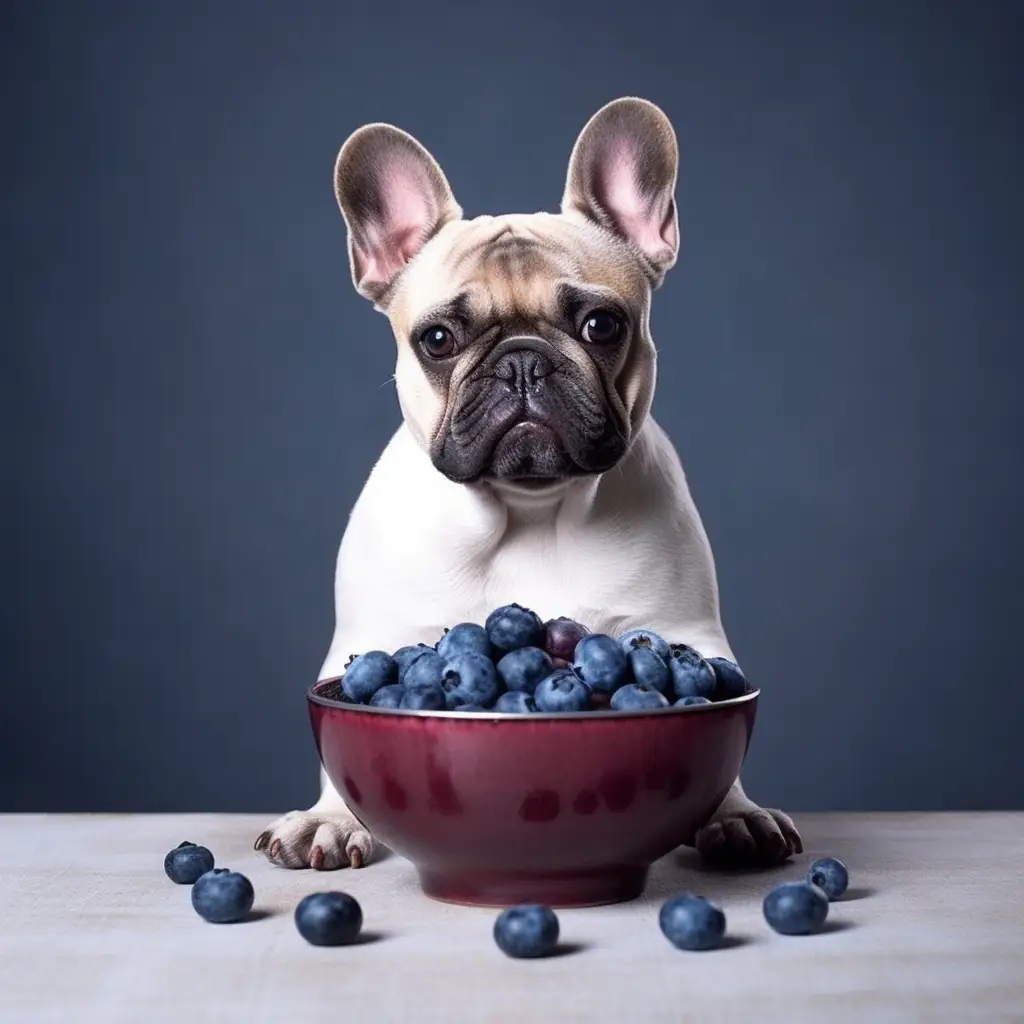 No wonder blueberries are often called superfoods. This fruit, when consumed in normal amounts, can bring many health benefits.
Since it's perfectly fine for your Frenchie to snack on some blueberries, here are a few additional reasons why you should include this fruit in your dog's meals:
Blueberries contain antioxidants that are very important in maintaining a strong immune system – and your Frenchie needs all the vitamins it can get, especially when it's not feeling so well.
Blueberries have the highest antioxidant levels among dog-safe fruits, and they're famous for their protective properties.
As your Frenchie gets old, it will surely start to lose its night vision. On a related note, it's important to mention that this does not happen at the same pace with all dog breeds.
Thankfully, French Bulldogs do not fall into the critical category, but that is not a reason to deprive them of the vitamins that blueberries provide. 
Adding this fruit to your pup's diet can slow down the age-related degradation of sight.
Check Our Currently Popular Products:
Promote Regular Bowel Movements
In case your French Bulldog has eaten something spoiled or is currently suffering from a gastrointestinal infection, you should consider including a few blueberries in its food bowl.
A high percentage of water contained in blueberries can help promote regular bowel movements and treat diarrhea.
Internal health definitely takes the first place, but every owner would like their pet to have a shiny and healthy coat. Well, blueberries can do that, too.
Since they are loaded with antioxidants, consuming blueberries can help prevent skin inflammation and keep your dog's coat thick, shiny, and moisturized.
Blueberries: When & How Much To Give Them To French Bulldogs?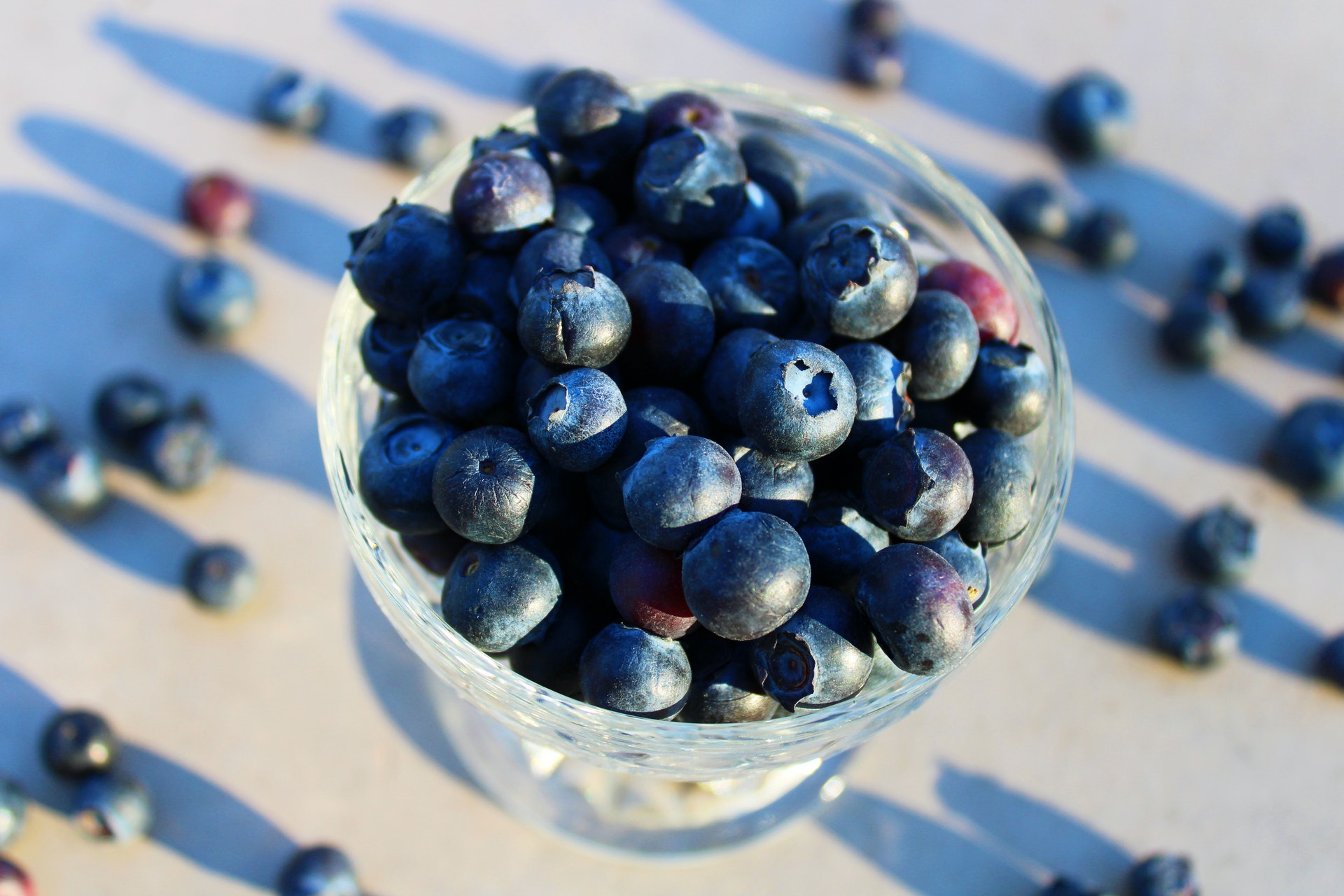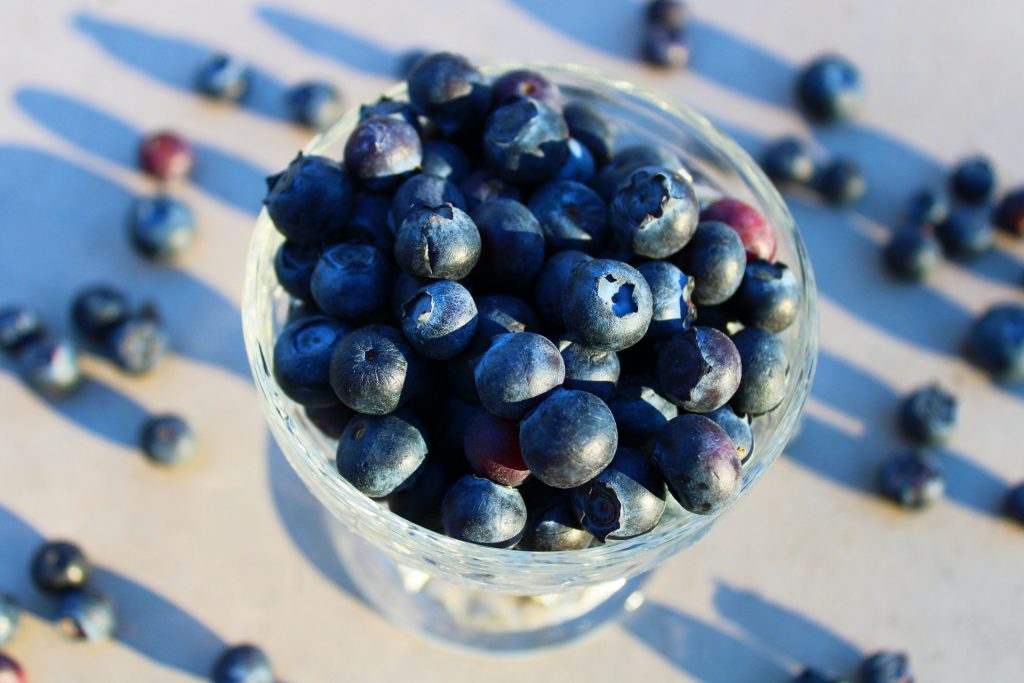 Blueberries should definitely be on your French Bulldog's food list – but in moderation.
This fruit, no matter how healthy, is not considered a staple dog food. 
According to experts, blueberries should occupy no more than 10% of your dog's food portion.
When it comes to a weekly dose, it's safe to feed your Frenchie blueberries every other day, but don't overdo it.
Things To Know Before Feeding Your French Bulldog Blueberries
While this fruit is a healthy choice, you can't just go and feed a dog blueberries that you picked a second ago.
Before you feed them to your dog, there are a couple of things that you should know:
If you picked them from a tree, make sure that they're pesticide-free.

If you bought them from the market, avoid the dried ones.

Your dog can eat both fresh and frozen blueberries.

Wash them well before serving. Make sure that you get rid of all the dirt.

Ten blueberries is an ideal amount for a dog meal.
Possible Side Effects Of Consuming Too Many Blueberries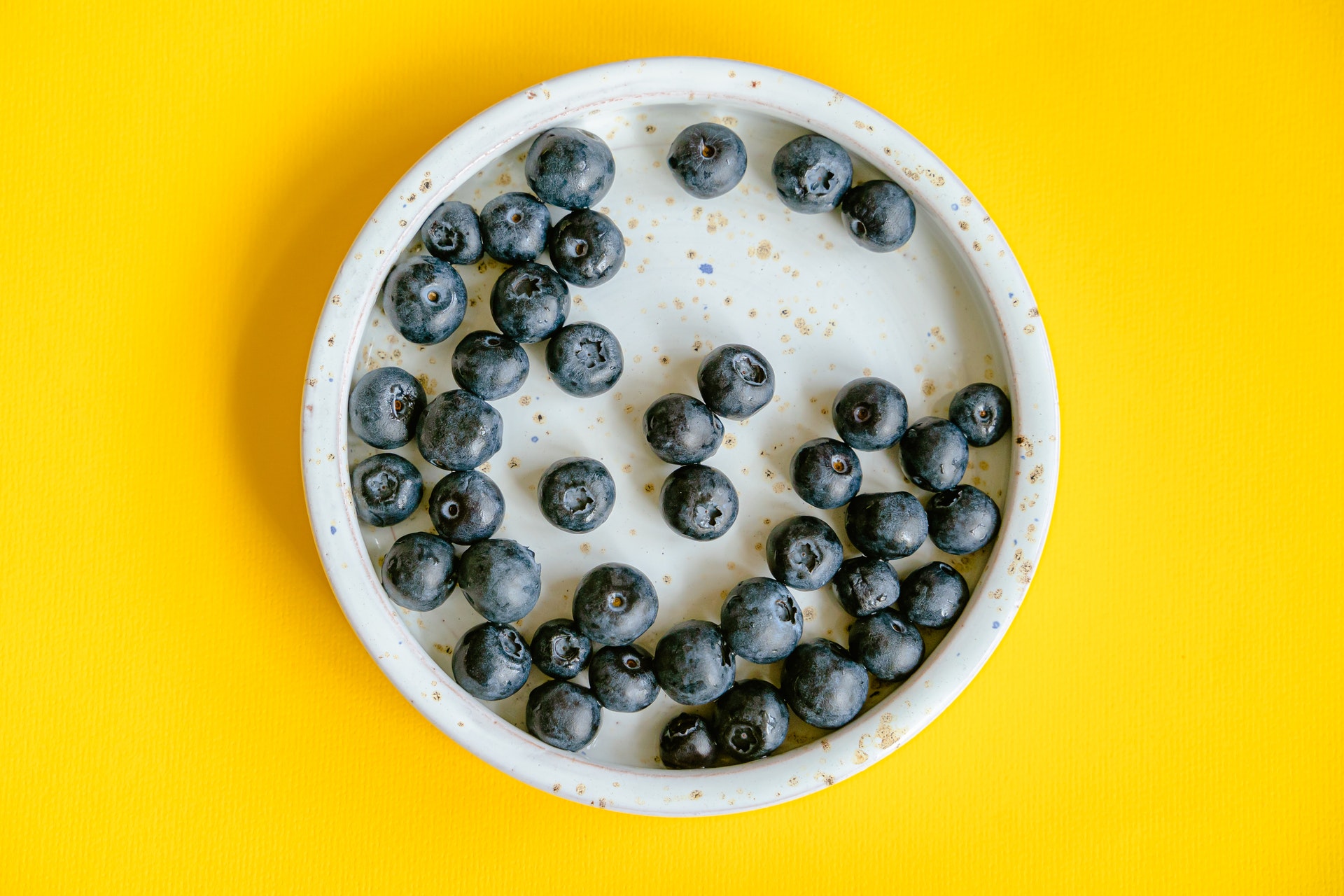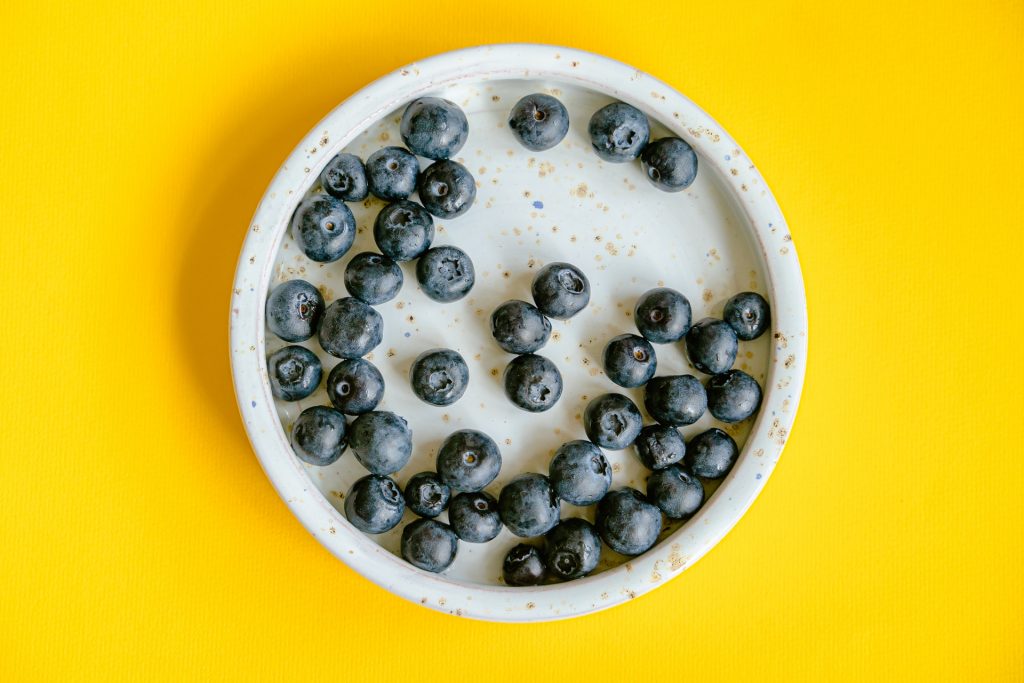 If you don't pay attention to the number of blueberries you put in your dog's meal, this can easily upset its stomach and cause constipation.
Eating an alarming amount of blueberries – or eating spoiled ones – can cause severe gastrointestinal issues with your Frenchie. That's why you should always double-check these fruits for any pesticides and control the amount they eat.
The same rule goes for other fruit, apples for example.
Are French Bulldogs Allergic To Blueberries?
Although it's improbable, French Bulldogs can develop an allergic reaction to blueberries. In that case, this fruit goes from "beneficial" to "forbidden."
Allergic reactions are more or less the same for all dog breeds out there. The key is noticing the early signs in time and saving your dog from unwanted side effects.
If your French Bulldog is allergic to blueberries, it'll display some of the following symptoms:
Itchy skin

Vomiting

Diarrhea

Skin infection

Bloating

Ear infection

Inflammation
Frenchies & Blueberries - All Your Questions Answered
Q: Are There Blueberries In Dog Food?
Yes, certain dog food brands include frozen fruit such as blueberries. When buying, you should be extra careful with the expiration dates.
Q: Can My Frenchie Die From Too Many Blueberries?
No, French Bulldogs are not in danger of dying after consuming an excess amount of blueberries. The worst-case scenario involves a surgical procedure, though.
Q: At What Time Of Day Should I Feed My Dog Blueberries?
There's no set time for when it's best to give your Frenchie blueberries, but most owners like to include them in the main meal.
Q: How To Encourage My French Bulldog To Eat Blueberries?
If your dog is used to eating unhealthy food, it might be harder to get it to snack on blueberries instead of the usual treats.
You can start by dropping them on the floor. If your dog starts picking up the blueberries and eating them, you're on the right track.
Conclusion: Can French Bulldogs Eat Blueberries?
The final answer is YES.
French Bulldogs are allowed to eat blueberries, but not as an everyday food. These fruits are intended to be consumed as additional treats to the main meal.
Consuming blueberries in moderate amounts can bring many health benefits to your French Bulldog. For example, this fruit is an excellent source of antioxidants, and it can help prevent age-related degradation of sight.
If your Frenchie eats too many blueberries at once, this fruit can upset its stomach. Also, there's always a slight possibility that your dog's allergic to blueberries, so keep an eye out for some common symptoms.
Know something we don't?
If you think there's something we haven't mentioned here, and you think it should be, we encourage you to join the discussion!
We're always looking for new ways to improve our content, and your fresh ideas are always welcome.
You can also help us share this article with French Bulldog owners from all around the world.
Have a good one!
About

Johnny

Johnny, a Frenchie owner and enthusiast, shares his wealth of knowledge on training and caring for French Bulldogs. When not writing, he enjoys hiking and time in nature with his pets.