Believe it or not, people are very interested in knowing the answer to the question: 
Can French bulldog eat milkshake?
It's one of those trending topics among French bulldog owners. It must be because milkshakes are so tasty – and we always want our four-legged friends to take part in everything good.
So, let's find out the answer together!
Quick answer: Unfortunately, no, your Frenchie is not allowed to enjoy a milkshake with you. It doesn't matter whether it is chocolate, strawberry, or vanilla milkshake – all flavors are forbidden!
Why Can't French Bulldogs Eat Milkshakes?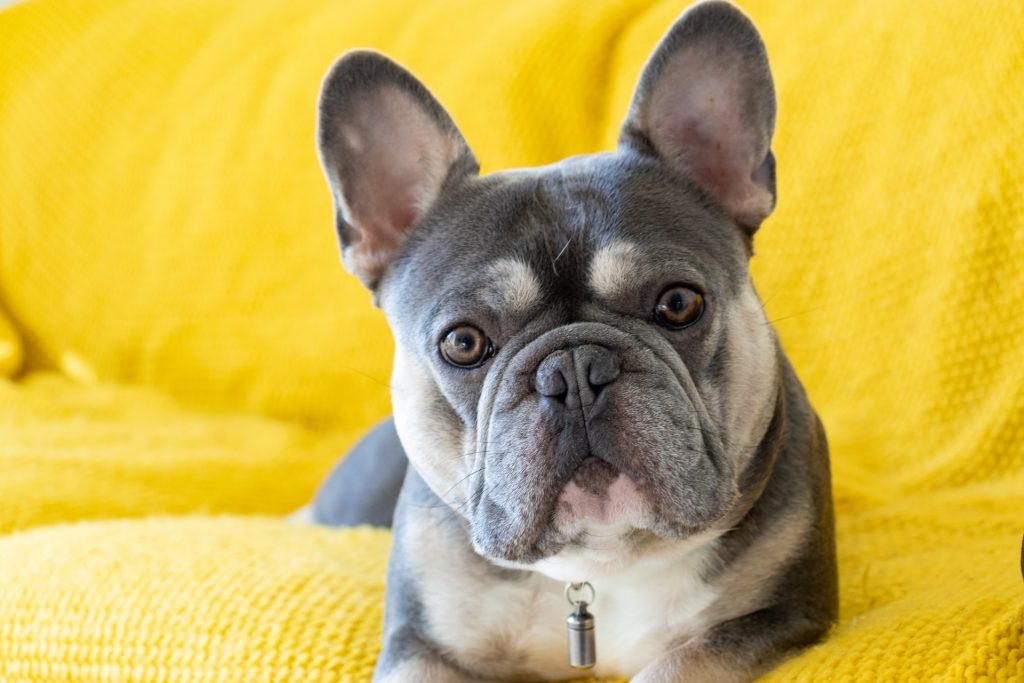 We've yet to meet a person that does not love milkshakes. Dogs seem tempted too, and they often charge at their owners for a lick of this sweet and refreshing delight and a brief moment of pleasure! 
So, what should you do when your Frenchie looks at you with those big puppy eyes begging for a taste of your milkshake? Should you give in?
No, you should never allow your Frenchie to eat a milkshake. Sorry, but it's out of the question.
Why aren't French bulldogs allowed to eat milkshakes?
Well, for starters, milkshakes are strictly forbidden for all dogs, not just Frenchies. It is a big NO! 
There are numerous reasons for this "prohibition." 
First of all, most of the ingredients found in a milkshake are in no way beneficial for dogs. Some ingredients – such as sugar, fat, and chocolate – could even endanger your Frenchie's health.
There is no milkshake formula good for our four-legged friends. It is simply not meant for dogs. Your Frenchie has to miss out on this treat. 
If you are keen to share an icy treat with your dog, you can buy an ice cream specially designed for dogs. Yes, that's a thing – and several brands make great-tasting doggy ice creams that your Frenchie is sure to like. 
The great news about them is that they're a healthy treat as long as fed moderately. These doggy ice-creams are the closest to milkshakes your French bulldog can ever get.
What about homemade milkshakes?
Your hopes might have lingered on a healthy homemade milkshake, but we are sorry – those are off-limits too! 
You cannot make a milkshake with no dairy and sugar, and your dog should have neither:
Dogs do not tolerate sugar and lactose well. Many dogs are allergic to lactose, too. And even if your Frenchie is not, it could still end up experiencing upset stomach symptoms after consuming lactose. 
There's no doubt that homemade shakes can be much healthier than fast-food milkshakes. The fast-food version is, by definition, packed with sugar and some dangerous ingredients, such as additives and artificial flavorings that can harm your Frenchie's stomach. 
These milkshakes come with a big red flag – and you must keep your French bulldog away from them. In fact, you should stay away, too. They're not good for you or your four-legged bestie! 
Why can't dogs digest dairy products?
Our canine friends do not have an enzyme called lactase and are thus unable to digest sugars in milk; this is yet another reason for you not to feed your Frenchie milkshakes. Opt for ice cream for dogs instead.
The Most Frequently Asked Questions
It's time to go over the most frequently asked questions. 
Why is that important? 
A responsible dog owner must consider everything – and take an active part in informing other dog owners on important topics such as nutrition and health. In this way, the world transforms into a better place for our four-legged friends.
Q: What's the nutritional value of a milkshake?
A: It depends on the type of the milkshake, the ingredients, and the quantities. The table below highlights the nutritional value per 100 grams of the most common milkshakes:
Vanilla Milkshake
Strawberry Milkshake
Chocolate Milkshake
Calories: 112
Fat: 2-4 grams
Cholesterol: 12 mg
Sugar:15-18 grams
Sodium: 90 mg
Potassium: 160-190 mg
Protein: 3-5 grams
Calories: 160 
Fat: 4-6 grams
Cholesterol: 14 mg
Sugar:20-25 grams
Sodium: 50 mg
Potassium: 160-190 mg
Protein: 3-5 grams
Calories: 160
Fat: 3-6 grams
Cholesterol: 15 mg
Sugar:22-26 grams
Sodium: 70 mg
Potassium: 200-230 mg
Protein: 3-5 grams
Q: What dosage of milkshake is healthy for your Frenchie?
A: None. We have already warned you – never feed your Frenchie milkshakes. You can choose from an array of far tastier and healthier treats for your French bulldog. 
Q: Are French bulldogs particularly sensitive to milkshakes?
A: No, French bulldogs aren't specifically sensitive to any of the ingredients in milkshakes – nor is any other dog breed. However, you must remember that most dogs are lactose intolerant and experience digestive issues when consuming dairy products. 
Many of them are allergic to lactose as well – and can be in danger if they ingest it.
Q: What are the symptoms of lactose allergies in dogs?
A: Lactose intolerance is relatively common among our canine friends. If your French bulldog is allergic to lactose, too, they will most likely exhibit some of the following symptoms:
Nausea
Vomiting
Diarrhea
Dehydration
Abdominal Pain
Bloating
Excessive thirst
These symptoms are the most common ones – but you should contact your vet whenever you notice anything unusual about your French bulldog. 
Final Words: Can French Bulldogs Eat Milkshakes?
NO! It is important to remember this and spread the word among other pet owners: 
Milkshakes can cause serious digestive problems for our four-legged friends. It doesn't matter if they are homemade!
Pretty much all milkshake ingredients can be harmful to your pooch. So, why would you even consider it?
If you are determined that your Frenchie should have a chance to enjoy a cold summer treat while you sip your milkshake, buy them an ice cream made especially for dogs. It'll be tasty, healthy, and safe for your pup.
If you have some additional info, please share it with us. 
We appreciate your input and experiences. After all, we all share a common goal – making the world a safer place for our Frenchies! And for the very same reason, please share this article and spread the good word!