Melon or a cantaloupe is a delicious watery fruit that hardly anyone can resist during the hot summer days. If you often enjoy the refreshing taste of this summer treat, you surely want to share it with your best friend, too. 
The question is: Can French Bulldog eat melon? 
Quick answer:
Yes! What's more, dogs enjoy munching on juicy cantaloupes. As long as you're careful and follow a few simple rules, you and your Frenchie can share an occasional slice of melon, as well.
Are Melons Safe For Your French Bulldog To Eat?
Your Frenchie can safely enjoy a cantaloupe as long as you do not overdo it. Generally, all fruit and veggies that are safe for canines should be consumed in moderation. 
The canine diet must be based on animal proteins, after all.
Your French bulldog will most likely be a huge fan of melons; most dogs are. They seem to really enjoy its sweetness, wateriness, and crunchy texture. 
It's not a bad thing since melons are fantastic and packed with beneficial vitamins and minerals.
Moreover, melons are a great source of antioxidants. And as you know, antioxidants can do wonders for your pet's health. They reduce the risk of cancer, cardiovascular diseases, and the effects of aging. 
Even more so, if your dog is exposed to environmental pollutants such as cigarette smoke, pesticides, and household cleaning chemicals, a diet rich in antioxidants can help prevent damage to his or her cells.
What Happens If Your French Bulldog Eats A Large Portion Of The Melon?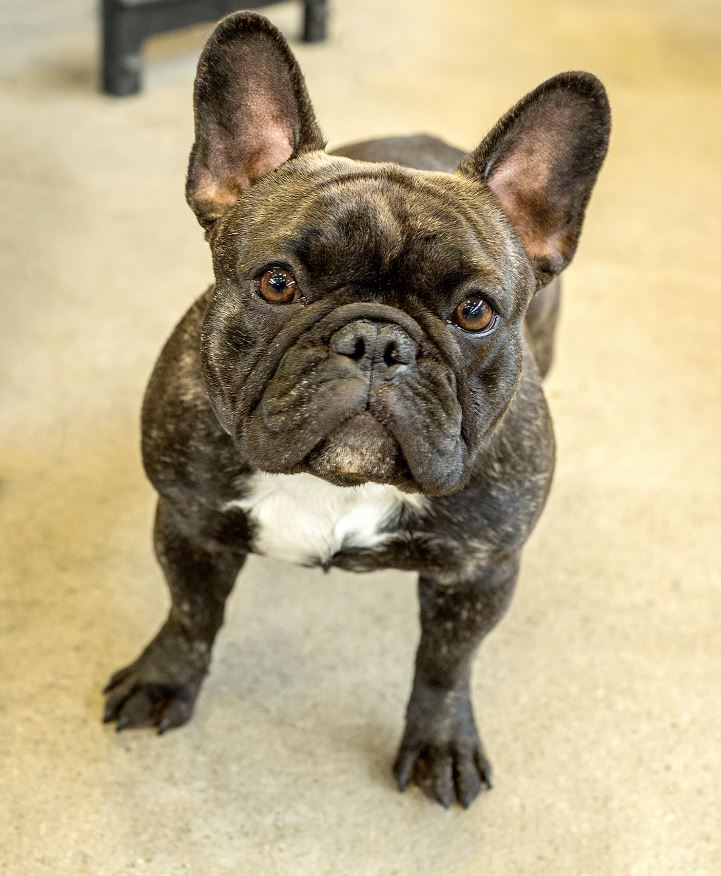 As we've already explained, melon can be beneficial for your Frenchie's health only if you make sure not to exceed the maximum dosage. In case you overdo it, your pet can experience some problems. 
Therefore, do not allow your dog to eat as much cantaloupe as its little heart desires. 
We all know that when it comes to matters of eating to its heart's content, things can go terribly wrong. 
Canines are meat-eaters. Therefore, fruits and veggies will do them good only in small doses. Too much melon will end up running through their body and causing diarrhea.
How To Feed Your Frenchie A Melon?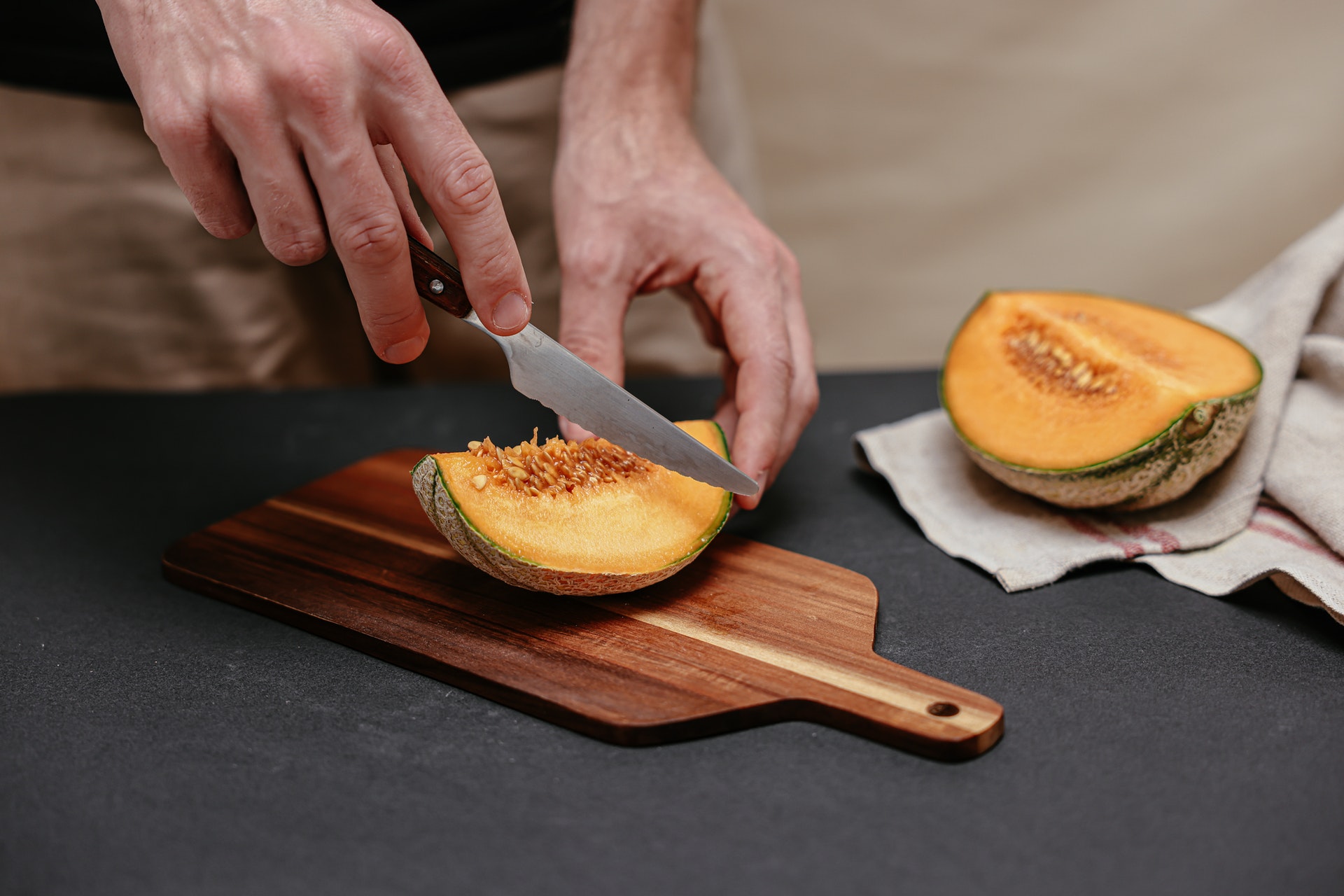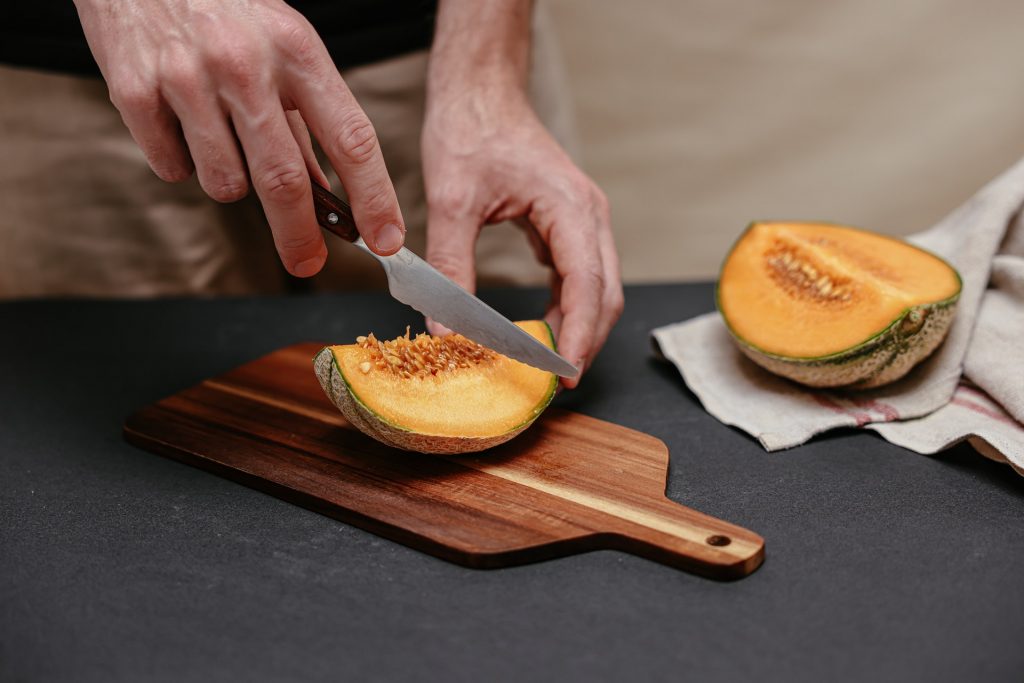 French bulldogs are small dogs, and a little bit of melon can go a long way. The best approach is to offer them a few small pieces of melon as a treat. Same goes for watermelon.
Try not to do it every day, though; two or three times per week will suffice.
How to serve melon to your furry friend?
First of all, remove the outer skin. It is thick, and dogs find it difficult to chew. The best thing is to eliminate any risk of your Frenchie choking on it. 
Next, remove all the seeds, as well. They are not very digestible and can prove to be a nuisance when stuck between your pet's teeth. 
Currently HOT in our store:
Once all the unwanted parts are removed, cut the melon into small pieces suitable for your little friend. Avoid feeding your pet melon right before the main meal; it would be best to serve it a few hours before. 
Are melon smoothies ok, too?
No! Do not even consider it! 
We're sure your Frenchie would find it delicious, but mixing melon with sugar and dairy products will surely make your pooch ill. Neither milkshakes nor smoothies are safe for canines in any form whatsoever. 
If your French bulldog has some by accident, consult the vet as soon as possible and try to prevent the dire consequences. 
Frequently Asked Questions
It's time to go over the most frequently asked questions. Make sure you read through it all so that you can become the best possible dog owner. You owe it to your Frenchie!  
Q: What's the nutritional value of a melon?
A:  In order to better understand all the pros and cons of feeding melon to your Frenchie, you should consider its nutritional value. 
The following chart outlines the estimated amount of nutrients per one cup (177 grams) of melon:
Calories

60.3 calories

Water

160 grams

Sugar

13.9 grams

Carbohydrates

15.6 grams

Fat

0.3 grams

Protein

1.5 grams

Vitamins

5987 IU of vitamin A

65.0 mg of vitamin C

4.4 mcg of vitamin K

13.5 mg of choline

0.1 mg of vitamin B6

Omega Fatty Acids

81.4 mg of Omega-3 fatty acids

62.0 mg of Omega-6 fatty acids

Minerals

15.9 mg of calcium

0.4 mg of iron

21.2 mg of magnesium

26.5 mg of phosphorus

28.3 mg of sodium

0.3 mg of zinc

Phytosterols

17.7 mg
Phytosterol, also known as plant sterol, is a compound related to cholesterol. It belongs to the group of heart-healthy nutrients since it helps lower cholesterol.
Q: What dosage of melon is safe for your French bulldog?
A: If you've prepared the melon properly – cleaned it, removed the skin and seeds, and cut it into small pieces – you can serve your Frenchie around half a cup every two to three days. Alternatively, you can give a few pieces of melon as a treat.
Q: Are any breeds of dogs specifically sensitive to melons?
A: Not specifically, but some breeds of dogs have more sensitive stomachs than others – for example, Scottish Terriers and Yorkies. French bulldog puppies, and puppies in general, should not eat melons.
Q: What are the symptoms of a canine allergic reaction to melon?
A: If you notice any unusual behavior or symptoms after your Frenchie has eaten some melon, contact your vet as soon as possible. 
The most common signs of allergic reactions in dogs to look for are:
Gases

Vomiting

Diarrhea or constipation

Grass-eating

Stomach pain
Conclusion: Can My French Bulldog Eat Melons?
Feeding your Frenchie some melons from time to time will significantly benefit their health. Melons are packed with valuable nutrients such as vitamin C. 
Even though dogs, unlike humans, can produce this vitamin on their own, they do require some help as they grow older. 
Besides, an abundance of antioxidants is what makes melons stand out. They help older dogs fight off potential diseases such as cancer. 
Regardless of all the benefits that melons bring to the table, you should still feed them to your Frenchie in moderation. Half a cup of melon every two to three days or an occasional melon treat will be more than enough. If you overdo it, expect stomach issues or diarrhea.
If you know something we failed to share, please share it with us. Your input and experiences are valuable to French bulldog owners worldwide!
About

Johnny

Johnny, a Frenchie owner and enthusiast, shares his wealth of knowledge on training and caring for French Bulldogs. When not writing, he enjoys hiking and time in nature with his pets.