Last Update:

July 13, 2023
Avocados are a well-known superfood, but is this popular fruit a healthy choice for your French Bulldog?
You can't help but wonder, can French bulldogs eat avocado? 
Today, we'll look at a question that many French bulldog owners have. Join us in learning more about this fruit and how it affects our canine companions.
Quick Answer:
The short answer is no, avocados aren't recommended for Frenchies. The only possibility of your Frenchie eating avocado without any risks is when it's skinned, pitted, and in very small amounts, on rare occasions.
Let's dive into the details and explore the reasons behind this surprising fact.
Read on to ensure your Frenchie's diet is as healthy and safe as possible!
Can French Bulldogs Eat Avocados? Unpacking the Truth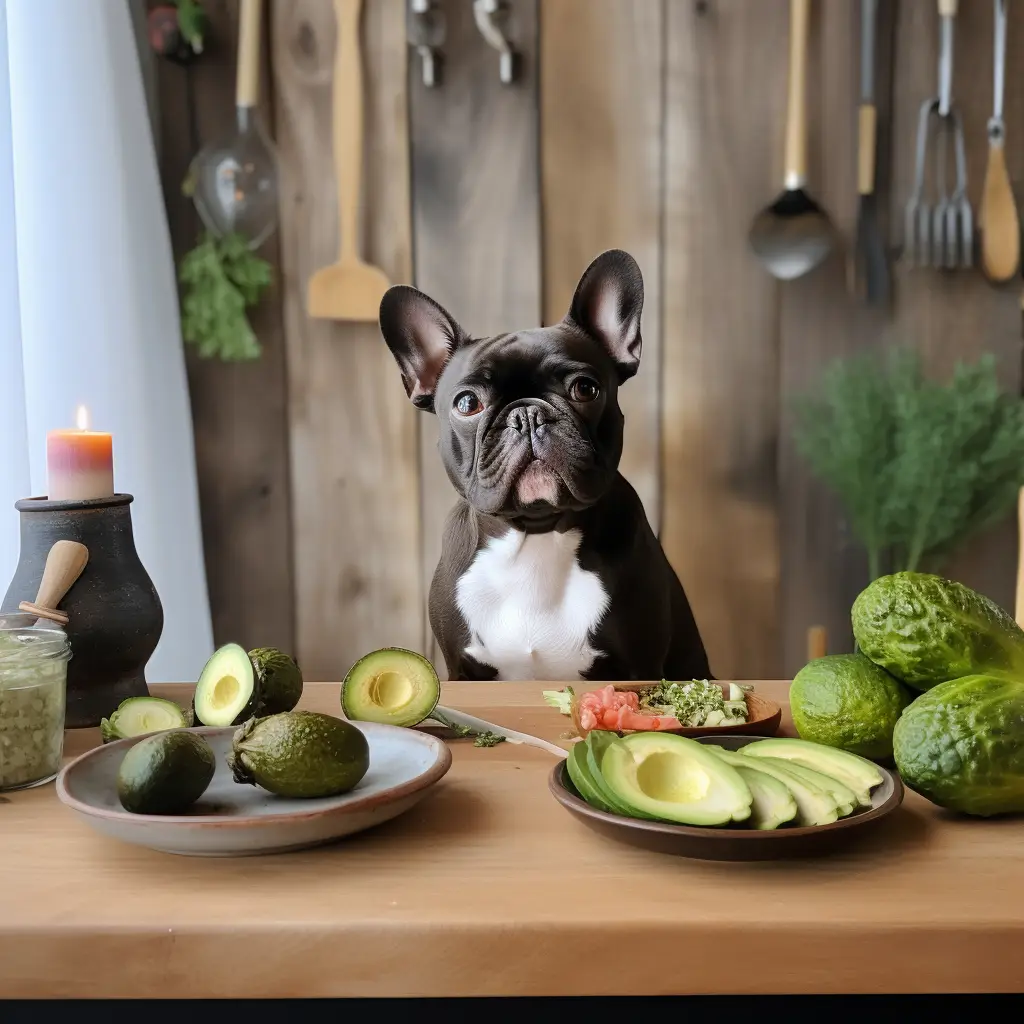 You've probably heard about the health benefits of avocados for humans, but what about our French Bulldog friends? Can they enjoy this creamy superfood too? The answer, surprisingly, is no. Avocados are not recommended for French Bulldogs, or any dogs for that matter.
Why is this so? Avocados contain a toxin called persin, which is harmless to humans but can cause serious health problems in dogs. According to a report by the Pet Poison Helpline, while the amount of persin in an avocado varies, it's generally agreed upon by veterinarians that it's best to err on the side of caution and keep avocados off your Frenchie's menu.
Symptoms of persin poisoning in dogs can include vomiting, diarrhea, and lack of appetite. In severe cases, it can lead to heart failure. Plus, the large pit in the center of an avocado poses a choking hazard and can cause an intestinal blockage if swallowed.
While it might be tempting to share a bit of your avocado toast with your Frenchie, it's best to resist. There are plenty of other healthy foods that are safe for French Bulldogs to eat. In fact, we've compiled a list of human foods that your Frenchie can safely enjoy. So, let's keep the avocados to ourselves and explore other nutritious options for our furry friends.
Understanding French Bulldogs: The Avocado Dilemma and Similar Foods
French Bulldogs, like all dogs, have specific dietary needs that differ significantly from ours. While we can enjoy a wide variety of fruits and vegetables, including avocados, our Frenchies need to be more selective.
Avocados, as we've learned, contain persin, a toxin that can cause health issues in dogs. But what about other fruits and vegetables? Are there similar foods that French Bulldogs should avoid, or can they safely enjoy a broader range of produce?
When it comes to fruits similar to avocados, such as bananas, the answer is more positive. Bananas are safe for French Bulldogs in moderation, providing a good source of vitamins and fiber. However, they should be given sparingly due to their high sugar content.
On the other hand, grapes and raisins are a definite no-no. Just like avocados, they contain toxins that can lead to serious health problems in dogs, including kidney failure.
As for vegetables, many are safe and even beneficial for French Bulldogs. Carrots, for example, are a great low-calorie snack that can help keep your Frenchie's teeth clean. But not all vegetables are safe. Onions and garlic, for instance, can cause anemia in dogs.
The key takeaway here is that while some fruits and vegetables are safe for French Bulldogs, others, like avocados, can be harmful. Always do your research or consult with a vet before introducing a new food into your Frenchie's diet.
In the next section, we'll take a closer look at the nutritional breakdown and benefits of avocados, and why, despite these benefits, they're not suitable for our French Bulldog friends.
Our Store's Star Performers: A Peek into the Top 2 Favourites
Avocados: Nutritional Breakdown and Why They're Not for Frenchies
Avocados are a nutritional powerhouse for humans, packed with a variety of nutrients. Here's a breakdown of the key nutrients found in avocados and their significance for French Bulldogs:
| Nutrient | Importance for French Bulldogs |
| --- | --- |
| Healthy Fats | While fats are essential for energy and absorption of certain vitamins, too much, especially from avocados, can lead to gastrointestinal upset and pancreatitis. |
| Fiber | Beneficial for digestion, but avocados contain more than a Frenchie's system can comfortably handle. |
| Vitamin K | Important for blood clotting, but French Bulldogs typically get enough from their regular diet. |
| Vitamin E | An antioxidant that helps protect body cells, but excess can cause health issues. |
| Vitamin C | While beneficial for immune function, dogs naturally produce Vitamin C, so supplementation is unnecessary. |
| B-Vitamins | Essential for various body functions, but excess, especially of certain types, can be harmful. |
| Potassium | Important for muscle and nerve function, but too much can cause heart problems. |
| Magnesium | Crucial for many body processes, but excess can lead to muscle weakness and heart issues. |
Despite the nutritional benefits of avocados for humans, they're not suitable for French Bulldogs. The presence of persin, a toxin harmful to dogs, and the high-fat content, make avocados a risky choice. Plus, the large pit poses a choking hazard and potential for intestinal blockage.
Understanding the potential risks of feeding avocados to French Bulldogs is crucial. In the next section, we'll delve deeper into these risks, equipping you with the knowledge to ensure your Frenchie's diet is both nutritious and safe.
Potential Risks: Beyond Persin - Other Dangers of Avocados for French Bulldogs
While we've already touched on the presence of persin in avocados and the potential health issues it can cause in French Bulldogs, it's important to understand that this isn't the only risk. Avocados, despite their nutritional profile, come with other hazards that make them a less-than-ideal choice for your Frenchie's diet.
One significant concern is the high-fat content in avocados. 
While these fats are healthy for humans, they can be problematic for French Bulldogs. Dogs, especially small breeds like Frenchies, are prone to pancreatitis, an inflammation of the pancreas that can be triggered by consuming high-fat foods. Symptoms of pancreatitis can range from mild gastrointestinal upset to severe abdominal pain and life-threatening complications.
Another risk is the potential for an intestinal blockage caused by the large avocado pit. 
If your Frenchie accidentally swallows the pit, it could become lodged in their esophagus, stomach, or intestines, leading to a potentially life-threatening situation. Symptoms of an intestinal blockage can include vomiting, abdominal pain, loss of appetite, and lethargy.
Lastly, the smooth, slippery skin of the avocado can also pose a choking hazard.
If your Frenchie tries to eat the skin, they could easily choke.
In the next section, we'll hear from the experts. What do veterinarians say about feeding avocados to French Bulldogs? Their insights will provide further clarity on this topic.
Veterinary Insights: Expert Opinions on Feeding Avocados to French Bulldogs
When it comes to the health of our French Bulldogs, expert advice is invaluable. Let's see what veterinarians have to say about feeding avocados to dogs.
Dr. Sandra C. Mitchell, DVM, acknowledges that while the flesh of an avocado is mildly toxic to dogs, a small slice of peeled avocado is unlikely to make your dog sick source. However, she doesn't explicitly recommend avocados as a part of a dog's diet.
On the other hand, Tina Wismer, DVM, the senior director at the ASPCA Animal Poison Control Center, warns that avocados can be problematic for some dogs due to their high fat content, which can cause vomiting and diarrhea.
The American Kennel Club also advises caution, stating that while dogs are more resistant to persin than other animals, avocados are not 100% safe for dogs to consume. Persin is present in the avocado fruit, pits, leaves, and the plant itself, making all these parts potentially poisonous to dogs.
Our Store's Star Performers: A Peek into the Top 2 Favourites
Frequently Asked Questions
Let's look at a few of the most commonly asked questions. It's essential to examine everything, not only for our personal education – but also for the education of other French bulldog owners.
Q: What dosage of avocado is healthy?
Even though we don't recommend feeding avocado to French bulldogs in general, if you really can't resist those begging eyes, then go for 20-30 grams of skinned and pitted avocado per week, up to 60 grams max. 
PLEASE CONSULT YOUR VET WHEN FEEDING AVOCADO YOUR FRENCH BULLDOG
Q: What are the signs of avocado allergies?
That is quite unlikely to occur because avocado allergies are pretty uncommon. Despite this, there is a significant problem with avocados – the seed. 
It has the potential to obstruct your Frenchie's digestive tract and cause significant damage. 
Consult a physician if this is the case. Vomiting, tiredness, and stomach discomfort are signs of intestinal obstruction. 
Note:
These are the most typical cases; if you see anything strange, even if it isn't listed above, please consult your local veterinarian.
What happens if a dog licks avocado?
If a dog licks avocado, it may experience mild stomach discomfort due to the presence of persin, a toxin found in avocados.
How much avocado can a dog tolerate?
The amount of avocado a dog can tolerate varies based on its size and overall health, but generally, even small amounts can cause gastrointestinal upset.
Can dogs eat avocado ice cream?
Dogs should not eat avocado ice cream, as it contains avocado which can be harmful, and the sugar content is also not suitable for dogs.
How much avocado will kill a dog?
It's difficult to determine a precise amount of avocado that could be lethal to a dog, but ingestion of large quantities can lead to serious health issues, including heart problems.
What to do if my dog ate avocado?
If your dog ate avocado, monitor for signs of distress and contact your vet immediately for advice.
What if my dog ate 3 avocados?
If your dog ate 3 avocados, seek immediate veterinary attention as this is a significant amount that could potentially cause serious health issues.
Conclusion: The Final Verdict on Avocados and French Bulldogs
Navigating the world of what your French Bulldog can and cannot eat can be tricky. When it comes to avocados, the consensus among professionals is to avoid them due to the presence of persin, a toxin harmful to dogs, and the potential risks associated with their high-fat content and choking hazards.
However, it's important to note that avocados are not completely off-limits. If your Frenchie happens to consume a small amount of peeled and pitted avocado, it's unlikely to cause harm. But given the potential risks and the abundance of other safe and nutritious foods available, the general advice is to steer clear of avocados in your Frenchie's diet.
Remember, each French Bulldog is unique, and what works for one might not work for another. Always consult with a vet before introducing new foods into your Frenchie's diet.
Our shared goal is to ensure our French Bulldogs lead happy, healthy lives. By making informed decisions about their diet, we're one step closer to achieving that goal. Stay tuned for more insights and advice on caring for your French Bulldog.
Know something we don't?
Thank you for reading more about Frenchies! Did you find our post informative and interesting? Is there anything you'd want to add? Please join the conversation – leave a comment below. 
We absolutely adore animals here, therefore dear friend, you're more than welcome! Our team and readers always appreciate your feedback. 
Also, please share this post with all of your friends who own French bulldogs or are thinking about getting one. 
Have a wonderful day – and go play with your four-legged friend in the park!
About

Johnny

Johnny, a Frenchie owner and enthusiast, shares his wealth of knowledge on training and caring for French Bulldogs. When not writing, he enjoys hiking and time in nature with his pets.