French bulldogs are probably one of the cutest breeds out there. However, as a Frenchie owner, you know that they are more sensitive than most breeds. One day, an article pops up about blackberry consumption in dogs. Because Frenchies are susceptible to some medical conditions, you wonder – can french bulldogs eat blackberries? 
In this article, we're going to cover all of that! How safe are blackberries for french bulldogs and do they offer any health benefits? Are there even some potential risks, and how to avoid them? To find out more, read along! 
Let's shorten the uncertainty:
Yes, Frenchies can eat blackberries. French bulldogs don't have special dietary needs and these berries are mostly safe for their consumption! However, like with any food, you need to be cautious about certain things.
Can French Bulldogs Eat Blackberries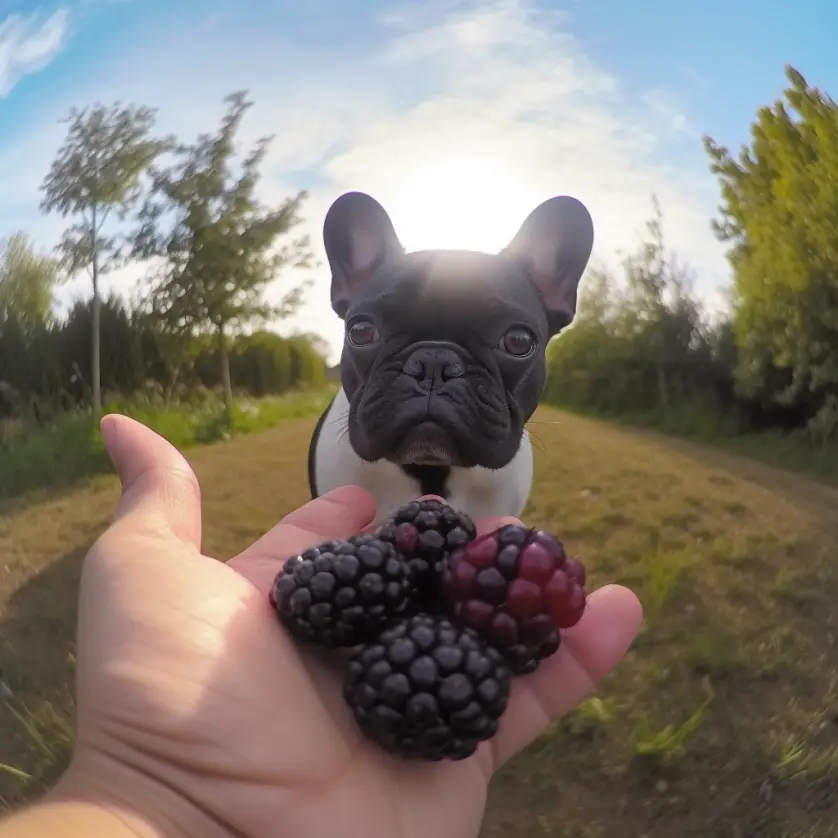 Yes, French Bulldogs, fondly referred to as Frenchies, can indeed enjoy blackberries in their diet. However, it's not as straightforward as simply tossing a handful of these berries to your beloved pet. As a reputable, experienced pet nutritionist, I strongly advocate for a measured and careful approach when introducing any new food to your pet's diet, blackberries included.
First, let's confirm that blackberries are safe for French Bulldogs. They don't have any specific dietary restrictions that would prevent them from enjoying these berries. However, the adage "too much of a good thing can be bad" holds true even here. While blackberries are mostly safe, they should be offered as an occasional, healthy treat.
Quantity plays a significant role in feeding blackberries to your Frenchie. A few berries occasionally can be a delightful, nutritious treat, full of health benefits for your dog. Overindulgence, however, may lead to complications. For instance, if your Frenchie manages to devour an entire package of blackberries, it could potentially upset their digestive system, causing discomfort and even necessitating a visit to the vet.
Why? French Bulldogs are smaller dogs, and their size impacts their ability to digest certain foods. Consuming excessive amounts of blackberries can lead to vomiting or diarrhea. Given the sensitive nature of this breed, overconsumption can trigger other health-related issues.
Therefore, when it comes to feeding blackberries to your French Bulldog, remember that moderation is key. I recommend no more than two berries in one sitting once a week, and this portion size should be smaller for younger Frenchies. Puppies, especially, should not eat blackberries at all due to their still-developing digestive systems.
In the following sections, we will delve deeper into the nutritional content of blackberries, their health benefits for French Bulldogs, potential risks, and signs of allergic reactions to look out for. As a certified pet nutritionist with years of experience, I'll share practical, vet-approved advice on safely incorporating blackberries into your Frenchie's diet.
Blackberries Nutritional Value
Before we start digging deeper, we need to cover the nutritional value of these dark berries. Blackberries are low carb, containing only 62 calories in a one-cup serving. In that same serving, they contain 1 gram of fat and only 14 carbohydrates. 
Some may even call blackberries a superfood! This is because they are high in crucial vitamins and minerals. Next to that, they are filled with fiber and antioxidants. 
In this table, you can see the nutritional value of a one-cup serving of blackberries, which is around 144 grams. 
| | |
| --- | --- |
| Protein | 2 grams |
| Dietary fiber | 7.6 grams |
| Sugar  | 7 grams |
| Vitamin A | 308 IU |
| Vitamin C  | 30.2 mg |
| Vitamin E | 1.7 mg |
| Vitamin K | 28.5 mcg |
| Calcium | 41.8 mg |
| Water  | 127 grams |
As you can see, blackberries are mostly made out of water! Next to that, they have numerous types of vitamins, such as Vitamin C, E, K, and A! These are all beneficial to your Frenchies health – and even yours! 
Currently popular on our site:
Health Benefits of Blackberries for French Bulldogs: An In-depth Exploration
Understanding the health benefits of blackberries for your French Bulldog can be challenging when confronted with a sea of nutritional data. As a certified pet nutritionist, let me break down the benefits these berries offer your Frenchie.
Starting with antioxidants, these are critical to combating harmful free radicals in your dog's body. Antioxidants can slow the aging process, neutralize chronic inflammation, and aid in managing various health problems. Research shows that they can even play a supportive role in cancer therapy.
Vitamins are as crucial for dogs as they are for humans. The vitamins found in blackberries—A, C, E, and K—are essential for your Frenchie's overall health. Instead of relying on vitamin supplements, you can provide these vital nutrients through the occasional blackberry treat.
Blackberries are also rich in omega 3 fatty acids, well-known for promoting skin and coat health in dogs. Moreover, the high fiber content in blackberries supports a healthy digestive system, an added advantage for Frenchies, given their susceptibility to digestive issues.
Importantly, blackberries are lower in sugar than many other fruits, making them a healthier treat choice for your Frenchie compared to options like bananas or strawberries. When selecting a fruity snack for your Frenchie, remember that lower sugar content usually means a healthier treat.
Remember, all these benefits can be availed if and only if you offer blackberries to your Frenchie in moderation. Over the following sections, we will discuss what 'moderation' exactly means in this context, and what potential risks are associated with excessive consumption of these berries.
Consult Your Vet!
Before embarking on any diet change for your pet, it is always advisable to consult with your vet, who can provide tailored advice based on your dog's unique needs and health conditions.
Determining the Right Amount of Blackberries for French Bulldogs: A Vet-Recommended Guide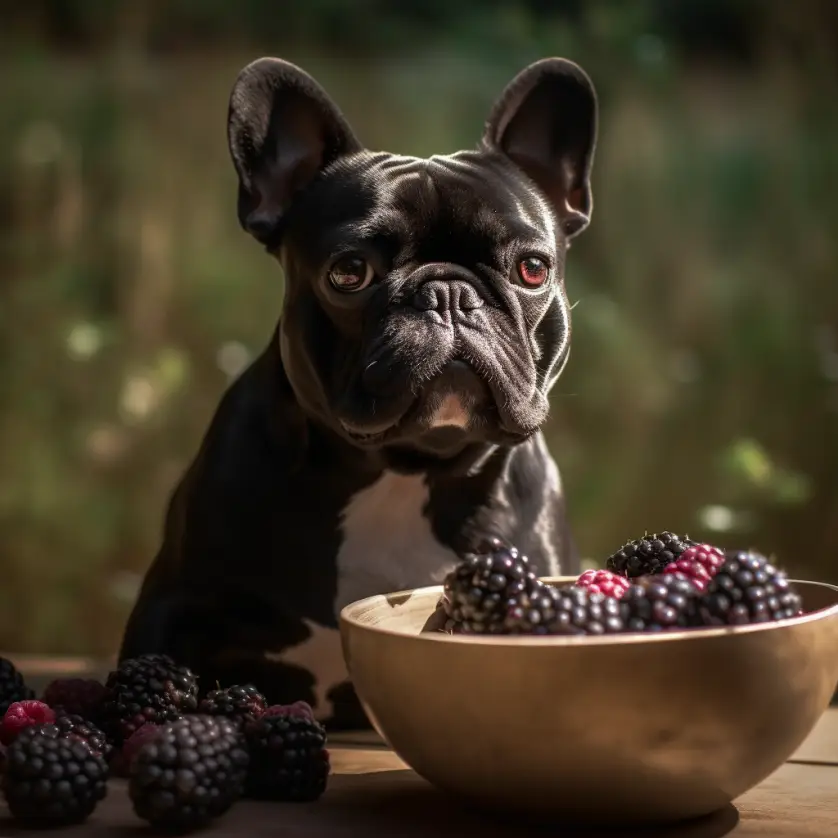 When it comes to feeding your French Bulldog blackberries, moderation is crucial. However, what does moderation exactly mean? After talking with several pet nutritionists and a few vets, I'll clarify this with precise, vet-approved recommendations to ensure your Frenchie enjoys the benefits of blackberries without risking their health.
Though blackberries are indeed a healthy treat, they should not be a regular feature of your Frenchie's diet. Aim to incorporate these berries no more than once a week. Why? Well, given their size and breed-specific sensitivities, French Bulldogs have smaller portion sizes than larger breeds, and their digestive systems are more prone to disruptions.
In practical terms, adult French Bulldogs should not consume more than two blackberries in one sitting, once a week. 
This portion is further reduced for younger Frenchies, who should be limited to a single blackberry at a time. And remember, due to their developing digestive systems, puppies should not be fed blackberries at all.
Following these guidelines will help prevent overconsumption, reducing the risk of digestive problems that can arise from excessive berry intake. However, it's always a good idea to monitor your Frenchie after introducing any new food into their diet. Watch for any signs of discomfort or allergic reactions, which we will discuss in more detail in the following section.
Ultimately, every dog is unique, and what works well for one might not work for another. These guidelines provide a general rule of thumb, but it's always best to consult with your veterinarian before making significant changes to your pet's diet.
Identifying Potential Risks of Feeding Blackberries to French Bulldogs: Insights from a Certified Pet Nutritionist
While blackberries are generally safe for French Bulldogs when fed in moderation, excessive consumption can lead to adverse health effects. With these blogs, I always want to arm you with the knowledge to spot any potential problems early.
Excessive blackberry intake can upset your Frenchie's digestive system. Common symptoms of overconsumption include vomiting and diarrhea, which can be quite distressing for your pet. More severe gastrointestinal issues like gas or bloating can also occur if your dog eats too many blackberries.
Though rare, allergies to blackberries can also occur in French Bulldogs. These allergic reactions may manifest as skin inflammation, incessant itching, and frequent licking. Before introducing blackberries into your Frenchie's diet, start with a small piece and monitor them for any adverse reactions for 24 hours.
If you notice any unusual symptoms, it is imperative that you contact your veterinarian immediately. While online information is valuable, it cannot replace professional medical advice.
Remember, this article is meant to serve as a guideline and not a substitute for professional veterinary consultation. Always consult your vet before making any substantial changes to your pet's diet or if you notice any adverse reactions to new foods.
By understanding the potential risks and observing the signs of discomfort in your dog, you can ensure that introducing blackberries into their diet is a positive experience for both of you.
Can French Bulldogs Eat Blackberries - Final Words 
So, there you have it! French bulldogs can definitely eat blackberries.
But moderation is crucial – this means no more than two berries for adults and one for young Frenchies once a week, with puppies abstaining entirely.
While blackberries are a low-sugar, vitamin-rich treat, overconsumption can lead to digestive issues or rare allergies. Always monitor your pet for any adverse reactions when introducing new foods.
Remember, this advice doesn't replace professional veterinary consultation. Seek advice from your vet before making significant diet changes. Ensuring your Frenchie's health while they enjoy this superfood is your primary goal.
About

Johnny

Johnny, a Frenchie owner and enthusiast, shares his wealth of knowledge on training and caring for French Bulldogs. When not writing, he enjoys hiking and time in nature with his pets.