Kiwi is a tasteful, refreshing – and highly nutritious fruit. And it is an excellent source of valuable vitamin C. You should definitely eat it as often as you can, but the question is: 
Can your Frenchie have some, too?
Can French bulldog eat kiwi? Is this juicy green fruit forbidden for canines or not? Today is the day you learn everything you need to know on this subject!
Quick answer: Yes, your Frenchie can enjoy some kiwi from time to time – as long as it is not too often. 
Is Kiwi Nutritious?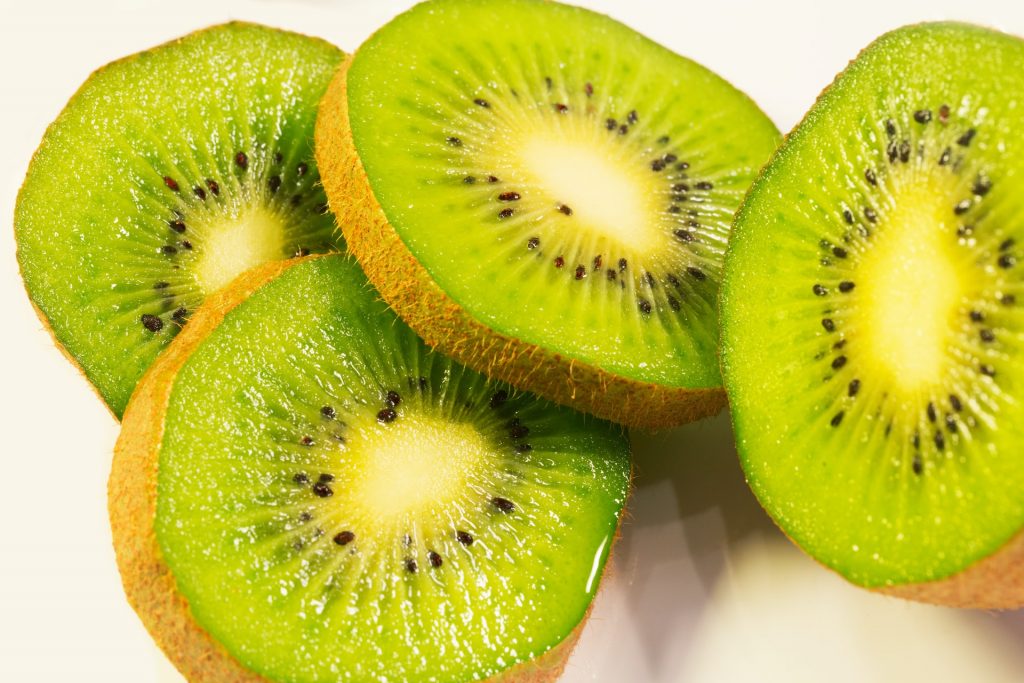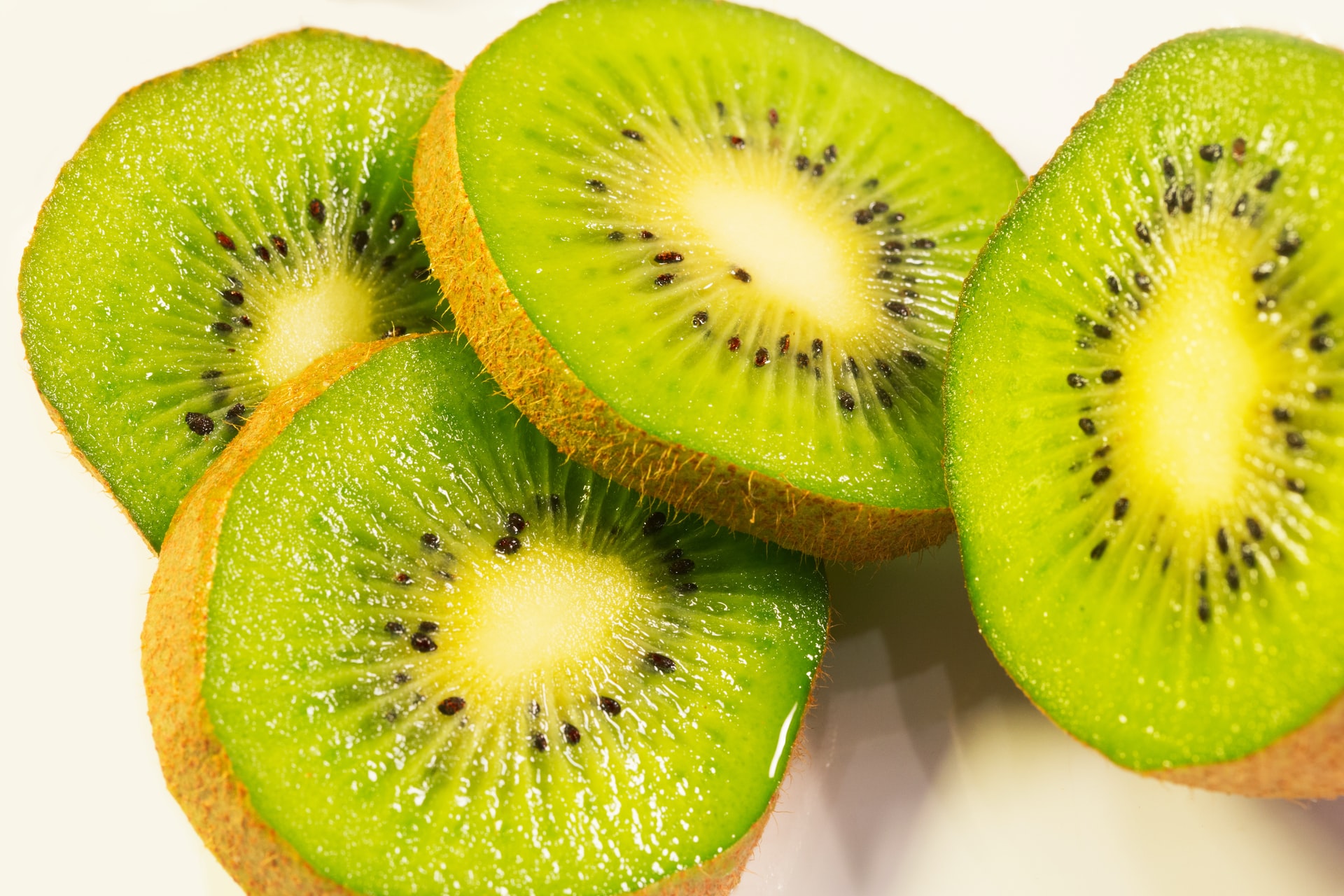 Kiwifruit is an edible berry that you can find in any supermarket or grocery store. It's popular and widely available all over the globe. 
As we have already established, both you and your four-legged best friend can enjoy this tasty and nutritious fruit. 
So, let's see what valuable nutrients this succulent fruit has to offer – and whether they can be beneficial for your French bulldog, as well. 
Kiwi might be small, but it is filled with good stuff. 
The following table shows the nutritional breakdown for one kiwi (weighing about 69 grams):
| | |
| --- | --- |
| Calories | 42 cal |
| Sugar | 2 grams |
| Dietary Fiber | 1 gram |
| Protein  | 8 grams |
| Vitamin C | 64 mg |
| Vitamin E | 1 mg |
| Vitamin A | 60 international units (IU) |
| Vitamin K | 8 micrograms |
| Folate  | 17 mcg |
| Potassium | 215 mg  |
| Calcium | 23 mg  |
| Magnesium | 7 mg |
Which Nutrients Found In Kiwifruit Are Most Beneficial For Your French Bulldog?
Dogs don't need fruit in their diet; they get all the essential nutrients from meat-based products. However, it does not mean that they cannot benefit from some fruit – quite the opposite. 
For example, kiwi is packed with vitamin C and fiber. Let's see what these nutrients can do in your Frenchie's diet.
Vitamin C is good for the skin. It also boosts immunity and helps alleviate stress. This vitamin is an antioxidant that eliminates free radicals and can protect your dog's cells from being damaged or modified by oxidation. 
Even though your Frenchie, or any other dog, has a body that produces vitamin C on its own, it is still beneficial to offer some through the diet as well. Besides, older dogs and those with certain disorders lack vitamin C and can benefit from a fruit that's rich with it.
Fiber is essential for your Frenchie's digestive health. Some do not think it is vital for a canine diet, but it can undoubtedly ease the process of digestion and enhance bowel movement. 
The right amount of fiber can help prevent constipation and diarrhea – but also reduce the risk of diabetes.
That said, kiwi is much more beneficial for you than for your furry buddy. There are much better sources of both vitamin C and fiber as far as dogs are concerned. Nevertheless, if your Frenchie enjoys it, you can treat it with a slice of kiwi every once in a while.
Should You Make Kiwi A Part Of Your Frenchie's Regular Diet?
No. As we've established in the previous section, dogs should have a meat-based diet with occasional fruit and veggie treat. 
Of course, you should be careful not to choose the ones harmful to your pet. If you want to be safe, opt for the fruit and veggie snacks made especially for dogs.
What Happens If Your French Bulldog Eats Too Much Kiwi?
If your Frenchie accidentally ingests too much kiwifruit, you can expect the following problems:
As you can see,  kiwi can have a laxative effect on pups. So, it would be highly recommended to keep your fruit bowl out of your Frenchie's reach. 
Save bot you and your furry friend the trouble and always feed your pooch kiwi in moderation.
Frequently Asked Questions
It is time to get over the most frequently asked question and educate ourselves so that we can spread the knowledge forward. It is all for the good of our beloved Frenchies! 
Q: What's the nutritional value of kiwi?
A: A cup (approximately 177 grams) of fresh kiwi is mostly made of water (147 grams); that is why this fruit is so refreshing. It is not very high in sugar as it contains 15.9 grams – but has a decent amount of digestion-boosting fiber – 5.3 grams.
It also contains 164 mg of Vitamin C, 552 mg of Potassium, and an equal amount of Calcium and Phosphorus – 60,2 mg. 
Of course, your Frenchie should never have a whole cup of kiwi at once; for the proper dosage, check out the next question. 
Q: What dosage of kiwifruit is healthy for a French Bulldog?
A: One kiwi weighs around 70 grams. Depending on a dog's weight, the healthy serving can vary anywhere from 20 to 70 grams. French bulldogs are a small breed, so better stick to the minimum dosage. 
Q: What are the symptoms of a dog's allergic reaction to kiwi?
A: Dogs are generally rarely allergic to kiwi. Yet, it is possible. If your Frenchie is "lucky" enough to have an allergic reaction to this fruit, you should look for the following symptoms:
Itching

Skin inflammation

Excessive licking
As you can see, none of these will endanger your dog's life. Nevertheless, contact the vet if you notice any of them – or any other unusual signs not listed above. 
Final Words: Can French Bulldogs Eat Kiwi?
Yes, they can, but not too much – nor too often. If you overdo it, your pooch can have digestive problems such as diarrhea or vomiting. It's not a pretty sight for the owner, but more importantly, it stresses the dog. 
So, better be safe than sorry and make sure you give your Frenchie kiwi only as a rare treat!
Please inform us if you think we've missed out on some crucial piece of information. No one is perfect – although we strive to be!
Your input can improve our articles but also help educate dog owners worldwide. So, please do not shy away from leaving a comment or asking a question below! We'd appreciate you sharing the article, as well. 
Have a wonderful day!