Last Update:

June 15, 2023
You've just finished your morning bagel and your adorable French Bulldog is eyeing the last piece with irresistible puppy eyes.
You wonder, can French Bulldogs eat bagels?
The short answer is NO, it's not recommended to feed your Frenchie bagels due to some potentially harmful ingredients.
But don't fret, Frenchie parents! This article is here to dive deeper into your dog's dietary needs, explain why bagels could be a concern, and offer healthier, dog-safe alternatives. Keep reading to ensure your Frenchie's diet keeps them happy, healthy, and ready for a game of fetch!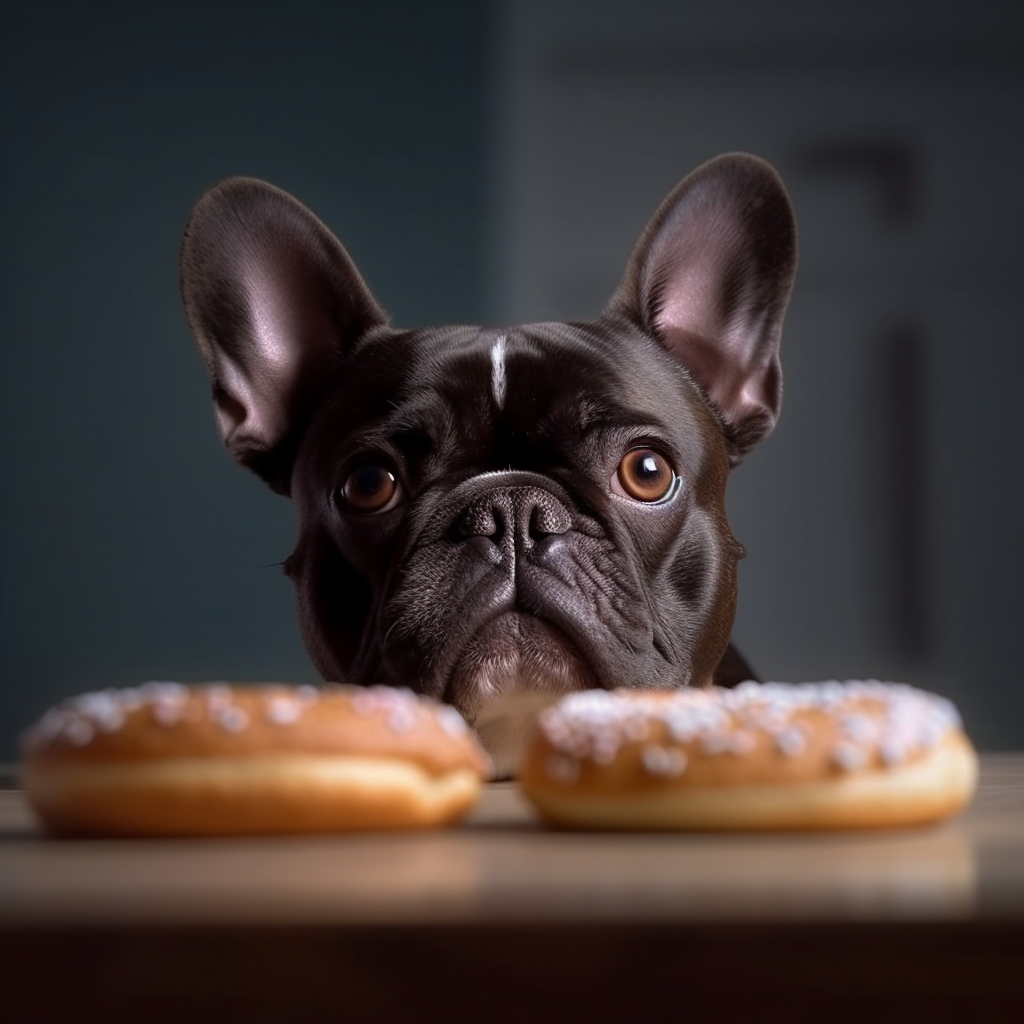 Understanding Your Frenchie's Dietary Needs
To fully comprehend why bagels aren't the best choice for your French Bulldog, it's important to first understand their dietary needs.
French Bulldogs, like other dogs, require a balanced diet that includes proteins, carbohydrates, fats, vitamins, and minerals.
Proteins are the building blocks for your Frenchie's growth and energy. They need a diet rich in high-quality animal proteins for muscle development and repair.
Carbohydrates provide them with the energy they need for their playful antics, while fats supply essential fatty acids and aid in nutrient absorption. Oatmeal is one of the great sources of carbs for Frenchies. Vitamins and minerals, often provided through fruits and vegetables, are crucial for various bodily functions and overall health.
While bagels may seem harmless, they don't offer the nutritional balance your Frenchie needs. Furthermore, they could contain ingredients that are potentially harmful to your pet. 
Let's explore this further in the next section.
Why Bagels Aren't Ideal for Your Frenchie
Bagels, a popular human breakfast food, aren't exactly suited for your French Bulldog's nutritional needs. Here's why:
Lack of Nutritional Value: Bagels are primarily made from refined wheat flour, which offers little nutritional value for dogs. They lack the essential nutrients your Frenchie requires for optimal health, such as high-quality animal proteins, vitamins, and minerals. Proteins from cheese are OK, if your Frenchie isn't lactose intolerant. 
High in Calories: Bagels are high in calories and carbohydrates, which can lead to weight gain if fed regularly. French Bulldogs are prone to obesity, which can further predispose them to various health issues, including hip dysplasia, heart disease, and diabetes.
Potential Allergens: Bagels often contain ingredients like wheat, yeast, and sometimes dairy, which some dogs may be allergic to. Food allergies in dogs can cause skin irritations, gastrointestinal upset, and other health issues.
Add-ons and Flavors: Bagels come in various flavors, some of which can be harmful to your Frenchie. For instance, onion or garlic bagels can be toxic to dogs. Also, adding toppings like cream cheese or butter increases the calorie content and may contain ingredients that are difficult for dogs to digest.
Choking Hazard: The size and density of bagels could pose a choking hazard, especially if your Frenchie tends to gulp down food without thoroughly chewing.
While it's okay to give your Frenchie a small piece of bagel as a rare treat, they shouldn't become a staple in their diet. It's always crucial to prioritize foods that are safe and nutritionally balanced for your pet. On the other side, milkshakes (a common pair with bagels) are off-limits for Frenchies. 
Let's look at some healthier alternatives in the next section.
Healthy Alternatives to Bagels for Your Frenchie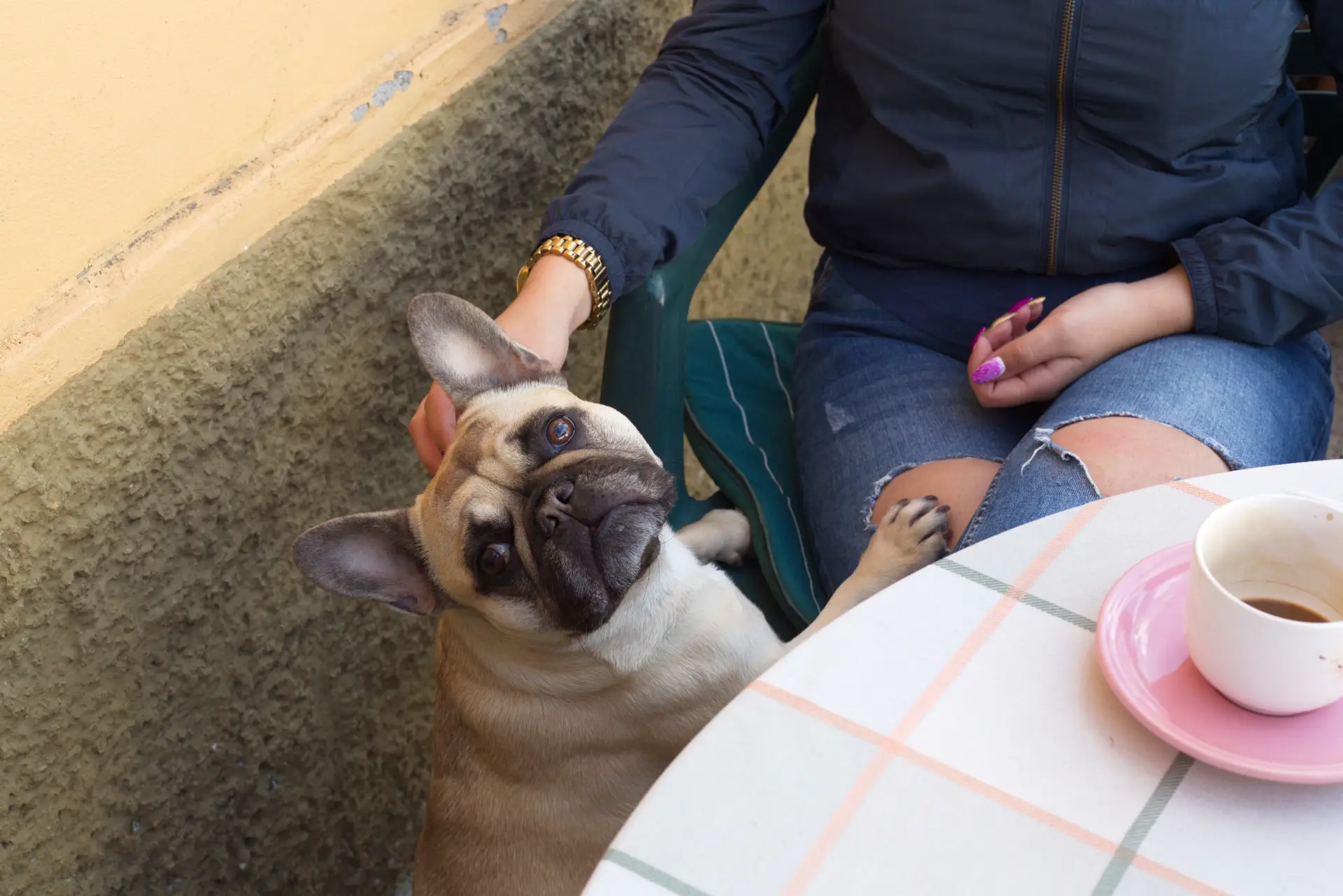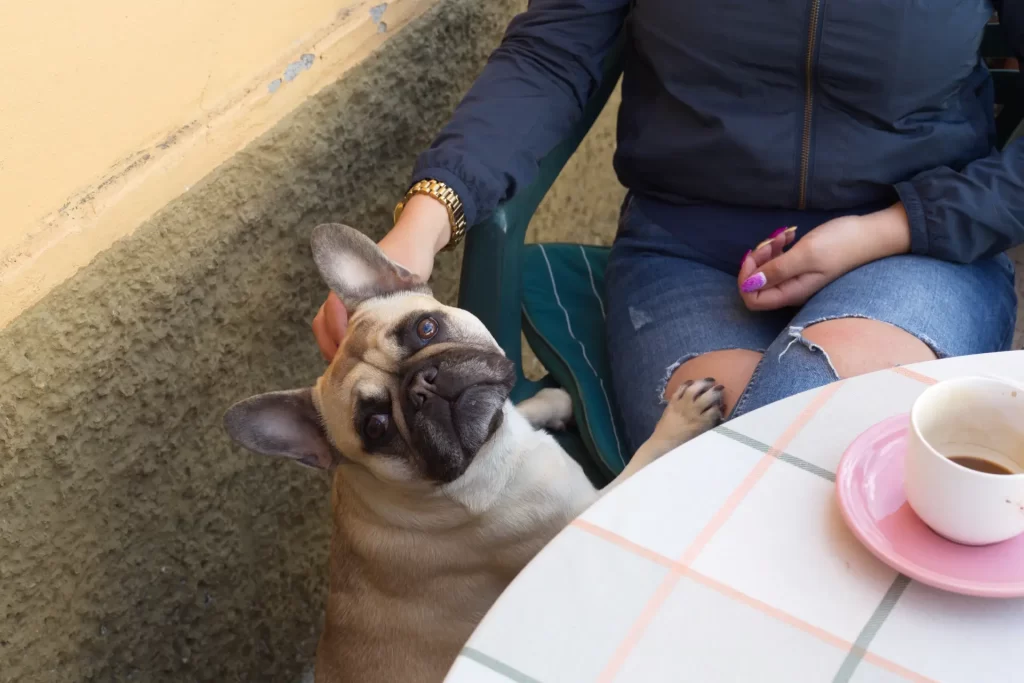 If you're looking for healthier treat options for your French Bulldog, there are plenty of dog-friendly foods that are nutritious and safe.
Here are some examples:
Dog-Approved Biscuits and Treats
There are many dog-approved biscuits and treats available in pet stores and online. These are specially formulated to be safe and nutritious for dogs. Look for ones with natural ingredients and avoid those with artificial flavors, colors, and preservatives. As an example, our Frenchie Globe store offers a variety of healthy and delicious treats your Frenchie will love.
Vegetables
Some vegetables can be a great low-calorie treat for your Frenchie. Carrots, cucumbers, and sweet potatoes are all good choices. Remember to serve them in small, bite-sized pieces to prevent choking and always introduce new foods gradually.
Fruits
Certain fruits can also serve as a healthy treat. Apples (without the seeds and core), bananas, and blueberries are all safe for dogs and provide essential vitamins and fiber. However, be sure to avoid grapes and raisins as they are toxic to dogs.
Lean Meats
Lean meats like chicken, turkey, or fish can be excellent sources of protein for your Frenchie. Always serve these cooked and unseasoned, and remove any bones to prevent choking.
Dog-Friendly Peanut Butter
Unsweetened, unsalted peanut butter can be a tasty treat for dogs. However, be sure to check the label and avoid any brands that contain xylitol, a sweetener that is toxic to dogs.
Homemade Dog Treats
If you enjoy baking, consider making homemade dog treats. You can control the ingredients and avoid any potential allergens or harmful substances. There are numerous dog-friendly recipes available online, ranging from peanut butter cookies to meaty biscuits.
While these alternatives are generally safe and healthy, they should still only make up a small portion of your Frenchie's overall diet. Always consult with your vet before introducing new foods into your pet's diet, especially if your Frenchie has a sensitive stomach or food allergies.
Next, let's talk about how to maintain a balanced diet for your Frenchie.
Maintaining a Balanced Diet for Your Frenchie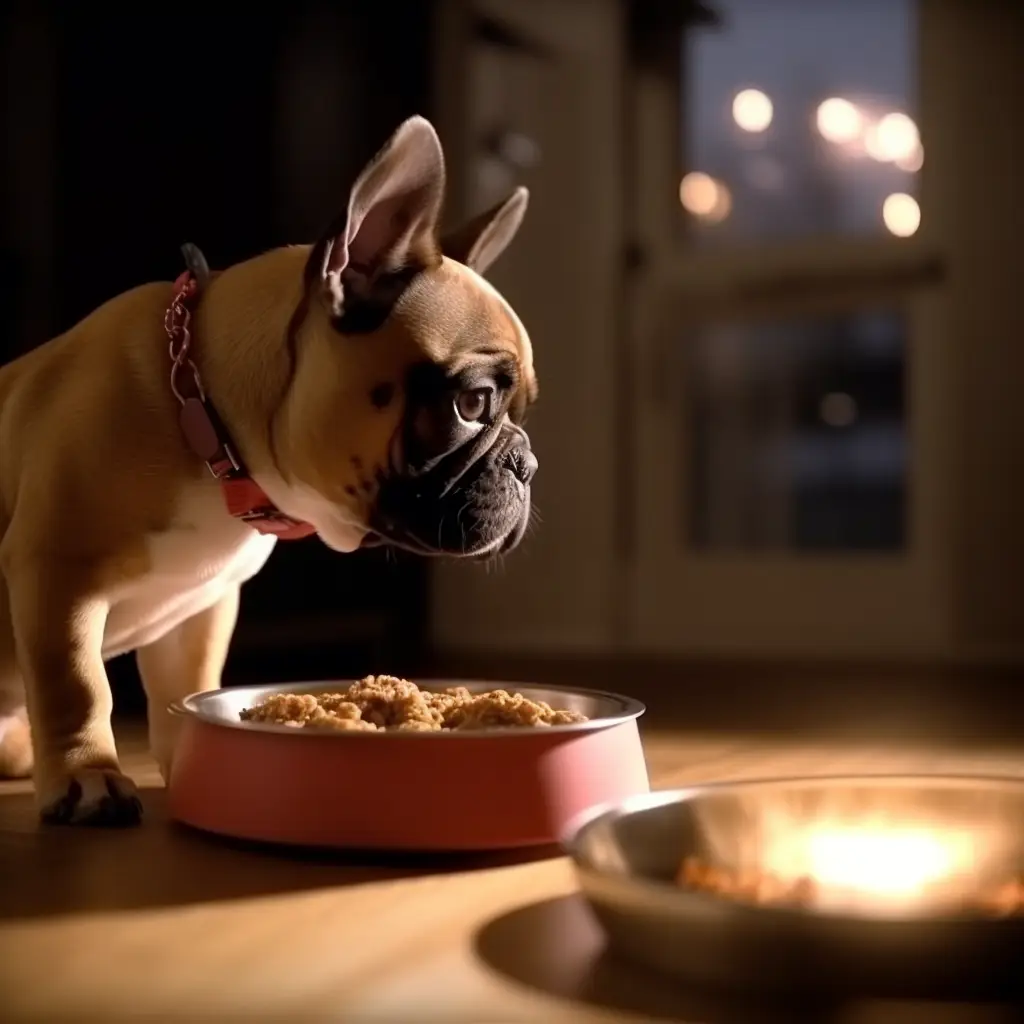 A balanced diet is crucial to the overall health and wellbeing of your French Bulldog. Regardless of their love for treats, it's important to ensure they receive the necessary nutrients for a healthy lifestyle.
Here are some tips for maintaining a balanced diet for your Frenchie:
Tips on Feeding Your French Bulldog
Feeding your French Bulldog properly is essential for their health and well-being. French Bulldogs, like all dogs, require a balanced diet, but there are some breed-specific considerations to bear in mind:
High-Quality Dog Food: Always opt for high-quality dog food that is appropriate for your Frenchie's life stage (puppy, adult, or senior). High-quality dog food should list a source of animal protein as the first ingredient and should be free from artificial additives and fillers.
Portion Control: French Bulldogs are prone to obesity, so it's essential to manage their food intake carefully. Consult your vet to determine the right amount of food for your Frenchie based on their age, weight, and activity level.
Feeding Schedule: Regular feeding times can aid digestion and establish a routine. Adult Frenchies generally do well with two meals per day, while puppies may require three to four smaller meals.
Treats and Snacks: Treats can be a useful tool for training but should make up no more than 10% of your Frenchie's daily caloric intake to prevent weight gain.
Identifying Food Allergies or Intolerances
Food allergies or intolerances can cause a variety of symptoms in French Bulldogs, including skin issues, gastrointestinal problems, and ear infections. If you suspect your Frenchie has a food allergy or intolerance, it's essential to consult with your vet. They may recommend an elimination diet to identify the offending ingredient.
Common food allergens for French Bulldogs include beef, dairy, wheat, egg, chicken, lamb, soy, pork, rabbit, and fish. However, every dog is unique, and what causes an allergic reaction in one Frenchie may not in another.
Remember, feeding your French Bulldog a balanced, high-quality diet appropriate for their age, size, and activity level can go a long way towards keeping them healthy and happy.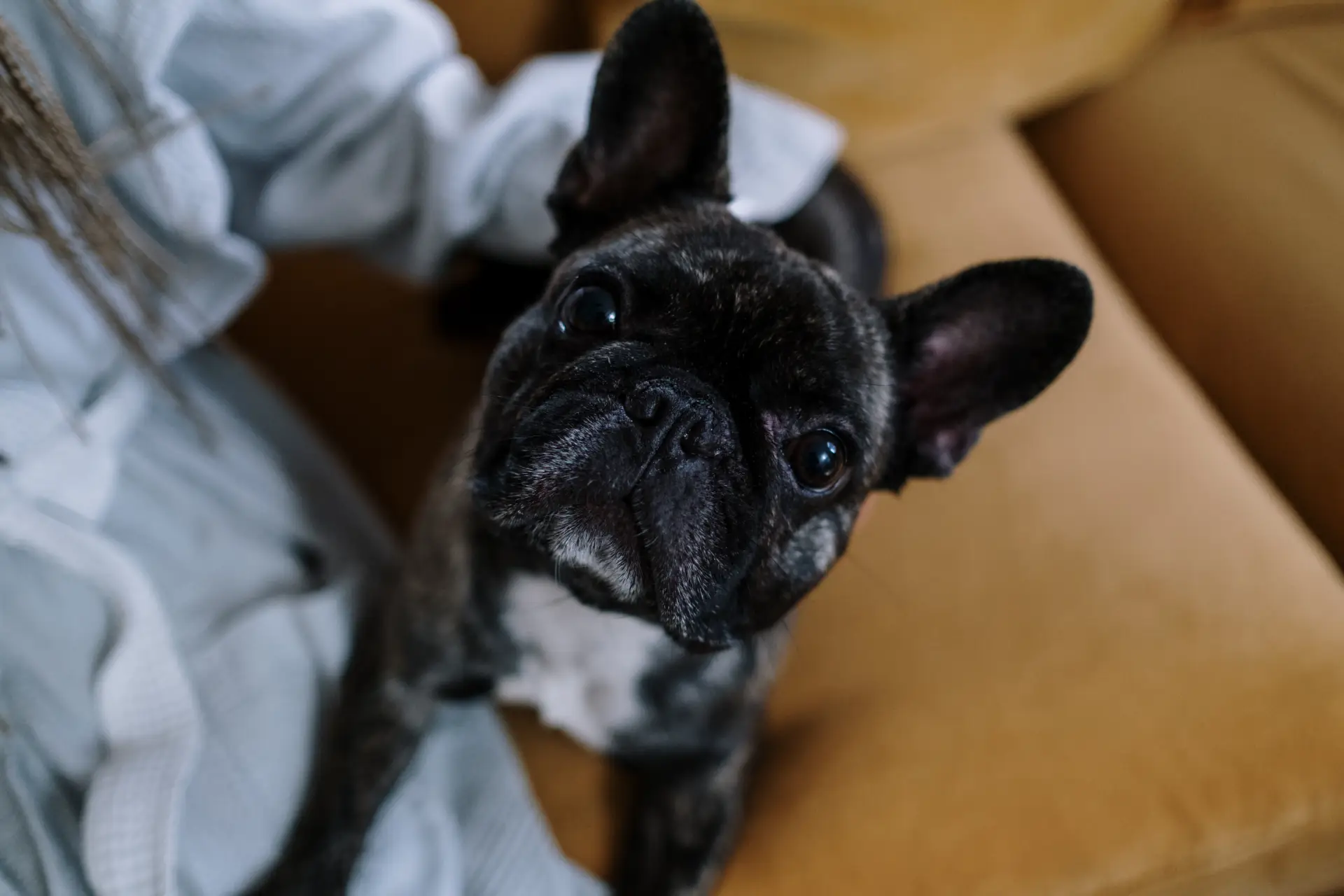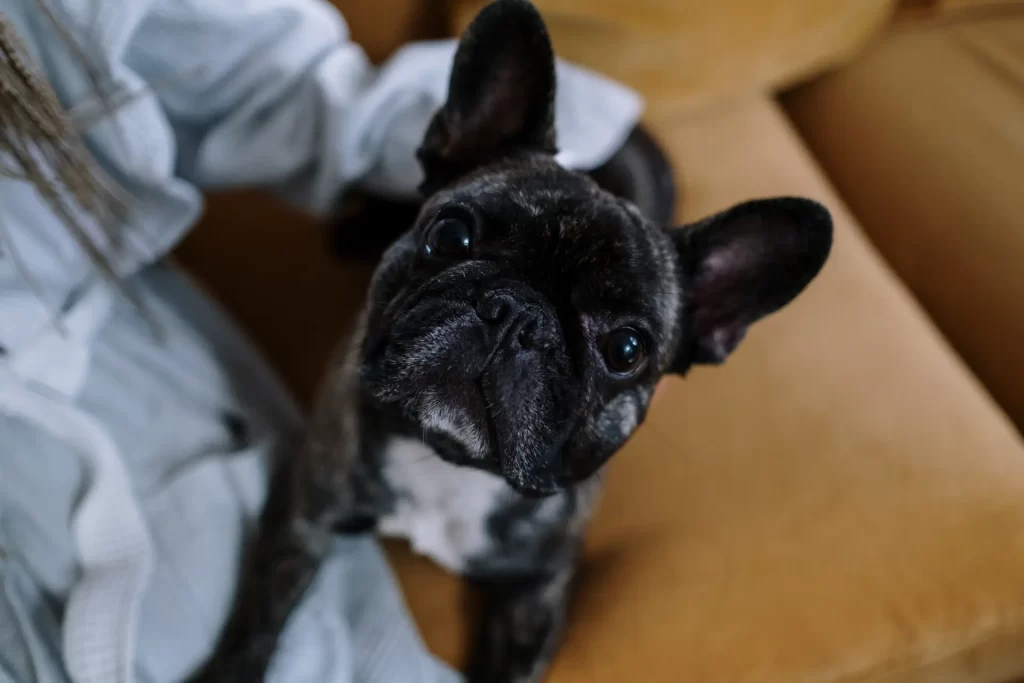 In our quest to provide the best for our beloved French Bulldogs, it's important to remember that not all human foods are suitable for them. Bagels, while delicious to us, do not provide the necessary nutrients for a Frenchie's diet and can even pose potential health risks. If you're wondering which human foods Frenchies can eat, check this out.
We've discussed the essential dietary needs of a French Bulldog, examined the ingredients of a typical bagel, and delved into the potential risks of feeding your Frenchie bagels. Healthier alternatives have been suggested, and we've also provided some tips on how to safely introduce new foods into your Frenchie's diet.
Keep in mind, every Frenchie is unique, and what works for one might not work for another. Hence, it is always recommended to consult with a vet for any specific dietary concerns or before making significant changes to your French Bulldog's diet.
We hope you found this article helpful in understanding the dietary needs of your French Bulldog. Do you have any experiences with feeding your Frenchie bagels or other human foods? What are your Frenchie's favorite treats? We'd love to hear about your experiences!
Please leave a comment below, and let's continue the discussion. Share your thoughts, tips, and stories about French Bulldog nutrition. Remember, your experiences can help other Frenchie owners navigate the world of pet nutrition!
About

Johnny

Johnny, a Frenchie owner and enthusiast, shares his wealth of knowledge on training and caring for French Bulldogs. When not writing, he enjoys hiking and time in nature with his pets.