Grapes are super-delicious and quite refreshing! The question is – should you share them with your canine friend?
Finding out can French bulldog eat grapes is our priority today, so stay with us!
Quick answer:
Sadly, the answer is NO! Your Frenchie must find some other way to refresh. Grapes are dangerous for any dog, and you should thus NEVER feed this fruit to your French bulldog!
Why Are Grapes Dangerous for Your French Bulldog?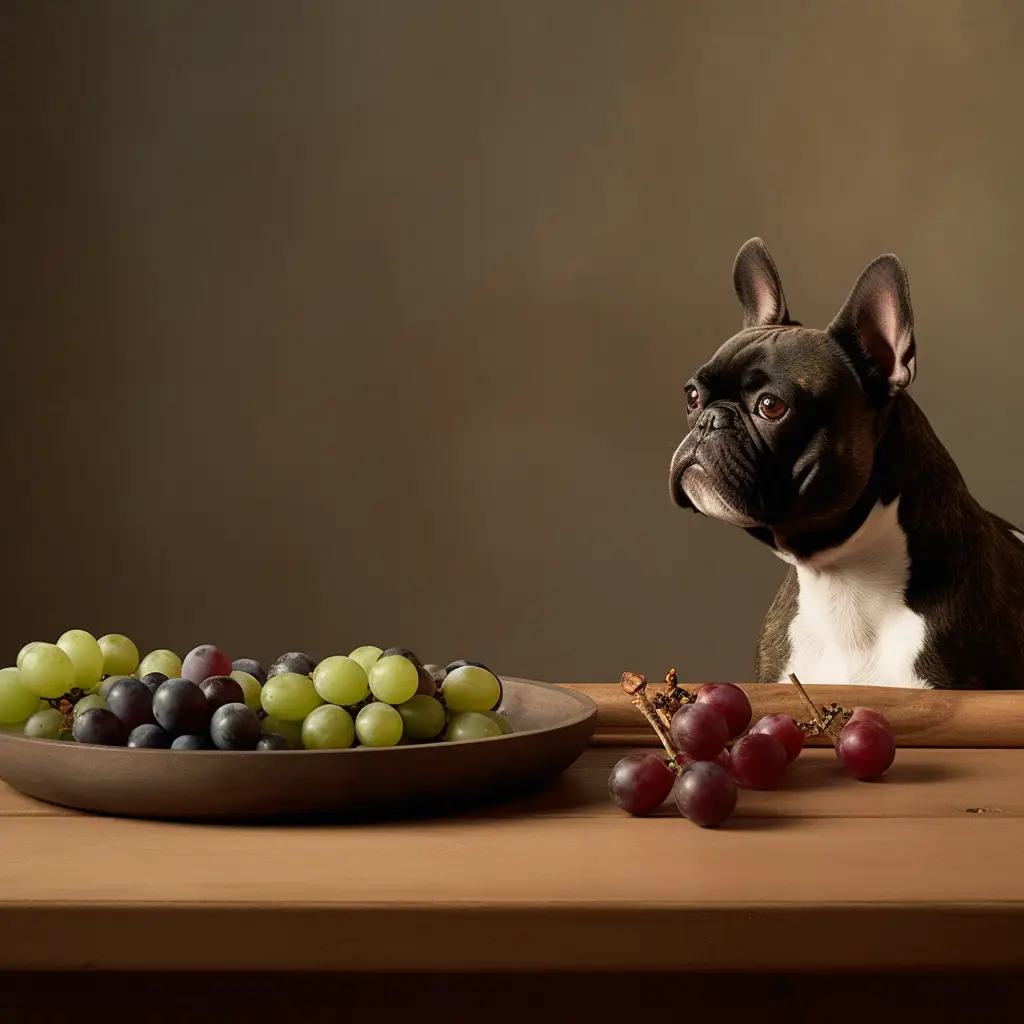 As we have already warned you, grapes are one of the most dangerous fruits for our canine best friends. In fact, they are toxic to them. 
If your French bulldog eats just a few grapes, it can suffer from kidney failure or even die! That is how dangerous grapes are for dogs!
Why is that so?
Unfortunately, we cannot answer this question since the reason is still unknown even to the vets. The important thing for you to remember is never to take your dog when visiting grape plantations or any other place where you know there can be grapes on the ground. We know that it can be hard to separate from your Frenchie, but best leave it behind for its own good. 
The next logical question is: Can your Frenchie eat raisins? Read on to find out the answer!
Can French Bulldogs Eat Raisins?
Regrettably, the answer is no as well.
Raisins are dried grapes, and therefore they are equally toxic as fresh fruit. Moreover, many people believe that raisins are even more dangerous than grapes since they are more concentrated.
What Happens When a French Bulldog Eats Some Grapes or Raisins?
If you think your Frenchie might have eaten some grapes, be on a lookout for the following symptoms:
Loss of appetite

Energy loss

Lethargy 

Vomiting 

Diarrhea

Stomach pain

Dehydration

Abnormal thirst

Uncontrollable body shaking

Kidney failure
Most dogs exhibit these symptoms during the first 24 hours after eating the grapes. It is best not to wait, though – act as soon as possible!
What Should You Do If Your Frenchie Accidentally Eats Grapes or Raisins?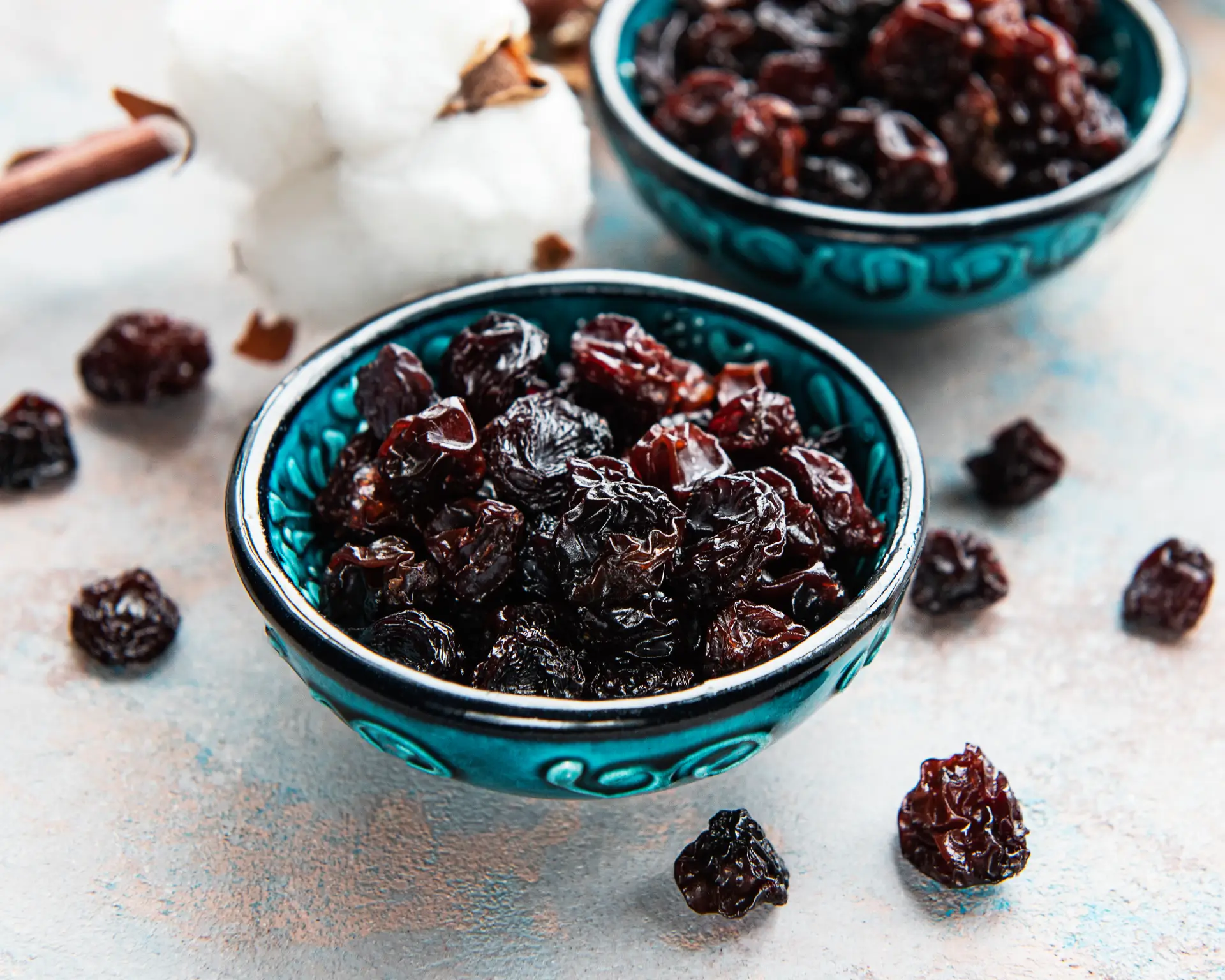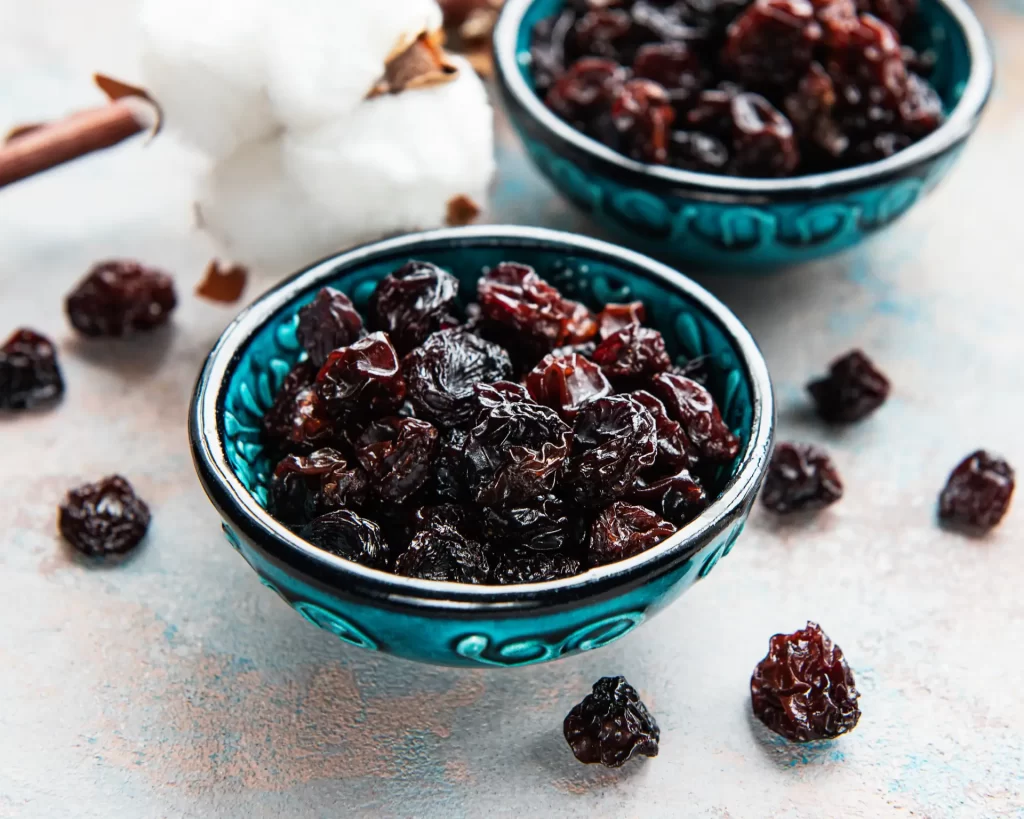 If your pup has accidentally ingested some grapes, it would be best to take it to the vet. Better be safe than sorry! The vet will most likely induce vomiting to help the dog get the harmful grapes out of the system. You can try to do that yourself too, but the vet is your only option if you fail.
What if your Frenchie is unconscious? 
Head for the closest Emergency Pet Hospital immediately. The best way to position your dog is on its right-hand side – this will help maintain an open airway until you reach the vet that can help your Frenchie recover.  
Should Puppies Eat Grapes or Raisins?
Grapes and raisins are even more toxic to Frenchie puppies and thus more likely to kill them. French bulldogs are already a small breed at a higher risk of a fatal outcome than many other breeds. Feeding two or three grapes to a 20-pound Frenchie is not the same as feeding two to three grapes to a 100-pound English Mastiff.
Feeding Frenchie puppies with grapes or raisins is thus a significant risk! Be extra careful not to leave any grapes around the puppies either. They are naturally curious and will most likely try some. So, always put your grapes somewhere your French bulldog cannot reach!
What If Your Frenchie Has Eaten Some Grapes But Has No Symptoms of Poisoning?
We can sum up the answer in a few words: 
You are tremendously lucky! 
Nevertheless, do not let it happen ever again!
If, by any chance, it happens again, do not wait to find out if it's going to be a medical miracle all over again. Be a responsible owner and visit the vet as soon as possible.
How Many Grapes Can A French Bulldog Eat Safely?
None whatsoever! It would be like feeding your dog some poison! You can enjoy the grapes as much as you like, but your Frenchie should best never try it at all!
No one can tell you how many grapes will get your Frenchie seriously ill or endanger its life. Every dog is unique. Young puppies can get sick from as little as one grape. Do not try to find out – simply feed your dog some other fruit! 
How to Prevent Your Frenchie From Eating Grapes or Raisins?
As we have already suggested, keep the grapes well out of your Frenchie's reach. Likewise, inform all your family members, roommates, and visitors that grapes are not allowed for your dog.
Dogs will eat anything they find, so do not let any grapes roll down to your floor. Once again: If your dog does get its paws on some grapes, prevent the complications by going to the vet ASAP!
More Questions You Might Have - Answered
It is good to know everything there is about your Frenchie bulldog. When something is as dangerous as grapes, educating yourself is even more imperative!
We will help you out by answering the more questions regarding Frenchies and grapes/raisins.
Keep scrolling!
Q: What is the Nutritional Value of Grapes?
A: Even though grapes are toxic for your French bulldog, it does no harm to know about their nutritional value. The following table shows the nutritional value of one cup of grapes (around 90 grams).
Calories

61.6 calories

Fat

2.7 grams

Sugar

14.9 grams

Water

74.8 grams

Omega Fatty Acids

22.1 mg. of omega-3 fatty acids

72.7 mg of omega-6 fatty acids

Amino acids

0.6 grams

Vitamins

3.7 mg. of vitamin C.

0.2 mg. of vitamin E.

13.4 mcg. Of vitamin K.

0.3 mg of niacin.

0.1 mg. of vitamin B6.

Choline

5.2 mg

Minerals

12.9 mg. of calcium.

0.3 mg. of iron.

4.6 mg. of magnesium.

9.2 mg. of phosphorus.

176 mg. of potassium

1.8 mg. of sodium.
Q: Are some breeds more sensitive to grapes than others?
A: All the breeds are affected!
Frenchies are a small breed, and that puts them at a higher risk. If you believe your Frenchie has ingested some grapes, do not take any chances – go to the vet immediately!
Similar read: What human foods can French Bulldogs Eat?
Q: What are the symptoms of grape poisoning?
A: Any unusual behavior is a reason for concern, and you should call the vet as soon as you notice it. The following symptoms are some of the most common ones:
Appetite loss

Dehydration

Diarrhea and/or vomiting

Abdominal pain

Weakness or lethargy

Foul breath

Tremor or seizures

Liver or kidney failure

Coma

Death
Conclusion: Can Dogs Eat Grapes?
The most important thing to remember is the following warning: Never feed your French bulldog any grapes! NEVER!
Grapes are toxic to our four-legged friends and can endanger their health or even lead to their death. To confirm that your Frenchie is safe and sound, make sure that grapes and raisins are always out of reach! Warn all the people in the house to do the same; your Frenchie's life might depend on that.
If you know something we have failed to mention, feel free to share it with us and our readers. Sharing your experience can help others become better pet owners!
Please share this article to spread the warning to all the dog owners out there. You might save a Frenchie's life!
About

Johnny

Johnny, a Frenchie owner and enthusiast, shares his wealth of knowledge on training and caring for French Bulldogs. When not writing, he enjoys hiking and time in nature with his pets.