Including fresh fruits and veggies – no, not just apples – keeps the doctor away. 
Everyone knows the importance of a well-balanced, vitamin-rich diet. However, does this apply to your French bulldog as well?
It does; you just have to know which fruit they can and cannot eat.
You probably guessed it. Today's all about bananas, and we're going to focus on answering the following question:
Can French bulldog eat bananas?
In A Nutshell: You are allowed to give your Frenchie bananas – but only as an occasional treat. It should not be their everyday food!
Bananas Are A Healthy Snack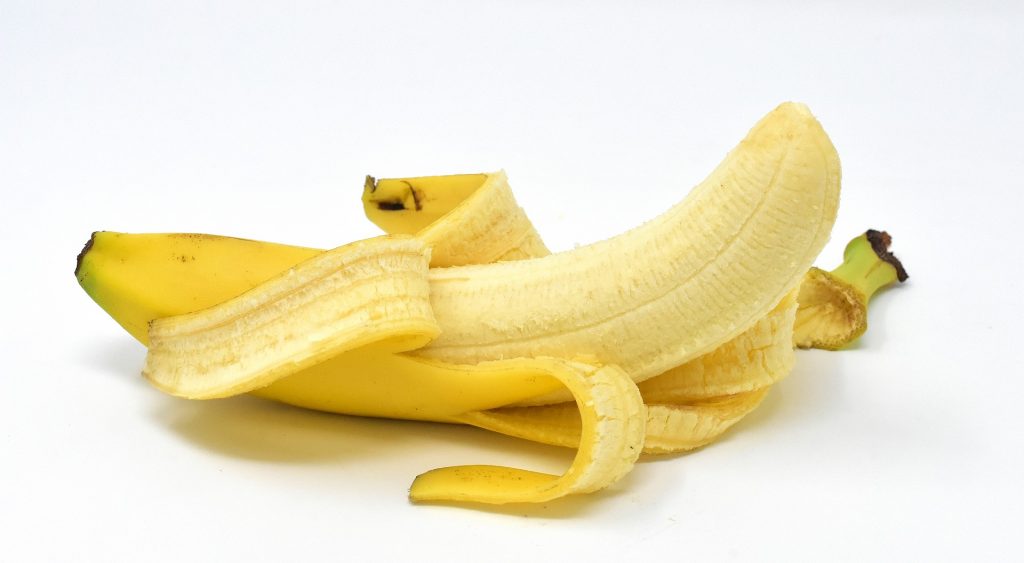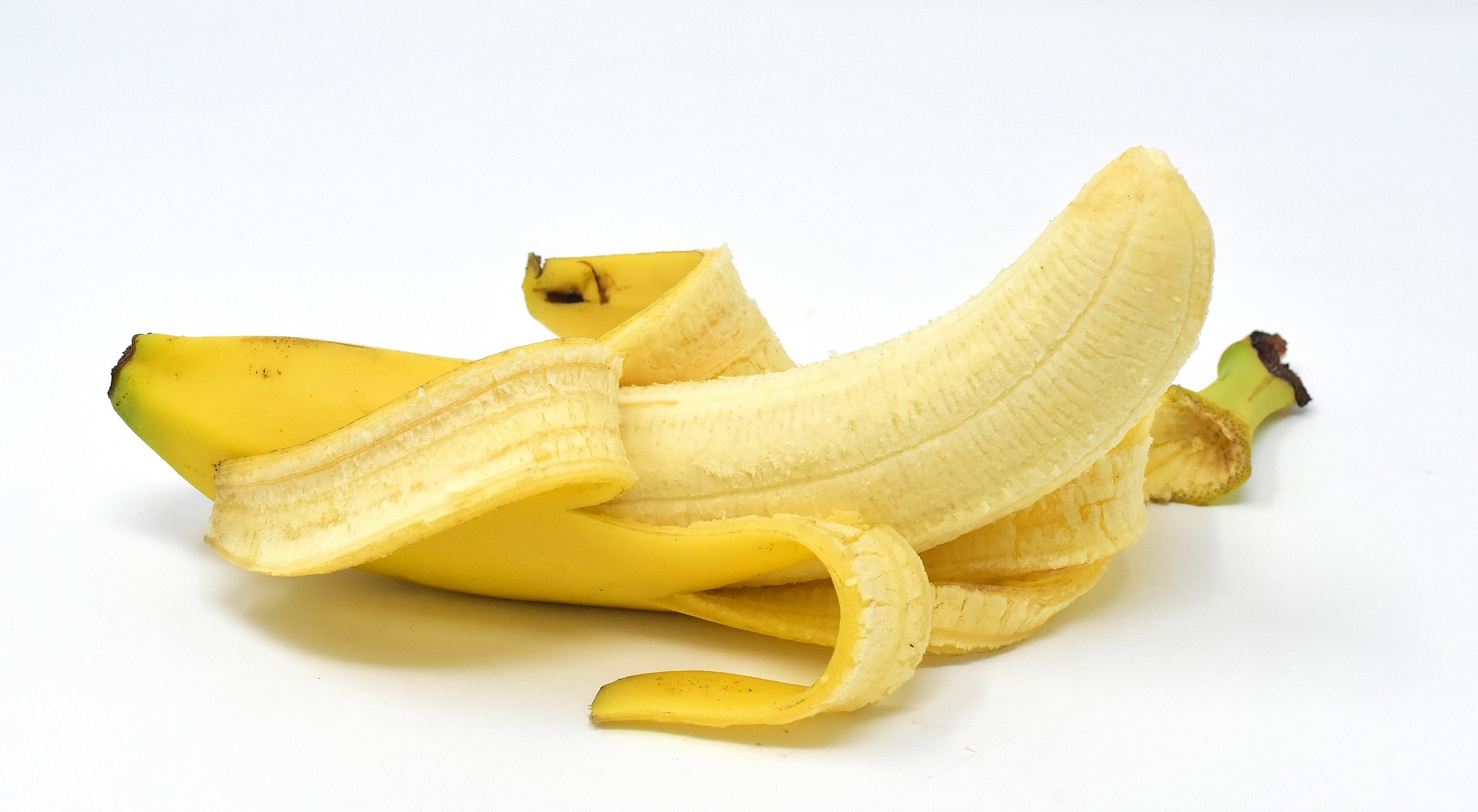 So, it's a yes; you can feed your Frenchie bananas – but in moderation. 
Maybe it'll be more useful if you take a look at the nutrition behind this healthy fruit. Here's what one medium-sized banana contains:
Water: 75%

Protein: 1.1 grams

Calories: 89

Carbs: 22.8 grams

Fiber: 2.6 grams

Sugar: 12.2 grams

Fat: 0.3 grams
Why Should I Feed My Frenchie Bananas?
They don't call bananas "superfoods" for no reason. This fruit is so healthy that, in most cases, it surpasses the benefits that fresh apples can bring.
There are many reasons why you should feed your Frenchie bananas, and we will list the ones that every French bulldog owner should know about:
Boosting Energy
Bananas are the most famous energy food, and it's all thanks to sugar – glucose, fructose, and sucrose.
Don't worry; sugar levels are within normal limits. Also, cholesterol and fat levels are low, so your Frenchie will not feel nauseous or tired after a couple of slices.
Promoting Regular Digestion
You've probably seen at least one guide on how you should include fresh fruit in your French bulldog's diet to promote regular digestion.
It's true.
Freshly-ripened bananas can do wonders to your Frenchie's digestion. 
They contain the starch that speeds up and regulates bowel movements. On a related note, it can be of tremendous help if your Frenchie's having gastrointestinal issues at the moment.
Keeping The Coat Healthy
Pet parents are constantly looking for the ideal vitamin that will keep their dog's coat healthy and shiny.
Good news! You can stop searching and chop up a few slices of bananas.
That is the vitamin source you've been searching for, and you have it in your home. By giving your Frenchie a couple of banana slices, you're actually supplying it with its daily magnesium needs (13%).
Vitamin C
One medium-sized banana can supply your French bulldog with a recommended daily intake of vitamin C. 
Let's take this opportunity to jog your memory and quickly list down a couple of advantages:
Protecting the body against tissue damage

Helping the body absorb iron 

Boosting the immune system

Lowering the risk of heart disease
Vitamin B6
Vitamin B6 is one of the essential vitamins that you should consume. That also applies to your French bulldog. Fortunately, the body easily accepts this vitamin, and it is suitable for many different things such as:
Producing red blood cells

Turning fats into energy

Maintaining a healthy nervous system

Removing toxic chemicals from kidneys
How Many Bananas Can My Frenchie Have?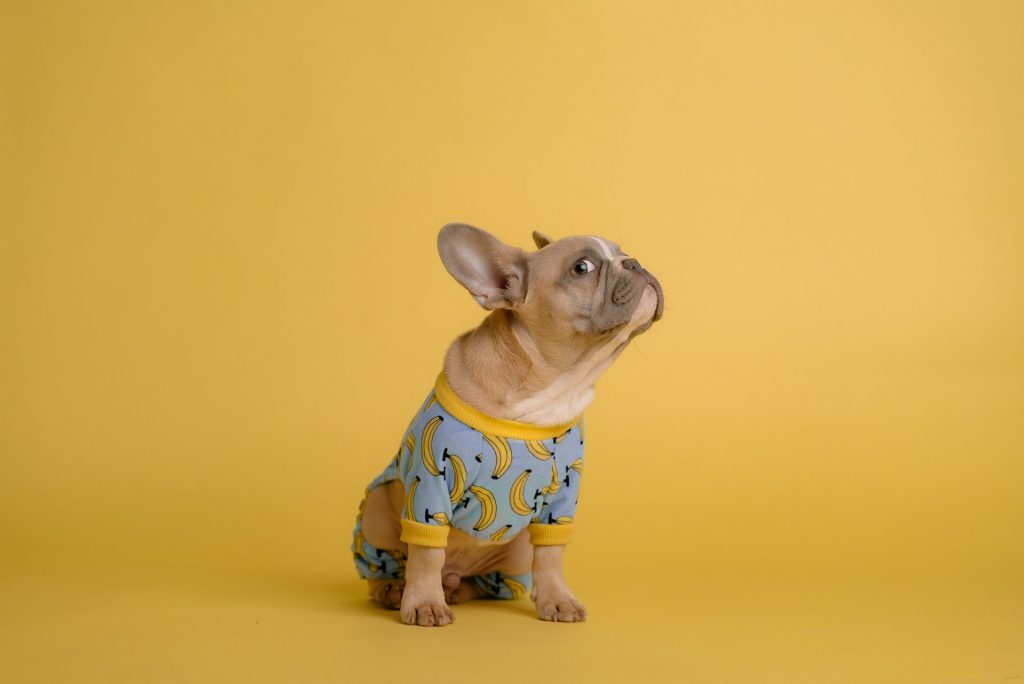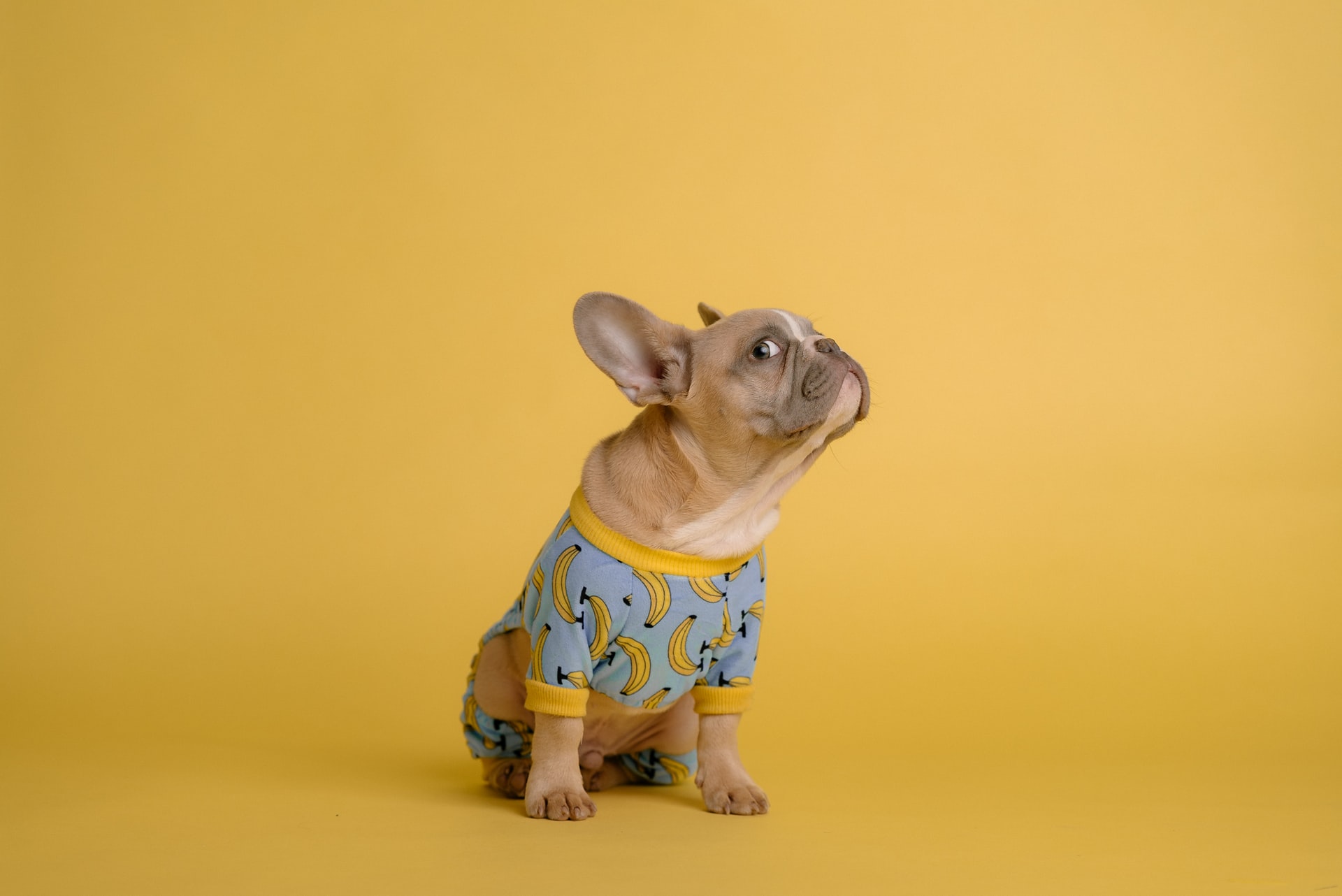 Frenchie parents, you ought to be careful with your fruit. Whatever treat you include in your dog's diet, you should first learn about the allowed amounts.
Don't go bananas!
You Frenchie shouldn't eat bananas every day. According to expert advice, you are allowed to include several slices of bananas three days a week. That is the perfect amount if you really want this nutrient to become a part of your Frenchie's diet.
Remember that bananas are not considered everyday food but can serve as an occasional addition to the main meal.
How To Prepare This Treat?
Apart from the usual chopping of banana slices, there are a couple of ways you can make this treat interesting and delicious at the same time.
Here are a few ideas for serving bananas to your French bulldog:
Frozen Bananas (Perfect For Summer)
It's the middle of July, and you need some easy and refreshing treat ideas for your Frenchie.
Just take a banana, peel it, and put it in the freezer. Let it sit for a bit. After it's frozen, take it out and chop it into small slices – but not too small so that your Frenchie doesn't choke.
It's a perfect and healthy summer snack when you're short on time.
Mashed Bananas (As A Side Meal)
If you're looking for something healthy to add to your Frenchie's main meal, you can just take a banana, peel it completely, and mash it with a fork.
You can put these mashed bananas in the same bowl as the main meal or in a separate one – as your Frenchie prefers it. Regardless of the method of serving, your pooch will enjoy this tasty side meal.
Banana Treats (Pet Shop Food)
If you know for sure that your Frenchie loves bananas, and you don't have any fresh ones in your kitchen at the moment, you can give it dog food with banana flavor.
Believe it or not, there are dozens of banana-flavored dog biscuits that are just as healthy as the fruit itself. You just have to choose carefully.
Are There Any Side Effects?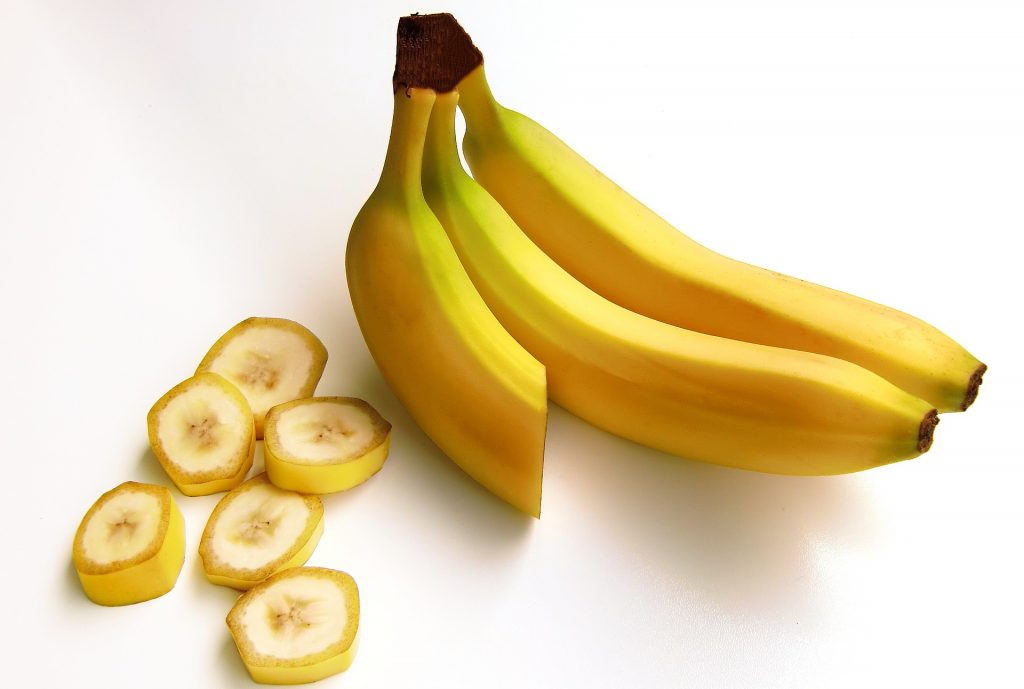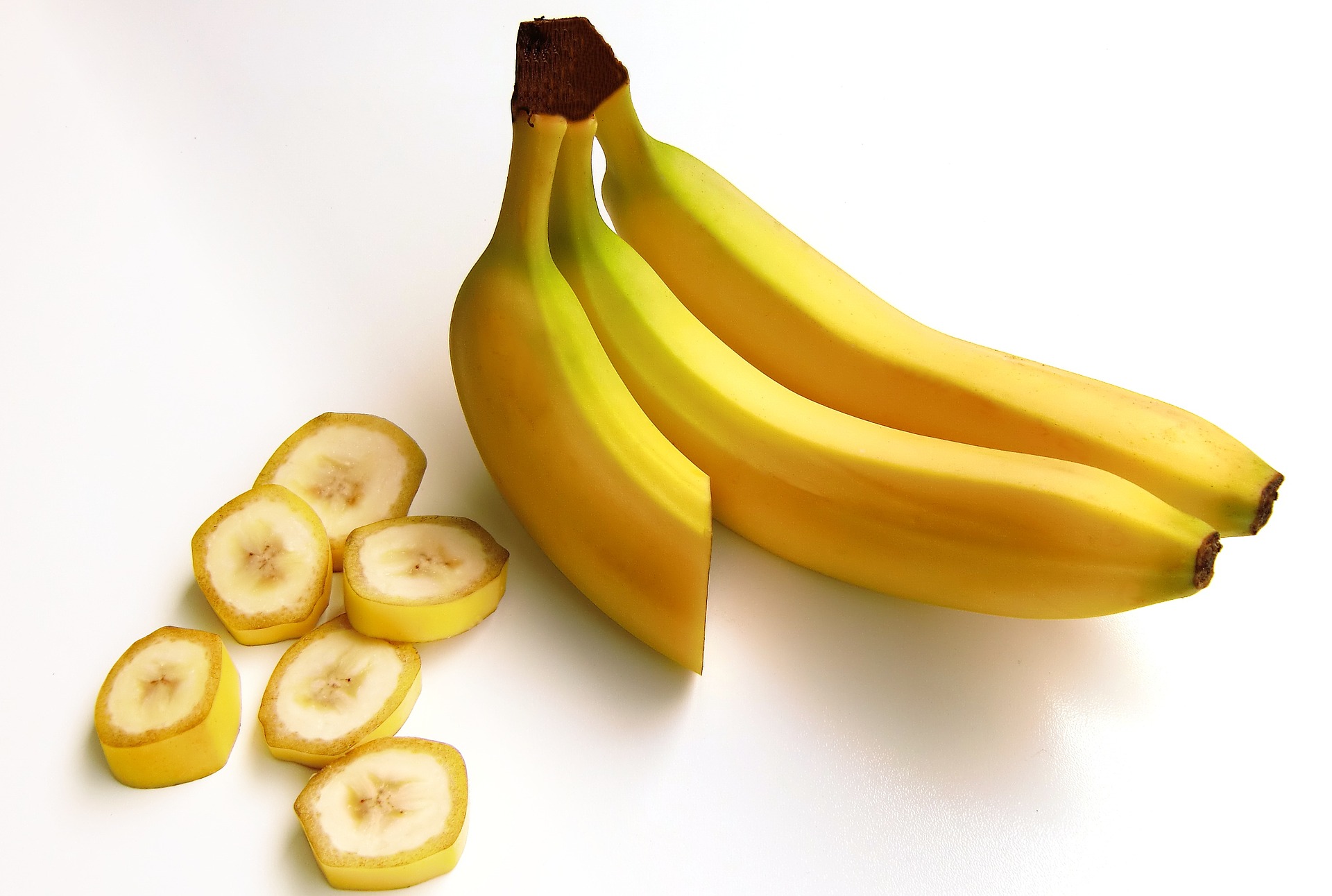 Even with the healthiest nutrients, there are side effects if you don't pay attention to the recommended amount. 
Here's what might happen if you feed your Frenchie too many bananas at once.
Constipation
Just as the recommended dose can help your Frenchie digest food more easily, too many bananas at once can cause constipation. The first symptom of this is nausea.
Diarrhea
A more-than-recommended amount can also cause diarrhea. The problem should not be ignored, and you should contact your vet as soon as you notice that something's wrong with your dog's stomach. 
You might have to alter your Frenchie's diet a bit.
FAQs
Q: Can my French bulldog be allergic to bananas?
A: Although most dogs love bananas and regularly eat banana-flavored treats, there is a slight possibility that your Frenchie will develop an allergic reaction. Symptoms that might suggest this are as follows:
Sneezing

Skin irritation

Itchiness

Hives

Vomiting
If you notice anything from the list above, contact your vet ASAP.
Q: Can I feed my Frenchie banana peels?
A: No! Banana peels are toxic, and they can cause serious consequences if your Frenchie eats them. Always peel the banana properly before you give it to your dog as a snack.
Q: Can my French bulldog die from too many bananas?
A: Don't worry; your dog won't die if it has one too many bananas. The worst-case scenario is food poisoning, and you should contact your vet if you notice any significant symptoms.
Conclusion: Can French Bulldog Eat Bananas? 
The answer is YES.
Your French bulldog is allowed to have this tasty superfood but in moderation. Although they are full of vitamins, bananas are not your dog's everyday food.
It's recommended that your Frenchie eats several slices of bananas three times a week. If you stick to this rule, you will boost your Frenchie's immune system and energy levels.
Anything above the recommended dose can affect your dog badly and cause constipation or diarrhea. In case this happens, it would be best to call your vet for further treatment.
There are many ways to serve bananas to your French bulldog, but be sure that you peeled them completely before you do that.
We're constantly working to improve our content and relate to French bulldog parents from all over the world. If you know something that we don't, feel free to make your contribution. We'd love to hear from you!
Until next time!