We all know that pineapple is healthy for us humans – but what about our French bulldogs? 
Can French Bulldogs eat pineapple? 
That's the question that we're going to tackle in today's post. 
Is Pineapple Safe For French Bulldogs To Eat?
Yes, pineapple is safe - and your French bulldog could benefit quite a bit from eating this magical fruit.  Pineapple contains a lot of good stuff, such as vitamin C, bromelain, antioxidants; the list goes on. More on this later. 
There is a catch, though. 
Doggies do not digest food in the same way that humans do. Or, more precisely, they can't digest human food as well as we can. 
Due to this, it's best to limit their intake of pineapple to small, moderate amounts.
If your Frenchie has never had pineapple before, give them a small piece first – and see how they react. If the dog experiences diarrhea, bloating, or vomiting, you definitely shouldn't feed it pineapple anymore.
The same rule applies to apples, of course.
Which Part Of The Pineapple Can French Bulldogs Eat?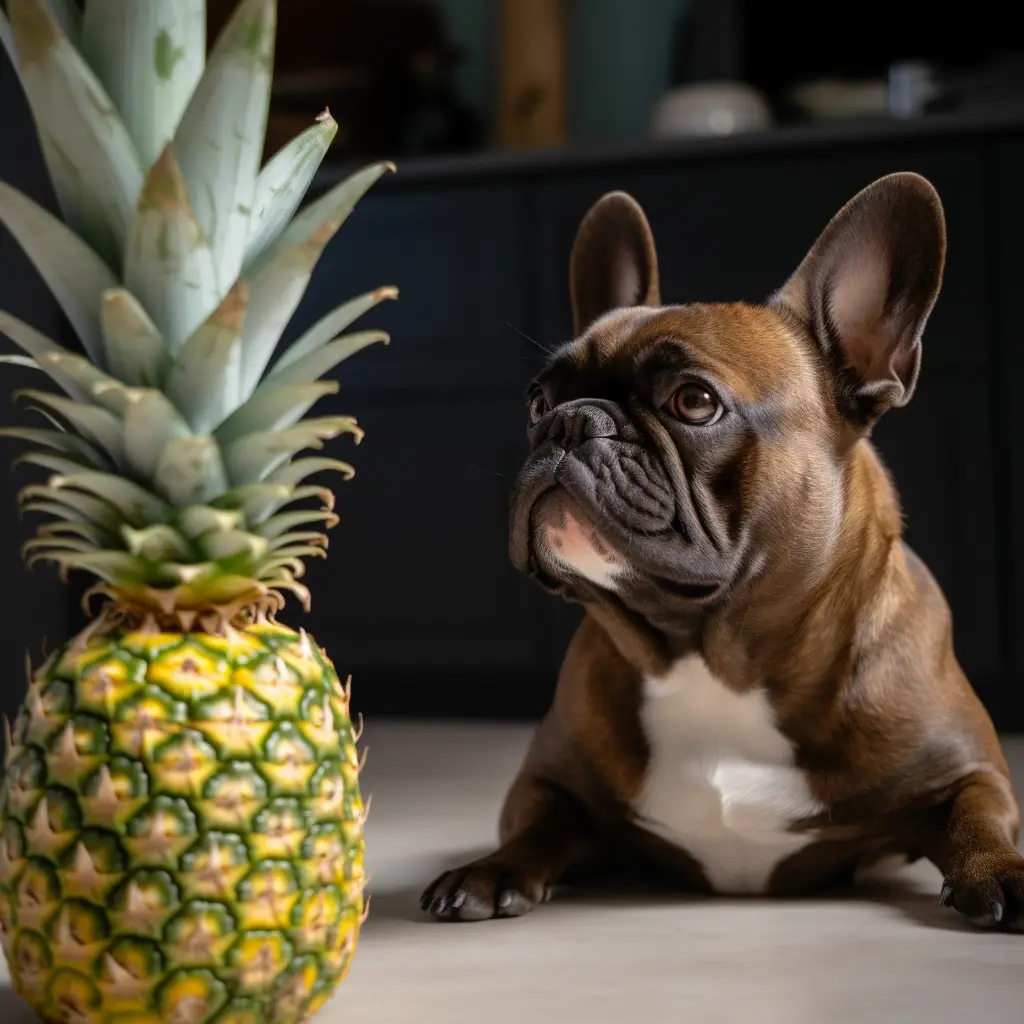 Just like us, French bulldogs can only eat the flesh of the pineapple. No core or skin should find its way into your dog's bowl as this could cause many problems. 
For instance, it could get stuck in the animal's digestive tract, and surgery might be required to remove it. 
Take extra caution when you're peeling and cleaning the pineapple – and make sure to put the "bad parts" out of the dog's reach.
Dog Eats Its Own Poop - Will Pineapple Make It Stop?
Believe it or not, there's an actual name for this condition – coprophagia. What on Earth makes a dog eat its own poop? Well, there are a couple of reasons, but the most common one is as follows: 
The animal gets fed human food – which tends to have a more intense taste than dog food – so its feces end up smelling good to it, too. And if it smells good, the pup sees no problem with eating it.
Now, to answer the question, will eating pineapple make your French bulldog stop eating poop? 
It probably will, as the pineapple will change the smell and taste of the feces in a way that is unappealing to the doggie. 
Give it a try, see how it goes!
How Can French Bulldogs Eat Pineapple?
French bulldogs – and all dogs for that matter – should only consume fresh pineapple. Do not feed them the canned variety; it is chock full of sugar.
Okay, that aside, how do you prepare the pineapple for your Frenchie's consumption?
It's very straightforward:
Wash the unpeeled pineapple (the skin might contain pesticides or other bad stuff)

Peel the pineapple thoroughly and remove the core

Chop the pineapple flesh into small pieces 
The last step is vital, and you should make sure that the pieces are small – even if you have a big French bulldog. That is because dogs often don't chew the fruit but just swallow it – and so, a large piece could pose a choking hazard.
The same rule applies to watermelon, for example.
How Often Should My French Bulldog Eat Pineapple?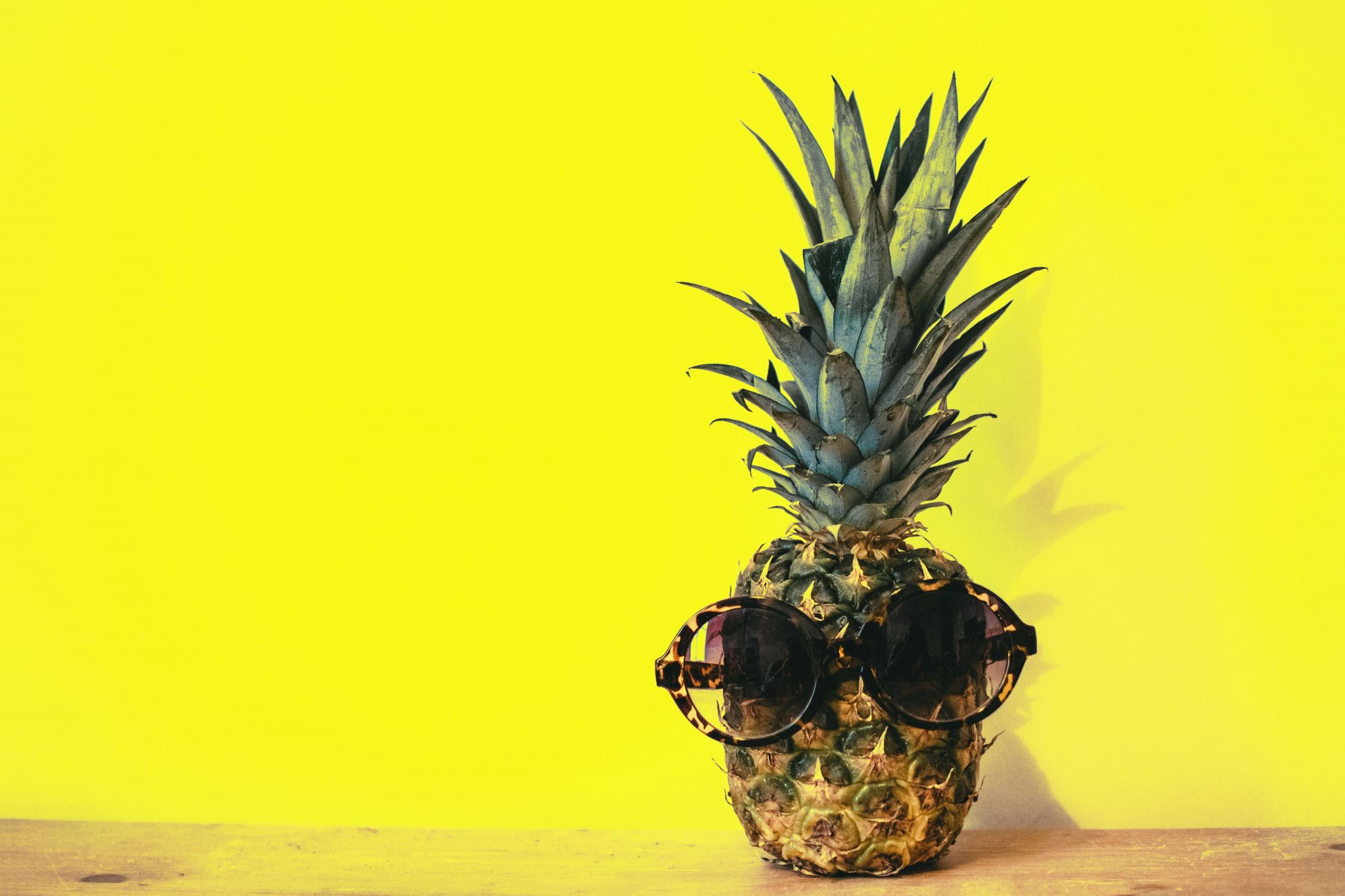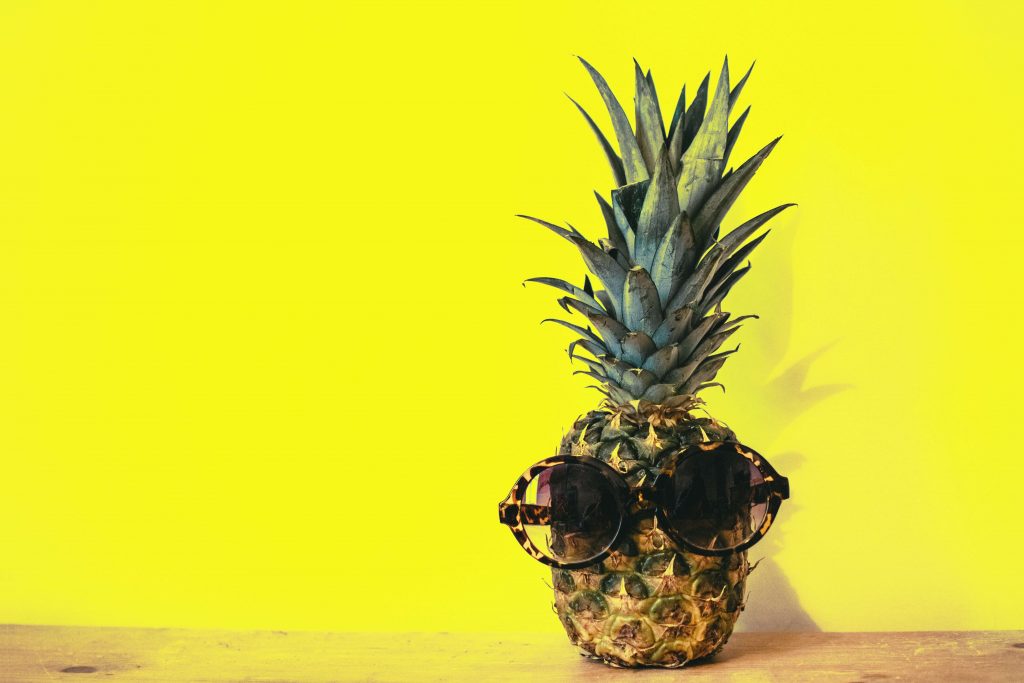 We already mentioned that this fruit should be served in moderation – but in what amount and how often? 
If your dog reacts well to this fruit – that means no vomiting, diarrhea, etc. – you can give it two to three pieces every other day. By doing this, you'll make sure that the dog reaps all the benefits of pineapple and avoid the potential pitfalls.
Are There Any Side Effects Of My Dog Eating Pineapple?
Even if your French bulldog seems to react well to pineapple in general, it doesn't mean that it is immune to certain side effects. 
Constipation is the most common one – and it usually means that the dog has eaten too much pineapple too soon. If this happens, cut this fruit out from your pet's diet and see if its bowel movements improve. 
Once the constipation is resolved, you can reintroduce the pineapple but in smaller amounts.
Currently hot in our store
French Bulldog Feeding Mat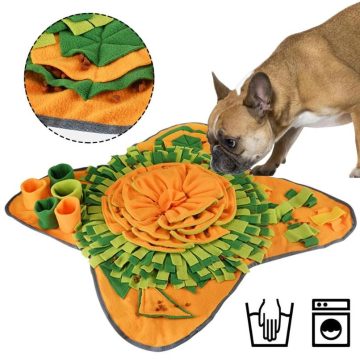 This feeding mat will make your Frenchie sniff around and look for hidden treats for hours!
It's perfect for mental exercise and keeps your Frenchie occupied while relieving stress and anxiety. What's more, the mat will help train your Frenchie's scent – and you could also use it when playing outdoors.
Can Frenchies Eat Pineapple - Frequently Asked Questions
Let's go over some quick questions that people often want to know the answers to when it comes to Frenchies and pineapples:
Q: What Are The Nutritional Benefits Of Pineapple For Your Dog?
A: The most important nutrients and their benefits are outlined below: 
Vitamin C – Boosts the dog's immune system

Vitamin B6 – Good for the brain and hormone regulation

Antioxidants – Promotes quicker healing 

Bromelain – Anti-inflammatory properties
Q: Can A French Bulldog Be Allergic To Pineapple?
A: Allergies are uncommon – but not unheard of. Itching, excessive licking, and skin inflammation are the symptoms of a food allergy. If you notice these – or any other unusual symptoms – make sure to take your dog to a vet.
Q: Can French Bulldogs Eat Cooked Pineapple?
A: Yes, this shouldn't be a problem, especially if your pet likes cooked food. Same as with raw pineapple, do not go crazy with the amount; stick to the same recommendations. You can feed it to the dog alone or mix it into dishes.
Conclusion: Can French Bulldogs Eat Pineapple?
Once again, the answer is yes. Pineapples are an excellent snack for French bulldogs and have plenty of nutritional benefits for the dogs. 
Of course, this is given that they don't eat too much, as this could cause constipation. Introduce the pineapple carefully – just like any other food – and the chances are that your Frenchie will love it!
About

Johnny

Johnny, a Frenchie owner and enthusiast, shares his wealth of knowledge on training and caring for French Bulldogs. When not writing, he enjoys hiking and time in nature with his pets.