Last Update:

June 15, 2023
Can French bulldog eat oatmeal? 
Oatmeal, a staple in many of our breakfast routines, is often touted for its health benefits. It's packed with nutrients and fiber, but does this mean it's a good fit for our four-legged friends too, specifically our beloved French Bulldogs?
Despite the health buzz around oatmeal, some Frenchie parents still harbor skepticism. They wonder, 'Is it truly safe to share this morning meal with my Frenchie?'
In this article, we're delving into this question head-on. Let's explore the world of oats from a Frenchie's perspective.
So, is oatmeal safe for French bulldogs?
Short answer:
Yes, oatmeal is an excellent addition to your bulldog's diet as long as it's used in moderation. More on that below!
Why Oats Deserve a Spot in Your French Bulldog's Bowl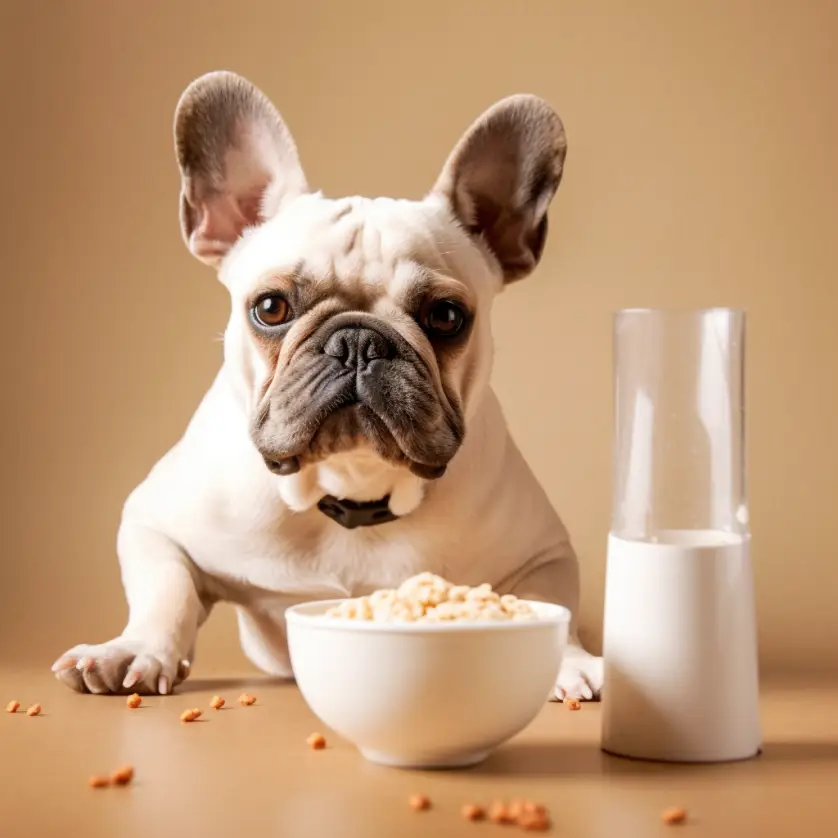 If you're contemplating whether to include oatmeal in your Frenchie's diet, let's shed some light on the benefits this humble grain can offer. Here's why oats could be a nutritious addition to your French Bulldog's meals:
Promotes a Lustrous Coat: Oatmeal is known for its high content of linoleic acid, a type of Omega-6 fatty acid that's crucial for skin and coat health. Regular consumption can result in a shinier coat and reduced shedding, keeping your Frenchie looking their best.
Boosts Immunity: The vitamins and minerals found in oatmeal, such as Vitamin E and zinc, can help strengthen your Frenchie's immune system, preparing them better to fight off illnesses.
Aids in Wound Healing: Certain nutrients in oatmeal, like zinc and protein, play a vital role in wound healing. If your Frenchie has a cut or scrape, oatmeal can help speed up the recovery process.
Supports Healthy Blood Sugar Levels: Oatmeal is a whole grain that's high in fiber, which can help control blood sugar levels and reduce the risk of diabetes in French Bulldogs.
Keeps the Liver Healthy: The silymarin in oatmeal can help protect the liver from damage and improve its function, ensuring your Frenchie's overall health.
Acts as a Natural Mood Booster: Some studies suggest that the nutrients in oats can help increase serotonin levels, a hormone that contributes to well-being and happiness. It could potentially act as a natural mood enhancer for your Frenchie.
Acts as a Natural Mood Booster: Some studies suggest that the nutrients in oatmeal can help increase serotonin levels, a hormone that contributes to well-being and happiness. It could potentially act as a natural mood enhancer for your Frenchie.
Lowers Cholesterol: Oatmeal contains soluble fiber, particularly beta-glucan, which can help lower your Frenchie's cholesterol levels, contributing to their cardiovascular health.
Regulates Digestion: Oatmeal is high in fiber, which can help regulate your French Bulldog's digestive system, aiding in conditions like constipation and diarrhea.
Our Customers' Top Choices: What's Trending in the Frenchie Globe Store
Should Oatmeal Be a Daily Dish for Your French Bulldog?
As a French Bulldog owner and enthusiast, I've delved into the world of canine nutrition to provide the best for my furry friends. Oatmeal, as many of us know, is a nutritious powerhouse. But, should we include it daily in our Frenchies' meals?
Let's get this straight, folks. Although oatmeal is packed with nutrients, it shouldn't replace the regular meals of our French Bulldogs. I like to think of it as a 'superfood' guest star, making occasional appearances in their food bowl, but not the main event.
Now, you might be wondering if feeding oatmeal daily is a good idea. Well, from my experience and research, I'd advise caution. Oatmeal's high fiber content, while beneficial, can cause gastrointestinal issues like vomiting and diarrhea if overfed. However, if you've noticed your Frenchie struggling with constipation or irregular bowel movements – something I've seen in many of our older pups – a little oatmeal could help set things right.
Remember, folks, when it comes to introducing new foods to our Frenchies' diet, moderation is key. I also always recommend consulting with your vet before making significant changes to your pet's meals. Tailoring the diet to suit our Frenchies' unique needs is the secret recipe for a healthy and happy life. And when it comes to figuring out 'which human food can Frenchies eat,' I've put together a comprehensive guide that you might find useful in navigating your Frenchie's diet.
Stay informed, folks, and always aim to provide the best possible care for our beloved French Bulldogs!
What Nutrients Contained In Oats Are Good For French Bulldogs?
Four nutrients are extremely healthy for any breed of dog, not just French bulldogs: 
Protein

– Will keep your little buddy's coat nice and shiny. It also helps with healing, and it stops fur from falling off.

Soluble fiber

– Will reduce cholesterol levels, which in turn reduces the risk of your French bulldog getting heart disease.

Vitamin B6

– Helps your pupper turn fats and proteins into energy. This vitamin also helps your bulldog fight depression. If your Frenchie doesn't get enough B6 in its diet, it will feel nausea.

Vitamin B9

– Helps your French bulldog form healthy red blood cells. It also helps to keep the liver in top shape and is good for the hair, skin, and eyes.
Can French Bulldog Puppies Eat Oatmeal?
The answer is yes, but with a few caveats.
French Bulldog puppies can indeed eat oatmeal, but it's best to introduce this after they've started eating solid foods. Just as we've recommended for adult Frenchies, oatmeal should not be a daily menu item for your puppy.
Remember, a puppy's stomach is much smaller and more sensitive than an adult's. So, it's crucial to serve oatmeal in small portions and limit its inclusion in their diet to no more than twice a week. This will help ensure that your puppy gets a balanced diet and that their digestive system isn't overwhelmed.
As always, remember to consult your vet when introducing new foods into your Frenchie pup's diet to ensure it's appropriate and beneficial for their growth and development.
How To Prepare Oatmeal For Your French Bulldog?
Serving Oatmeal to Your French Bulldog: A Quick Guide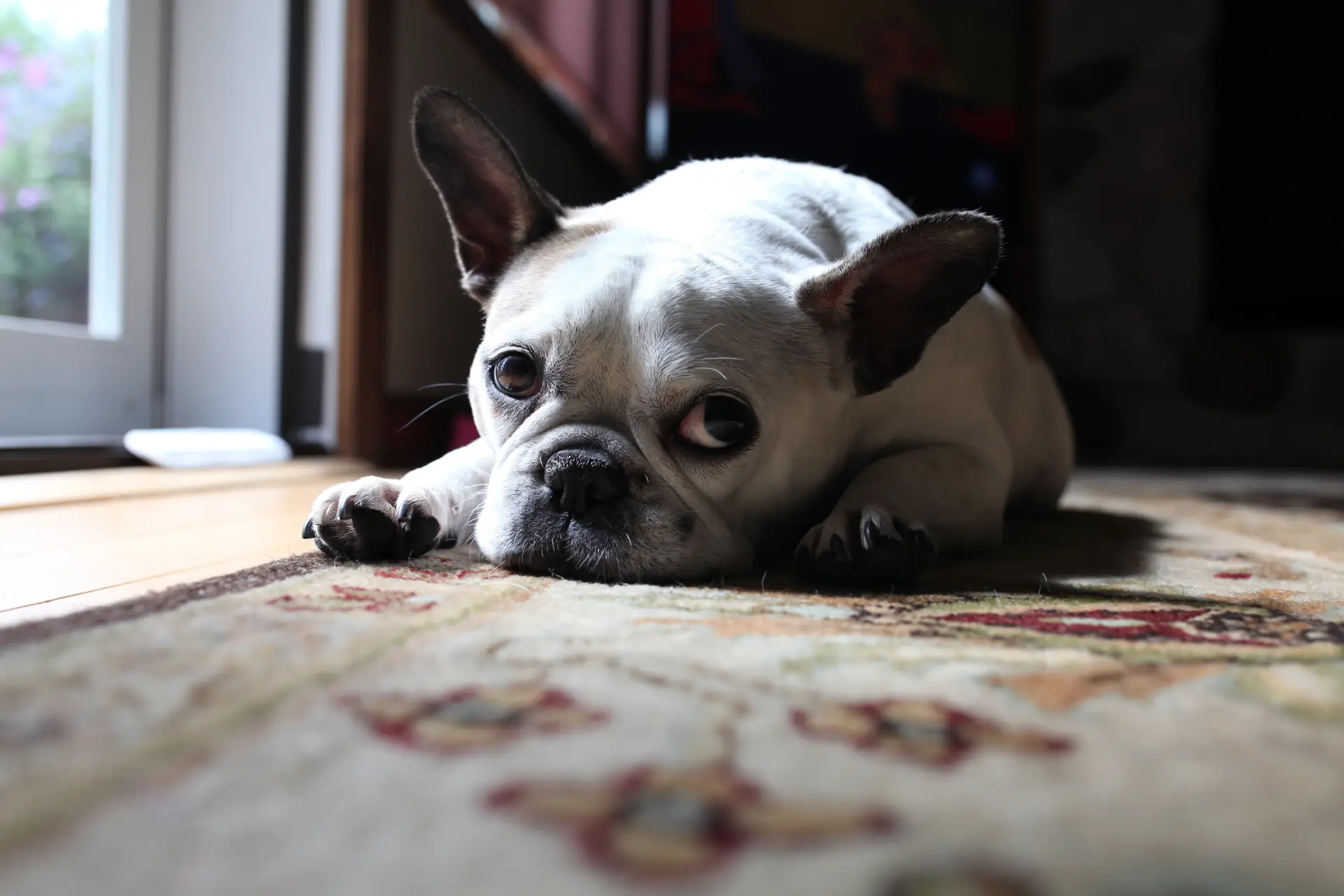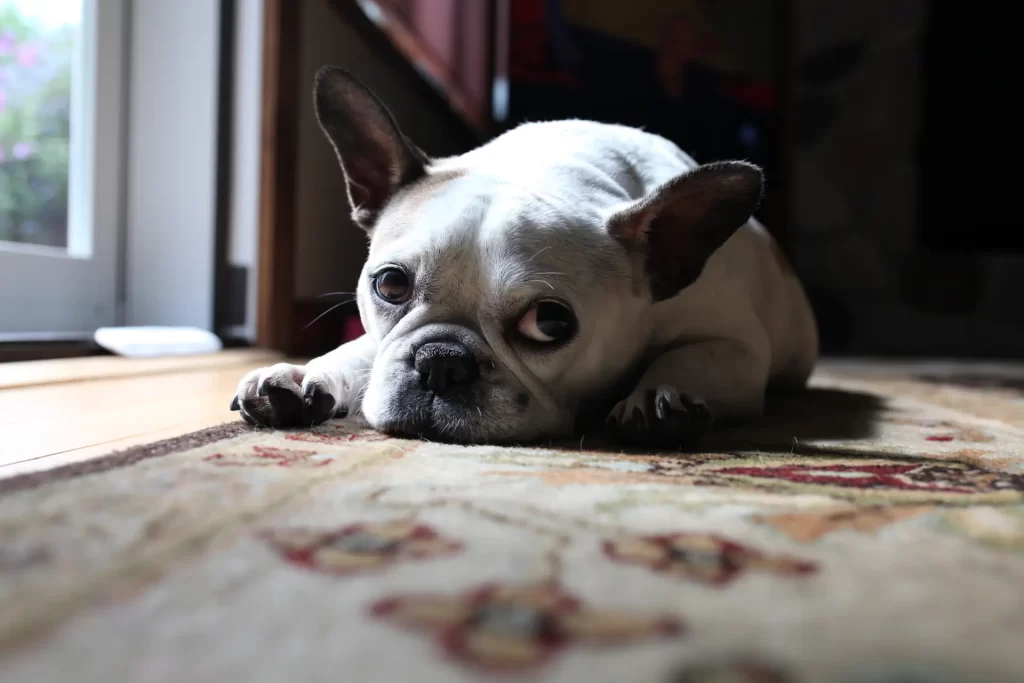 While it's clear that our furry friends are not humans, it's worth reiterating that their dietary needs and digestive capabilities differ from ours. This is particularly important to keep in mind when preparing oatmeal for your French Bulldog.
Here's how to prepare oatmeal for your Frenchie:
Cook the Oatmeal:

Dogs can't digest raw oats as easily as humans can, so always cook the oatmeal before serving. Use water rather than milk to cook the oatmeal, as milk can often upset a dog's digestive system.

Keep it Plain: Resist the temptation to sweeten your Frenchie's oatmeal with sugar or other additives. These can cause digestive issues and potentially lead to more serious complications. Remember, what tastes good to us might not be suitable for our pets.
Serve as a Supplement, Not a Meal: Oatmeal should be an occasional addition to your French Bulldog's diet, not a main course. Its role is to supplement and diversify their nutrition, not to replace balanced meals.
Cool it Down: Once the oatmeal is cooked, allow it to cool down to room temperature before serving. This will ensure it's at a safe temperature for your Frenchie to enjoy.
By following these steps, you can provide your French Bulldog with a healthy, enjoyable snack that also benefits their health. As always, observe your pet's reaction to new foods and consult your vet with any concerns.
More Frequently Asked Questions - Answered
Now that you know the benefits – and how to feed your French bulldog oatmeal – let's go over some frequently asked questions.
Q: What's the nutritional value of oatmeal?
Like we mentioned above, when prepping oatmeal for your French bulldog, don't add any salt, sugar, or milk; just boil it in water.
100 grams of plain oatmeal contains:
Approximately 70 calories

12.5 gr of carbohydrates

2.4 gr of proteins

3 milligrams of niacin

0.3 milligrams of vitamin B6

0.4 milligrams of folate

7.1 milligrams of choline

80 milligrams of calcium

6 milligrams of irons

26 milligrams of magnesium

77 milligrams of phosphorus

61 milligrams of potassium

49 milligrams of sodium

13 milligrams of Omega-3

409 milligrams of Omega-6
Q: How much oatmeal is safe for French bulldogs?
The quantity of oatmeal that's safe for your French Bulldog largely depends on its size. The general recommendation from Dr. Fox, an expert from the New York City's Animal Medical Center, is to feed your dog one tablespoon of cooked oatmeal for every 20 pounds of their weight.
This guideline, however, assumes that your dog isn't being fed oatmeal exclusively. Consuming too much oatmeal, which is high in carbohydrates and relatively calorie-dense, could lead to gastrointestinal issues like diarrhea, vomiting, or even life-threatening bloat. For most larger dogs, a maximum of half a cup of cooked oatmeal, served one to two times a week, is more than sufficient.
Remember that these amounts are just general guidelines and the actual amount can vary depending on the specific dietary needs and health condition of your French Bulldog. Always ensure that your Bulldog's diet is well-balanced and doesn't rely heavily on human food. When in doubt, consult with a veterinarian to establish the most suitable diet for your pet.
Q: Are French bulldogs sensitive to oatmeal?
French Bulldogs, like many other breeds, can safely consume oatmeal in moderation. It can provide a healthy source of carbohydrates, dietary fiber, and protein to support their energy levels.
It's critical, however, to always serve it cooked and unsweetened to your Frenchie.
The specific quantity of oatmeal that a French Bulldog can safely eat depends on their age, size, and activity level. As a general guideline, French Bulldogs should consume no more than a quarter cup of oatmeal per day.
French Bulldogs are not usually sensitive to oatmeal, which is a common ingredient in many dog food recipes. Nevertheless, it's always a good idea to consult with your veterinarian if you have concerns about potential allergies. Furthermore, the oatmeal should be free of additives and preservatives to ensure it's safe for your French Bulldog to consume1.
It's worth noting that while oatmeal is generally safe, French Bulldogs can be sensitive to other common food items. Some known foods that can cause allergic reactions in French Bulldogs include dairy products, chicken, beef, some types of fish, wheat, lamb, corn, soy, and chicken eggs.
Q: What are the symptoms of oatmeal allergy in French bulldogs?
In case of oatmeal allergy, keep an eye out for:
Diarrhea

Vomiting

Signs of having an upset stomach

A bloated stomach

Constipation

Weight loss

Weakness

A dull coat

Dry skin

Itching

Trouble breathing
Conclusion: Can French Bulldogs Eat Oatmeal?
In a nutshell, French Bulldogs can indeed eat oatmeal. This wholesome grain can be a great addition to your Frenchie's diet when served appropriately. Remember, moderation is key. To keep it as healthy as possible, prepare the oatmeal simply by boiling the oats in water, and ensure it's cooled to room temperature before serving.
Avoid adding any extras like sugar, salt, or milk, as these can lead to unnecessary health complications. And while oatmeal is a nutritious supplement, it should never replace a balanced, canine-appropriate diet.
Feeding your French Bulldog oatmeal can be a beneficial part of their diet, but always consult with your vet for personalized dietary advice.
If you have more insights or experiences about French Bulldogs and oatmeal, feel free to drop a comment and join the discussion. And if you found this article helpful, why not share it with other French Bulldog owners? Let's keep our furry friends happy and healthy together!
About

Johnny

Johnny, a Frenchie owner and enthusiast, shares his wealth of knowledge on training and caring for French Bulldogs. When not writing, he enjoys hiking and time in nature with his pets.