Can French bulldog eat cheese? If it was up to them, we know they certainly would. But is it safe for them to do so? And while we're at, what kinds of cheese – and in what amounts – are ok for our furry friends? 
Let's find out! 
Quick answer:
Yes, unless your Frenchie is lactose intolerant, you can allow your dog to enjoy some cheese here and there.
Can I Give My French Bulldog Cheese?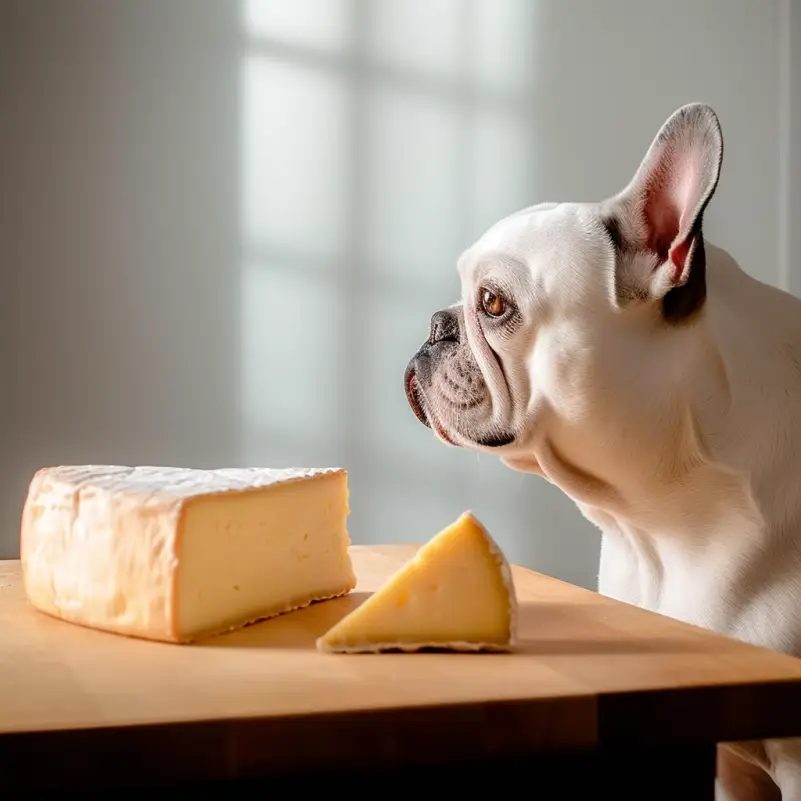 Yes, you can most likely treat your doggo to some cheese, since most pups don't have issues with lactose. 
On the other hand, giving small amounts of cheese, milk, or any other dairy product to a dog who struggles with lactose intolerance will cause diarrhea, bloating, and discomfort. 
If you don't know if your dog has lactose intolerance, you can offer them a small piece of cheese. If they don't have a reaction, you can safely give them more of this delicious food.
However, know that, when it comes to dogs, these rules don't apply to all types of cheese. Some types are easier for Frenchies to digest – such as cottage cheese or mozzarella, for example – while others, like cream cheese, with higher fat contents, are not as healthy.
What Types Of Cheese Is Good For French Bulldogs?
Did you know not all cheeses are created equal, especially when it comes to our charming little Frenchies? Well, we've done our homework and have the scoop for you!
Talking with veterinarians about this topic, there's a common ground that almost everyone stands on: 
Low-fat cheeses such as mozzarella or cottage cheese can be a healthy treat for French Bulldogs. They're packed with calcium and protein but are lower in fat and calories compared to other cheeses. You might be wondering:
How much of these cheeses can my Frenchie have? 
Let's break it down: For an average-sized Frenchie, a small cube of cheese (around 1 inch) is enough for a day. However, this can vary based on the size, weight, and overall health of your dog. Always remember, moderation is key!
We've heard delightful stories from French Bulldog owners too. Lisa, a Frenchie owner from New York, shared:
My Frenchie, Bella, loves her mozzarella treats. But I ensure it's just a small piece, once or twice a week. She's been energetic and her coat's been shiny ever since we started this routine!
But it's not always a cheesy delight for every Frenchie. Some might have lactose intolerance or specific dietary restrictions. In such cases, you might want to consider cheese alternatives like sweet potatoes or carrots, which are also loved by our furry friends.
Look out for signs of overconsumption or intolerance, such as bloating, excessive gas, or changes in their stool. If you notice any such signs, it's best to consult with your vet right away.
Must-Haves from the Frenchie Globe Shop: The Popular Products You Can't Miss
Is Cheese Good For French Bulldogs?
As a Frenchie parent, I know firsthand how much our little companions enjoy a good treat. And cheese? Oh, it's like Christmas has come early for them! But, as with all good things, moderation is the mantra.
Cheese can be an excellent source of protein and calcium for our Frenchies. It's also loaded with essential vitamins like A and B12, all of which contribute to a robust immune system, a shiny coat, and strong bones. However, cheese should complement, not replace, a balanced diet.
In my experience, I've found cheese to be particularly useful when I'm training my Frenchie. For instance, the other day, I was teaching my little buddy to 'stay,' and a small piece of cheese worked wonders as a reward. But remember, not all treats are created equal. I've explored other healthy alternatives too, like eggs. You can check out my experience on feeding eggs to French Bulldogs here.
While cheese can be a delightful snack, it's essential to remember that Frenchies are prone to certain health issues like obesity. If your Frenchie is a bit on the heavier side, it's probably best to opt for low-fat cheese or even other low-calorie treats. I've compiled a list of human foods that are safe for French Bulldogs here.
But what about lactose intolerance, you ask? Yes, some Frenchies might be sensitive to lactose found in dairy products like cheese and milk. If you're unsure, I recommend starting with a small amount and observing for any changes in your Frenchie's behavior or digestion. If you notice any adverse reactions like diarrhea or excessive gas, it's best to consult with your vet and consider lactose-free options. On a related note, you might be wondering if it's okay for your Frenchie to have a lick of your milkshake – I've covered that here.
Ultimately, whether cheese is good for your Frenchie depends on your pup's health, dietary needs, and personal preferences. As always, when in doubt, consult your vet. After all, a healthy Frenchie is a happy Frenchie!
Can French Bulldogs Eat Cheese Every Day? 
Well, just like we wouldn't eat cake every day (as tempting as that sounds!), it's best to not give cheese to our Frenchies daily. While cheese is a tasty treat, too much can lead to weight gain and possibly upset their stomach, especially if they're sensitive to lactose.
Think of cheese as a special treat or a training reward, rather than a daily staple in your Frenchie's diet. Always keep in mind, a balanced diet is key to a healthy, happy Frenchie!
In the end, it's all about moderation and knowing your own Frenchie's dietary needs and restrictions. And as always, when in doubt, it's best to consult with your vet.
Types of Cheese That Aren't Good For Frenchies
Cream cheese has high lactose content, which will probably result in your dog having an upset stomach. That's exactly why you should keep it on your dining table – and not in your puppy's food bowl.
Parmesan cheese doesn't contain that much lactose but is rich in salt. Dogs shouldn't consume lots of sodium – so, again, it's best to opt for a different type of cheese.
Goat cheese contains even more lactose than cow's milk, and it's also very, very salty – even for us humans. So, it's probably one of the worst choices for your Frenchie pup.
More of Your Frequently Asked Questions Answered
There are some pieces of information most people are interested in when it comes to this topic – and rightfully so. Here are some of the answers to the most frequently asked questions. 
Q: What is the nutritional value of cheese?
This list only includes dog-friendly types of cheese.
Cheddar Cheese:
100 Calories

Fat: 81 g (4023mg of Omega-3 fatty acids and 4.5gr of saturated fat)

Protein: 6 g

Calcium: 200 mg

Sodium: 500 mg

Cholesterol: 20 mg
Swiss Cheese:
86.2 Calories

Fat: 58.2 g

Protein: 25.8 g

Amino Acids: 6.5 g

Vitamin A 215 IU

Calcium: 215 mg

Sodium: 431 mg

Cholesterol 21.5 mg
Cottage Cheese:
24.1 Calories

Fat: 6.0 g

Carbohydrate: 3.9 g

Protein: 14.1 g

Amino Acids: 3.3 g

Vitamin A: 20.7 IU

Folate: 2.8 mg

Choline: 4.6 mg

Betaine: 0.2 mg

Calcium: 25.5 mg

Magnesium: 2 mg

Phosphorus: 45.6 mg

Potassium: 23.5 mg

Sodium: 92.4 mg

Cholesterol: 2.8 mg

Water: 22.6 g
Mozzarella:
41.7 Calories

Protein: 35.5 g

Carbohydrates: 6.2 g

Amino Acids: 8.9 g

Dietary Fiber: 0.5 g

Sugar: 0.4 g

Choline: 4.3 mg 

Calcium: 269 mg

Iron: 0.1 mg

Magnesium: 9.2 mg

Phosphorus: 184 mg

Potassium: 29.7 mg

Sodium: 208 mg

Cholesterol: 5.0 mg

Water: 16.9 g
The values are for 28 grams (1 ounce) of cheese.
Q: What amount of cheese is healthy for Frenchies?
The cheese will only be healthy for our furry friends if fed in small portions – and only if your Frenchie is not lactose intolerant. 
Even the healthiest of things can become unhealthy if you consume too much of them. 
So, stay moderate and only use cheese as a treat.
Q: Are French bulldogs predisposed to cheese allergies, and what are the symptoms of an allergic reaction?
Even though some dog breeds are more prone to developing an allergy to cheese, we have great news – Frenchies are not one of them. 
It doesn't mean that they cannot develop it, though. So, don't take this info for granted, and always limit the amount of cheese you give to your dog.
If your Frenchie does happen to have an allergic reaction, you should know what the symptoms are so that you can react promptly.
Signs of an allergic reaction are:
Vomiting

Diarrhea

Itchy Skin

Skin and Ear Infection

Red skin

Too Much Self Licking

Frequent Bowel Movements

Seizures (not common, but possible)
**These are the most common symptoms, not all of them. So, please contact your vet if your dog starts acting unusually after eating cheese – even if it's not something we listed here.
Conclusion: Can French Bulldogs Eat Cheese?
Yes! Cheese contains certain ingredients that are beneficial to your Frenchie's health – and they love to eat it, too. So, it can be used as a great tool for dogs in training. 
Dogs react very well to positive reinforcement – especially when it involves a treat they love. So, why not give it a go?
As long as your Frenchie's not lactose intolerant, overweight, and doesn't have any other health problems that would prohibit them from eating it, cheese is anything but a no-no.
But remember, moderation is key; overdoing it would do more harm than good.
About

Johnny

Johnny, a Frenchie owner and enthusiast, shares his wealth of knowledge on training and caring for French Bulldogs. When not writing, he enjoys hiking and time in nature with his pets.