Can French bulldog eat cheese? If it was up to them, we know they certainly would. But is it safe for them to do so? And while we're at, what kinds of cheese – and in what amounts – are ok for our furry friends? 
Let's find out! 
Quick answer: Yes, unless your Frenchie is lactose intolerant, you can allow your dog to enjoy some cheese here and there.
Can I Give My French Bulldog Cheese? 
Yes, you can most likely treat your doggo to some cheese, since most pups don't have issues with lactose. 
On the other hand, giving small amounts of cheese, milk, or any other dairy product to a dog who struggles with lactose intolerance will cause diarrhea, bloating, and discomfort. 
If you don't know if your dog has lactose intolerance, you can offer them a small piece of cheese. If they don't have a reaction, you can safely give them more of this delicious food.
However, know that, when it comes to dogs, these rules don't apply to all types of cheese. Some types are easier for Frenchies to digest – such as cottage cheese or mozzarella, for example – while others, like cream cheese, with higher fat contents, are not as healthy.
Is Cheese Good For French Bulldogs? 
Cheese contains lots of fat, which generally helps dogs absorb vitamins from other food and gives them the energy they need. 
Surprisingly enough, cheese also contains a bunch of vitamins. So, if fed in moderation, it could be beneficial for your Frenchie.
Can French Bulldogs Eat Cheese Every Day? 
They can – provided that they aren't lactose intolerant or otherwise react poorly to dairy.
Of course, keep in mind that cheese should only be used as a treat – not a meal. Don't give your Frenchie large amounts, or they might get sick from eating it. 
Stick to small portions – and only once in a while!
If you follow this simple rule, there shouldn't be any problems.
What Types Of Cheese Is Good For French Bulldogs?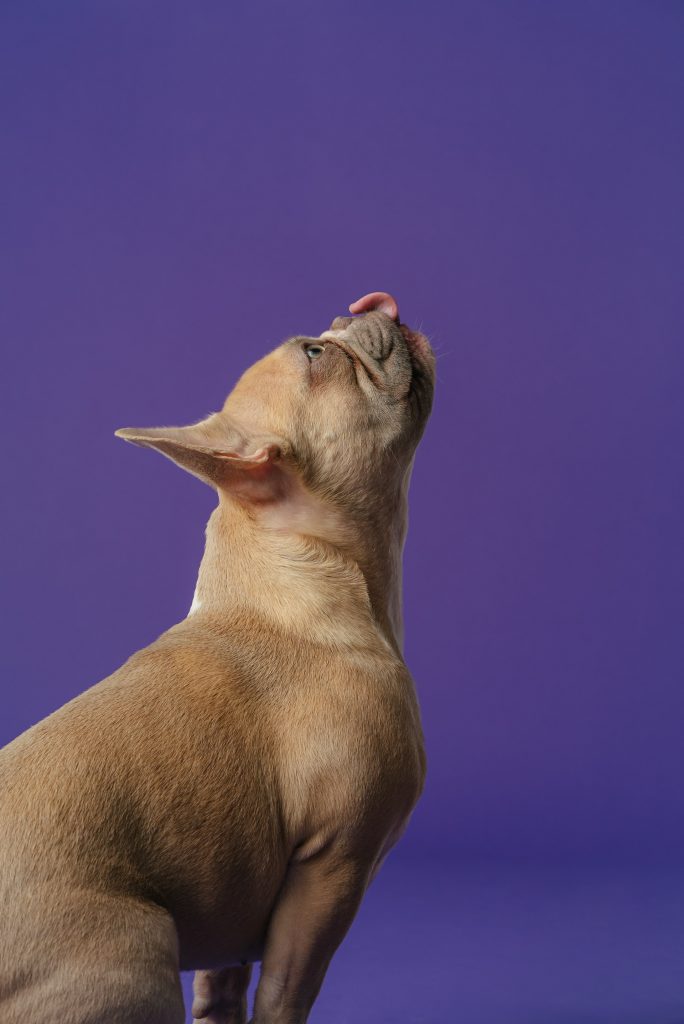 Let's start with one of the most popular types of cheese – cheddar cheese. You probably have it in your fridge right now and are wondering if you can share some with your Frenchie. 
The answer is yes – but only a little bit. 
That way, you'll satisfy their taste buds without risking a bad reaction. 
Cottage cheese contains lower amounts of lactose and is also low in sodium, meaning that it's easy on dogs' stomachs. Still, you shouldn't go overboard when giving your dog any human foods – cottage cheese included.
Mozzarella isn't rich in salt or lactose, which means that it's another type of cheese that dogs can eat safely. 
Swiss cheese falls under the same category as cheddar when it comes to dogs, so the same rules apply here.
Types of Cheese That Aren't Good For Frenchies
Cream cheese has high lactose content, which will probably result in your dog having an upset stomach. That's exactly why you should keep it on your dining table – and not in your puppy's food bowl.
Parmesan cheese doesn't contain that much lactose but is rich in salt. Dogs shouldn't consume lots of sodium – so, again, it's best to opt for a different type of cheese.
Goat cheese contains even more lactose than cow's milk, and it's also very, very salty – even for us humans. So, it's probably one of the worst choices for your Frenchie pup.
Frequently Asked Questions
There are some pieces of information most people are interested in when it comes to this topic – and rightfully so. Here are some of the answers to the most frequently asked questions. 
Q: What is the nutritional value of cheese?
This list only includes dog-friendly types of cheese.
Cheddar Cheese:
100 Calories

Fat: 81 g (4023mg of Omega-3 fatty acids and 4.5gr of saturated fat)

Protein: 6 g

Calcium: 200 mg

Sodium: 500 mg

Cholesterol: 20 mg
Swiss Cheese:
86.2 Calories

Fat: 58.2 g

Protein: 25.8 g

Amino Acids: 6.5 g

Vitamin A 215 IU

Calcium: 215 mg

Sodium: 431 mg

Cholesterol 21.5 mg
Cottage Cheese:
24.1 Calories

Fat: 6.0 g

Carbohydrate: 3.9 g

Protein: 14.1 g

Amino Acids: 3.3 g

Vitamin A: 20.7 IU

Folate: 2.8 mg

Choline: 4.6 mg

Betaine: 0.2 mg

Calcium: 25.5 mg

Magnesium: 2 mg

Phosphorus: 45.6 mg

Potassium: 23.5 mg

Sodium: 92.4 mg

Cholesterol: 2.8 mg

Water: 22.6 g
Mozzarella:
41.7 Calories

Protein: 35.5 g

Carbohydrates: 6.2 g

Amino Acids: 8.9 g

Dietary Fiber: 0.5 g

Sugar: 0.4 g

Choline: 4.3 mg 

Calcium: 269 mg

Iron: 0.1 mg

Magnesium: 9.2 mg

Phosphorus: 184 mg

Potassium: 29.7 mg

Sodium: 208 mg

Cholesterol: 5.0 mg

Water: 16.9 g
The values are for 28 grams (1 ounce) of cheese.
Q: What amount of cheese is healthy for Frenchies?
The cheese will only be healthy for our furry friends if fed in small portions – and only if your Frenchie is not lactose intolerant. 
Even the healthiest of things can become unhealthy if you consume too much of them. 
So, stay moderate and only use cheese as a treat.
Q: Are French bulldogs predisposed to cheese allergies, and what are the symptoms of an allergic reaction?
Even though some dog breeds are more prone to developing an allergy to cheese, we have great news – Frenchies are not one of them. 
It doesn't mean that they cannot develop it, though. So, don't take this info for granted, and always limit the amount of cheese you give to your dog.
If your Frenchie does happen to have an allergic reaction, you should know what the symptoms are so that you can react promptly.
Signs of an allergic reaction are:
Vomiting

Diarrhea

Itchy Skin

Skin and Ear Infection

Red skin

Too Much Self Licking

Frequent Bowel Movements

Seizures (not common, but possible)
**These are the most common symptoms, not all of them. So, please contact your vet if your dog starts acting unusually after eating cheese – even if it's not something we listed here.
Conclusion: Can French Bulldogs Eat Cheese?
Yes! Cheese contains certain ingredients that are beneficial to your Frenchie's health – and they love to eat it, too. So, it can be used as a great tool for dogs in training. 
Dogs react very well to positive reinforcement – especially when it involves a treat they love. So, why not give it a go?
As long as your Frenchie's not lactose intolerant, overweight, and doesn't have any other health problems that would prohibit them from eating it, cheese is anything but a no-no.
But remember, moderation is key; overdoing it would do more harm than good.