If you're currently going through a sushi frenzy, you probably want to share your experience with your furry best friend. But can French bulldog eat sushi, too?
It is crucial to find out the answer to this question as soon as possible. Sushi is a hot trend – and you do not want your best buddy to miss out on it. Or do you?
Let's find out if dogs can join in on the fun! 
Quick answer: Believe it or not, the answer is yes. Even though sushi is made of raw fish, your Frenchie can have some – as long as you take some important things into consideration.
French Bulldogs & Sushi: How Does This Work?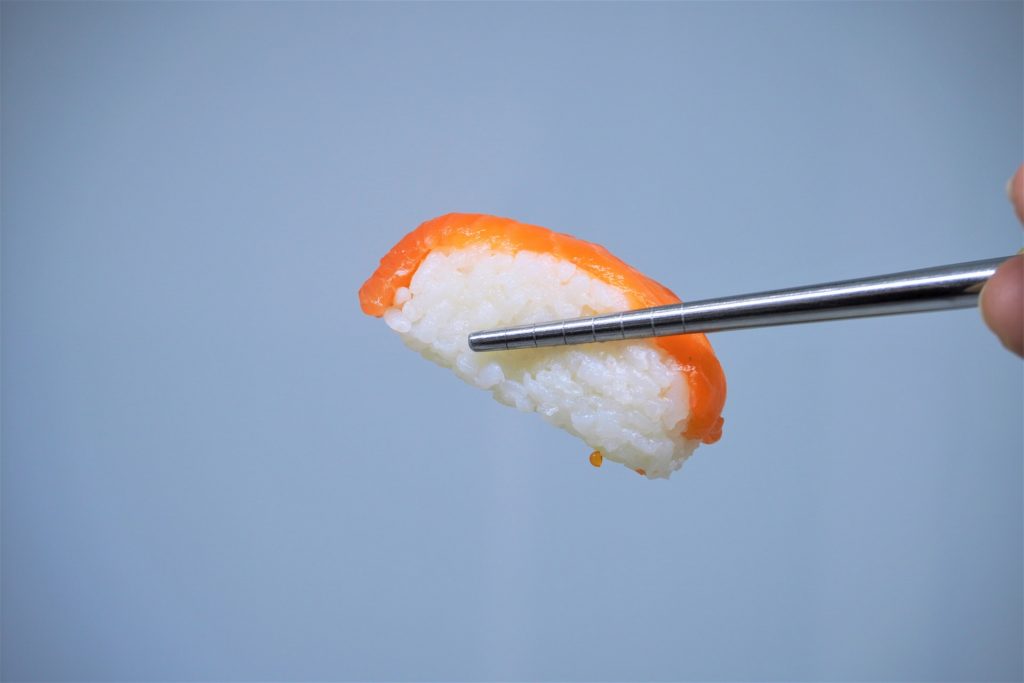 Sushi is one of the most popular food worldwide. It's a delight for people of all nations, and their pets, of course. Dogs love having a bite or two of sushi; Frenchies are no exception.
The most important thing to remember is that sushi has to be fresh. Humans and dogs alike are highly sensitive to spoiled sushi. 
It represents a danger for both human and canine health. 
For this reason, you should never – ever – feed your Frenchie sushi leftovers. Raw fish is highly suspectable to bacteria growth and parasites. That's why sushi has to be made from fresh fish and prepared adequately; you need to make sure that it doesn't get contaminated. 
Treat your Frenchie with one or two rolls of sushi ONLY if you are 100% sure that it is fresh and safe. Always check the quality of the food you feed to your dog – especially if it is served raw.
It would be best to go that extra mile and feed your pooch proper dog sushi. 
You can buy seafood for dogs and eliminate the risk of making a mistake and endangering your pet's well-being.
How To Choose The Best Sushi For Your Frenchie?  
There are so many different types of sushi rolls that the choice can make your head swirl. Most people have a hard time deciding which ones to choose for themselves, and it is even harder to choose one for a pet since some ingredients can be dangerous for canines. 
How can you know what's okay and what's not?
Many different ingredients are used to make colorful sushi rolls. The base recipe is always the same, though – raw fish and cooked rice. The veggies are optional, but they are typically always there, too.  
You can find the list of dog-friendly veggies online. For example, your Frenchie can safely enjoy cucumber and avocado. Seaweed is okay, too, as long as you avoid dried wild seaweed.
Often, sushi rolls contain eggs, as well. Your dog can eat cooked eggs, but raw eggs are out of the question. 
As far as the type of fish is concerned, there are some good and bad choices here, too. Luckily for our four-legged friends, sushi rolls are most commonly made with raw salmon. 
Salmon can be highly beneficial for your Frenchie. It is packed with Omega 3 fatty acid nutrients that do wonders for the canine coat and skin. 
Taking everything into consideration, it might be best to feed your dog a sushi roll with cooked rice and raw salmon. If there are some veggies and eggs involved, you should limit your pup to a roll or two – no more than that!
Be extra careful if you know your Frenchie has allergic reactions to a particular food, though. It can be hard to tell what's rolled up in sushi. So, you should always ask the waiter or the cook; better safe than sorry. 
Finally, avoid spices such as wasabi. 
Dogs generally have a problem digesting spices – and French bulldogs are no exception to that rule. Even a small quantity can cause issues like diarrhea or stomach discomfort. Better be safe than sorry and do not give your Frenchie any spices at all.
Frequently Asked Questions
Going over the most frequently asked questions can make you a better owner. So, do not think even for a moment that you are wasting your time. Educate yourself so that you can spread the knowledge – and make this world a better place for our four-legged friends. 
Q: What's the nutritional value of sushi?
A: As we have already explained, there are a plethora of different types of sushi. Of course, the nutritional value will be different for each sushi roll; it all depends on the ingredients list. In order to help you out, we've calculated the nutritional values of the most common sushi rolls.
Look at the following table:
A piece of Avocado Sushi Roll 

(approx. 23 calories)

Fat                                    1 -1.5 grams

Carbs                                4- 5 grams

Fiber                                 1 – 1.5 grams

Protein                              0.3 – 1 gram

A piece of Salmon & Avocado Sushi Roll

 (approx. 50 calories)

Fat                                     1 – 3 grams

Carbs                                 6 – 9 grams

Fiber                                   0.5 – 2 grams

Protein                                1 – 3 grams 

A piece of Cucumber Sushi Roll 

(approx. 22 calories)

Fat                                      –

Carbs                                  5 grams 

Fiber                                   0.5 – 1 gram 

Protein                                1 gram
Q: How much sushi is healthy for your French bulldog?
A: If you have made a wise choice and picked a healthy kind of sushi for your beloved Frenchie,  you should give them one or two salmon sushi rolls. Larger breeds could have up to three rolls per serving. 
Do not overdo it! 
Moreover, sushi should not be an everyday treat. Make it special and serve it only once or twice per week.
Rice used for preparing sushi is often high in sugar. If consumed too often, it can lead to weight problems or diabetes. 
If your Frenchie is already overweight, you might want to lower the dosage to a single piece of sushi. It would be advisable to serve your chubby pooch only low-calorie vegetable sushi rolls – such as the cucumber sushi roll.
Q: What happens if your French bulldog is allergic to sushi?
A: If you have followed our advice and gave your Frenchie dog-friendly sushi, the chances of an allergic reaction are very low. Canines are rarely allergic to rice and fish. Spices, on the other hand, can create havoc.
The usual symptoms of an allergic reaction in dogs are the following ones:
Dry skin

Itchiness

Hair loss

Skin rash

Obsessive self-licking

Obsessive chewing

Gastrointestinal discomfort

Diarrhea

Ear infection
If the problem is in the fish, you can also expect the following symptoms:
Skin infection

Runny eyes 

Runny nose

Vomiting

Dehydration
The listed symptoms are the most common ones. Nonetheless, you should contact your vet as soon as you notice ANY unusual behavior.
Final Words: Can French Bulldogs Eat Sushi?
Yes – but you have to pay particular intention to the ingredients. Some ingredients that might be okay for us humans can make your dog ill, especially spices such as wasabi.
The best choice you can make is plain salmon and rice sushi. It is rich in Omega-3 fatty acids, which are healthy for your dog. They benefit your Frenchie's skin and fur, prevent certain types of arrhythmia, and lower high blood pressure. 
Finally, do not make sushi a part of your dog's regular diet. It should be an occasional treat your Frenchie will learn to look forward to. 
If you have something to add, please do! 
We might've forgotten to mention something important. Your experiences are valuable to our readers, and us. So, leave a comment and join the discussion! Please share this article with other French bulldog owners you know, too. 
Hope to see you again!