Is your Frenchie feeling a bit under the weather?
Pet parents can find it hard to believe that their pup is not in the mood for a walk in the park or a quick game of fetch. Your Frenchie will be sad sometimes – no doubt there. But what if this sadness starts looking like depression?
You're probably thinking, "I should definitely do something about it!" 
It's easier said than done, though.
To help your doggo cheer up from whatever's bothering it, we've singled out 10 signs that your French bulldog is depressed.
Quick Answer: 
Your Frenchie's depression is short-lived – and you'll have no problem once you pinpoint the root of the problem!
Your Frenchie's happiness is the number one priority now. So, we'd suggest you stay tuned and figure out the problem – and how to fix it!
Dog Depression Is A Big Deal!
Please don't underestimate dog sadness. 
It's the real deal – even if it's not exactly similar to what we humans feel.
A dog's brain is smaller, and it doesn't work the same way yours does. That means that they can experience feelings of sadness and depression a bit differently.
Even more so, dogs can sense your energy. So, if you notice that your Frenchie is not in the best place right now, try not to project any more anxious feelings onto them.
Just like humans, there is a specific limit to which they can tolerate emotions.
Okay, this was a short – but hopefully useful – intro on dog depression. Now, we're going to focus on some real-life and universal problems. 
Get ready to take notes!
10 Signs That Your French Bulldog Is Depressed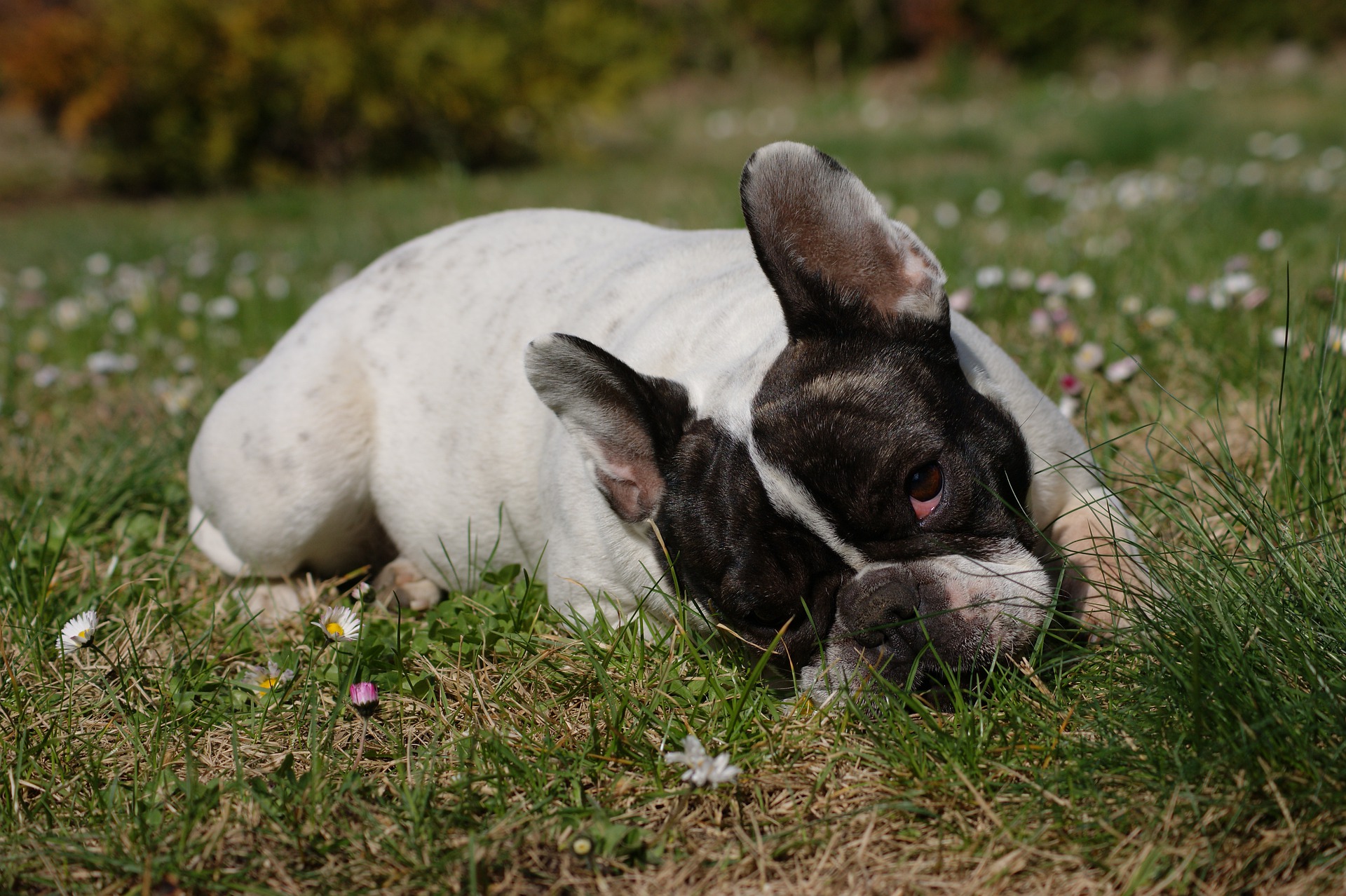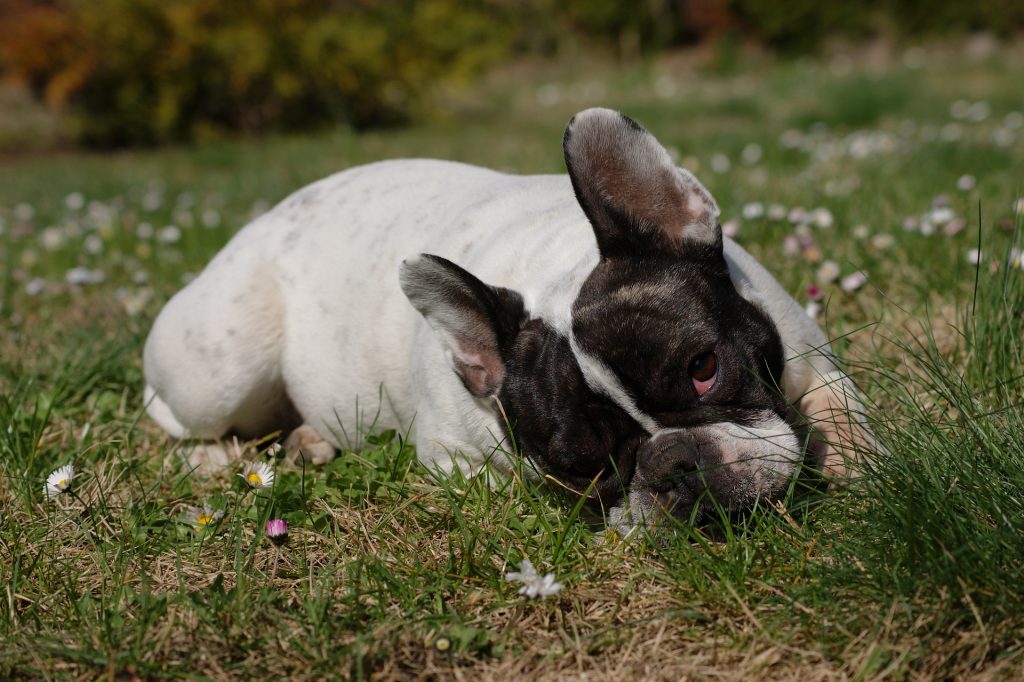 You might not be able to determine the exact cause of your Frenchie's depression. Still, it is crucial that you go over the signs and symptoms – just to see what you're dealing with here. 
Sometimes, these things are not as apparent until you've read them out loud.
Let's get to it. 
#1 Low Activity Levels
We're used to our Frenchies always being bubbly, bursting with energy, and in the mood for playtime – all the time. So, the first time they refuse to go to the park or fetch a toy, we'll start to worry.
If their mood hasn't been that great for a long time, that's a reason to worry. 
Low activity levels and refusing playtime are generally the first and most common signs that your dog is depressed.
Before you start panicking, try to bring in a family member or a friend your pup knows well. If the situation repeats, and your Frenchie refuses to play with them, too, it's official: 
Your dog might be suffering from depression.
#2 Loss Of Appetite
Immediately after laziness comes a loss of appetite. This sign deserves a place in the top three because no dog would say "No" to treats. They go crazy for them, and owners often can't resist their puppy eyes.
But what happens when your Frenchie is refusing a delicious dog snack?
Try offering them their favorite treat. If your Frenchie still doesn't budge, you might have a problem.
#3 Sleeping All The Time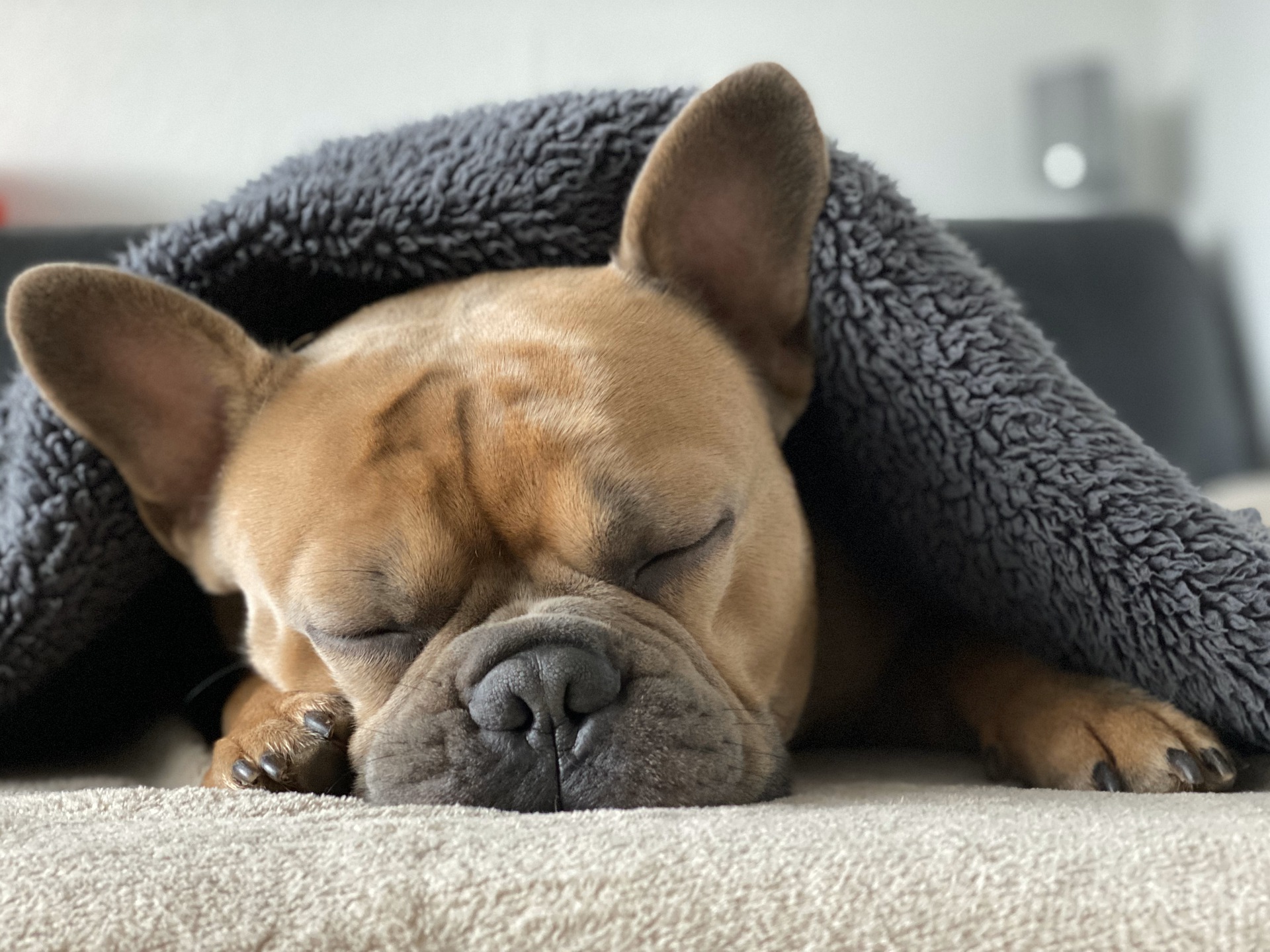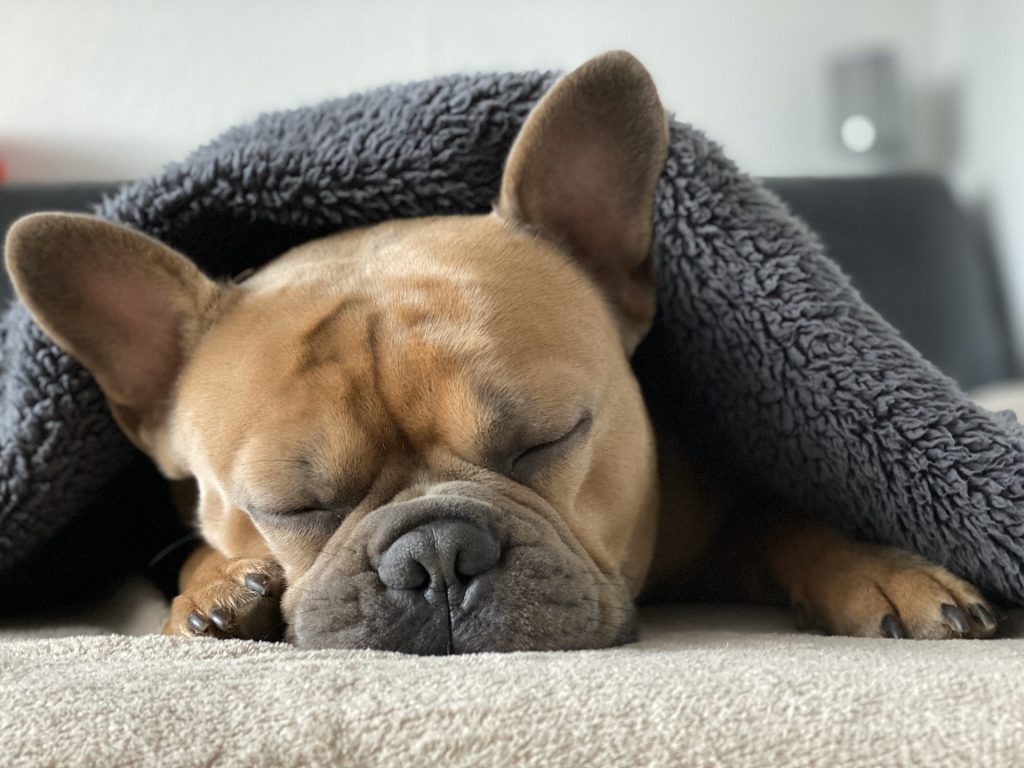 Some dogs are hyperactive, and some are lazy, but they all have one thing in common – they all love to put all four up and relax. 
Adult Frenchies do spend up to 14 hours a day snoozing. Relaxing is one thing, though. But it's not normal for your Frenchie to spend too much time sleeping. 
So, if your Frenchie refuses to get out of bed, and all you hear is snoring sounds – it might be feeling depressed.
Note: Excess sleeping often has a psychological background to it.
#4 Or Not Sleeping At All?
Constant sleep is not the only sign. Insomnia is another red flag – and this one could have an impact on you, too.
If they're not sleeping, they'll walk around the house, jump on your bed, and get in all sorts of trouble. And, honestly, they might get on your nerves, too.
#5 Constantly Licking Their Paws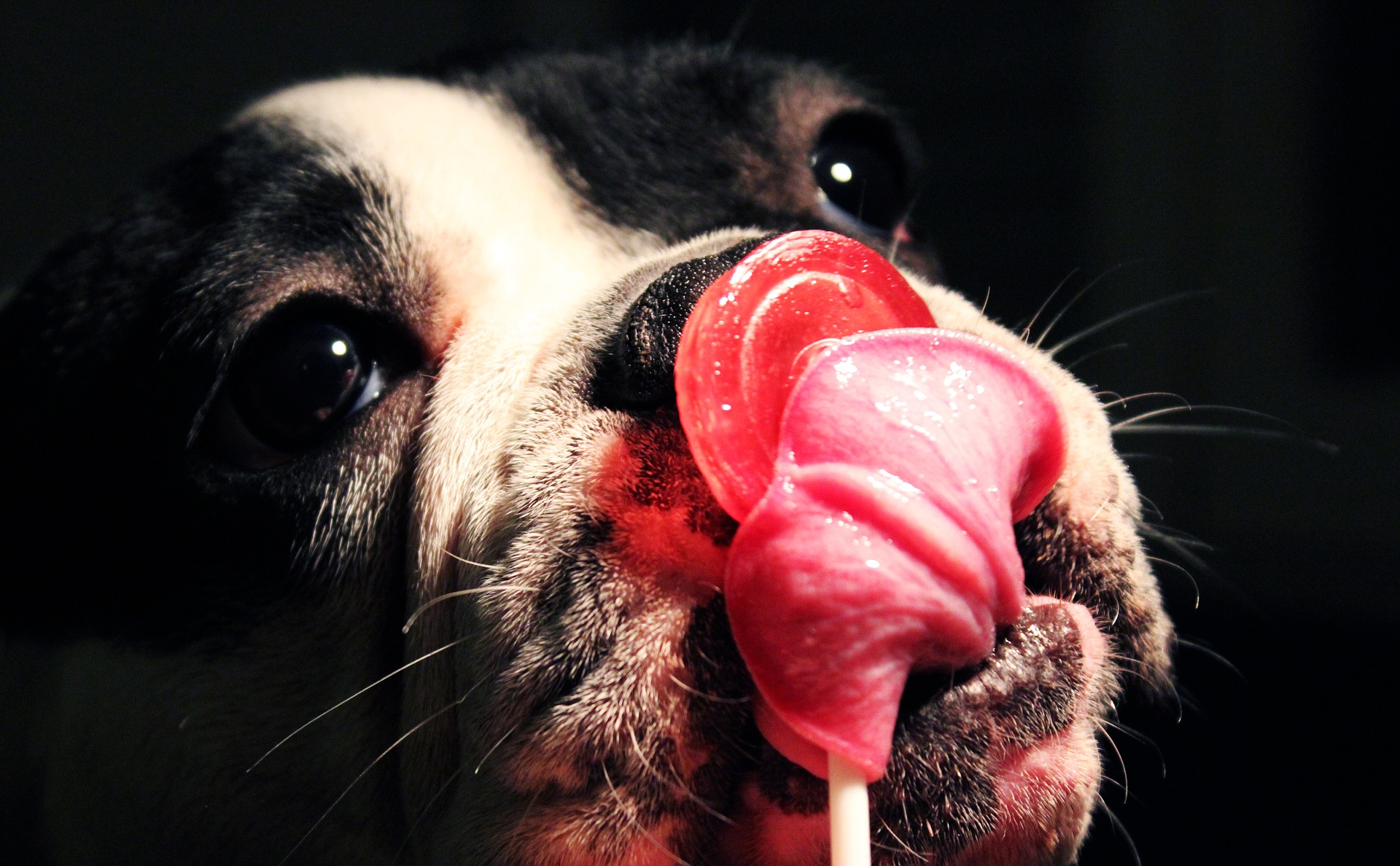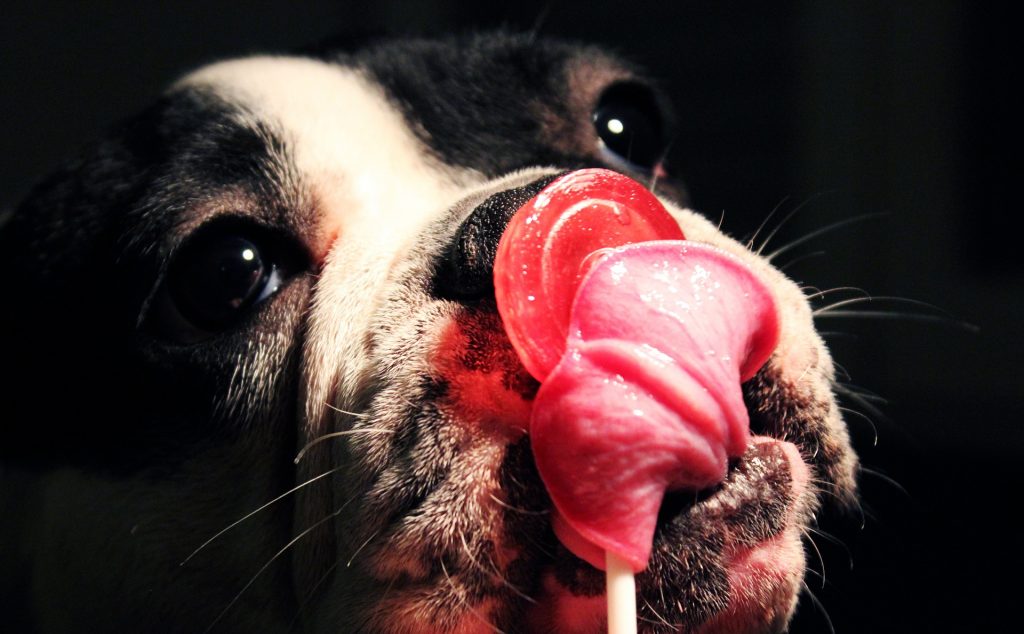 We find that this is crucial to mention; many owners let it slide without checking what's up. If you notice that your French bulldog's been licking its paws constantly, there's a slight chance that it is depressed. 
How is this connected?
Well, licking could be a form of self-soothing – just like too much sleeping.
Also, excess licking can have health consequences. Your French bulldog can pick up a lot of parasites and dust mites that could lead to infections and inflammation.
You ought to be careful with this one.
#6 Howling
A dog's bark is a means of communication; that's a fact. They'll get your attention by barking – sometimes too much – and some dogs are famous for their loud bark.
You should start worrying when barking turns into howling, though.
These sad, prolonged howls, in most cases, have nothing to do with what we've mentioned above. It's usually a cry for help – and a desperate one at that.
#7 Aggressive Outbursts
French bulldogs are NOT an aggressive dog breed.
However, if they're feeling depressed and you've been ignoring the other red flags, it's easy for sad emotions to turn into aggression.
These sudden and aggressive outbursts can happen whenever. Your Frenchie can bite you – or growl until you leave the room.
That's pretty serious – especially if you have small children in the house. 
#8 Destructive Behavior
Aggression and destructive behavior are related – but they won't happen at the same time. Your Frenchie will either have sudden aggressive outbursts towards you or will try to ruin your furniture.
In the latter case, you're looking at chewed-on furniture, broken vases, overturned carpets, dog toys all around the house… The list goes on, and it could become endless if you don't put a stop to it.
#9 Flattening Their Ears
Good knowledge of your Frenchie's body language can help you a lot. If you didn't know, the movement of your dog's ears could be an indication of happiness, fear – and aggression.
Flattening their ears is a sign of anxiety, fear, and depression. The sadder or more frightened your Frenchie is, the more its ears will go back.
#10 Inappropriate Urination
Until you properly train your dog to go outside for "bathroom breaks," you'll have problems in this department.
But if your Frenchie's properly potty-trained and starts urinating inside, something's not right. There is probably an underlying medical cause behind this; you might want to call the vet.
What Can You Do To Help Your Frenchie?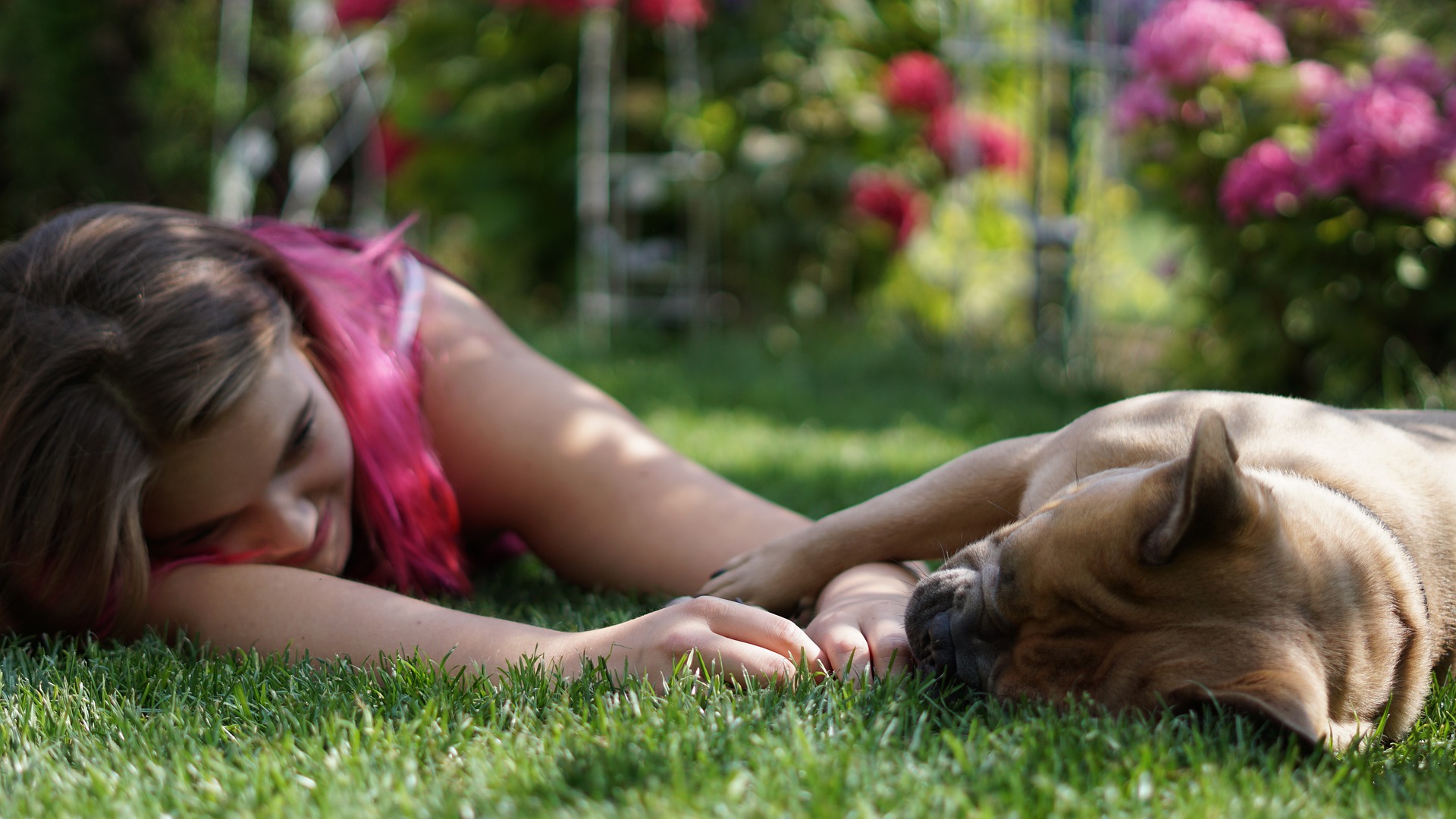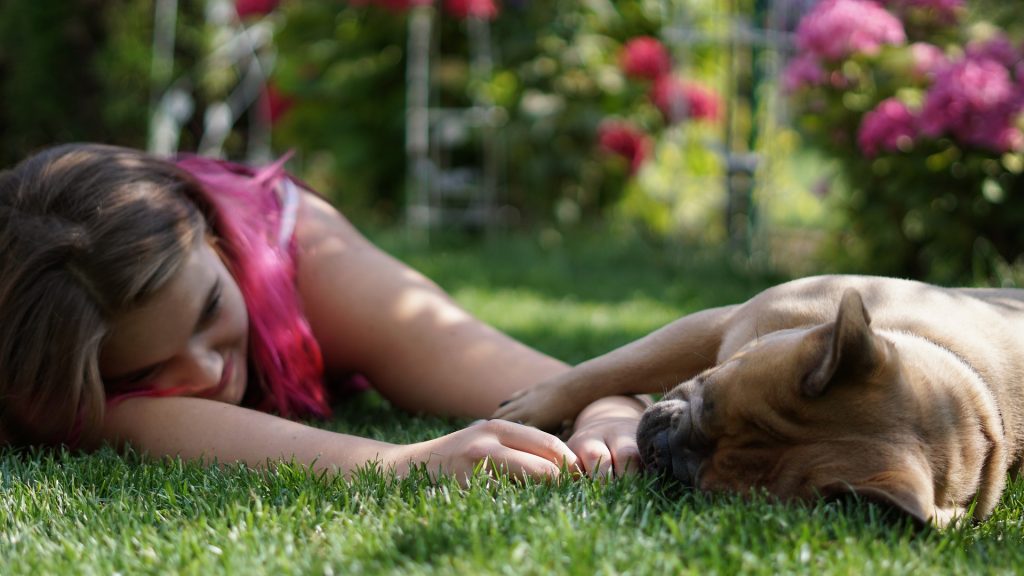 Now that we've listed some potential signs of doggy depression, it's time to touch on an even more important subject:
How can you help a depressed French bulldog?
Here are a couple of tips for concerned owners.
First things first: 
If you don't want your puppy to develop depression, you should be affectionate, too – and not just your Frenchie. Cuddle with them, take them on regular walks – and even talk to them.
There's more, though. Your dog needs your love, but it also needs company. Consider taking your Frenchie to dog parks more often and arrange dog playdates.
Call your vet for a one-on-one medical consultation if you notice that the matter is spiraling out of hand. Maybe your Frenchie is suffering from something more serious – and it needs medication.
Our Final Thoughts
There are many signs that your French bulldog is depressed. They can be related to the environment, food, anger issues – or even sleeping patterns.
The main point is, dog depression is genuine, and you need to deal with it. 
Once you've figured out the problem, you can take baby steps to help your Frenchie get over this tough period.
We're always looking for ways to improve. So, if you'd like to add something or maybe share your personal experience with canine depression, drop a comment below!
About

Johnny

Johnny, a Frenchie owner and enthusiast, shares his wealth of knowledge on training and caring for French Bulldogs. When not writing, he enjoys hiking and time in nature with his pets.