We, humans, love to eat fish – but what about dogs? Would your Frenchie bulldog love the taste of salmon?
That's kind of the question we're trying to answer today:
Can French bulldog eat salmon?
Quick answer: Yes – but the salmon must be fresh and well cooked. If not, it could make your little friend very ill. On top of that, the actual servings must be small and occasional. But more on this topic below!
Can You Give Your French Bulldog Salmon?
Besides sardines and tuna, salmon is a tasty – and healthy – snack for your cute, little Frenchie bulldog. But that's only part of this story; there are things you need to consider first. 
Chances are, your canine friend will love the taste of salmon – and will drool at the sight of it.
That's great and all, but keep in mind that fish can be hazardous not only for your Frenchie but for all dog breeds in general. It's not uncommon for dogs to get sick from eating bad fish. 
What are the symptoms? Anything from vomiting and diarrhea to parasite infection – that can, in some cases, be fatal.
If this sounds pessimistic, we're sorry – but it's the truth. 
Salmon is linked to parasites called Neorickettsia Helminthoeca that could cause the so-called Salmon Poisoning Disease (SPD). Therefore, your French bulldog eating salmon can go from a healthy snack to a severe issue pretty quickly.
Don't be scared, though. 
There are ways to prevent this disease. If you're a cautious owner and you take the right steps – which are explained below – feeding your Frenchie bulldog salmon shouldn't be an issue.
Health Benefits Of Salmon
Luckily for our beloved Frenchies and us, salmon is as beneficial as it is delicious. 
Most of the health benefits that salmon provides to humans apply to French bulldogs and other dog breeds, as well.
The first – and most important – benefit of salmon would be the strengthening of their immune system. Next, it supports fighting skin and joint inflammation and helps to improve brain health.  
Furthermore, for French bulldogs, salmon can also contribute to healthier skin and coat, keeping it shiny and smooth.
Additionally, if you have an older French bulldog suffering from arthritis or any bone disease, it may help to reduce the inflammation.
With that being said, we'll also add that fish allergies in French bulldogs – and other dog breeds – are pretty common. So, you should make sure your little Frenchie bulldog isn't allergic before feeding it salmon.
Things To Consider When Feeding Salmon To Your French Bulldog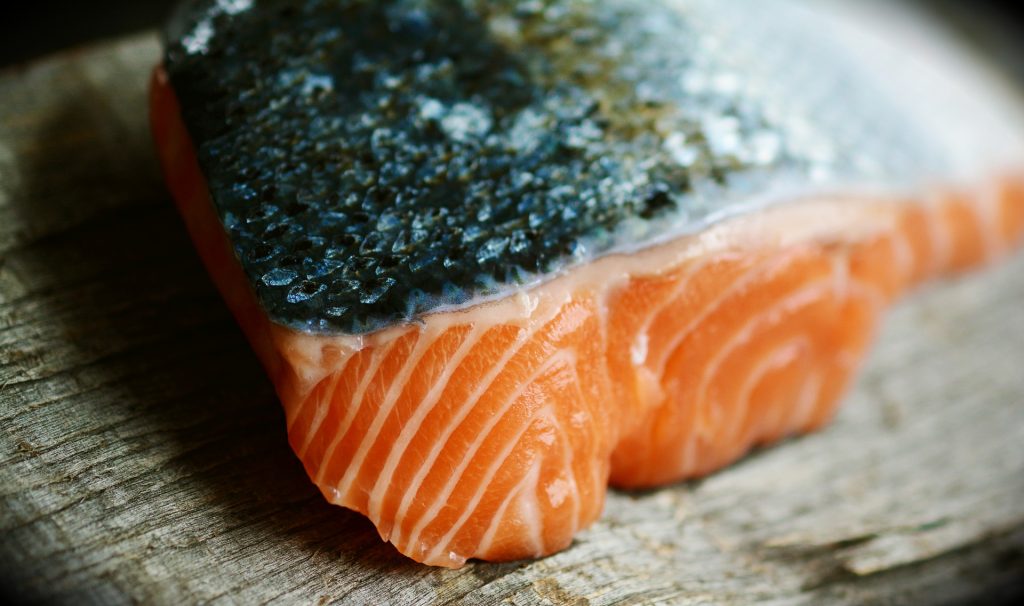 While salmon is a great source of nutrients, you must consider some things before feeding your little pet salmon – or any other fish, for that matter. 
Be sure to consider the following aspects. It would be extremely dangerous for your Frenchie if you didn't.
Salmon should be well cooked. Do NOT feed your French bulldog raw fish; it's generally full of bacteria and parasites that can lead to vomiting, diarrhea, nausea – or much worse. Be sure to cook salmon properly to avoid these consequences. Also, prepare it with water instead of oil.
Salmon should be as fresh as possible. Spoiled salmon – and fish in general – can pose a severe threat to your Frenchie's health. If the fish isn't fresh, don't even consider giving it to your pup.
Salmon shouldn't have bones and skin. This one is pretty obvious. Make sure there are no bones in salmon before giving it to your French bulldog. Ideally, you would want to get rid of the skin; it contains too much fat.
If your French bulldog doesn't have any fish allergies and the salmon is well cooked and fresh, it will surely love to eat some!
Frequently Asked Questions
Let's see what the most FAQ are, shall we? It's crucial to consider everything so that we can educate ourselves – and other Frenchie bulldog owners, as well.
Q: What is the nutritional value of salmon?
Salmon contains a lot of nutrients, and most of them are beneficial for your Frenchie's health – in small portions, that is. 
Look at the nutritional value of cooked salmon in the table below.
Nutritional value of cooked salmon

Per 178 grams (½ fillet)

367 calories

Fat 

22 grams

Protein

39.3 grams

Phosphorus

449 milligrams

Potassium 

683 milligrams

Magnesium 

53.3 milligrams

Calcium

26.7 milligrams

Vitamin C

6.6 milligrams
Q: What dosage is healthy?
Salmon is beneficial for your French bulldog's health only in small dosages. You shouldn't give it more than a small portion of salmon once a week. Anything equal or less to one fillet should be more than enough.
Q: What are the symptoms of an allergic reaction?
Fish allergies in French bulldogs – and other dog breeds – aren't a myth. It happens pretty often and can be potentially dangerous if your beloved pet consumes a large portion.
The most common symptoms of fish allergies include:
Vomiting 

Diarrhea 

Itchy skin

Runny nose and eyes

Skin and ear infection

Extensive licking

Anaphylactic shock (in worst-case scenarios)
These are the most common examples. Contact the local veterinarian as soon as you notice anything suspicious – even if it's not on this list.
Can French Bulldog Eat Salmon? – Bottom Line
Your French bulldog can most certainly eat salmon! 
However, there are still a few pretty important things to consider before giving your little friend some of this delicious fish:
Salmon should be fresh as spoiled fish can cause some severe problems to your pup's health.
Be sure to cook salmon in water before feeding it to your French bulldog; raw fish often contains parasites that can lead to vomiting, diarrhea and in some cases, they can be fatal. 
Additionally, make sure salmon is boneless before feeding it to your dog to avoid choking.
All in all, salmon is a healthy treat that should be given to your French bulldog once a week and in small portions – about one-half of the fillet.
Know something we don't?
Is there something you'd like to add? Please share your thoughts with us – and our community. Leave a comment below, join the conversation, and consider sharing this article!