You can't deny it. There are certain foods in your house that make your Frenchie go bananas – but not all of them are considered to be a good choice.
We're talking about shrimp – tasty seafood that brings a lot of health benefits.
Can you share some of it with your Frenchie, or is this on the forbidden food list?
If you can't say "No" to those cute puppy eyes looking at you while you're munching on seafood, keep scrolling to see can French bulldog eat shrimp. 
Quick answer: 
Your French Bulldog is allowed to have shrimp – but as an occasional treat only!
How Healthy Is Shrimp? Nutritional Value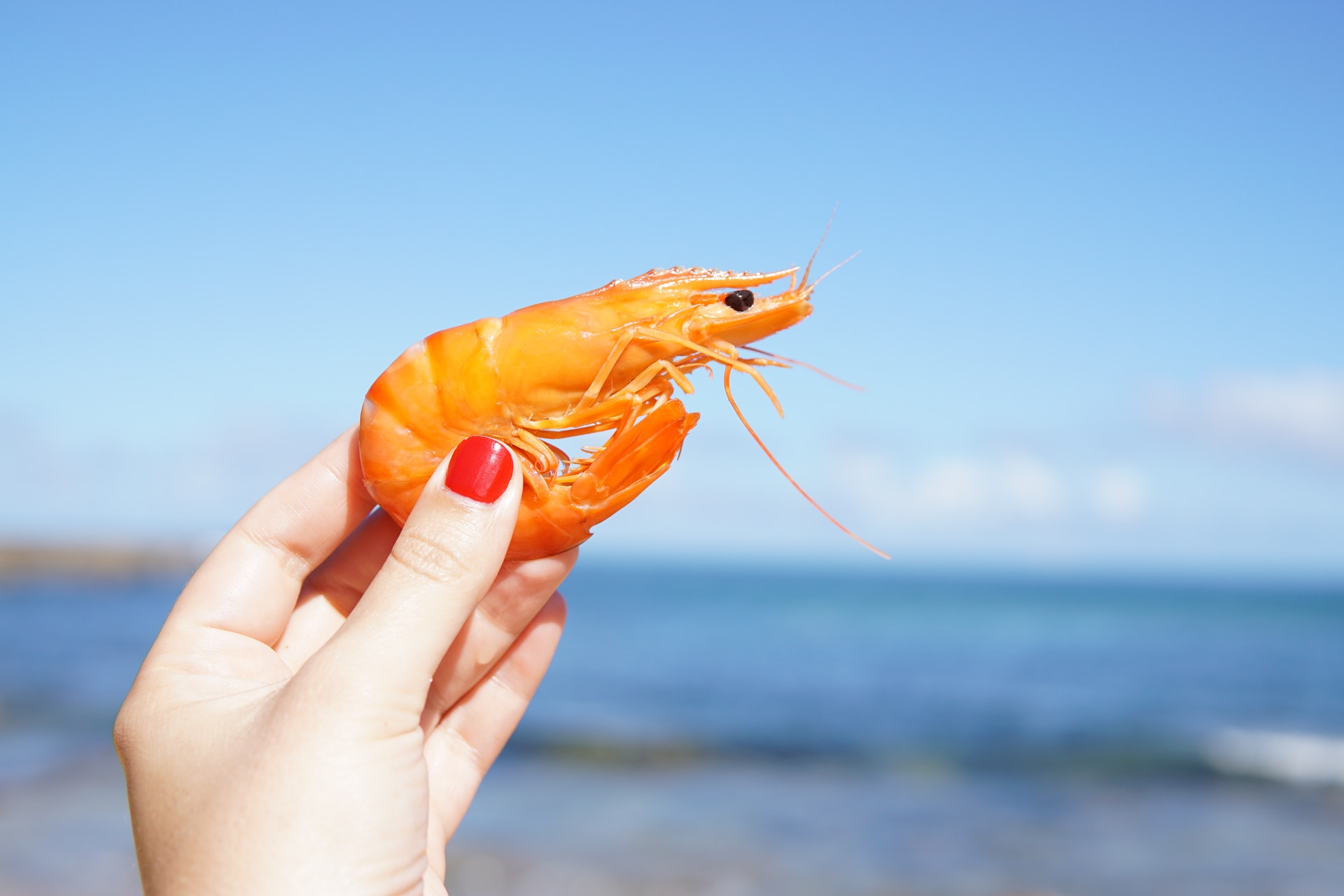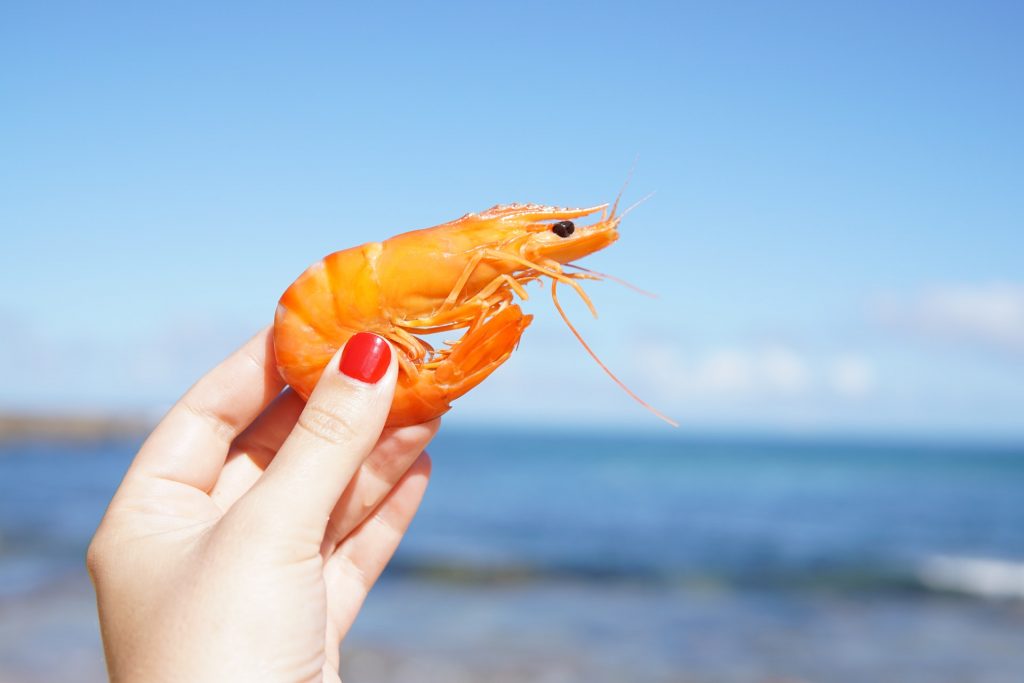 Our dogs often get hold of our leftovers. That's why you should double-check ingredients that you suspect can harm their health.
Thankfully, shrimp does not fall into the critical category. Looking at the bigger picture, this is very healthy seafood. It's actually full of vitamins and minerals. 
Take a look at what 85 grams of shrimp contain nutrients-wise:
Calories: 84

Protein: 18 grams

Vitamin B12: 21%

Phosphorus:  12%

Iron: 15%

Zinc: 9%

Magnesium: 7%
The Pros Of Giving Your Frenchie Shrimp
Shrimp is a very important part of the ecosystem. Crabs, many types of fish, and even whales feast on this. Over time, it found its way onto your plate as well. 
If you haven't already, you should definitely include shrimp in your menu. The best thing about this seafood is that it is pet-friendly.
We don't want this to be just words on a screen, though. So, take a look at some real-life benefits of feeding your Frenchie some shrimp leftovers. 
Boosting Energy
Since they're loaded with minerals and vitamins, it's only logical to put shrimp into the energy-boosting food category. The most beneficial nutrient here – energy-wise that is – is iron.
However, as with other examples, you need to pay attention to the amount you give your dog.
Strengthening The Bones
As your Frenchie grows, its bones develop, and it requires vitamins to strengthen and protect them from breaking. Although milk probably came to your mind first, know that you can include occasional shrimp treats.
There's one more thing:
Phosphorus is responsible for the high density of the bones, and its effect is also visible in strengthening your Frenchie's teeth. Consider giving your dog a bit of shrimp if you notice that it has dental problems. 
The results should be visible after a few meals!
Keeping The Eyes Healthy
Yup, shrimp doesn't do wonders just when it comes to bone development. This food is also good for your dog's eyesight. 
It's all thanks to magnesium and zinc.
That can be very helpful to older dogs. By the time it turns 8, your dog's vision will begin to deteriorate naturally – and during this time, it's of utmost importance to ramp up their vitamin intake.
Don't skimp on the shrimp!
Increasing Appetite
Has your Frenchie been feeling sick lately and doesn't want to taste its dog food?
If you happen to have shrimp for lunch, try putting a few slices in their food bowl. 
We know this is not something you would normally do. However, this seafood is known to improve your dog's appetite.
Feeding My Frenchie Shrimp: How And When?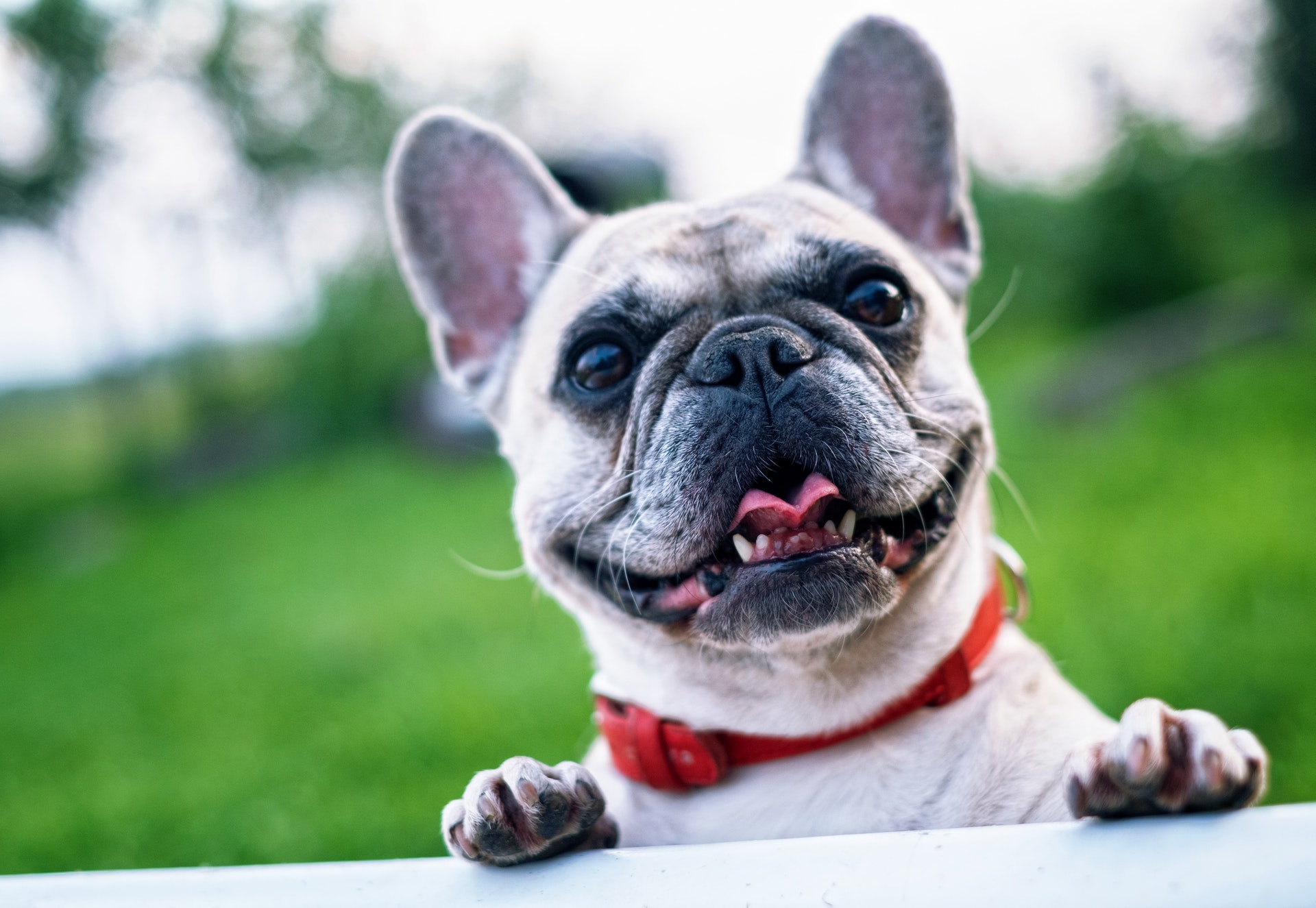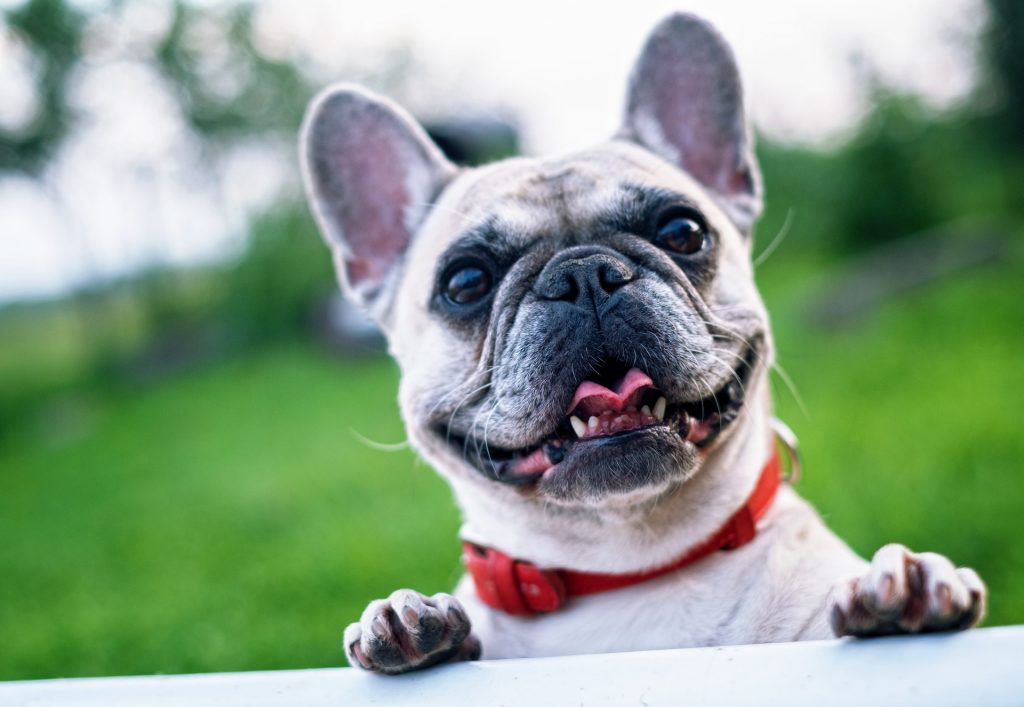 Every dog ​​is different.
Since shrimp is not something that is on your daily menu, you should be extra careful when giving it to your Frenchie.
Before you decide to include this in their diet, it might be best to consult a vet. Maybe your Frenchie's stomach can't digest this seafood – or perhaps it could be allergic to it.
You never know.
If your vet approves the use of shrimp in your Frenchie's diet, the acceptable amount for an adult French bulldog would be two pieces of shrimp twice a week – no more! 
Believe us: 
That's more than enough, considering the amounts of vitamins and minerals it contains.
With baby French bulldogs, we recommend a partial shrimp.
Caution: French Bulldogs can't digest raw shrimp.
So, before you serve your Frenchie shrimp, make sure that you cooked it well.
Here's the catch:
Raw shrimp contains bacteria such as salmonella and listeria. However, when properly cooked, it's safe to eat.
Do not give your French shrimp before bedtime. With food like this, they might need a little more time to digest it. It would be best to include it in your pup's lunch – right after you've had yours.
Notice The Side Effects In Time
Even the healthiest foods can cause side effects if they're consumed in excessive amounts.
The same goes for shrimp. 
Here's what to look out for if your Frenchie had too much shrimp for lunch:
An upset stomach

Diarrhea

Vomiting

Seizures

Potential allergic reaction

Fever
After the first time you give your Frenchie shrimp, it would be good to stay for a while and observe it. It probably won't show any severe symptoms right away – but you might notice nausea.
How To Deal With Side Effects?
If you've noticed that your Frenchie isn't a big fan of shrimp, after all, it's time to remove this ingredient from their diet – permanently. 
If the most significant concern your Frenchie has shown is general dissatisfaction with this food, just remove it from their food bowl. But if you notice constant vomiting or diarrhea, it is time to call your veterinarian.
You might need to include some medications and adjust their diet for a while – but it's not a big deal. 
FAQs
Q: Is My Frenchie Allergic To Shrimp?
Here's a fun fact:
Approximately 60% of the human population is allergic to at least one type of seafood. 
So, it shouldn't come as a surprise if you notice that your Frenchie is allergic to shrimp, too. Some of the symptoms to pay attention to are itchy skin, vomiting, diarrhea, or inflammation.
Q: Can My French Bulldog Die From Too Much Shrimp?
No. Your Frenchie won't die if it eats a large amount of shrimp, but its health will be affected, nonetheless. The scariest outcome you can expect is food poisoning or seizures.
You should have your vet on speed dial if this happens.
Q: Can I Feed My French Bulldog Grilled Shrimp?
No, you shouldn't.
If you're going to give a shrimp to your Frenchie, you should cook it. Grilled shrimp is usually prepared with a variety of spices – which your dog's stomach will not be able to digest.
Q: What If My Frenchie Doesn't Like Shrimp?
Well, that's simple – don't force your dog to eat shrimp if it doesn't want to.
Forcing your Frenchie to eat something it didn't like the first time around won't do you – or your pup – any good. Dogs are well aware of what they like – and what they don't.
Don't worry; there are other yummy foods you can share with your Frenchie.
Conclusion: Can French Bulldogs Eat Shrimp?
Yes.
Your French bulldog is allowed to have shrimp – albeit in moderation. It should not be the food on your daily menu.
Your adult French bulldog is allowed to have two pieces of shrimp two times a week. That's the ideal amount; anything more than that can be detrimental to health. As for puppies, try giving them half a shrimp.
This seafood is very healthy. 
Moderate consumption of shrimp can boost your Frenchie's energy. Also, the phosphorus in them is good for strengthening bones and teeth.
And what if your Frenchie ate more than it should? 
Some of the common side effects are vomiting, diarrhea and nausea. If you suspect that the dog is allergic, check with your vet.
Know something we don't?
We are always looking for ways to improve our content and help French bulldog owners from all over the world choose the best diet for their pup.
So, if you think you can contribute in any way to this article, keep those ideas coming!