You can't deny it. There are certain foods in your house that make your Frenchie go bananas – but not all of them are considered to be a good choice.
We're talking about shrimp – tasty seafood that brings a lot of health benefits.
Can you share some of it with your Frenchie, or is this on the forbidden food list?
If you can't say "No" to those cute puppy eyes looking at you while you're munching on seafood, keep scrolling to see can French bulldog eat shrimp. 
Quick answer: 
Your French Bulldog is allowed to have shrimp - but as an occasional treat only!
Nutritional Breakdown of Shrimp: What Does it Mean for Your Frenchie?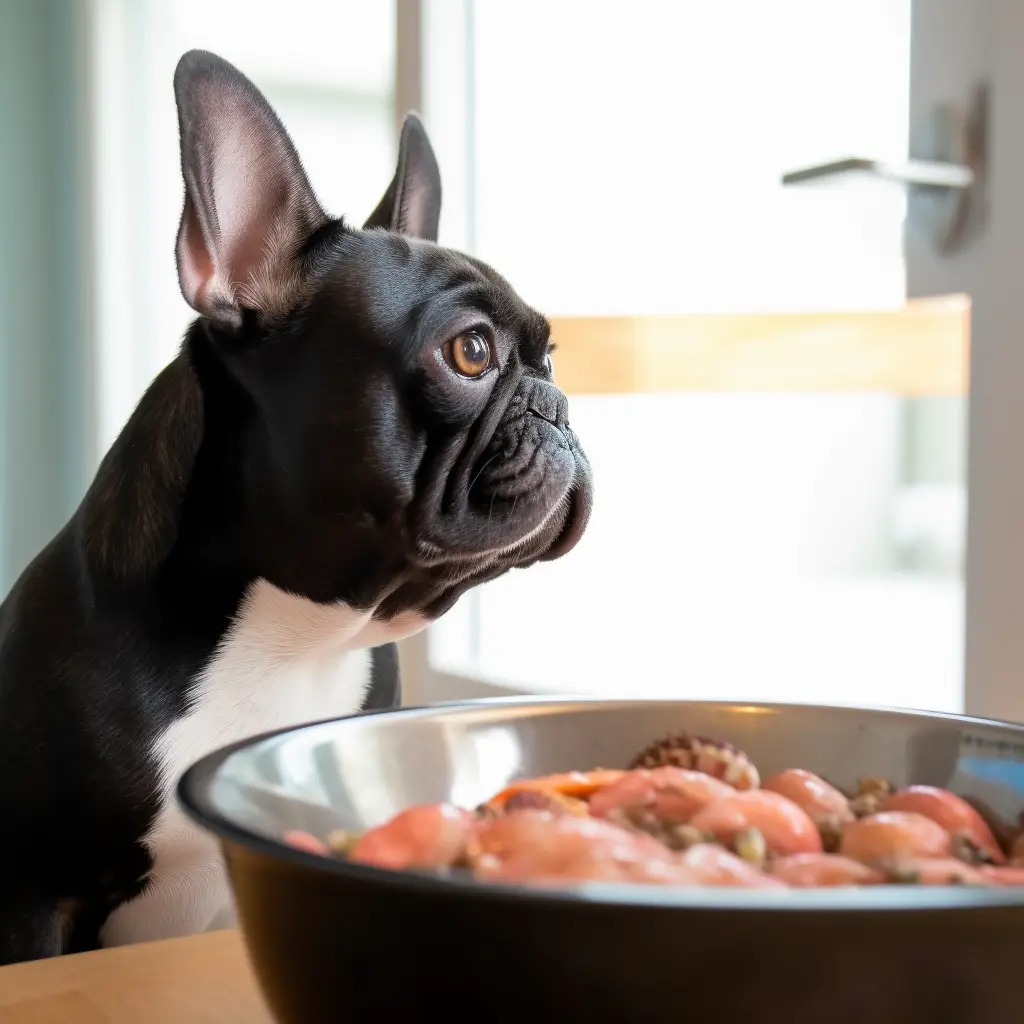 Understanding the nutritional profile of shrimp can help shed light on its impact on your Frenchie's health. Here's a snapshot of what 85 grams of cooked shrimp offers, according to the USDA National Nutrient Database:
Calories: 84
Protein: 18 grams
Vitamin B12: 21% of the Daily
Value (DV)
Phosphorus: 12% DV
Iron: 15% DV
Zinc: 9% DV
Magnesium: 7% DV
But what do these numbers mean for your Frenchie's wellbeing?
Protein is an essential building block for your dog's muscles, skin, and coat. At 18 grams per serving, shrimp is a high-protein food.
Vitamin B12 supports brain function and the health of the nervous system. It's not often found in plant foods, making shrimp a valuable source of this vital nutrient.
Phosphorus works in tandem with calcium to support your Frenchie's bone health, while also playing a crucial role in the body's energy production process.
Iron helps carry oxygen to your dog's muscles and brain, supporting overall vitality.
Zinc supports your dog's immune system and skin health, while Magnesium aids nerve and muscle function.
It's crucial to remember that these nutrients should be part of a balanced diet. Consulting with a vet or a pet nutritionist can ensure you're providing the right amount of nutrients from all food sources to your Frenchie.
The Upside of Offering Your Frenchie a Shrimp Treat: Health Perks and Beyond
Shrimp is a very important part of the ecosystem. Crabs, many types of fish, and even whales feast on this. Over time, it found its way onto your plate as well. 
If you haven't already, you should definitely include shrimp in your menu. The best thing about this seafood is that it is pet-friendly.
We don't want this to be just words on a screen, though. So, take a look at some real-life benefits of feeding your Frenchie some shrimp leftovers. 
Since they're loaded with minerals and vitamins, it's only logical to put shrimp into the energy-boosting food category. The most beneficial nutrient here – energy-wise that is – is iron.
However, as with other examples, you need to pay attention to the amount you give your dog.
What's Buzzing at Frenchie Globe: Unveiling Our Top Three Bestsellers
As your Frenchie grows, their bones require nourishment. While you might first think of milk, don't overlook shrimp! They provide phosphorus, an essential mineral that bolsters bone density and dental health. If your Frenchie's teeth could use a little boost, consider adding some shrimp to his diet. You might notice stronger teeth and healthier gums after a few shrimp-inclusive meals.
Shrimp are rich in iron, a key player in energy production. It's the nutrient responsible for delivering oxygen to cells and supporting overall metabolic health. A bit of shrimp can give Johnny that extra zest for his playtime!
Shrimp can be a sight for sore eyes – literally! They contain magnesium and zinc, two minerals that promote eye health. Especially for older Frenchies experiencing natural vision decline, a little shrimp can go a long way.
Has your doggo been under the weather, turning up his nose at his usual dog food? Try adding a few pieces of shrimp to his bowl. Shrimp is known to pique the appetite, and might just get Johnny eating heartily again.
Remember, while shrimp can have some great benefits, it should only be an occasional treat, not a staple of your Frenchie's diet. Always consult with your vet before making significant changes to Johnny's diet, to ensure his nutritional needs are met without overdoing it.
Now, doesn't it sound like shrimp could be a delectable and healthful surprise for your little Johnny? If so, read on for guidelines on how and when to serve it up!
Feeding My Frenchie Shrimp: How And When?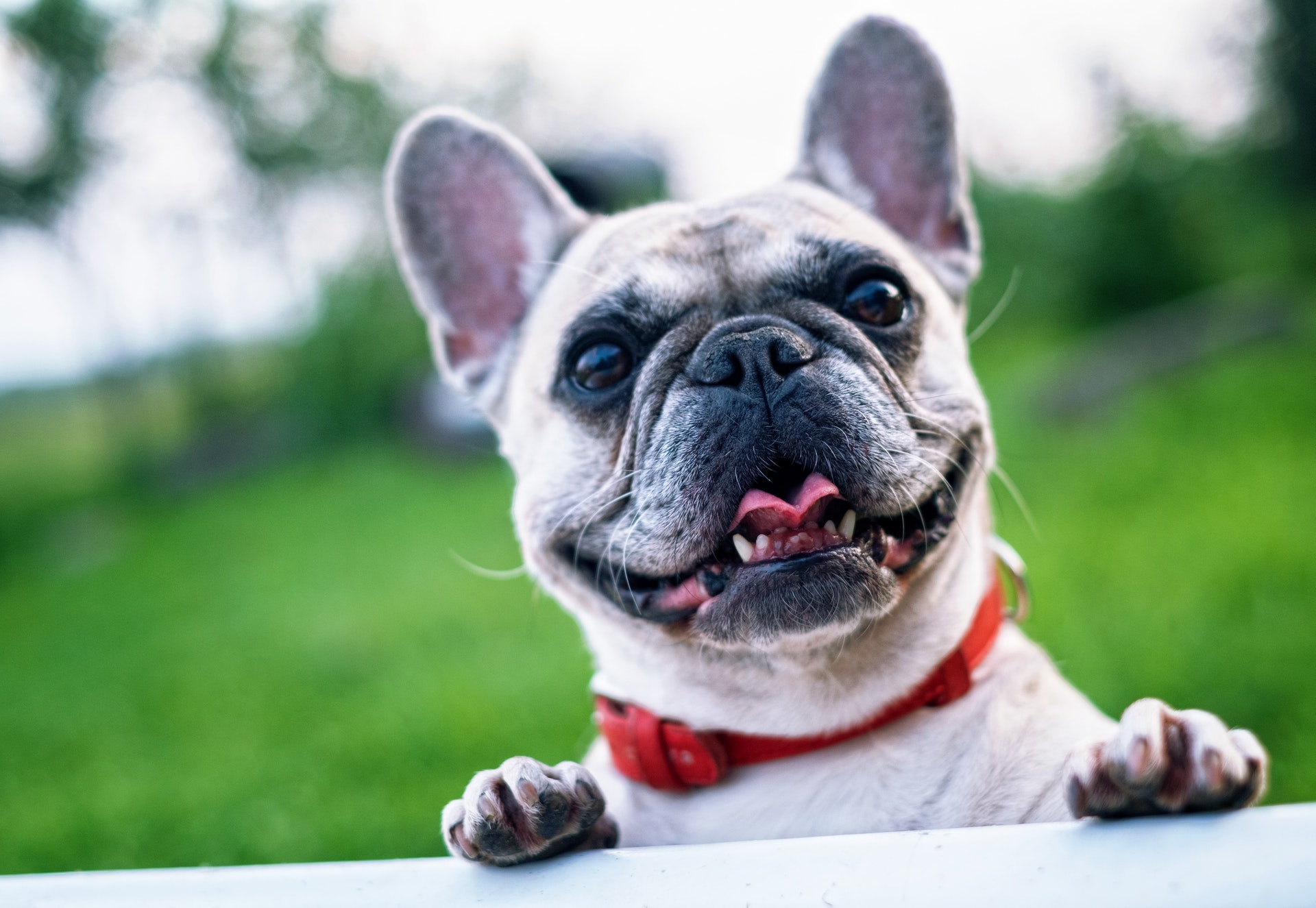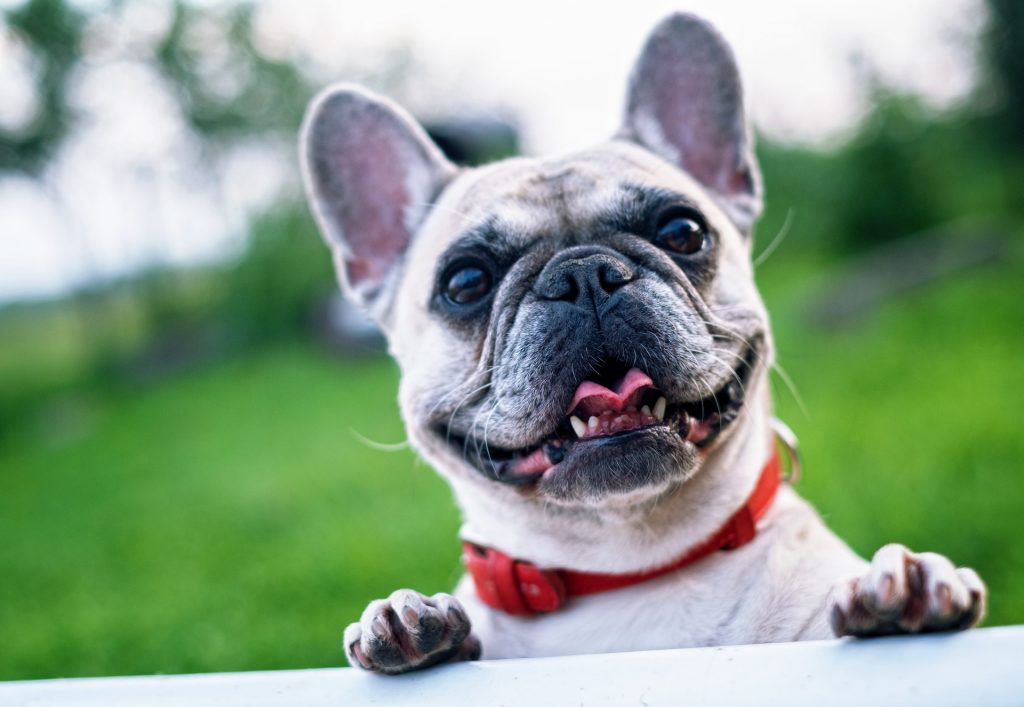 Just like us humans, every Frenchie is unique, which extends to their dietary preferences and needs. Shrimp isn't an everyday food, so we need to tread lightly when introducing it to our French Bulldogs.
Before embarking on this seafood adventure, it's best to have a quick chat with your vet. They can provide guidance based on your Frenchie's overall health, digestive capability, and potential allergies.
With a green light from your vet, the ideal serving size for an adult Frenchie is around two pieces of shrimp, twice a week. This limit ensures your Frenchie reaps the benefits without the risk of overindulgence. If you're the proud parent of a Frenchie puppy, Johnny recommends just half a shrimp.
Important safety note: French Bulldogs should only eat well-cooked shrimp. Raw shrimp can harbor harmful bacteria such as salmonella and listeria. Proper cooking eradicates these risks and ensures a safe treat for your Frenchie.
Thinking about a late-night shrimp snack for your Frenchie? Most vets will tell you it's best to hold off. Seafood can take a little longer to digest, and we want to let our Frenchies sleep soundly, not with full bellies. A midday shrimp treat after your own lunch is an ideal time.
Remember, introducing any new food to your Frenchie should be a gradual process. Watch for any signs of discomfort or adverse reactions and, when in doubt, consult your vet.
Fed Your Frenchie Shrimp? Notice The Side Effects In Time
Even the healthiest foods can cause side effects if they're consumed in excessive amounts. The same goes for shrimp. 
Here's what to look out for if your Frenchie had too much shrimp for lunch:
An upset stomach

Diarrhea

Vomiting

Seizures

Potential allergic reaction

Fever
After the first time you give your Frenchie shrimp, it would be good to stay for a while and observe it. It probably won't show any severe symptoms right away – but you might notice nausea.
How To Deal With Side Effects?
If you've noticed that your Frenchie isn't a big fan of shrimp, after all, it's time to remove this ingredient from their diet – permanently. 
If the most significant concern your Frenchie has shown is general dissatisfaction with this food, just remove it from their food bowl. But if you notice constant vomiting or diarrhea, it is time to call your veterinarian.
You might need to include some medications and adjust their diet for a while – but it's not a big deal. 
Can Frenchies eat shrimp - More Of Your Questions Answered
Q: Is My Frenchie Allergic To Shrimp?
Here's a fun fact:
Approximately 60% of the human population is allergic to at least one type of seafood. 
So, it shouldn't come as a surprise if you notice that your Frenchie is allergic to shrimp, too. Some of the symptoms to pay attention to are itchy skin, vomiting, diarrhea, or inflammation.
Q: Can My French Bulldog Die From Too Much Shrimp?
No. Your Frenchie won't die if it eats a large amount of shrimp, but its health will be affected, nonetheless. The scariest outcome you can expect is food poisoning or seizures.
You should have your vet on speed dial if this happens.
Q: Can I Feed My French Bulldog Grilled Shrimp?
No, you shouldn't.
If you're going to give a shrimp to your Frenchie, you should cook it. Grilled shrimp is usually prepared with a variety of spices – which your dog's stomach will not be able to digest.
Q: What If My Frenchie Doesn't Like Shrimp?
Well, that's simple – don't force your dog to eat shrimp if it doesn't want to.
Forcing your Frenchie to eat something it didn't like the first time around won't do you – or your pup – any good. Dogs are well aware of what they like – and what they don't.
Don't worry; there are other yummy foods you can share with your Frenchie.
Conclusion: Can French Bulldogs Eat Shrimp?
The final answer to the question is – Yes.
Your French bulldog is allowed to have shrimp – albeit in moderation. It should not be the food on your daily menu.
Your adult French bulldog is allowed to have two pieces of shrimp two times a week. That's the ideal amount; anything more than that can be detrimental to health. As for puppies, try giving them half a shrimp.
This seafood is very healthy. 
Moderate consumption of shrimp can boost your Frenchie's energy. Also, the phosphorus in them is good for strengthening bones and teeth.
And what if your Frenchie ate more than it should? 
Some of the common side effects are vomiting, diarrhea and nausea. If you suspect that the dog is allergic, check with your vet.
Know something we don't?
We are always looking for ways to improve our content and help French bulldog owners from all over the world choose the best diet for their pup.
So, if you think you can contribute in any way to this article, keep those ideas coming!
About

Johnny

Johnny, a Frenchie owner and enthusiast, shares his wealth of knowledge on training and caring for French Bulldogs. When not writing, he enjoys hiking and time in nature with his pets.