Everyone knows that vegetables are healthy for us humans, but what about dogs? Would your French bulldog eat cauliflower if you gave it some? And more importantly, can French bulldog eat cauliflower?
Quick answer: Yes. However, cauliflower should be provided in small portions. Additionally, you should watch out for potential bloating and gas.
In this quick guide, we've covered everything you need to take into consideration when feeding your French bulldog cauliflower. So, without further ado, let's jump right in.
Can My French Bulldog Eat Cauliflower?
Similar in appearance to broccoli, cauliflower is one of the best choices of vegetables you could feed your dog with. Apart from being delicious and harmless, it also has a texture that provides your Frenchie with a nice chewy snack. 
Interestingly enough, some popular dog snacks and treats already have dried cauliflower. Plus, this vegetable is very low in calories – which is always nice to hear.
With that said, your French bulldog doesn't need cauliflower in its diet in order to stay healthy.  Cauliflower isn't a high source of nutrients. Still, raw or cooked cauliflower is one of the lightest snacks you can give to your little friend – just be sure not to overdo it.
Preparing Cauliflower 101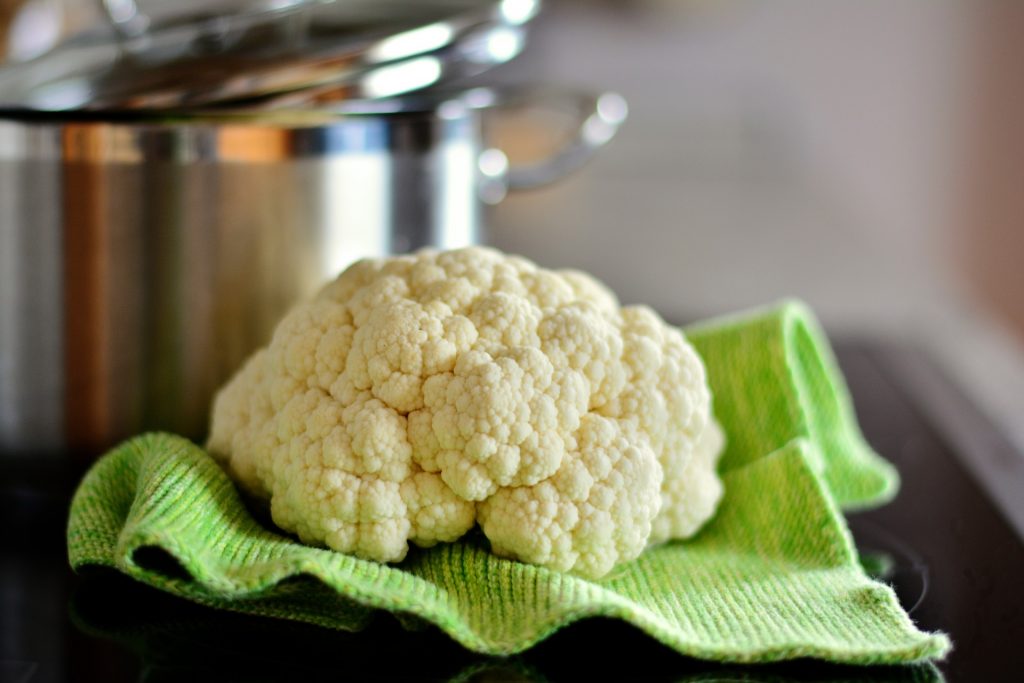 Even though you can feed your French bulldog both raw and cooked cauliflower, one thing you must avoid is dressing and seasoning. Salt, pepper, spices, vinegar, oil, herbs, and others could put your pet in severe danger. 
So, avoid these at all costs. 
If your Frenchie happens to eat seasoned cauliflower by accident and shows signs of stomach pain, nausea, and even vomiting and diarrhea, visit your local vet as soon as possible.
Side Effects Of Eating Too Much Cauliflower
So, what happens if your French bulldog eats too much cauliflower? 
Well, be prepared for some stinky gasses. This veggie's side effect is well known for how gassy it makes our canine companions. And while it might sound funny to you, it causes your Frenchie intestinal discomfort.
Trust us; if you keep your French bulldog inside, and you give it the freedom to roam around the house, you will find these gasses pretty annoying, too.
Additionally, cauliflower can lead to bloating, which, in turn, causes your French bulldog to have stomach and intestinal pain. 
So, our advice is to feed your French bulldog small portions – and only occasionally. Don't let the fun and crunchy treat turn into a bad eating habit because it will affect your Frenchie's health.
Nutritional Value Of Cauliflower
Even though cauliflower is nutritious, it's not the best source of nutrients – especially not when compared to broccoli. And as we've mentioned already, cauliflower isn't that beneficial to your dog's health. 
But on the other hand, cauliflower is great as a light veggie treat – and most dogs seem to enjoy it. Some owners even train their Frenchies by using small portions of cauliflower as treats.
Anyway, nutrients found in cauliflower that are beneficial to French bulldogs are:
Vitamin C

– Apart from strengthening the immune system, vitamin C supports skin and gives it elasticity. It also functions as an antioxidant, eliminating free radicals and protecting the cells from being destroyed.

Vitamin K

– Improves blood and liver health. Vitamin K also aids in preventing heart and bone-related diseases. 

Fiber

– Plays a huge role in your Frenchie's digestive health. Although there are people who don't consider fiber vital to the animal's diet, fiber enhances bowel movements and fights diarrhea, constipation – and even diabetes. 
Frequently Asked Questions
Let's look at some FAQs, shall we? We need to consider a few more things to educate ourselves – and other French bulldog owners, too.
Q: What dosage of cauliflower is healthy?
The dosage and feeding guidelines depend on your Frenchie's size, weight, and health record. Since French bulldogs are a small breed, 50 grams of cauliflower is enough for an occasional treat.
Q: What are the signs of allergic reactions in Frenchies?
Allergic reactions to cauliflower aren't common at all and are very unlikely to happen. However, if you notice unusual behavior and think that food allergies might be to blame, be sure to contact your local vet. They will be able to help you.
Can French Bulldog Eat Cauliflower? –  Conclusion
Despite not being the most densely packed in nutrients, cauliflower is a perfect snack for your little French bulldog. Just be sure not to overboard with cauliflower as it could cause a bloated stomach and gasses.
Feeding your Frenchie this delicious and crunchy veggie is perfectly fine as long as you do it occasionally and in small portions. Oh, and one more important thing to keep in mind here: 
Please avoid dressings and seasoning when feeding your French bulldog cauliflower. It's a dog treat, not a salad. 
Know something we don't? 
Drop a comment, join the conversation, and please consider sharing this quick guide with fellow Frenchie parents out there!