Last Update:

June 20, 2023
Bonjour, fellow Frenchie lovers, it's Johnny here! Today we're addressing a delicious conundrum: Can French Bulldogs eat cauliflower?
We all adore our four-legged friends, and their health is our top priority. Cauliflower, a nutrient-rich vegetable, can seem like an ideal treat. 
But is it safe for our petite pooches? Keep reading as we delve into the nutritional facts, potential benefits, and precautions you should know when adding cauliflower to your Frenchie's diet.
Quick answer:
Yes, Frenchies can eat cauliflower in small portions. Additionally, you should watch out for potential bloating and gas.
In this quick guide, we've covered everything you need to take into consideration when feeding your French bulldog cauliflower. So, without further ado, let's jump right in.
Can My French Bulldog Eat Cauliflower?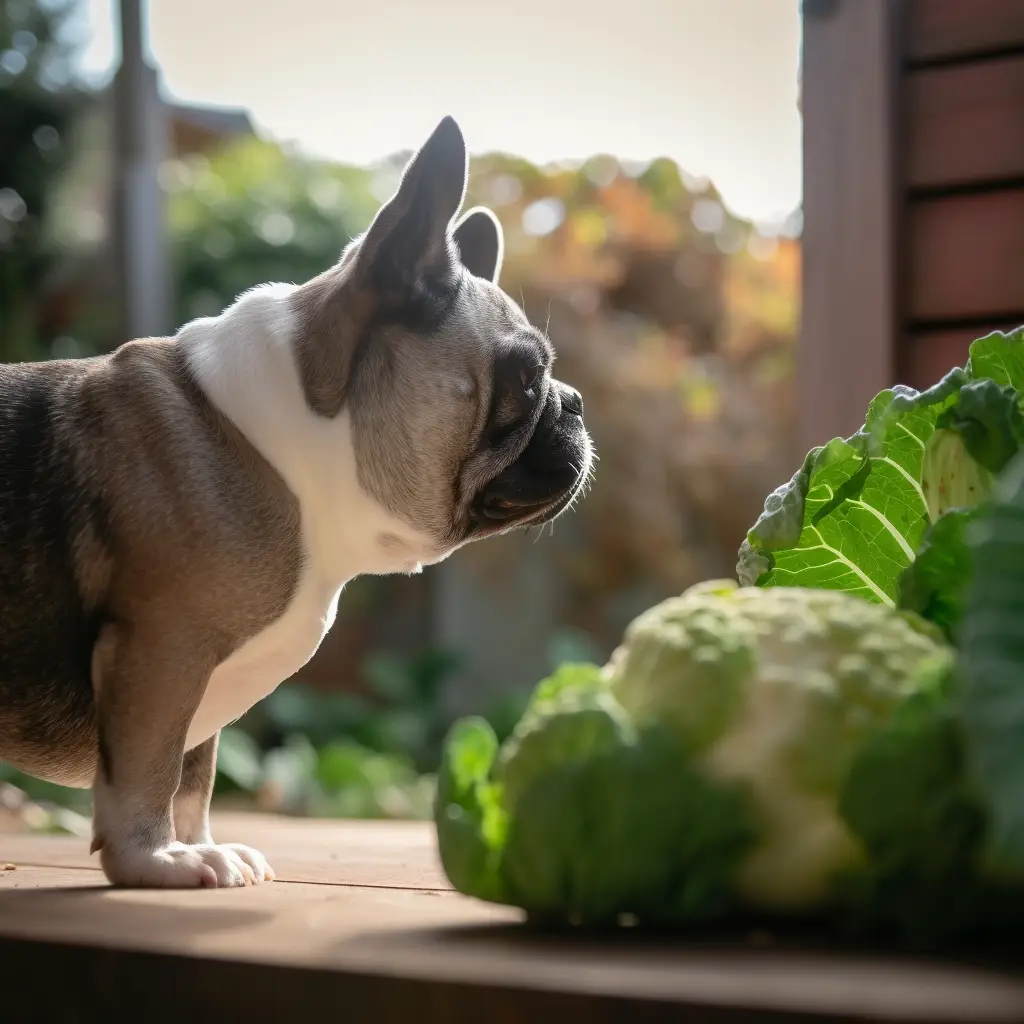 Similar in appearance to broccoli, cauliflower is one of the best choices of vegetables you could feed your dog with. Apart from being harmless, it also has a texture that provides your Frenchie with a nice chewy snack. 
Interestingly enough, some popular dog snacks and treats already have dried cauliflower. Plus, this vegetable is very low in calories – which is always nice to hear.
With that said, your French bulldog doesn't need cauliflower in its diet in order to stay healthy, as cauliflower isn't a high source of nutrients. Still, raw or cooked cauliflower is one of the lightest snacks you can give to your little friend – just be sure not to overdo it.
The Nutritional Value of Cauliflower
Let's get into the nitty-gritty of what makes cauliflower a contender for your Frenchie's diet. This cruciferous veggie is a powerhouse of essential nutrients. In a single cup of raw cauliflower, you'll find:
| | |
| --- | --- |
| Nutrient | Amount (Per 1 Cup of Raw Cauliflower) |
| Calories | 25 |
| Protein | 2 grams |
| Fiber | 2 grams |
| Vitamin C | 52 mg |
| Vitamin K | 16 mcg |
| Folate | 61 mcg |
| Potassium | 176 mg |
| Magnesium | 15 mg |
| Phosphorus | 44 mg |
This table lays out the nutritional composition of cauliflower clearly, so you can see exactly what's in this veggie. Now, let's move on to deciphering what these nutrients mean for your Frenchie's health.
So, cauliflower seems like a nutrient-packed treat. But what does this mean for your Frenchie? Let's find out!
Benefits of Cauliflower for French Bulldogs
You've learned about the advantages of blackberries, but what about cauliflower? This cruciferous vegetable, while not as sweet as berries, holds its own unique set of benefits that can contribute to your Frenchie's health. Let's dive in!
Cauliflower is a nutritional powerhouse that's packed with vitamins and minerals essential for your Frenchie's health. It's rich in Vitamin C, K, and B6, fiber, folate, pantothenic acid, and potassium. But how exactly do these nutrients translate to benefits for your French Bulldog?
Leading the Pack: Spotlight on Frenchie Globe's Top 3 Products
Vitamin C, known for its immunity-boosting properties, can be beneficial for your French Bulldog, especially during times of stress or illness. Although dogs naturally produce Vitamin C, supplementing it through diet, especially during periods of increased need, can be beneficial.
Fiber and Digestive Health
The fiber in cauliflower can aid your Frenchie's digestion, keeping their bowel movements regular and supporting overall gut health. But remember, just like with blackberries, moderation is key. Too much fiber can lead to digestive upset.
Cauliflower is a low-calorie vegetable, making it a great choice for weight management. If you're looking for a healthy treat that won't contribute to weight gain, raw or steamed cauliflower can be a wonderful choice.
Can French Bulldogs Eat Cauliflower?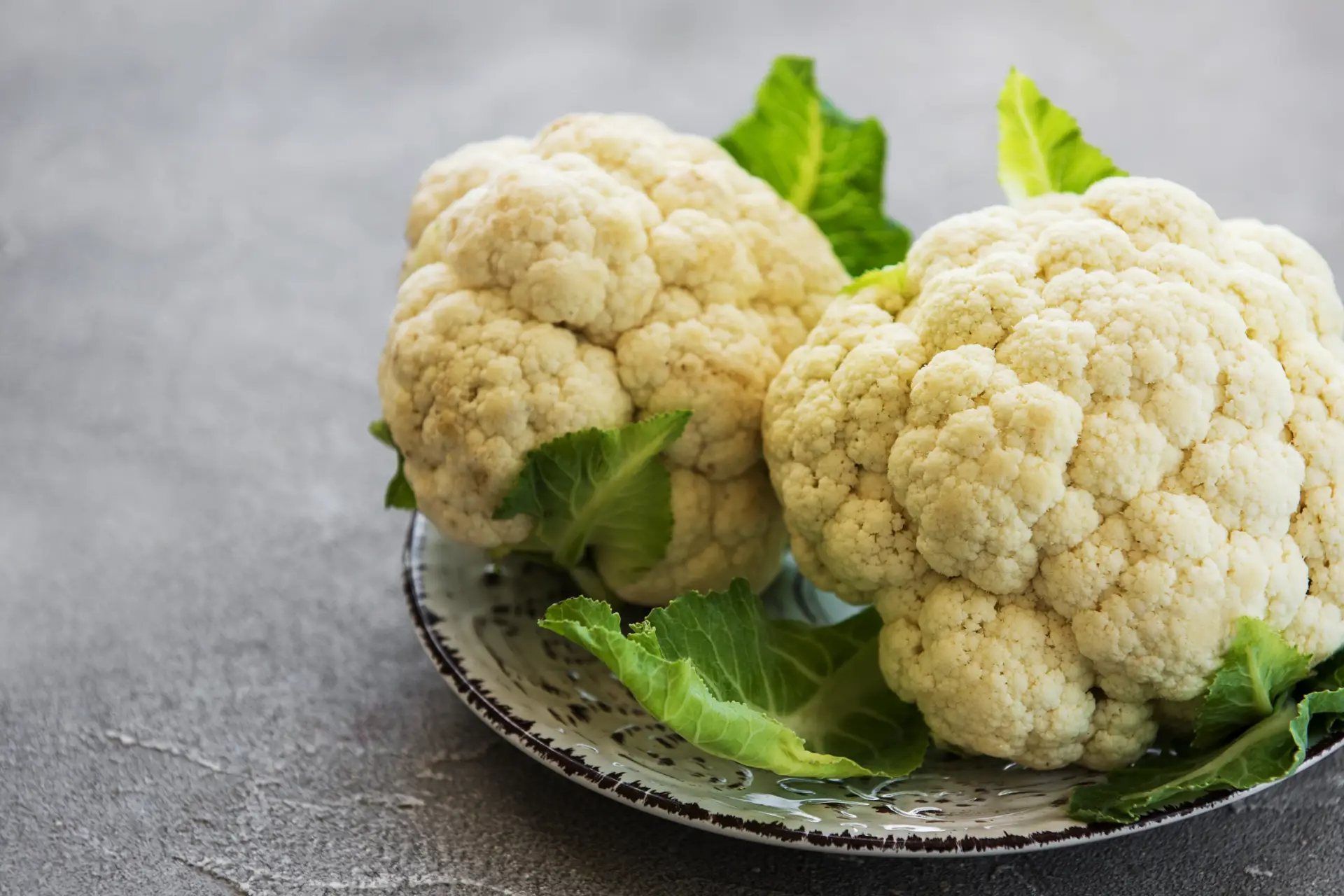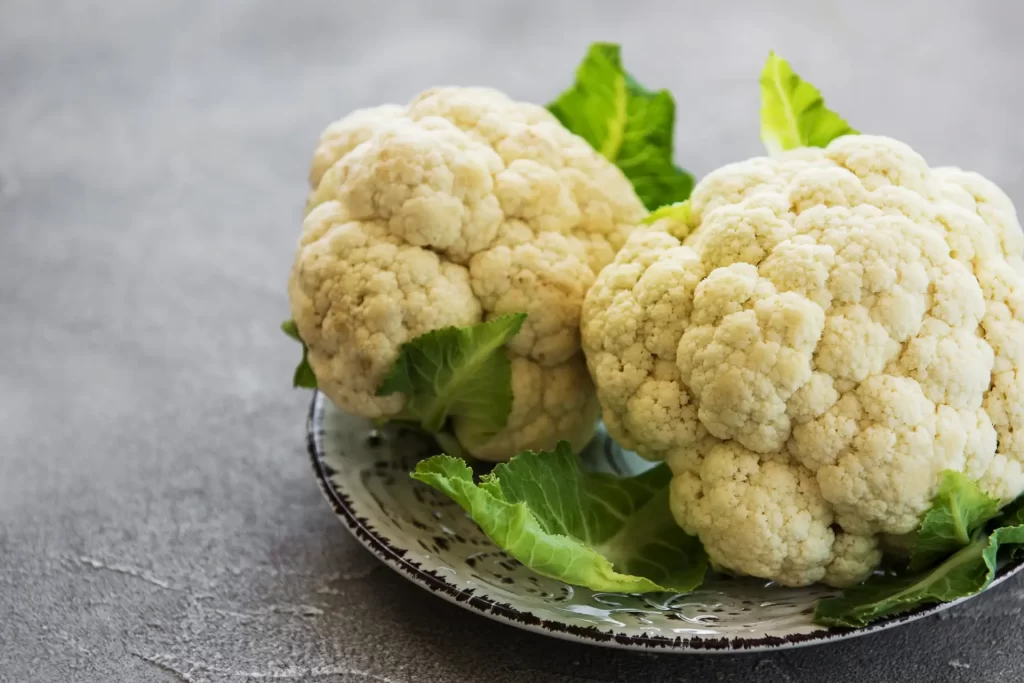 The answer is a resounding yes! French Bulldogs can safely consume cauliflower as part of their diet. However, it's important to introduce it gradually and watch for any signs of gastrointestinal upset. Also, remember to always serve it in a form that's safe for your Frenchie – raw or steamed, but never seasoned or cooked with toxic ingredients like onions or garlic.
Potential Risks and Precautions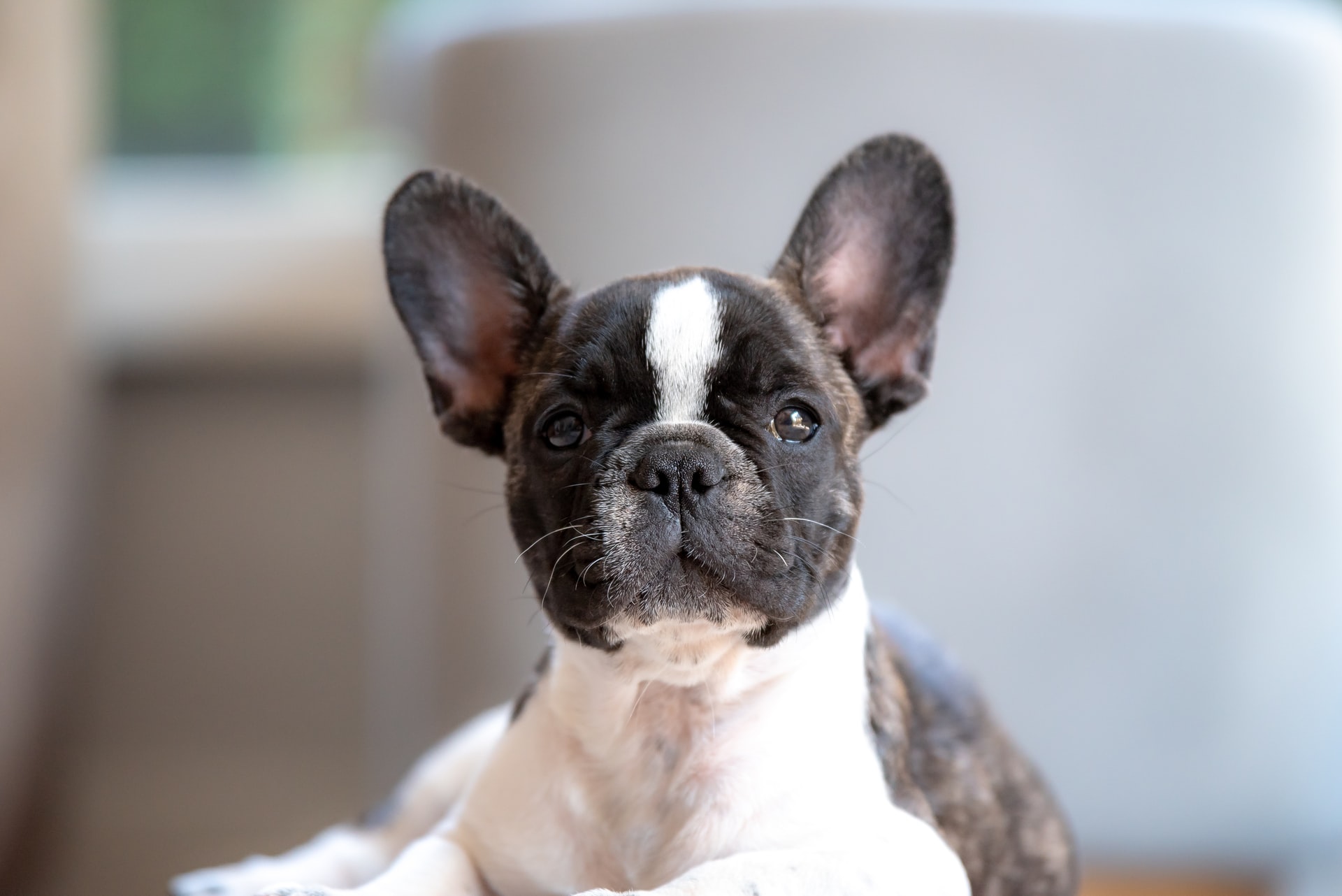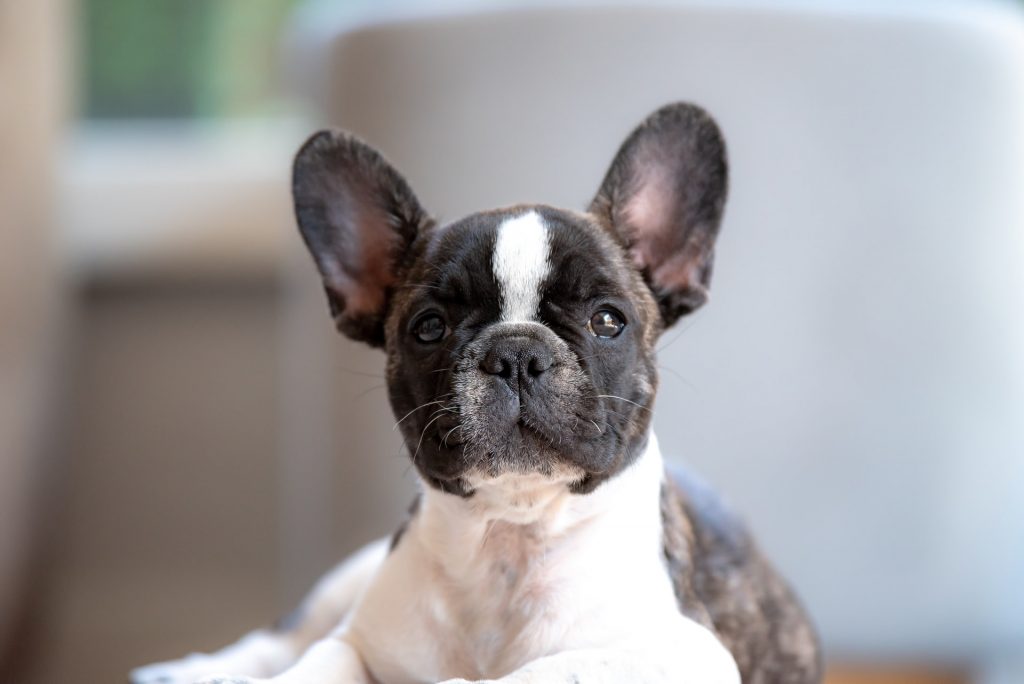 We've talked about the amazing benefits that cauliflower brings to the table for our furry friends, but it's crucial to also be aware of the possible side effects and precautions. After all, we want to ensure our Frenchies enjoy their meals in the safest way possible!
Now, while cauliflower is generally safe for dogs, it's worth noting that it may cause some discomfort if consumed in large amounts. Similar to when our Frenchies eat radishes, overconsumption of cauliflower can lead to gassy, bloated stomachs, or even stomach upset in some rare cases. It's all about moderation, folks! 
Furthermore, there's the issue of swallowing large pieces of cauliflower stems which can cause blockages in the dog's bowels, which can lead to lethal conditions.
How we prepare cauliflower also matters. Cooking cauliflower before serving can make it easier for our Frenchies to digest and help avoid any potential discomfort. Raw cauliflower, while not inherently harmful, might be tough for some dogs to digest. So, just to play it safe, it's best to serve it cooked.
Remember, serving size is also key. A smaller piece or two mixed into their regular food can be a great way to add some nutrition boost without overdoing it. After all, we want our Frenchies to enjoy the health benefits of cauliflower without any unnecessary trouble!
So, that's all there is to it, folks! Don't let the potential risks scare you away from trying out cauliflower as a treat for your Frenchie. Just remember to keep it moderate and cooked, and your Frenchie will be just fine! And hey, if you've got any cool cauliflower recipes your Frenchie loves, don't forget to share it with us in the comments below!
In the meantime, if you're curious about other foods that French Bulldogs can safely enjoy, check out our article on whether French bulldogs eat radishes. You'll find it just as enlightening, promise!
Veterinary Opinions on Feeding Cauliflower to French Bulldogs
French Bulldogs, like all dogs, require a balanced diet for optimal health. Many veterinarians recommend introducing vegetables like cauliflower into a French Bulldog's diet for added nutritional benefits.
Victoria Lynn Arnold on PetMD states that If your Frenchie is carrying a few extra pounds, cauliflower can be a wonderful treat to consider. Low in calories yet high in nutrients, this vegetable can provide an enjoyable crunch without adding unnecessary weight. Of course, always consult with your vet when planning your pup's weight loss regimen.
Dr. Sara Ochoa, DVM, a veterinarian at Whitehouse Veterinary Hospital, says that cauliflower shouldn't be included in your dog's daily diet, but a few times a week is great.
Many French Bulldog owners have found success integrating cauliflower into their pets' diets. Take Jenny, a Frenchie owner from Texas. "I started adding a few florets of steamed cauliflower to Bella's dinner about a year ago," she says. "I've noticed her coat is shinier and she seems to have more energy. Plus, she loves the taste!"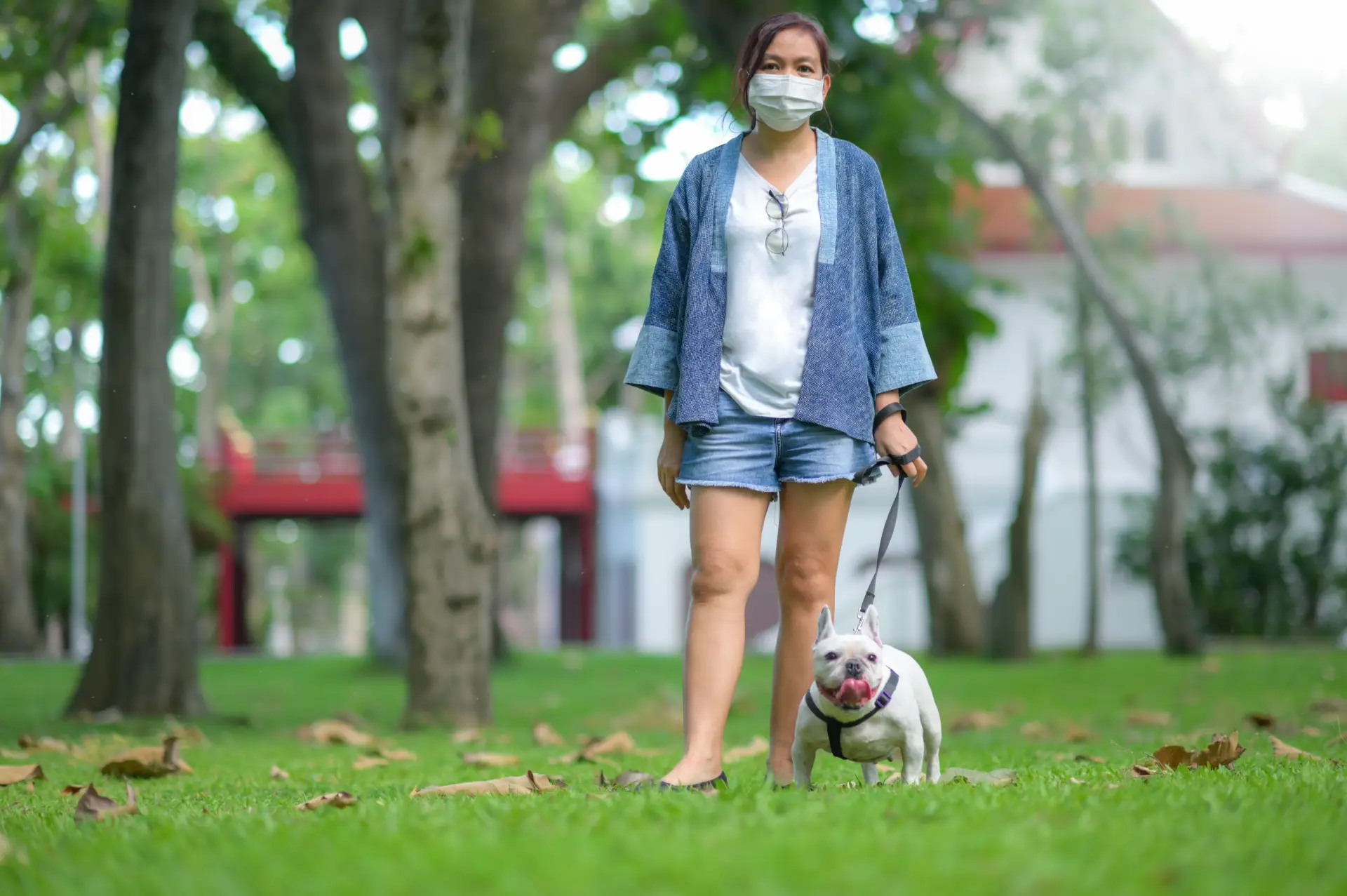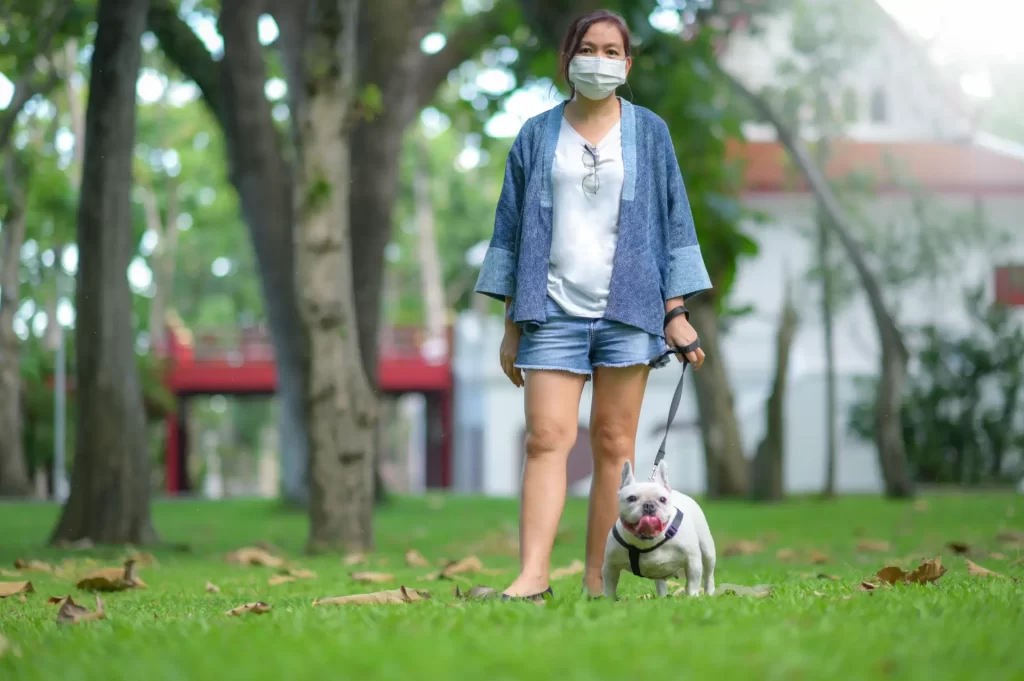 However, not all experiences have been positive. Mike, a French Bulldog owner from California, shares, "I tried giving my Frenchie, Rocky, some raw cauliflower once and he had quite a bit of gas afterwards. I learned the hard way that it's better to cook it first!"
These experiences underline the importance of moderation and preparation when introducing cauliflower to your Frenchie's diet. Remember, every dog is unique, and what works for one might not work for another. Always monitor your dog's reaction when introducing new foods and consult your veterinarian if you have any concerns.
Can French Bulldogs Eat Cauliflower - Conclusion
In conclusion, the question "Can French Bulldogs eat cauliflower?" receives a resounding yes. 
Cauliflower is a nutritious vegetable that can be safely consumed by your Frenchie, given that it's prepared properly and given in moderation. It's packed with essential nutrients like fiber, vitamin C, vitamin K, and other beneficial compounds that can contribute to your Frenchie's overall health. 
However, it's not a free-for-all. Overfeeding your Frenchie with cauliflower can lead to digestive discomfort, gas, and bloating. As with any new food, introduce cauliflower slowly and observe your dog's reaction. Remember that every Frenchie is unique, and what works for one may not work for another. 
Always seek the advice of your vet or a pet nutritionist before making significant changes to your Frenchie's diet. So go ahead and share this nutritious vegetable with your Frenchie, but remember – moderation is key!
About

Johnny

Johnny, a Frenchie owner and enthusiast, shares his wealth of knowledge on training and caring for French Bulldogs. When not writing, he enjoys hiking and time in nature with his pets.