We can all put our hands up in agreement that there's no greater joy for Frenchie breeders and owners than learning that their exquisite Frenchie female is expecting puppies. 
It's undeniable that both the owner and the dog have come a long way and exerted a great effort to arrive at that delightful stage. 
Now, many people believe that all dogs give birth to puppies naturally. However, in the case of French bulldogs, things are a bit different.
When entering this enormous life chapter, the first thing every dog owner must do is prepare their female pooch for pregnancy. 
Pregnancy in a French bulldog necessitates various dietary adjustments and several medical procedures. 
So, let's discuss French bulldog pregnancy revealing and everything that comes before – and after – shall we? 
The Health Concerns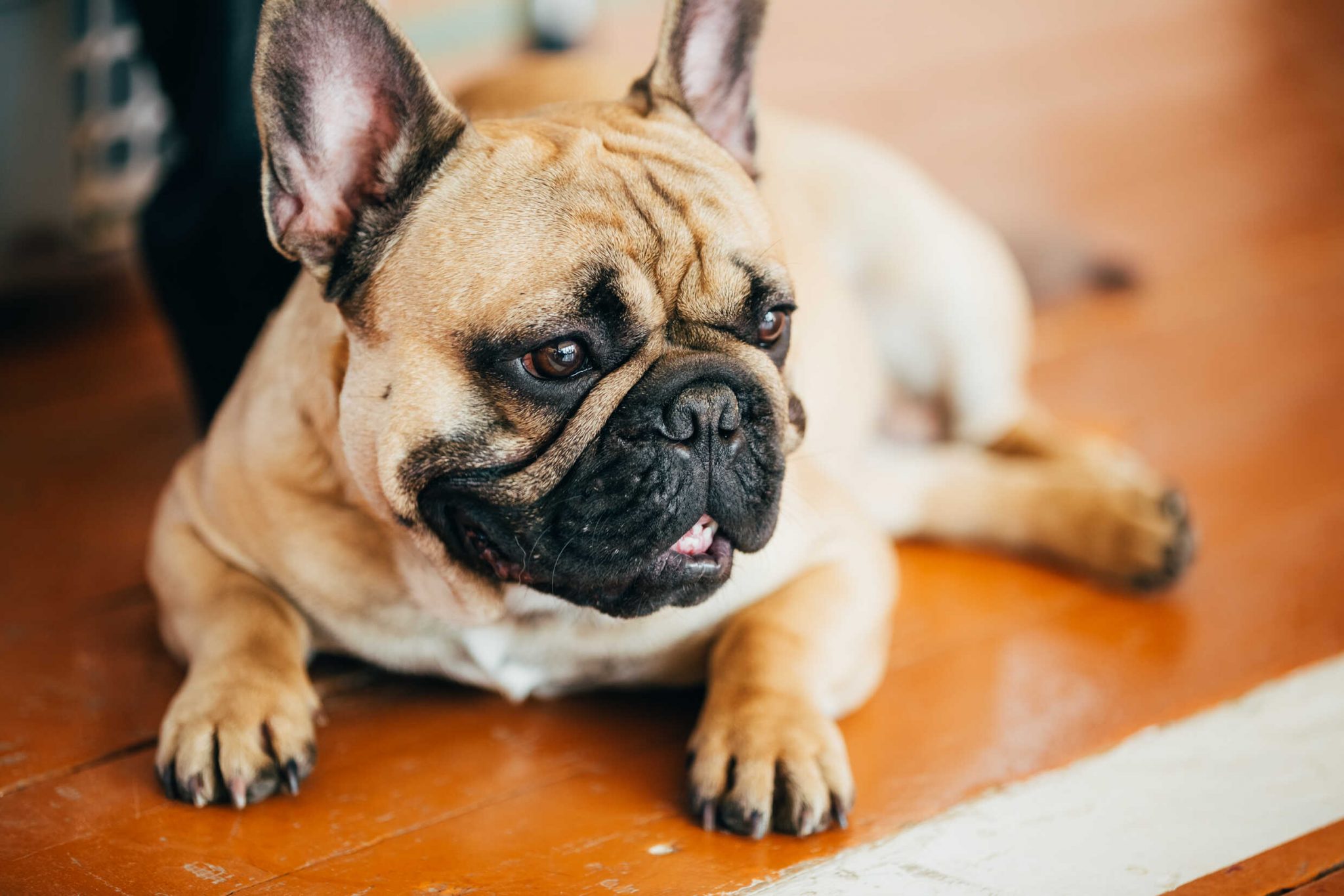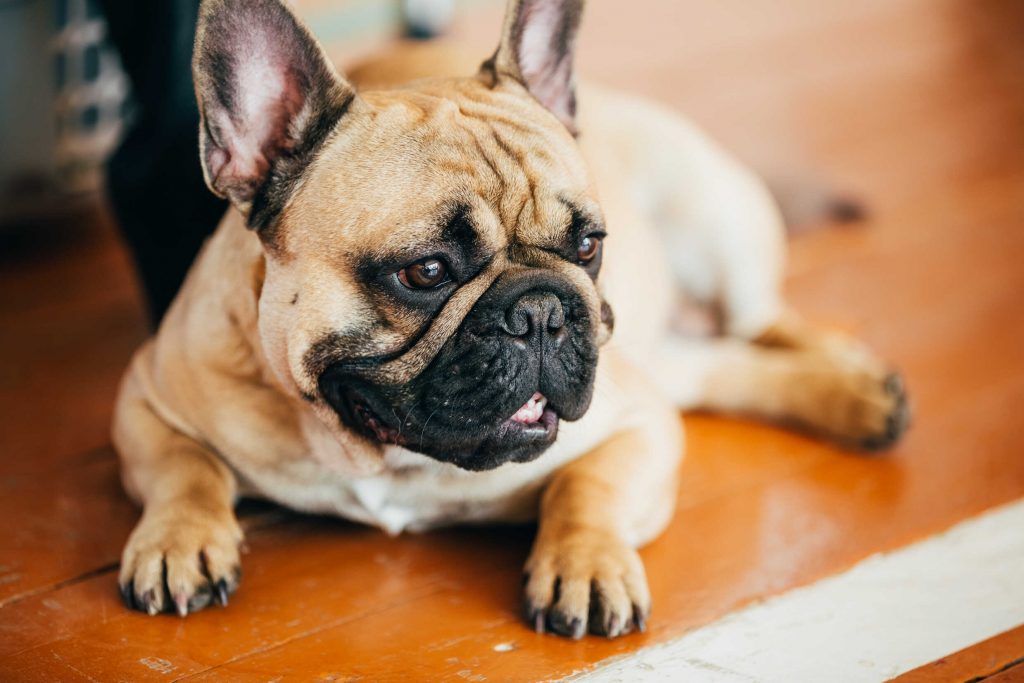 While a French bulldog is one of the loveliest animals around, they are prone to respiratory problems and a variety of other medical issues:
The narrowed noses of French bulldogs, known as stenotic nares, might be the most severe health risk. That's because they're a brachycephalic breed of dog. 
Because of their head, snout, and neck structure, they're often prone to difficult, obstructive breathing.
Moreover, hip dysplasia, abnormal vertebrae, and early intervertebral disc degeneration are common health concerns for the breed, as well. 
Breeders must continue to seek ways to improve French bulldogs' health and well-being due to these common health issues. One way to ensure healthy Frenchie puppies is for breeders to do the necessary genetic tests.
The Minimum Mating Age In Frenchies
The maturity age varies depending on the dog breed. It's worth noting that small breeds, on average, mature faster than huge ones.
After roughly six months, male French bulldogs become reproductive. They'll generally attain sexual maturity between the ages of 12 and 15 months. 
After six months, your dam's first heat season, or estrus, occurs. However, in extreme cases, estrus can be delayed to 18 months or even two years. From there, your dam's heat season should occur every six months until your Frenchie reaches old age.
It is, however, considered contentious and against the standards to breed your dam during her first heat season. That's because they aren't entirely mature at that age, and, in addition, the pregnancy might put the dog and the puppies at risk. 
Also, the American Kennel Club does not accept the registration of a litter out of a dam that's less than eight months old or more than 12 years old.
The Frenchie's Dam Cycle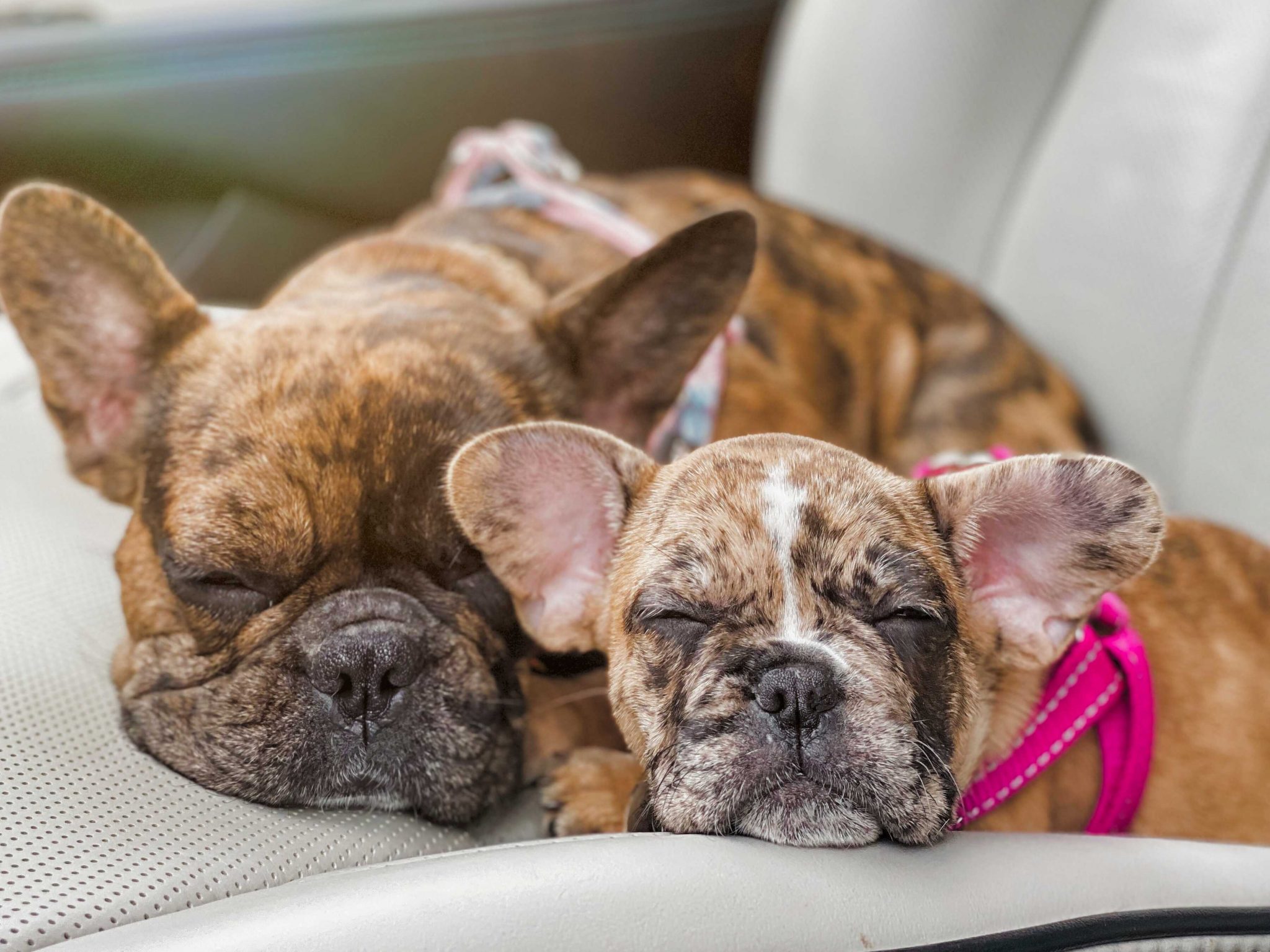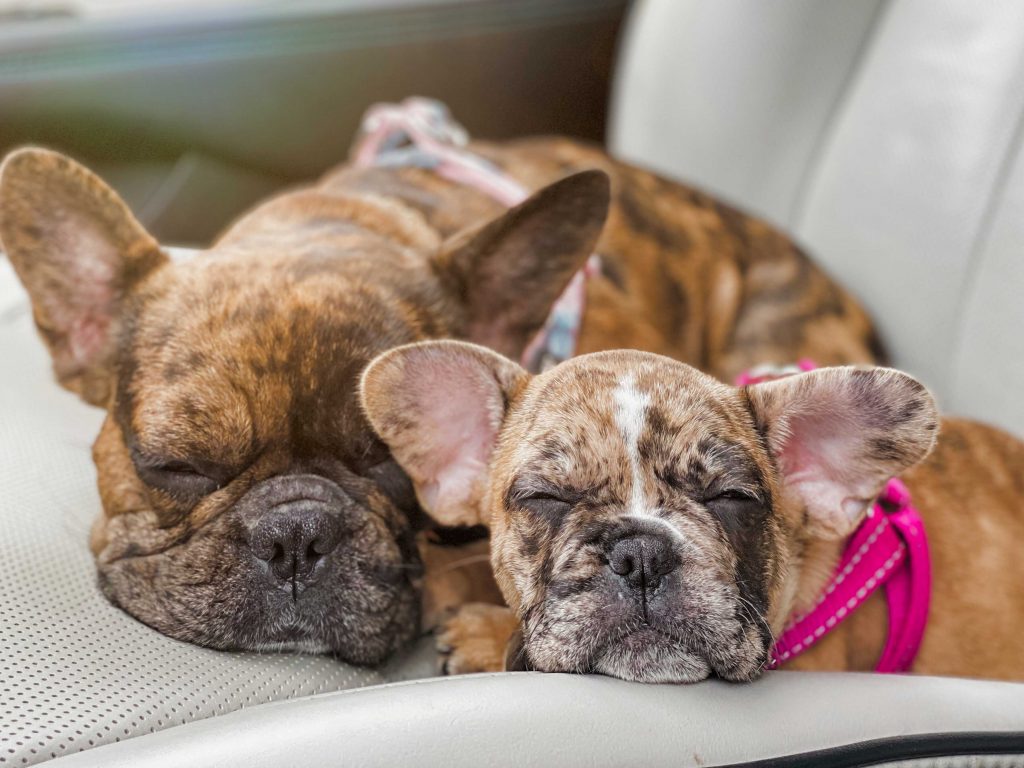 It's critical to understand your female Frenchie's cycle. That'll allow you to keep track of her reproductive cycles – which are divided into four stages:
Proestrus

– When your dam has a bloody vaginal discharge and her vulva swells, she's in her proestrus. That's when she attracts males, and this period lasts around nine days.

Estrus

– Estrus occurs after the proestrus and lasts roughly nine days. The female is fertile throughout this period and will allow breeding. Please remember that ovulation typically happens during the first 48 hours, which is vital for breeding purposes.

Diestrus

– Also known as the

"pregnancy" stage

, this is the time when the hormone progesterone is in charge of the reproductive system. It lasts roughly 60 to 63 days and will happen whether or not your dam conceives. 
If your female Frenchie becomes pregnant in estrus, she'll be in the diestrus stage until she gives birth or whelps. However, it's possible to have a false pregnancy. In this case, your Frenchie may appear pregnant – even though she is not.
Anestrus

– Anestrus is a three-to-four-month phase of infertility. There is no sexual activity at this time.
How Do You Know Your Frenchie Is Pregnant?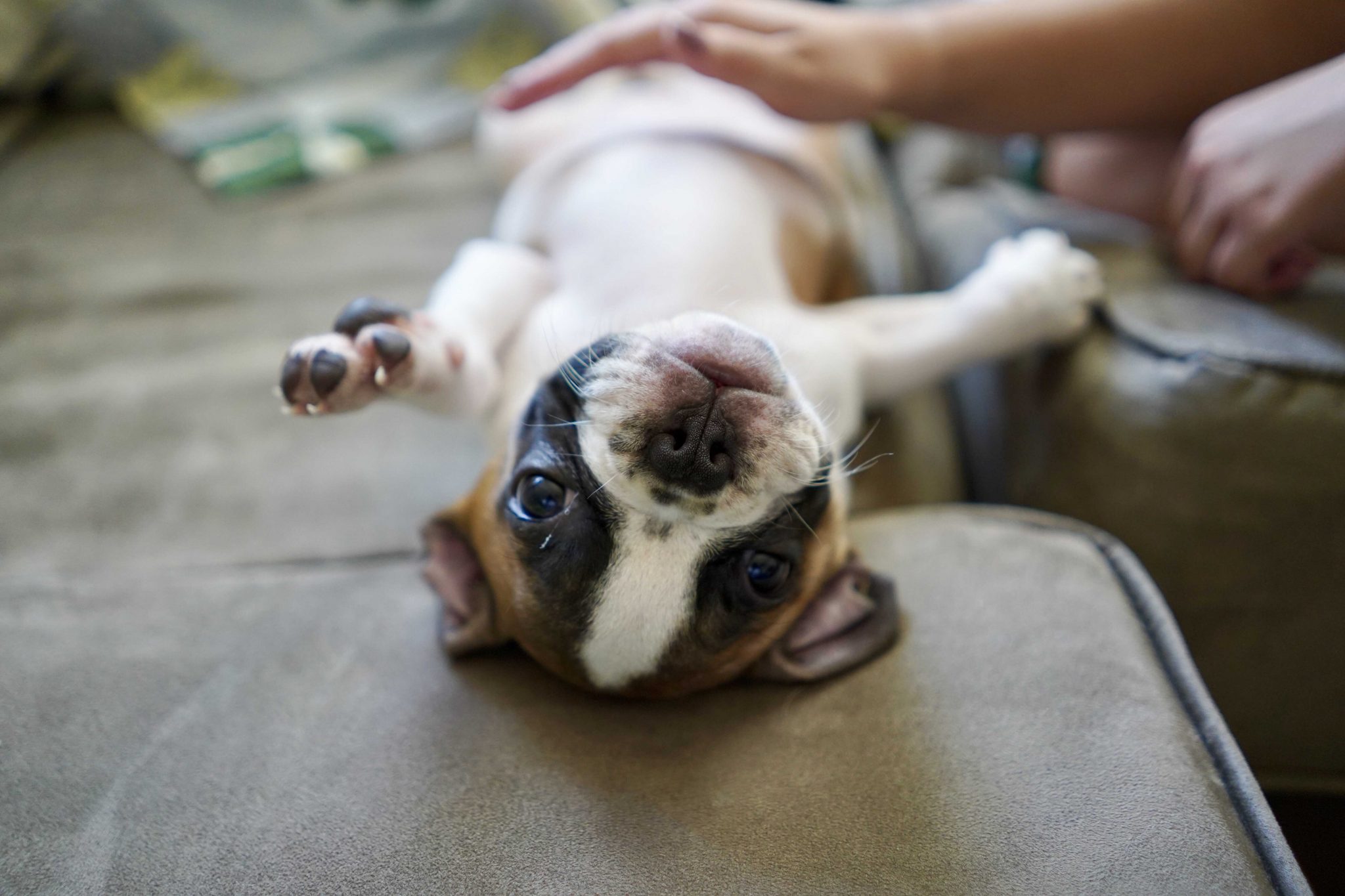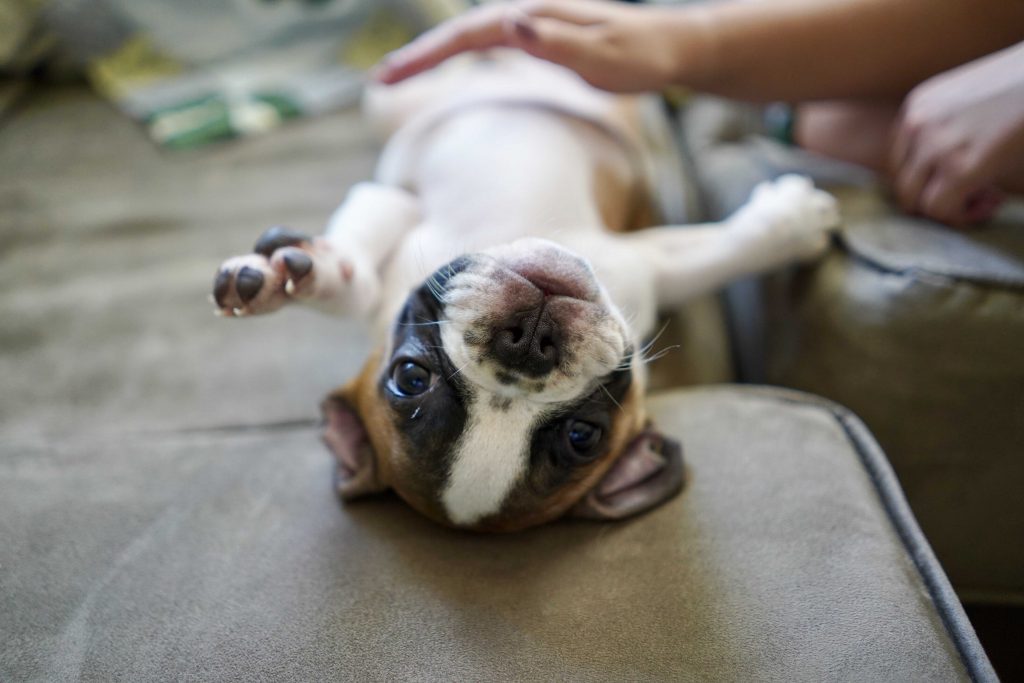 You must search for specific symptoms of pregnancy in your dam after the estrus phase. An increase in hunger, weight, or nipple size are examples of these symptoms. 
That, however, is not proof in and of itself.
Your dam could still present pregnancy indicators yet not be pregnant, as previously stated. Ultrasound and an examination of her abdomen palpitation at 28 days could confirm this for you.
Once you've determined that your dam is pregnant, you'll need to consult your veterinarian about the specific considerations that come with breeding a French bulldog.
That will entail learning how to recognize emergency scenarios that demand rapid medical assistance. Details on your Frenchie's labor and what to expect after she gives birth to the puppies should be part of the discussion, as well.
The Behavior
When it comes to pregnant French bulldog behavior, we must acknowledge that they have a lot in common with women. To put it another way, they're all the same: 
During pregnancy, both female dogs and women undergo mood swings. 
Your adorable four-legged female might appear kind and cuddly one minute – and then turn violent the next. As a result, it's not a good idea to let a pregnant French bulldog alone with children. 
Also, keep in mind that pregnant Frenchies dislike being touched on their "full bellies" during pregnancy; therefore, you should avoid it – no matter how cute they might look.
Nutrition During Pregnancy
In the case of a pregnant French bulldog, nutrition is crucial. 
Feeding your pregnant furry friend a diet rich in high-quality animal-based protein is strongly recommended. 
That's why most Frenchie owners feed their four-legged beauties high-quality puppy kibble. Feeding the dam byproducts might cause major allergies, which is the last thing you want to happen. 
Because your pregnant Frenchie's tummy swells by the day, it's best to feed her several tiny meals throughout the day. She'll have sufficient space for her babies and avoid stomach gas and discomfort this way.
The Lenght Of Pregnancy In Frenchies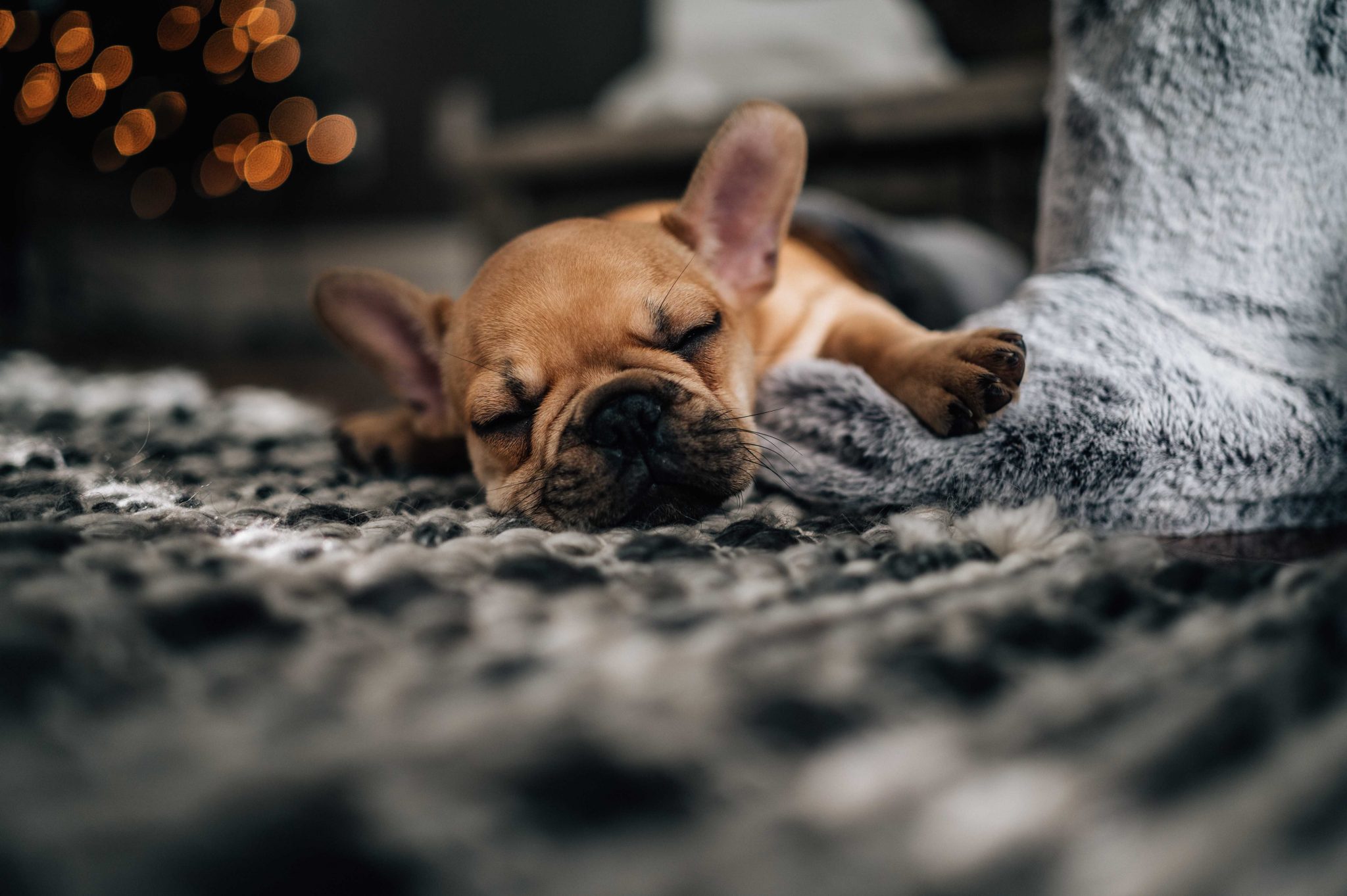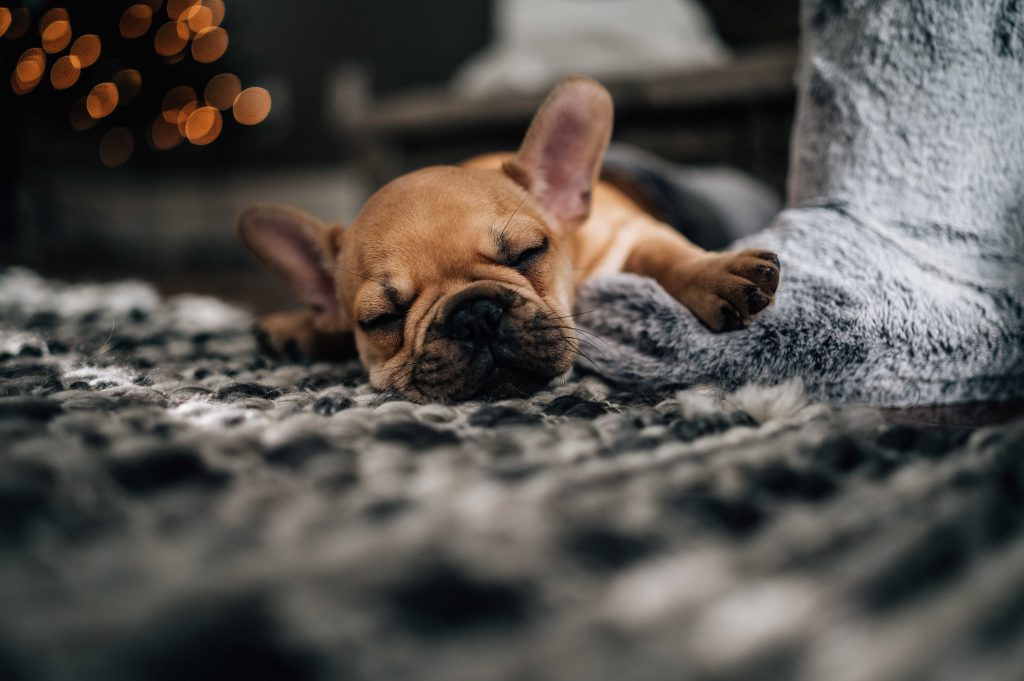 When it comes to pregnancy length, French bulldogs are much like any other dog breed. 
The duration of this time should be between 58 and 68 days. The typical pregnancy lasts 63 days from conception to delivery, though, so it will take roughly two months in total.
Your dam may stop eating or have a diminished appetite a few days before giving birth. Your Frenchie might also begin to construct a "nest" where she intends to raise her puppies.
She should start the first stage of labor around 24 hours after her fever drops, as the cervix dilates and opens the delivery canal to allow the pups to come through. She'll pant, strain, and seem agitated at this point. 
Her body temperature can drop to 99 degrees or lower in the minutes leading up to delivery. 
The actual abdominal straining and birthing stage follows this stage.
Bear in mind that, because of their breathing challenges and tiny hips combined with bigger puppy heads, vaginal delivery is not recommended for French bulldogs.
How Many Puppies Can You Expect?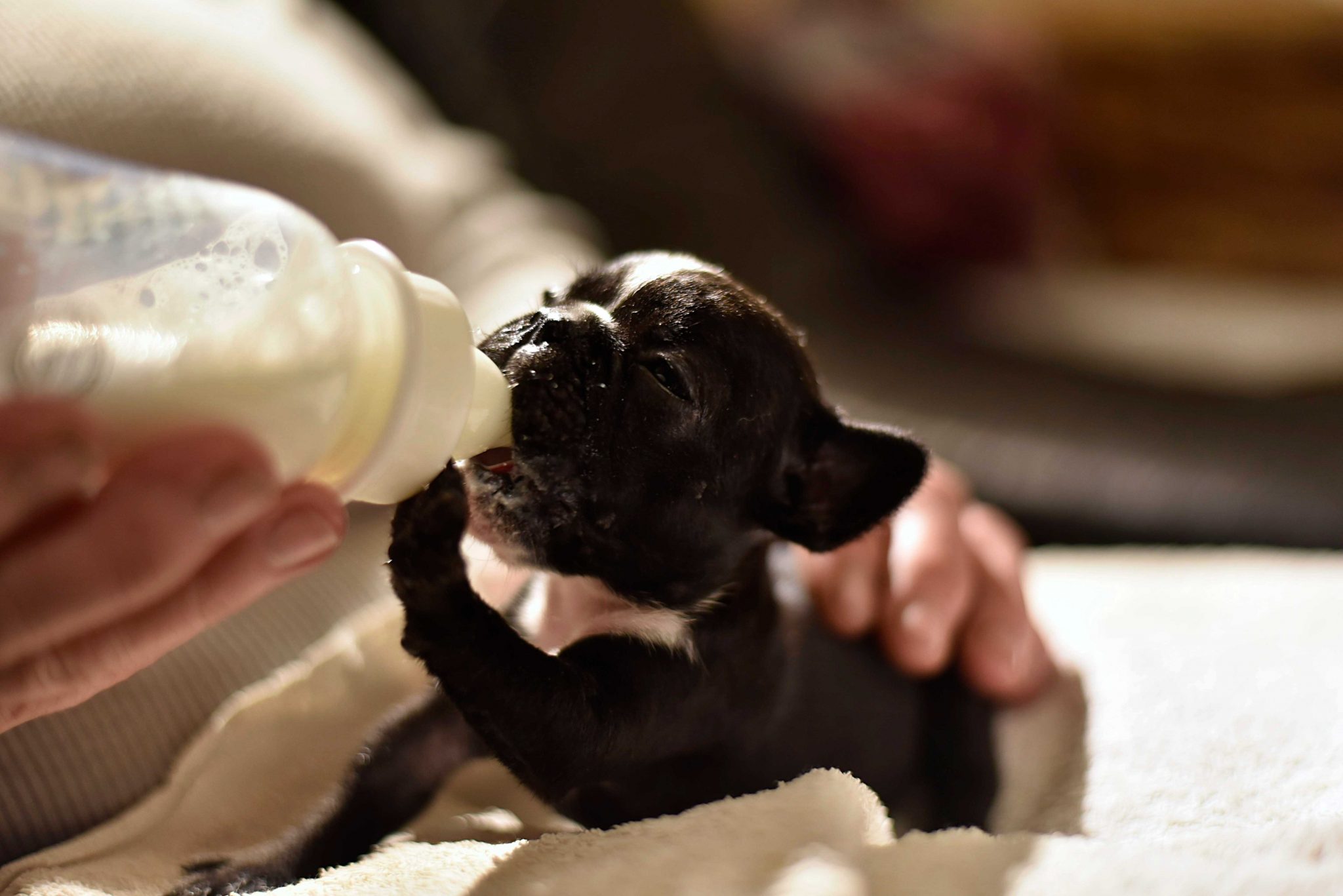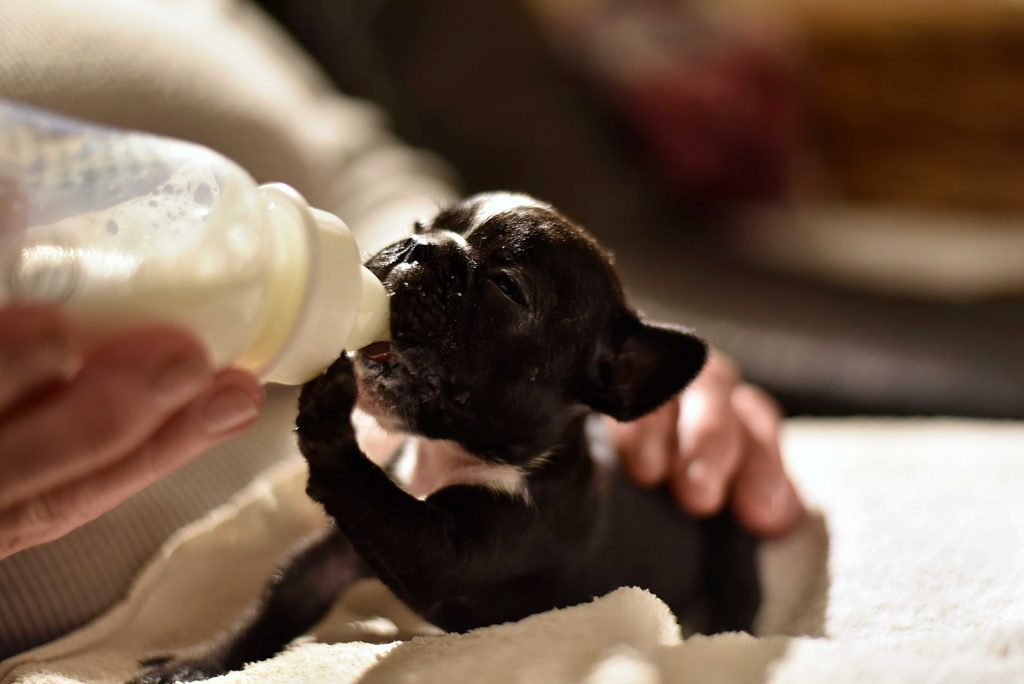 French bulldogs only have a few puppies compared to other dogs, who typically have a large litter.
When you breed a French bulldog, you can anticipate a litter of three to five puppies. There have been a few uncommon cases where French bulldogs gave birth to as many as seven puppies – but these are exemptions, not the rule.
French bulldogs are petite dogs by nature. As a result, a reduced litter size would result in better circumstances for the puppies in the womb.
Conclusion 
You should not breed French bulldogs unless you are a qualified and experienced breeder. The issues that might emerge as a result of this will not only put the female in jeopardy, but they might also result in unnecessary birth abnormalities in the puppies.
That said, do everything you can to make your Frenchie's pregnancy goes as smoothly as possible!
About

Johnny

Johnny, a Frenchie owner and enthusiast, shares his wealth of knowledge on training and caring for French Bulldogs. When not writing, he enjoys hiking and time in nature with his pets.