The extensive scope of French bulldog's teeth as a topic compelled us to paint a clearer picture for all Frenchie parents eager to learn as much as possible about their pups. 
There's so much to discuss here; we're not sure where to start! But anyway, one thing's certain: 
You'll learn some amazing facts about French bulldog teeth today!
Oh, and we also included information that will help you better understand dental diseases – and preventing them. 
So, without further ado, let's dive in!
Types Of Teeth In Frenchies
French bulldogs have 22 teeth on the lower jaw and 20 on the upper, for a total of 42. And of these, 12 are incisors, 4 are canines, 16 are premolars, and 10 are molars. 
Don't worry; we've explained it all below. 
Incisors
Frenchies have six incisors on the lower jaw and another six on the upper jaw. Ten of these are flat and small, while two, located on both sides of the upper jaw, are somewhat pointed.
French bulldogs use incisors for gnawing and scraping.
Canines
There are two canines on each Frenchie's jaw. These teeth are long and pointed. 
Also, due to their short snout, Frenchie's canines and incisors are positioned in a straight line. However, this is only possible for French bulldogs that have broad and square underjaws. 
Frenchies use canines to lock and tear their food.
Premolars
Frenchie's have eight premolars on either jaw. They are located behind the canines and have sharp edges. 
French bulldogs use them to shred and chew food.
Molars 
French bulldogs have six molars on the lower jaw and four molars on the upper jaw. Molars are grinding teeth, and Frenchies use them to break down their food into smaller pieces.
Frenchie's Teeth Structure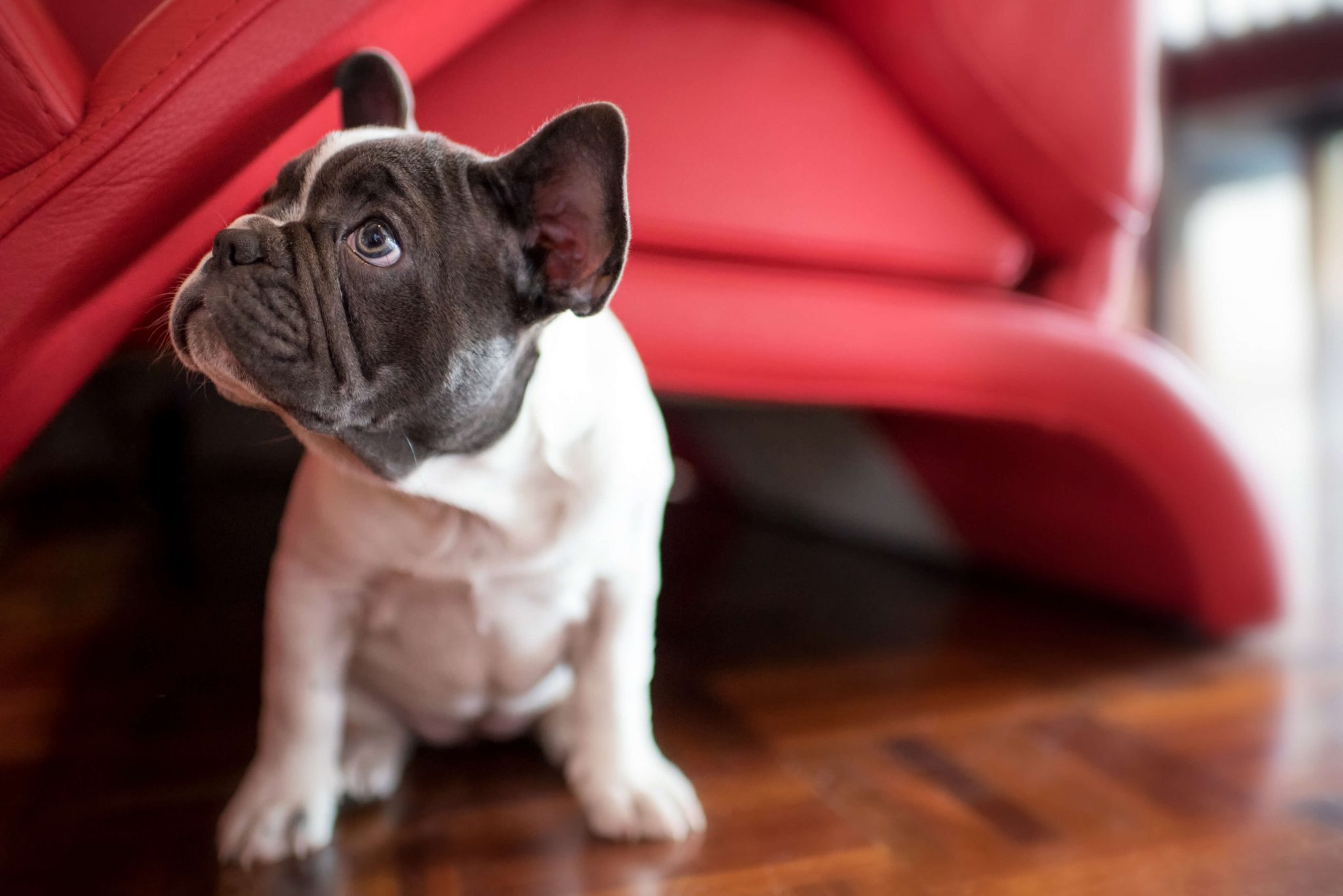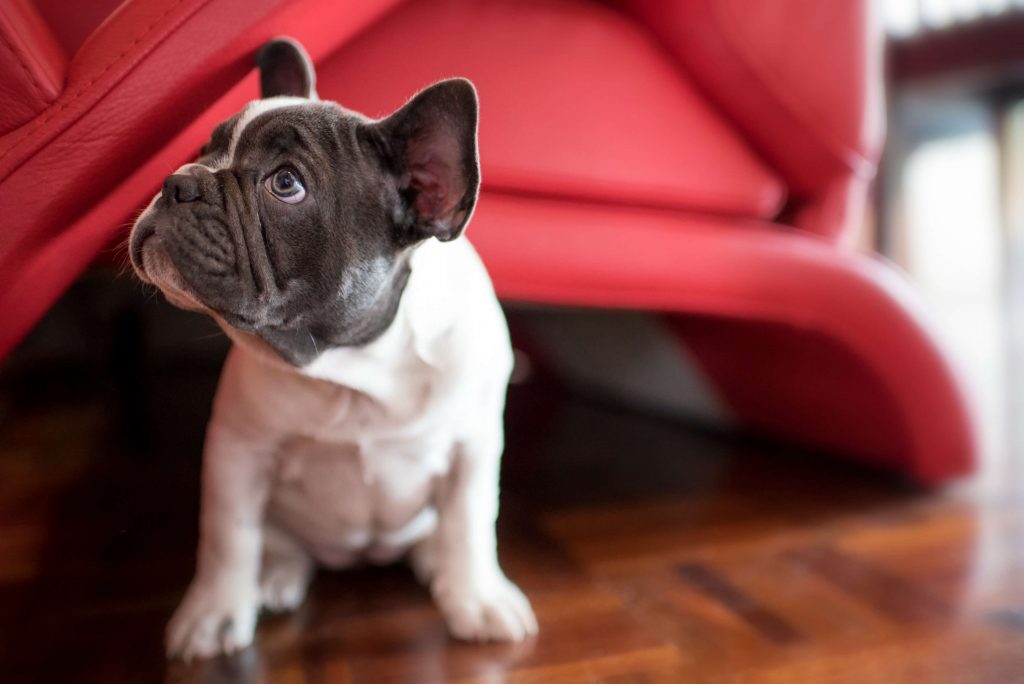 Breed standards include descriptions of how regular Frenchie's teeth should look. 
The standard also provides a detailed outline of the ideal characteristics and appearance of the French bulldogs.
We must point out that there are a lot of Frenchies whose characteristics don't conform to the "ideal" breed standards. As such, if your little friend happens to be an outlier, don't worry; it's not alone: 
Many Frenchies have similar characteristics that aren't documented and approved by the official groups.
Undershot Jaw
Maybe the presence of more teeth on the lower jaw is the evolutionary reason behind the longer appearance of the jaw. Isn't evolution a fascinating thing?
Back to Frenchies:
French bulldogs have malocclusion – a skeletal misalignment known as "poor bite." Specifically, Frenchies have mandibular mesioclusion, otherwise known as class 3 malocclusion. In simpler words, it's the phenomenon where the lower jaw is said to have an underbite or reverse scissor bite.
In "normal" French bulldogs, their lower jaw is curved slightly upwards and "projects" in front of the upper jaw. That creates a setup where lower incisors cover the upper incisors. 
It's important to mention that there's no standard size of the gap in between front teeth. Instead, the gap size varies from one Frenchie to another.
However, while for some Frenchies, the underjaw is straight, for others, the incisors on the lower and upper jaws are level, creating what we call a "normal scissor bite." 
Is Underbite Problematic?
The underbite is typically not an issue, provided your French bulldog can eat, drink, and clean itself without any pain. It's also not an issue if your Frenchie's teeth are exposed when it closes its mouth.
Frenchies with underbites don't have teeth that are exposed when their mouths are closed. 
That's because the jaw and facial structure enable the thick and broad flews to meet the lower lip at the front – therefore, covering the teeth.
However, in Frenchies with a more pronounced underbite, the flews don't meet the lower lip and subsequently cover the teeth. Therefore, it's not rare to see some French bulldogs with exposed underjaw incisors.
When it's too pronounced, it inhibits eating, drinking, and grooming. You might notice that your Frenchie's teeth and gums are bleeding, too. 
In these cases, the underbite is considered problematic.
Square And Broad Underjaw
"Normal" French bulldogs should have square and broad underjaws. 
But how do you know whether your Frenchie has these two characteristics? 
Well, you would look at the incisors:
If your French bulldog's incisors are straight and in a straight line across the jaw, then your pup has a broad and square jaw.
In a French bulldog whose jaw doesn't curve upwards and is narrow, the incisors will be visible when the dog's mouth is closed. That also indicates that its teeth are rounded.
Dental Diseases In French Bulldogs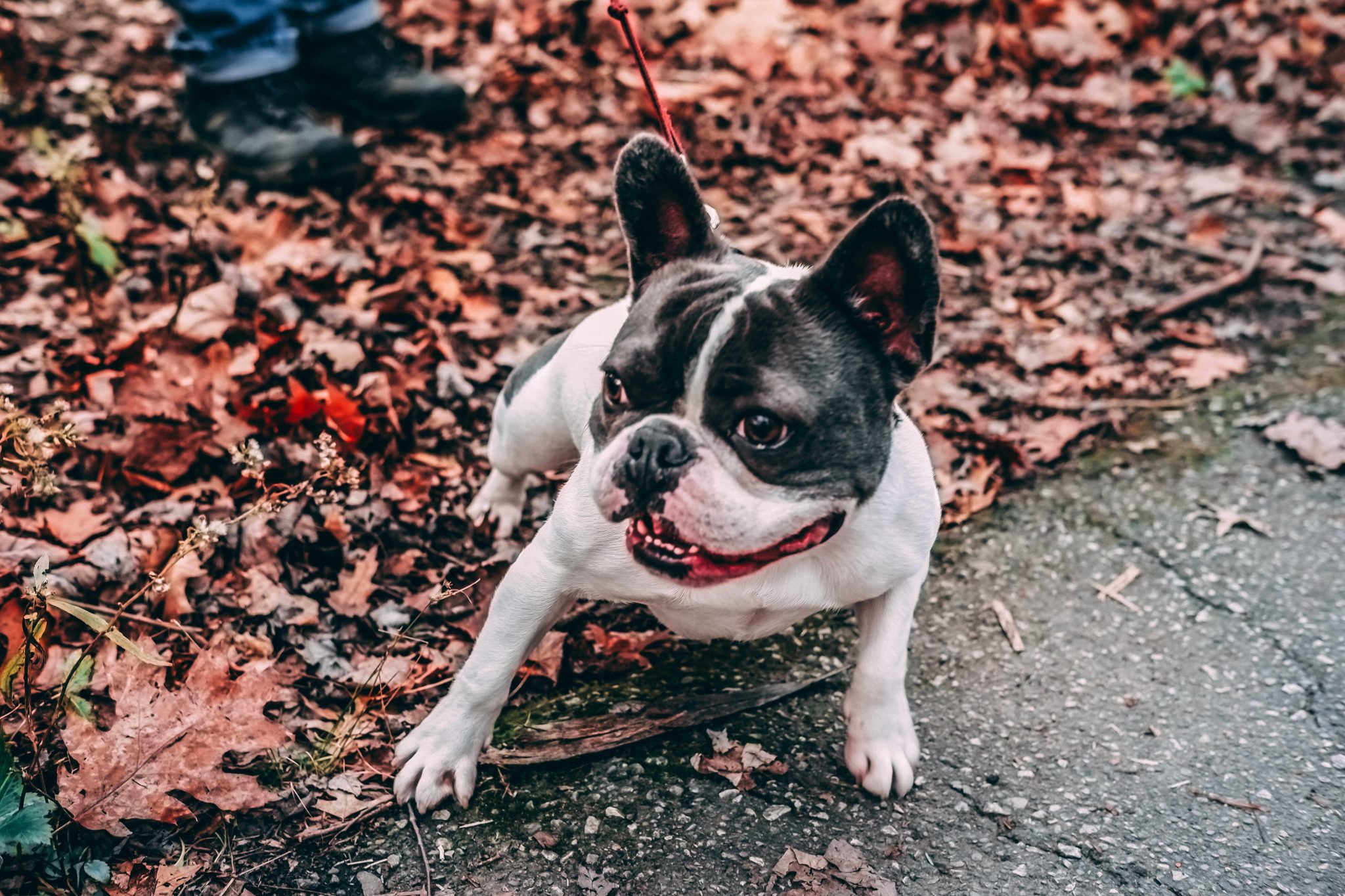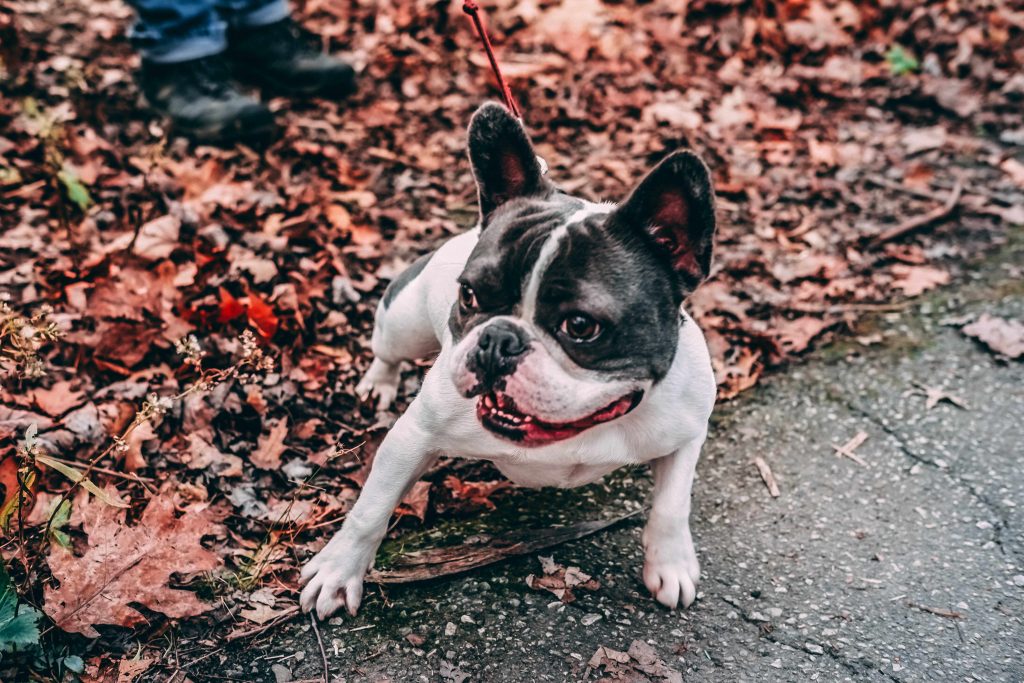 If your Frenchie isn't showing any pain while eating, drinking, and grooming, the underbite likely doesn't pose an issue. 
However, if you don't ensure that your little buddy maintains dental health, they could develop some of the following dental diseases.
Plaque & Tartar
Plaque is a coat that consists of saliva, food particles, and bacteria. Whenever your Frenchie is done eating, this coat covers its mouth and forms a thin film.
As for tartar, it refers to the yellow or brown coat that forms from the built-up plaque at the base of the exposed part of the tooth. It also extends below the gum line.
Plaque slowly turns into tartar over 24 to 72 hours. 
Tartar foretells trouble since it causes bacteria buildup – and as the bacteria multiply, they could lead to other infections. It's particularly tricky to deal with, unlike plaque. But improved levels of dental hygiene can prevent plaque from morphing into tartar, though. 
So, if you haven't already, start brushing your Frenchie's teeth regularly.
Gum Disease
The tartar and plaque build-up can lead to gum diseases. 
Two types of these dental diseases can affect your Frenchie – gingivitis and periodontal disease.
Gingivitis causes swollen gums. And in extreme cases, gingivitis could lead to bleeding. It only impacts the gums – but if left untreated, it can transition into periodontal disease.
Periodontal disease is much more severe and impacts your Frenchie's teeth' health, affecting the structures that support the gums, leading to fragile teeth prone to falling out.
How To Keep Your Frenchie's Teeth Healthy?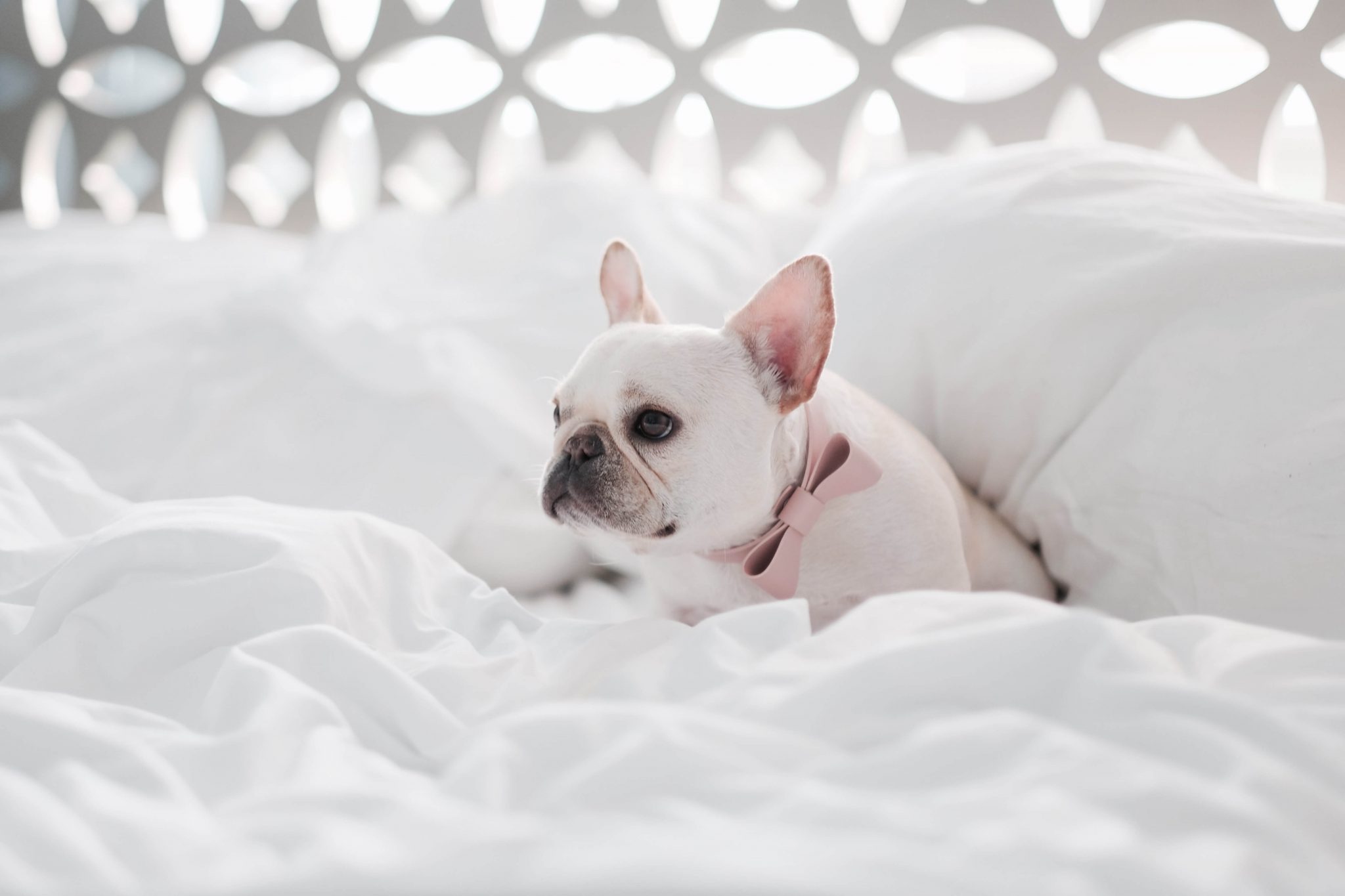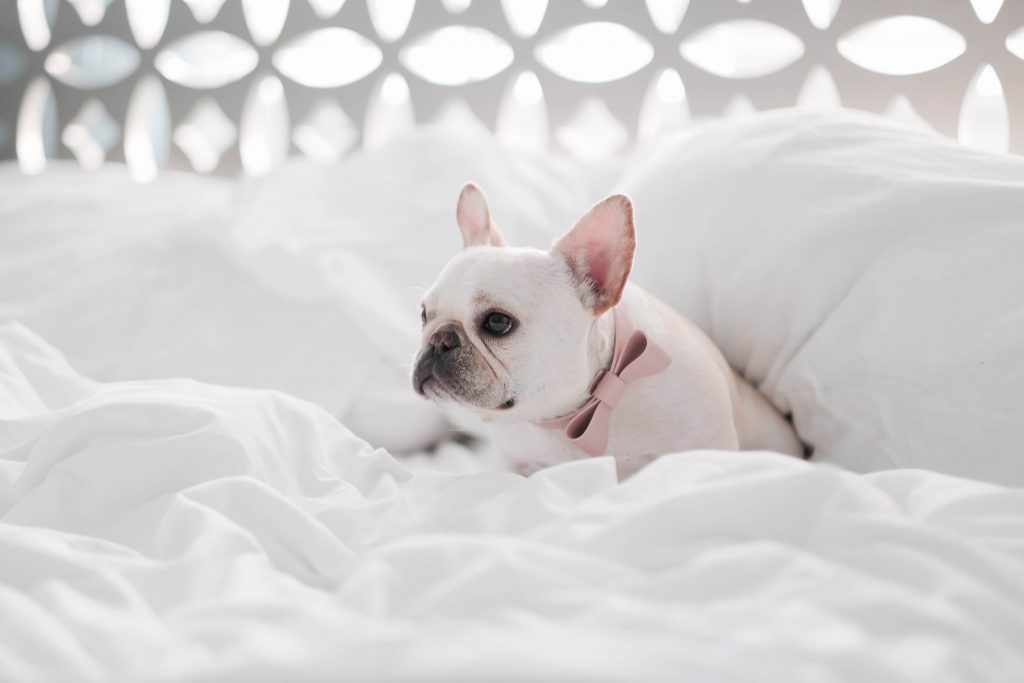 Again, we'll emphasize that you must ensure that your French bulldog's dental hygiene is well taken care of – but how do you achieve this?
Brush Your Frenchie's Teeth
That is, by far, the easiest way to clean your French bulldog's teeth. It's guaranteed to prevent any dental diseases we've covered above. 
There are several vital things you should remember before you start brushing your Frenchie's teeth, though. 
The first few teeth brushing sessions won't be easy since your French bulldog likely isn't used to the brushing process. Therefore, training is vital.
Also, you should use proper toothpaste and toothbrush: 
Never use human toothpaste to brush your French bulldog's teeth because fluoride is poisonous for dogs. 
Use Toys And Dental Treats
Apart from serving the purpose of playing with and training, some toys are used to clean a dog's teeth. These toys are often made out of tough rubber, and they gently clean your canine friend's teeth.
Alternatively, you can use dental treats such as specifically formulated biscuits and bones. 
However, you should limit the use of dental treats since they'll add to your dog's caloric intake. And if you don't regulate the use of these treats, your Frenchie will progressively gain weight – and might even become overweight.
Use Dental Water
Dental water is provided to French bulldogs that show resistance towards teeth brushing. This water doesn't have any taste or smell – and your Frenchie won't even notice it. 
You should mix dental water with your pet's drinking water for the best results.
Amazing Facts About French Bulldog Teeth – Conclusion
That's it – we've gone over some pretty amazing facts about French bulldog teeth. Let's do a quick recap of the crucial points, though.
It's entirely normal for Frenchies to have an underbite due to their anatomy. 
Still, if you notice that their undershot jaws make feeding, drinking, or grooming problematic in any way, be sure to visit your vet.
And even if your Frenchie doesn't show any other issues, make sure that its dental hygiene is on point to prevent dental diseases.
About

Johnny

Johnny, a Frenchie owner and enthusiast, shares his wealth of knowledge on training and caring for French Bulldogs. When not writing, he enjoys hiking and time in nature with his pets.