Frenchies are such cuties, aren't they? They resemble plush toys waiting to be played with, but do not let their looks fool you: 
French bulldogs are dogs, and all dogs can growl, bark, or even bite.
Of course, some breeds are more aggressive than others; the question is: 
Are French bulldogs aggressive?
The general answer would be no – most of the time, Frenchies are friendly and affectionate. But let's see what can trigger a French bulldog's aggression and what you can do to prevent it!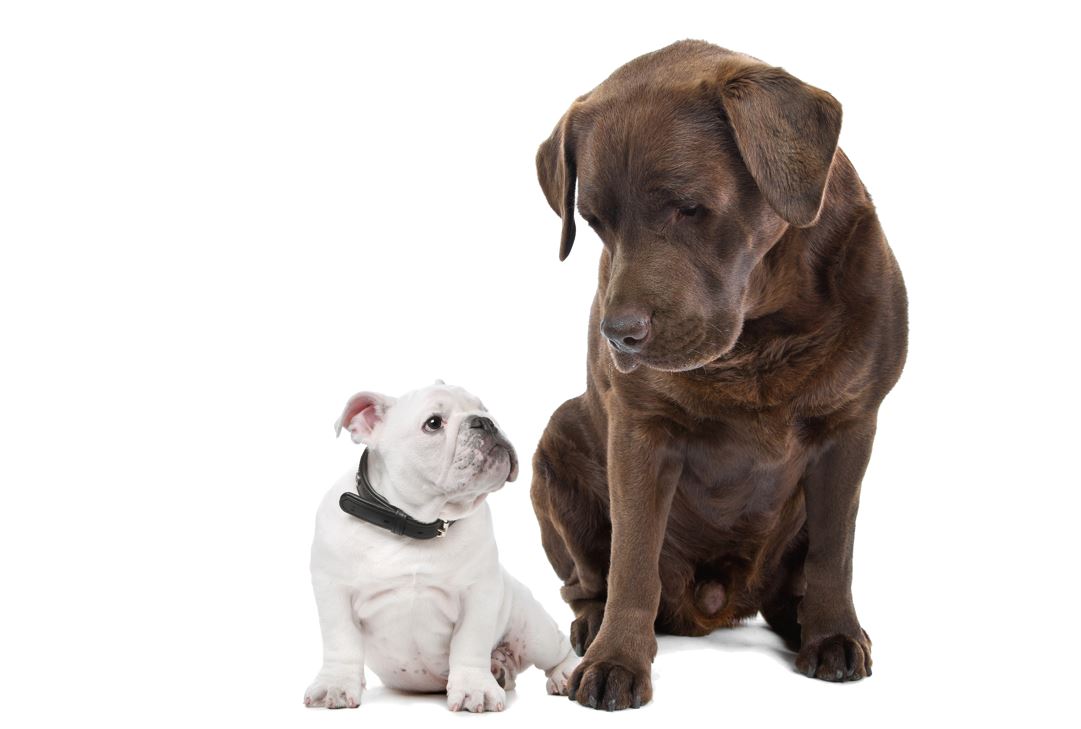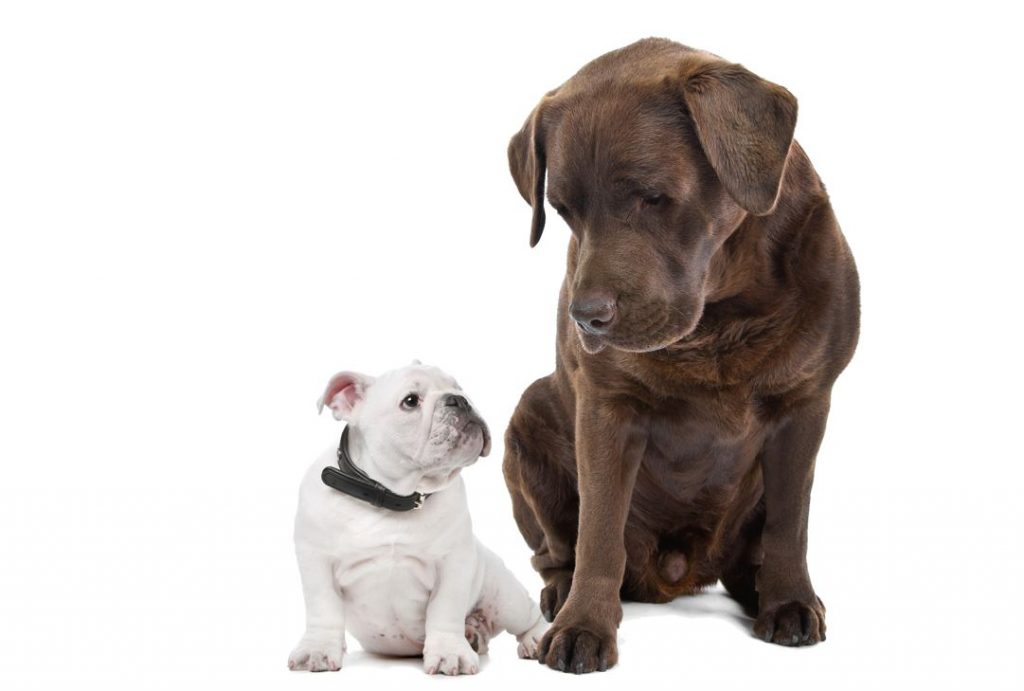 French Bulldog Temperament: Are Frenchies Aggressive?
As we have already mentioned, Frenchies are not an aggressive breed. Of course, you have to do your part here, as well, and raise your French bulldog puppy properly to minimize any risk of aggression.
The good news is: 
You should not have much trouble raising a Frenchie!
French bulldogs are intelligent, affectionate, and incredibly loyal dogs. Their greatest desire is to please their owners. 
These bright little pooches learn quickly. With positive, reward-based training, your Frenchie will be well-behaved in no time at all! 
Remember not to punish your emotional Frenchie when doing something wrong! It is way better to ignore such situations and reward your furry friend for good behavior instead. 
Early socialization plays a key role, as well. 
If your Frenchie gets used to people, children, and other animals at a young age, they won't be aggressive towards them when they grow up. 
In short: 
Appropriately trained and socialized French bulldogs have fantastic personalities!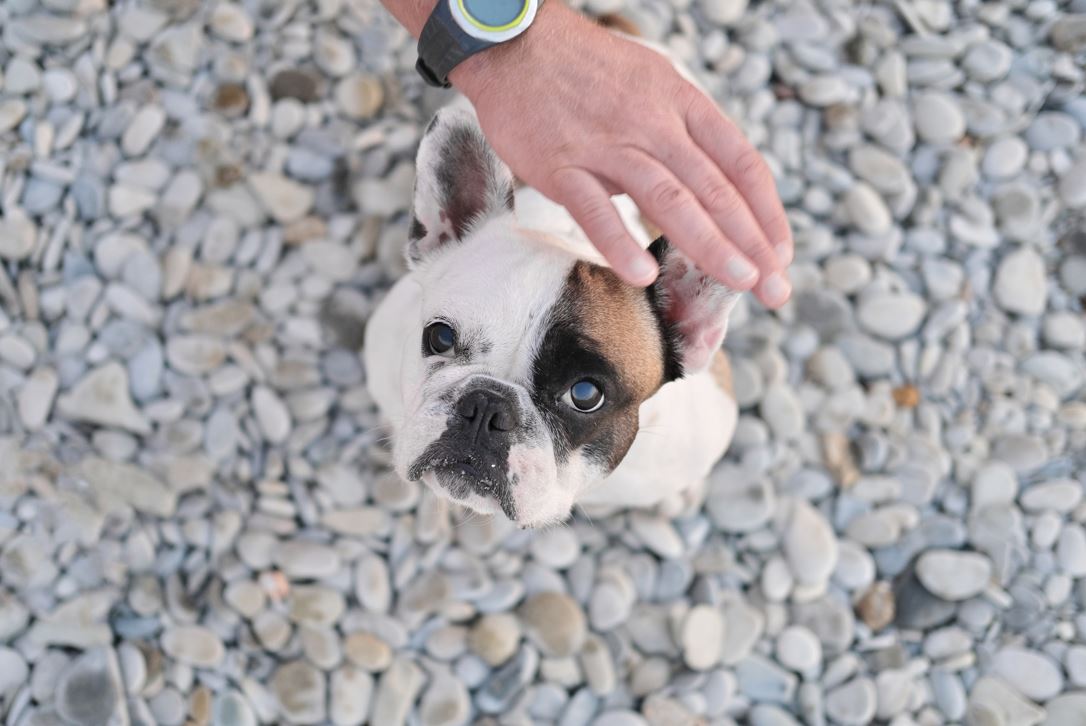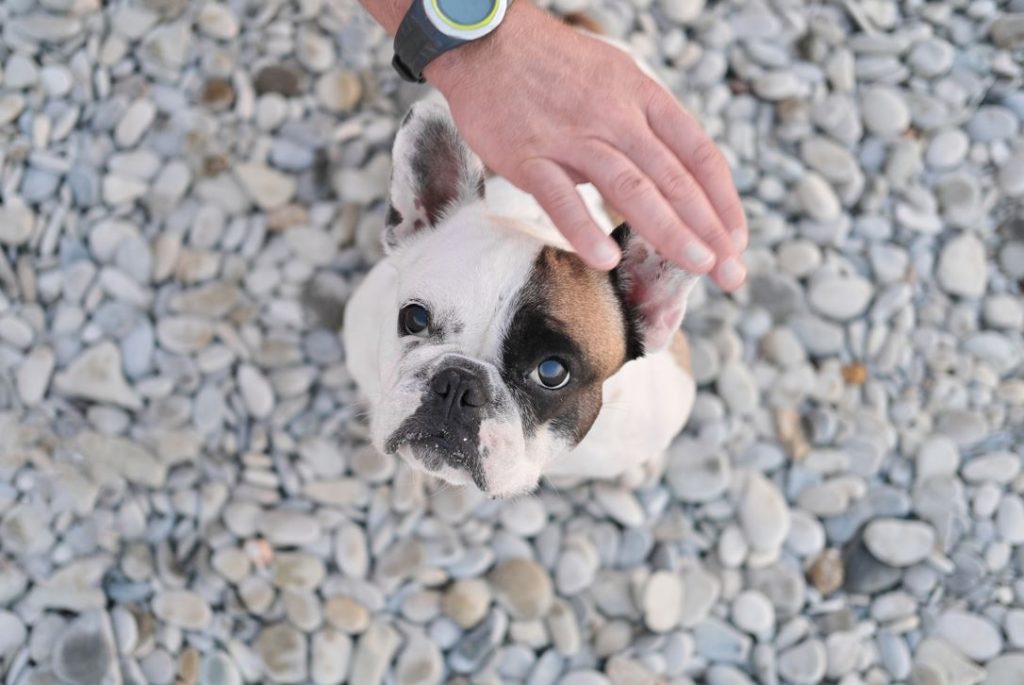 What Are The Worrying Signs Of Aggression In French Bulldogs?
No dog can be perfectly well-behaved all the time. They are living creatures that have emotions just like us. Dogs can feel nervous, scared, or hurt, too. And at such times, it is perfectly normal for our canine friends to show some less-lovable traits. 
You have to be understanding and tolerate such behavior to some extent. 
But on the other hand, you must recognize when the aggressive behavior becomes a pattern – or even a character trait – and try to prevent that.
French bulldogs are petite, but that doesn't mean they're not dangerous. If your Frenchie grows up to become an aggressive dog, you might have a big problem on your hands.
How Can You Tell That Your Frenchie Is Being Aggressive?
The most common signs of aggression in French bulldogs include:
Growling
Snarling
Stiff body 
Biting
It's crucial to note that this kind of behavior is perfectly normal – even expected – for very young puppies. What's more, they usually grow out of it. On the other hand, such behavior in an adult Frenchie should raise some red flags and be dealt with before it becomes incorrigible.
What Causes Aggression In French Bulldogs?
The first step in dealing with aggression in dogs is to identify its cause. Depending on the cause, the aggressiveness in French bulldogs manifests differently. 
For example, French bulldogs that growl, bark, or bite because they are scared often try to hide or run away before they even exhibit such behaviors. They might also try to avoid every contact with unknown people or other dogs – especially direct eye contact. 
Fear-based aggression is more common in younger dogs. However, older Frenchies can lack confidence, too, if not socialized properly.
Even loyalty can be a source of aggressiveness in French bulldogs. Owners usually appreciate this trait – but it can lead to aggression toward strangers.
Resource guarding is another possible cause of aggressive behaviors in French bulldogs. Your dog can become territorial and growl or bark at everyone that enters their home. 
Some Frenchies exhibit resource guarding behavior when it comes to food, as well. They might growl, bark, or bite when you approach their food bowl or try to take something away from them. 
Such demeanor can be very dangerous if you have kids and should be dealt with immediately!
The root of all forms of aggression in dogs is improper socialization. You should act as soon as you bring your puppy home and introduce them to as many new experiences and people as possible. 
There is some chance to correct these "bad" behaviors when your Frenchie is older, too – but it will be much more complicated. 
In most cases, aggression in adult dogs has to be dealt with by professionals. 
A Few Handy Tips On French Bulldog Socialization
Here are a few valuable tips that can help new pet parents raise a confident, laid-back, friendly, and affectionate Frenchie:
Don't wait until your Frenchie puppy is fully vaccinated! You can start with socialization before your pup can go on the ground – simply carry your dog with you wherever you go!
Introduce the puppy to as many different animals as you possibly can. Don't limit your Frenchie to fellow canines; organize close meetings with cats, horses, birds, cows, and so on. 
Familiarize your Frenchie with all forms of transport. If possible, take a bus or train ride together. 
Get your dog used to children as early as possible. Many owners wait until their Frenchie pup gets a bit stronger and more resilient before they allow any close contact with kids. However, it's much better to create a controlled, safe environment for them to play. Sure, it requires teaching the kids what to do and not do before the fun can start – but it is well worth it!
Are French Bulldogs Aggressive Towards Other Dogs?
Frenchies have been raised as companion dogs ever since the 19th century, so they get along with most people. 
What about dogs, though?
French bulldogs generally get along with most dogs, as well – especially if they live in the same home. Therefore, you shouldn't worry about having another canine companion in the house. 
It's best to raise dogs together from an early age. That way, you avoid the risk of one dog being jealous of another.
Frenchies enjoy being the center of attention – just like most dogs do. So, bringing a new puppy and showering it with attention can be a cause of conflict.
What about other dogs your Frenchie is bound to meet when they go outside?
Well, if you have socialized your pooch correctly, there should be no problems with other dogs. 
So, remember to introduce your Frenchie puppy to as many canine friends as early as possible! 
Are Frenchies Aggressive Towards Cats?
Frenchies will get along fine with cats that they grew up with – but even if you do not have a cat at home, you can introduce your Frenchie to neighborhood cats, for example.
At first, you can introduce your puppy to a cat from a safe distance – and later on, allow for some playtime. That'll help build your French bulldog's confidence around cats and reduce the risk of aggression and chasing.
Generally, French bulldogs have a rather low "chase instinct" in comparison to other dogs. They are not very likely to chase after other animals.
What To Do If Your Frenchie Is Aggressive?
Before you do anything, make sure your Frenchie isn't being mishandled. On that note, it's vital to monitor your Frenchie's interaction with kids. Children often hurt dogs unintentionally.
Aggressive puppies require proper training and socialization. If you provide your Frenchie with positive reinforcement during their upbringing, the aggressiveness will disappear soon enough.
There's not much pet parents can do if their adult French bulldog shows signs of aggression, though. In such cases, it's best to seek professional help. 
Acting on your own could do more harm than good. Contact a behaviorist near you – and follow their advice. That's the safest course of action in such a scenario!
About

Johnny

Johnny, a Frenchie owner and enthusiast, shares his wealth of knowledge on training and caring for French Bulldogs. When not writing, he enjoys hiking and time in nature with his pets.