French Bulldogs are adorable, affectionate, and endearing pets who have won people's hearts worldwide. Despite their popularity, potential owners still have many questions about these gorgeous puppies.
"Can French Bulldogs swim?" is so called FAQ when it comes to Frenchies. Protection of our buddies is vital because, as responsible Frenchie owners, we must guarantee that our puppies are safe and healthy on land or in the water.
In this short article, we will answer this question and many more questions and concerns you may have. Also, we will offer you all the facts you need to know about Frenchies and their swimming abilities.
We will discuss the advantages and disadvantages of swimming for your French buddy, how to train him to swim, and what to do if your puppy is terrified of water.
Therefore, let's get in and see if Frenchie can swim and learn a lot more!
Can French Bulldogs Swim? Swimming Advantages And Risks For Your French Buddy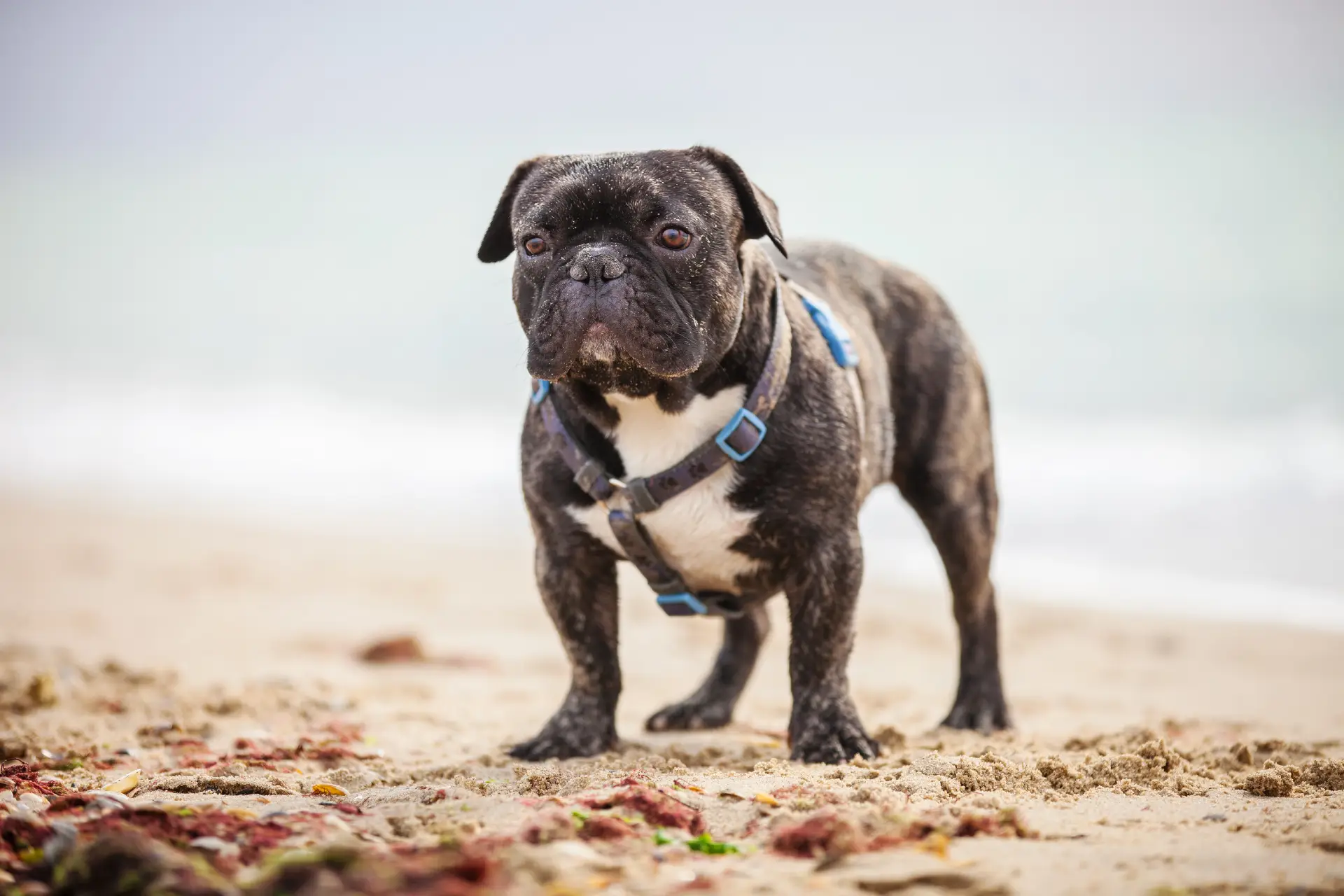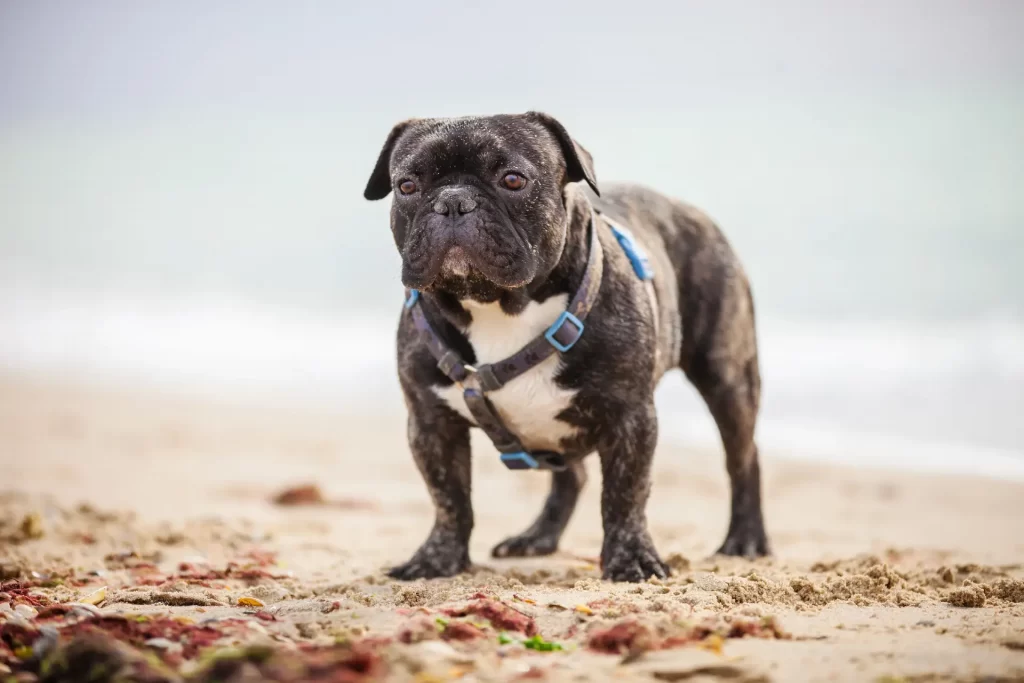 Swimming may be a terrific activity for pups with physical and mental health advantages.
Also, swimming is a low-impact activity that is gentle to our buddies, making it a good alternative for dogs with arthritis or other joint issues.
It can also enhance cardiovascular health, the muscular mass, and calorie burn. So we can say that swimming is an excellent activity for our furry friends.
But that's not all. Swimming, however, can be dangerous for pups, especially those that are not natural swimmers. It is not something that French Bulldogs are built for.
Frenchies have stocky, muscular bodies with short legs and a small snout, which makes it challenging to keep their heads above water.
If our furry buddies are not adequately monitored while swimming, they are at risk of drowning, so please be careful.
Taking basic steps to keep your French Bulldog safe while swimming is essential.
Also, you must be sure the water is shallow enough for your puppy to stand in.
Second, always watch your dog while they're in the water, don't let yourself look away even for a moment because our little friends are often mischievous and elusive, and we're sure you want to avoid any accidents with your loved one.
Also, put a life jacket on your buddy if your French Bulldog is not a confident swimmer. 
We have a wide range of clothes for your favored furry friend that may help your little one learn to swim or enjoy his daily activities.
Last but not least important, gradually expose your French Bulldog to water and never force them to swim if you see that they are uncomfortable.
How to Teach Your French Bulldog to Swim?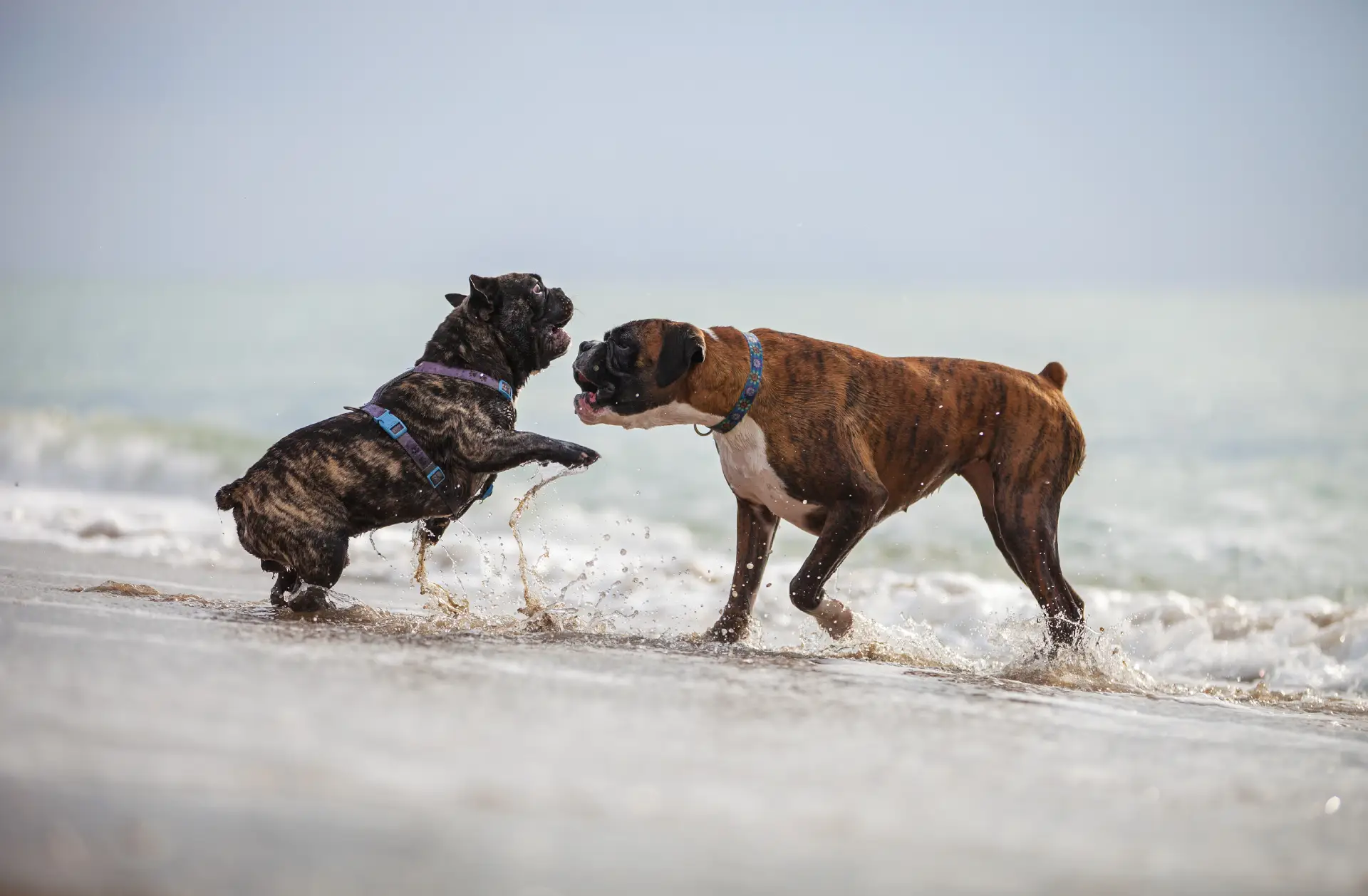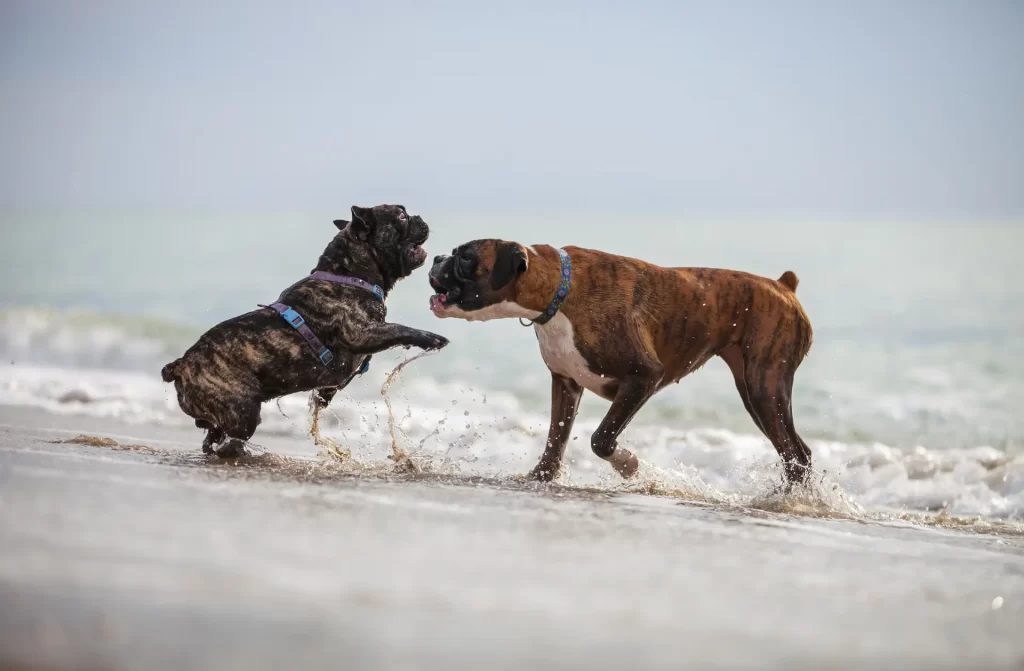 First, you should familiarize your Frenchie with swimming appropriately if you want them to love swimming and water in general.
We've prepared some pointers to assist you in teaching your furry Frenchi how to swim:
Our first tip for you will be to begin in shallow water. You should introduce your loved one to shallow water first to reduce the possibility of fear and aversion to swimming and water. 
Remember that when you were little, you, too, had fears of the unknown, so it was always better to start with the minor steps, isn't that right?
And why is this important? This will allow your puppy to become used to being in the water without overwhelming their power.
Use positive reinforcement on your buddy. Use treats, goodies, and praise to entice your Frenchie to swim.
You know that dogs like to be honored, so don't hesitate to praise and reward him while he learns swimming as a new skill.
Reward your Frenchie with each step, such as dipping their paws into the water or swimming a short distance.
Also, be aware that you, as your Frenchies' mother, should show them how to swim before putting them in the water alone. Bring your buddy into the water and show them how to swim step-by-step.
It would be best to gently lead them through the water by holding them beneath their belly.
This method will help your furry friend become used to the sensation of swimming and will boost their confidence.
Also, it would help if you tried using a flotation device, such as a life jacket or similar items, to assist your small pup in remaining above the water while learning to swim.
The next step will be raising the depth. As your Frenchie gains confidence in the water, gently increase the depth.
Always keep an eye on them and never urge them to swim if they are uncomfortable.
They, like you, are human beings, and you know that you are not a fan of absolutely everything you try. It's not the end of the world if your furry friend fears or is not a fan of water and swimming.
For every French Bulldog, there is an activity that will entertain both them and you and in which they will be outstanding.
Finally, a question often asked when it comes to swimming is: What to do if your Frenchie is afraid of the water?
Some French Bulldogs dislike swimming and may even be terrified of it. If your pup fears water, be patient and not force them to swim.
As mentioned, you may gradually expose them to shallow water, using positive reinforcement and teaching them how to swim.
If they are still uneasy, do not push them beyond their comfort zone and respect their preferences.
While Frenchies are not natural swimmers, they may learn to swim with adequate training and supervision.
Swimming has numerous physical and mental health advantages for your buddy, but taking care of and protecting their safety in the water is the most important thing.
If you want to teach your French Bulldog to swim, be patient and utilize positive reinforcement.
Introduce them to the water gradually, using a flotation device if necessary, and never force them to swim if they are uncomfortable.
Note that each French pup is unique; Some may not love swimming, and some can adore it from the bottom of their heart.
Respecting your dog's choices and avoiding pushing them beyond their comfort zone is essential.
If you have any more questions or concerns, always check with your veterinarian, who can provide personalized advice for your French buddy's unique needs.
About

Johnny

Johnny, a Frenchie owner and enthusiast, shares his wealth of knowledge on training and caring for French Bulldogs. When not writing, he enjoys hiking and time in nature with his pets.