French bulldogs might be a short-haired breed, but they still shed their hair. All dogs do. Now, it depends on the time of year – but they're generally notorious for shedding a lot. 
Normal hair loss should not concern you. However, if you notice that your Frenchie's shedding more than usual, you should consult your vet. 
The causes could be either psychological or health-related.
We've prepared a list of common causes of French bulldog hair loss. Let's see what those causes are.
Why Is Your Frenchie Losing Hair?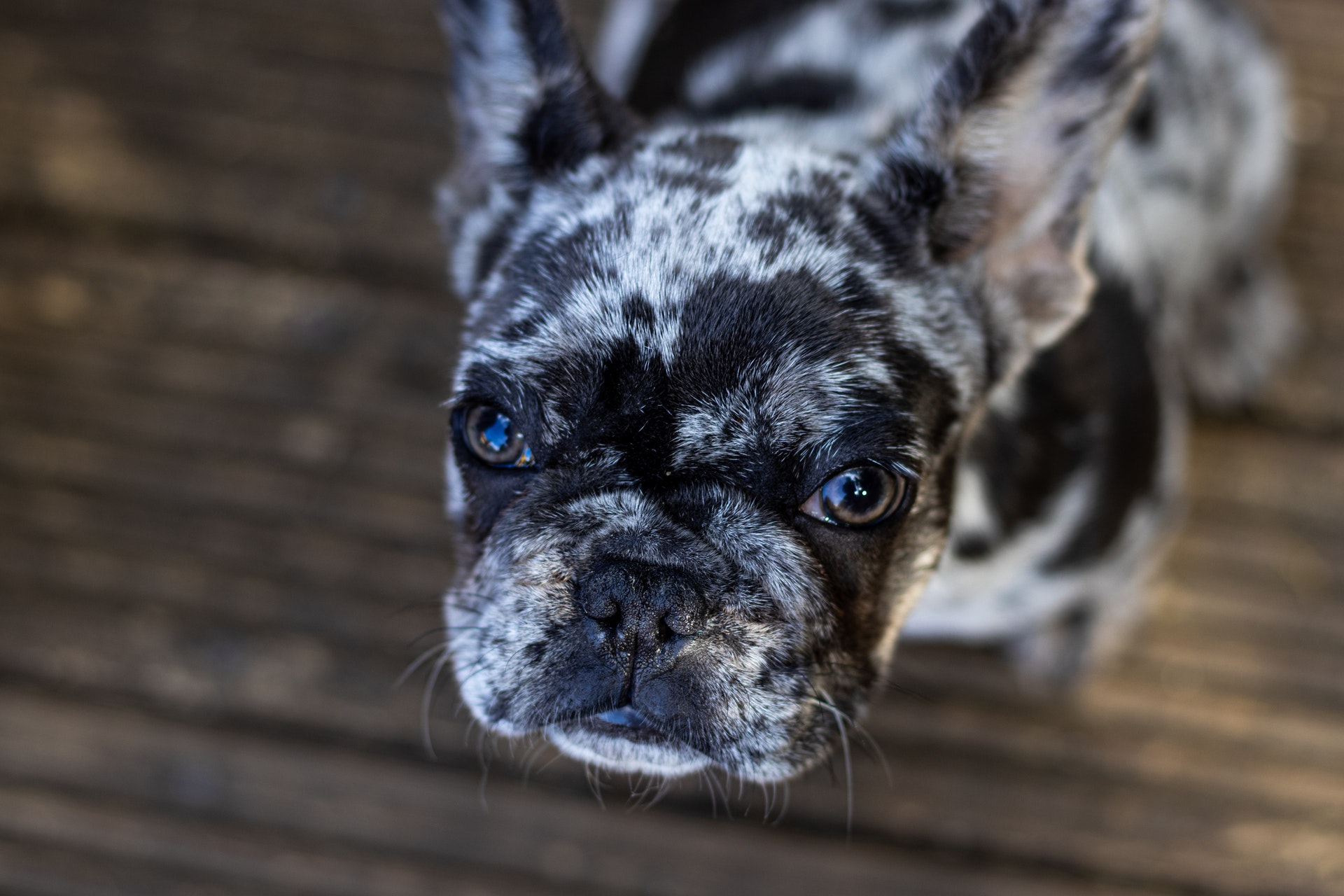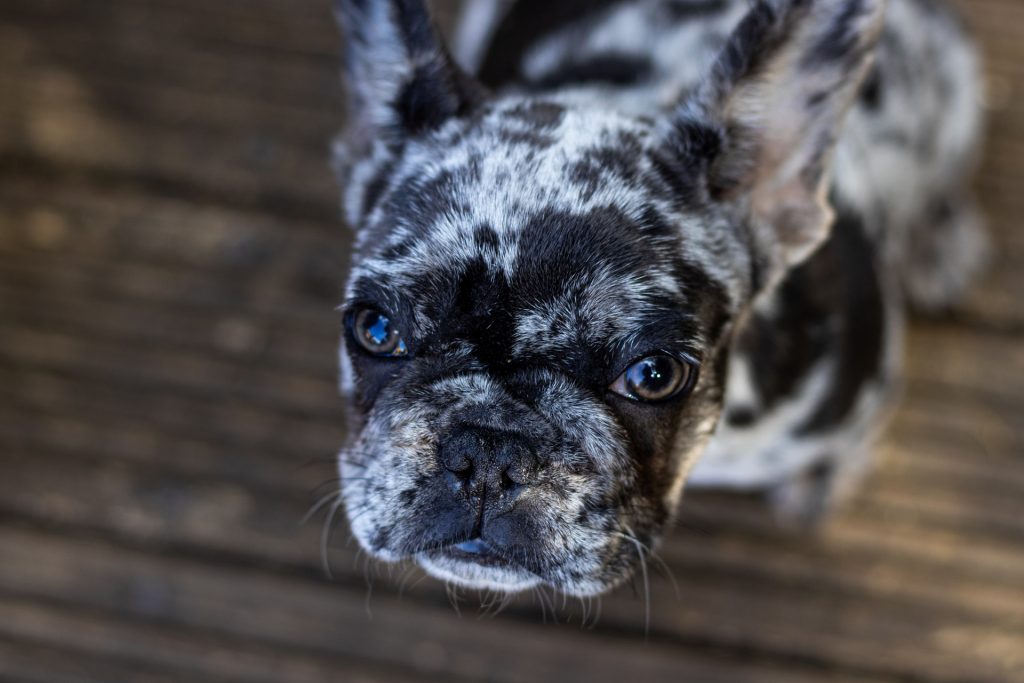 If you see that your Frenchie's losing more hair than usual, it's only normal that you will be worried about it. 
Hair loss patches and bald spots can look dramatic – but you should not panic. Most of the time, hair loss in dogs is easy to fix, especially if you turn to your vet as soon as you notice the initial signs.
Many things can cause Frenchie alopecia. First of all, you need to rule out the possibility that it's just normal seasonal shedding. 
When it comes to normal shedding, some days can be worse than others. If you are a first-time owner with no experience, you might suspect something is wrong with your Frenchie. 
Our advice is to "compare notes" with other Frenchies owners or learn more about how the shedding season affects French bulldogs. That way, you'll be able to tell the difference between normal shedding and abnormal hair loss.
What Can You Expect When Your French Bulldog Is Shedding?
French bulldogs shed their undercoat twice a year. In this way, they prepare themselves for the summer or winter season. 
In simple words, Frenchies change their thin summer coat for a longer, warmer winter coat, and then they lose that coat in the spring, replacing it with a lighter one. 
It's the same as you switching from summer to winter clothes. 
Many people believe that short-haired dogs shed less than their long-haired relatives – which is a misconception. The truth is, they shed at least as much – and, in many cases, even more than long-haired dogs. 
That's because their coat is growing all the time.
What Are The Reasons For Concern?
You should generally consult your vet if you notice that your Frenchie's hair appears more brittle than it usually does. Furthermore, you should also seek professional advice if you see that your French bulldog's hair is coming out much more than during "normal shedding." 
Bald patches and bald spots are always a cause for your concern, too.
What Are The Common Causes Of Hair Loss In French Bulldogs?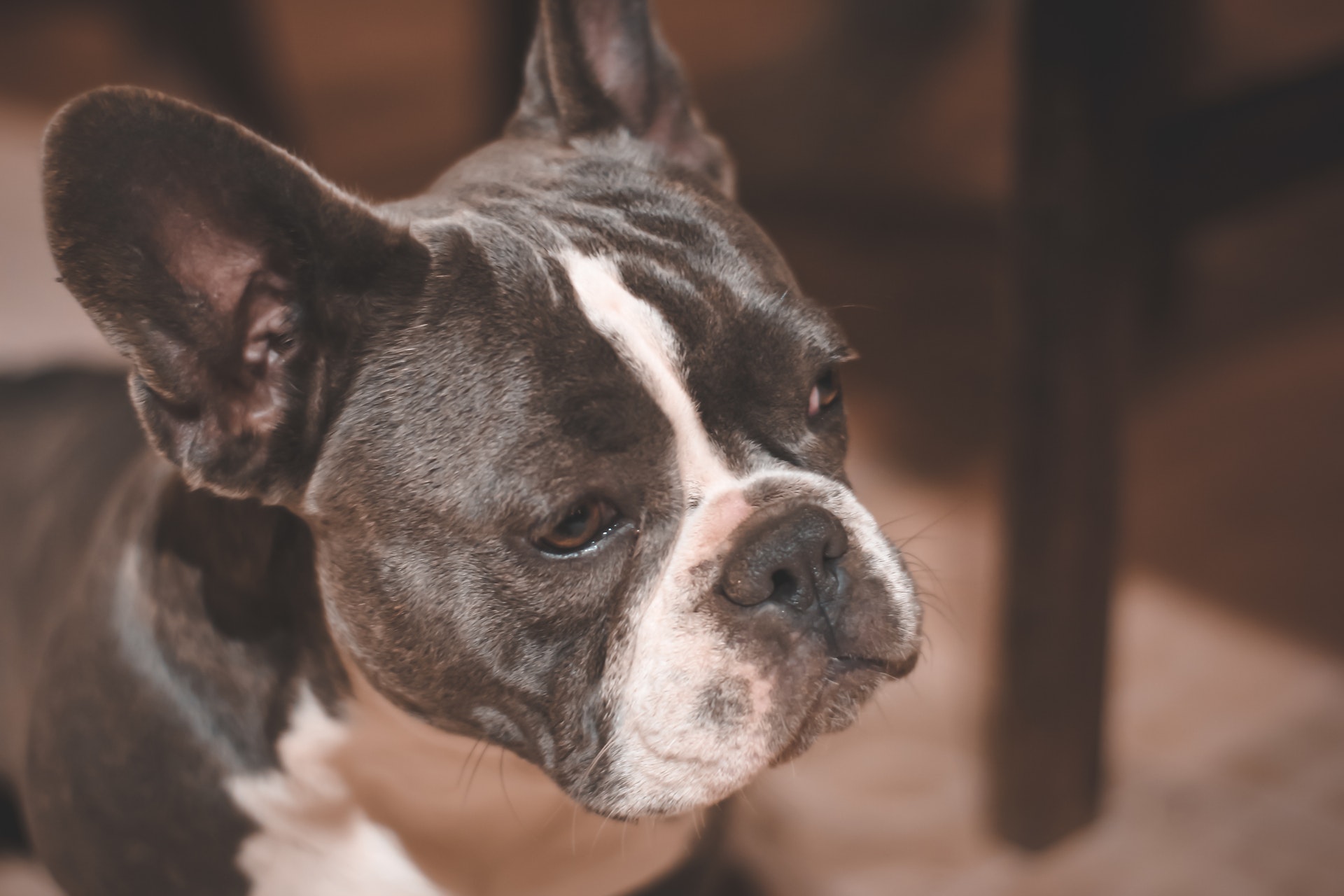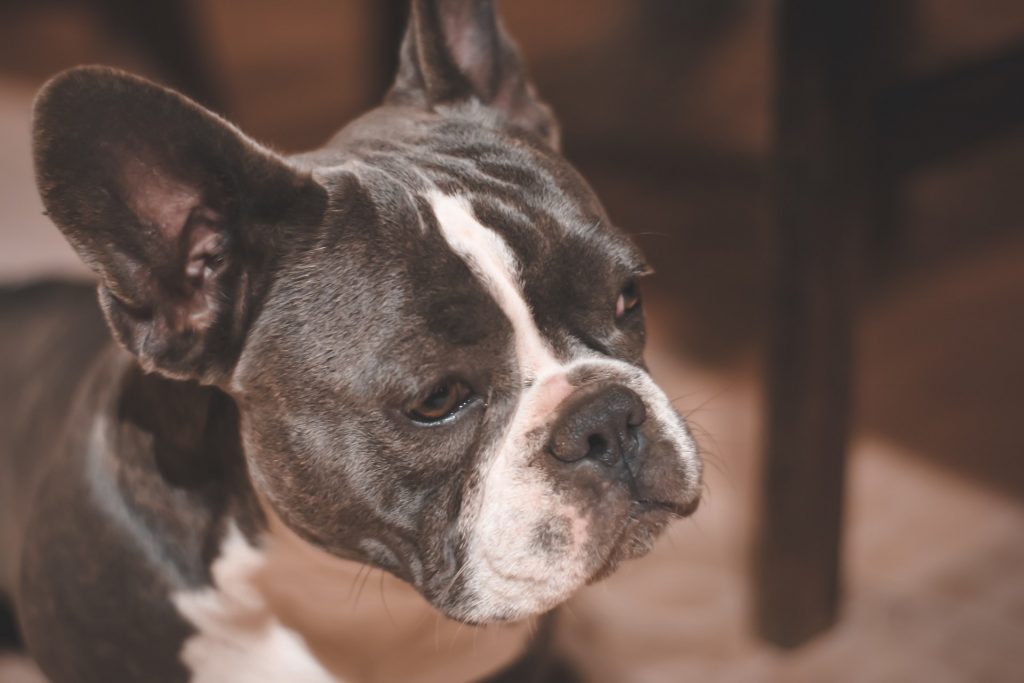 #1 Allergies
French bulldogs can suffer from a range of allergies. They could be allergic to food, particular materials or substances, and some environmental factors.
Allergies can, among other symptoms, cause skin irritations that make a Frenchie scratch and bite its fur. And that leads to hair loss that could manifest as bald spots and patches.
#2 Skin Conditions
Your French bulldog might suffer from dermatitis. Different types of dermatitis can affect dogs – and some examples include:
Allergic dermatitis

Contact dermatitis

Atopic dermatitis

Acute moist dermatitis (usually around the neck area and on the sides of the dog's mouth)
Your vet is the only one who can properly diagnose the type of dermatitis your Frenchie is suffering from – and decide on the proper course of treatment.
#3 Mange
Mange is quite a common condition caused by mites. Nonetheless, a lot of Frenchie owners get panicky at the mention of it and start imagining scabbed and furless dogs scratching themselves and whining. 
The truth is, this condition is easily treated.
Now, there are two types of mange:
Sarcoptic mange (or canine scabies) 

Demodectic mange
The former is much more common among dogs since it is highly contagious. The symptoms you should be on a lookout for are:
Intense itching and scratching

Skin redness

Rash

Open sores

Scabs

Scaled skin

Hair loss
Your vet should have no trouble diagnosing mange since the symptoms are obvious. The good news is, the condition can be treated. Your Frenchie will receive oral antibiotics, a topical cream, and a special shampoo – and get better real soon.
#4 Stress-Related Hair Loss
If your Frenchie is bored or home alone a lot, it can become anxious and start licking the fur or other things in the room. All that excessive licking could lead to the condition called acral lick dermatitis, or "lick granuloma."
It usually manifests as a red patch of furless skin on the lower parts of the dog's legs. This area is easily irritated and prone to bleeding. If you notice the signs on your French bulldog's flanks, it might be stress-related. 
It's treated as dermatitis or infection – along with anti-lick strips. However, you must address the behavioral and psychological causes of this condition, too. 
#5 Hormonal Imbalance
French bulldogs, and all dogs in general, can have a problem with hormonal imbalance. It can be over-production or under-production of a particular hormone, such as estrogen, testosterone, or thyroxin. 
One of the usual symptoms of hormonal disbalance is hair loss – usually in the form of bald patches located on the Frenchie's back, sides of the body, or around their mouth and eyes. 
Hypothyroidism – a malfunction of your dog's thyroid gland – is often the cause. Luckily, it's treatable.
#6 Problems With Internal Organs
Even though it rarely happens, sometimes the loss of your Frenchie's hair can be caused by the abnormal function of an internal organ, such as the liver, kidneys, or intestines. In such cases, a dog can have dull, thinning hair or an unusual smell or color of the skin.
#7 Bacterial, Fungal, And Parasitic Infections
Canines can lose their hair due to an infection; French bulldogs are no exception here. These infections can be:
These infections are often caused by an immune system disorder. 
The most common infection in dogs is called folliculitis. It manifests as red swellings around the dog's hair follicles. 
The treatment should address the underlying causes as well as relieve the symptoms. The latter is generally achieved through the application of topical creams and antimicrobial shampoos.
Being highly contagious, ringworm is a common occurrence, as well. 
If your Frenchie is infected, it'll have bald spots around the ears or the sides of the mouth. Dogs commonly pick the ringworm up while digging in the dirt – especially if they already have a minor injury on their paws or head. 
The condition is treated with an anti-fungal shampoo and topical medications. It usually takes a couple of weeks.
Important Note About Hair Loss Treatment
If you think your French Bulldog might have any of the listed conditions, visit a vet for a proper diagnosis and timely treatment. 
Do not try to treat any medical conditions on your own!
Once you get the correct treatment course from a licensed vet, be sure to follow through with it. If left untreated, some of these conditions could even be fatal. 
Final words
Frenchies have a short, fine coat that they shed a  couple of times a year. As a result, you'll find a lot of dog hair around your home. Regular grooming and brushing can help, though. 
Luckily, this is regular seasonal hair loss – and thus, no cause for concern.
As for problematic, out-of-the-ordinary hair loss, you must address it as soon as possible. If you notice any patches and bald spots in isolated areas, take your dog to the vet immediately. 
The sooner you start treatment, the less room there is for complications.
About

Johnny

Johnny, a Frenchie owner and enthusiast, shares his wealth of knowledge on training and caring for French Bulldogs. When not writing, he enjoys hiking and time in nature with his pets.