There's no greater love than the one we feel for our furry, four-legged companions. Most pet parents would agree with this statement, no doubt.
However, love goes both ways – which often leaves us wondering if our Frenchies are living a happy life and if there's something we can do to make it even better. 
If that's been on your mind lately, you've come to the right place.
We're here to make it official – and list down 10 signs that your French bulldog is happy.
Here's a hint:
Happiness lies in the little things. It's true!
If you're interested in learning how to read the signs that say your Frenchie is living its best life, you've clicked on the right article.
Stay tuned – and be ready to take some notes!
Are French Bulldogs Loving Pets?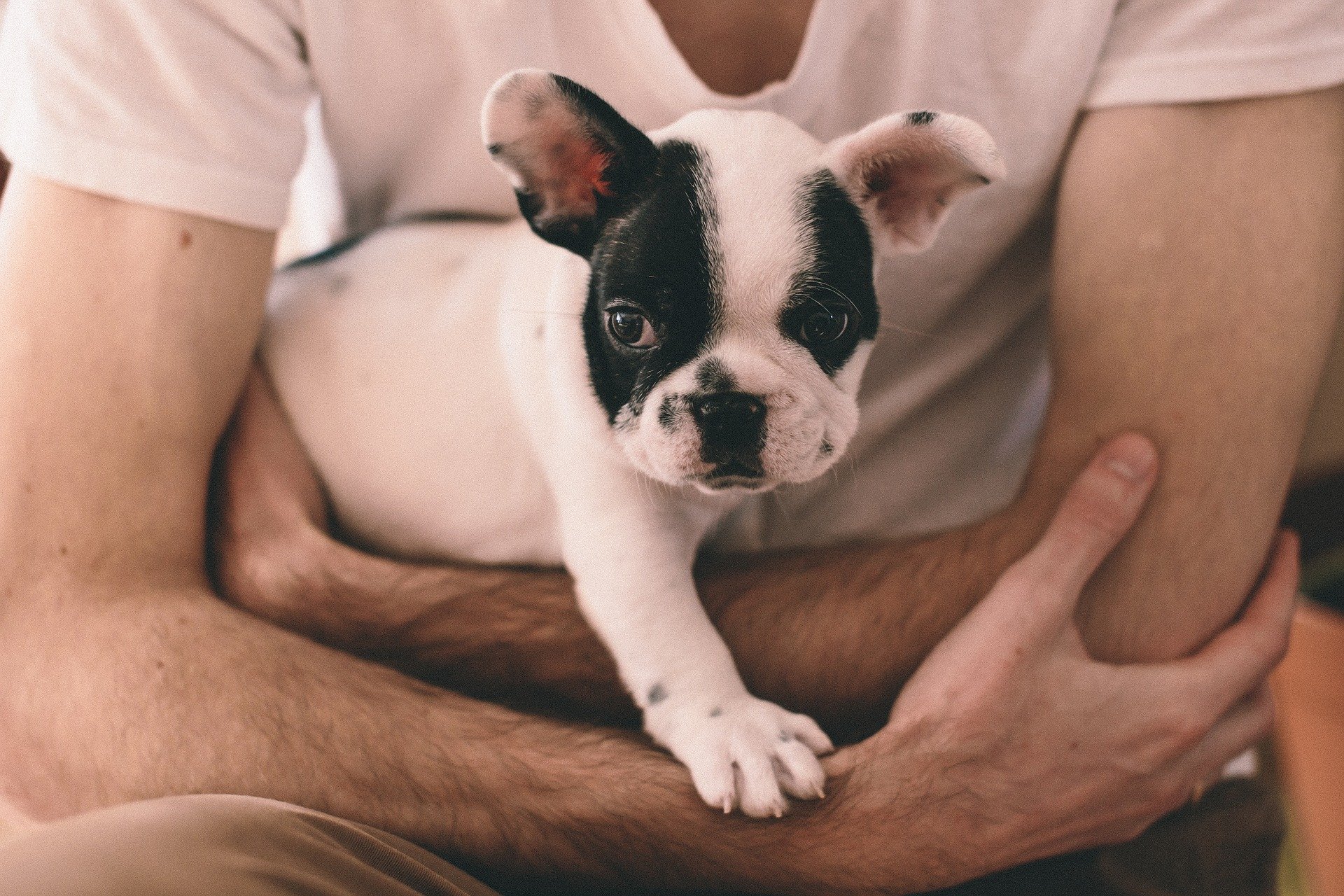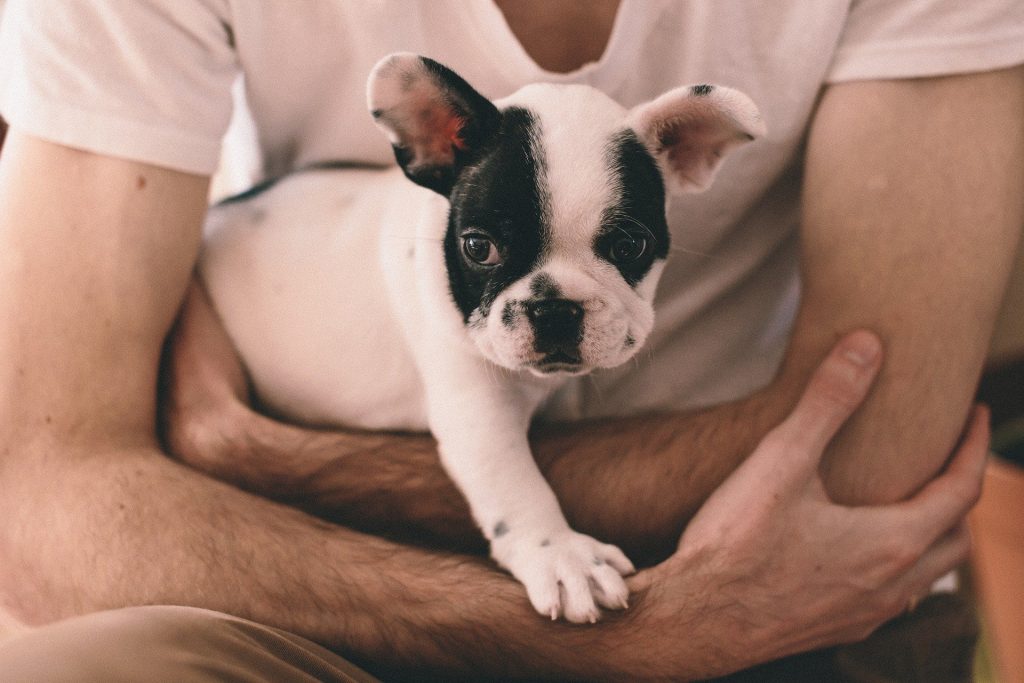 If you have a Frenchie, you already know the answer. Despite their frowning faces, they're loving pets.
By nature, this is a friendly dog breed, and it loves to spend time in your company, as well as the company of other dogs. 
French bulldogs are like babies:
Puppies are incredibly curious and energetic, and chasing a ball around is their favorite thing to do. They're generally playful and very affectionate. Adult dogs might seem a bit reserved – but they didn't forget how to play fetch, we can promise you that.
Also, these dogs are great with kids, and that's a plus right there.
They're not that demanding, either, so you won't have to break your back trying to make your Frenchie happy. 
You just need to be consistent.
Things That Happy Frenchies Do: 10 Signs Your French Bulldog Is Happy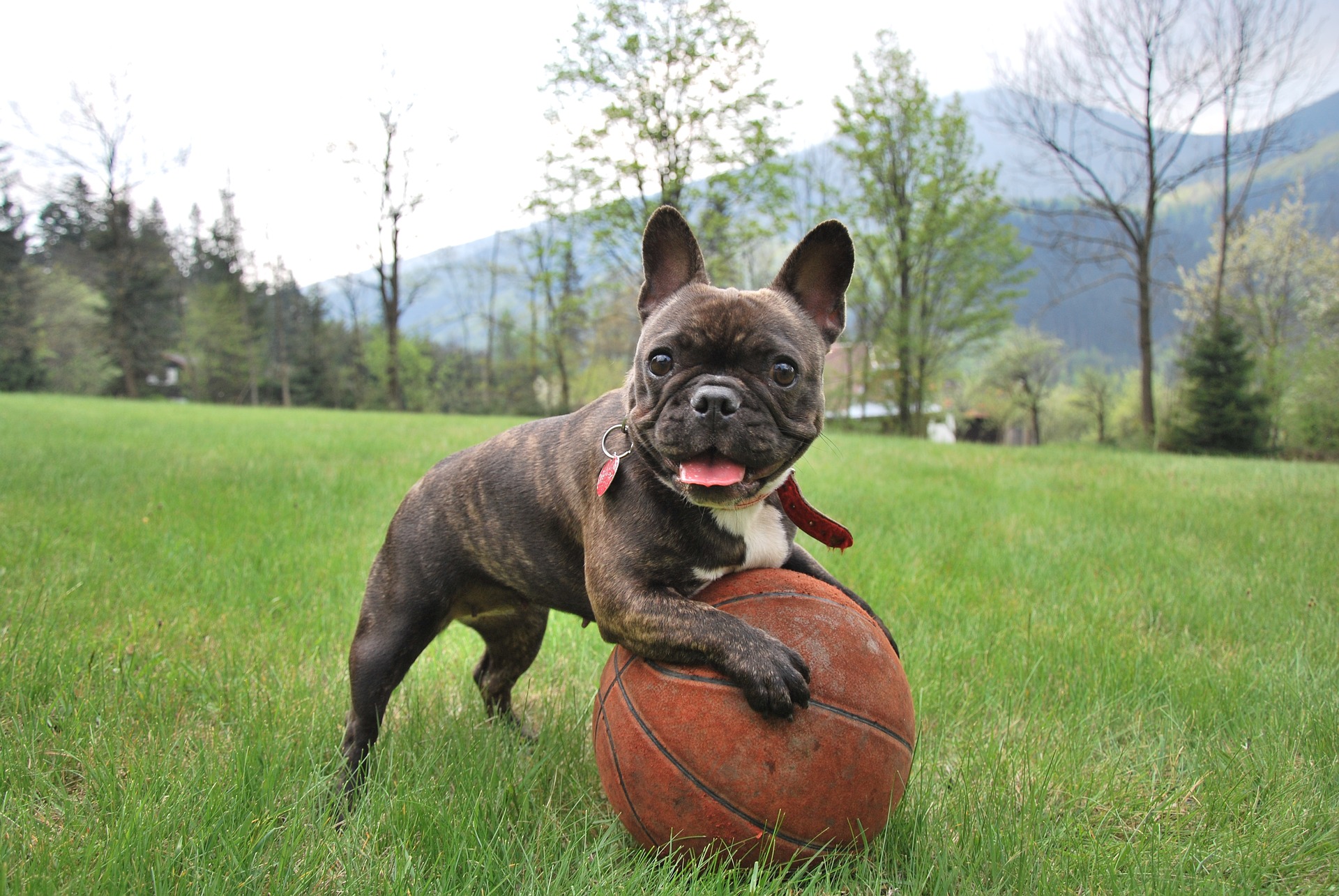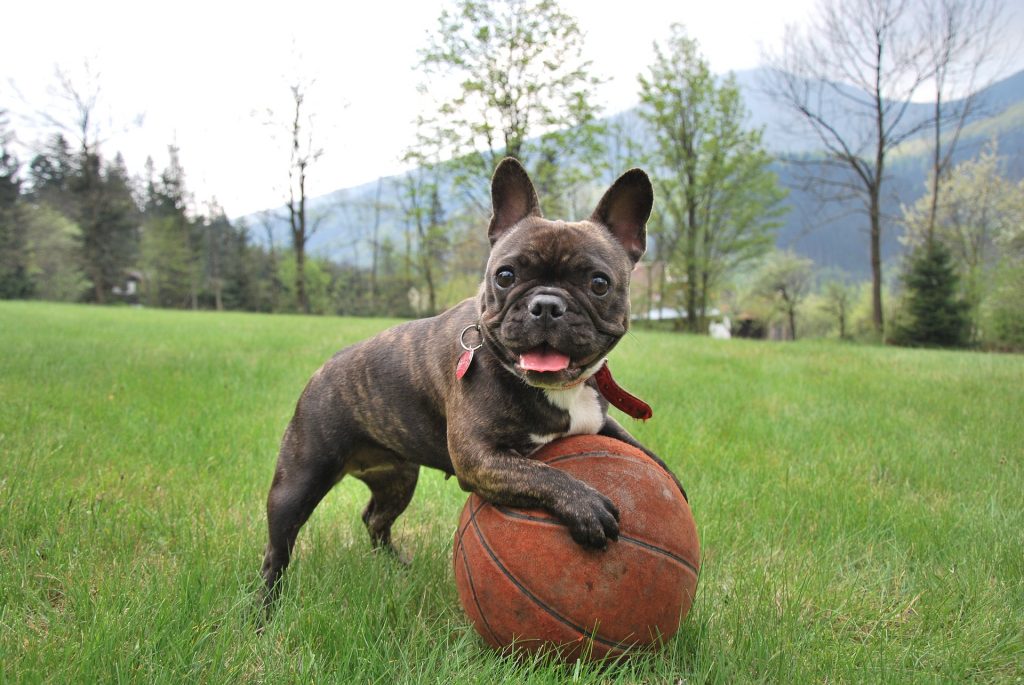 Happiness is often seen in your pup's habits, facial expressions, and body language. As we said, it's the little things. 
Now, It's time to list the ten most common signs that'll tell you that your Frenchie adores you and that you're doing a great job as a pet parent.
Let's get started.
#1 Jumping On You
A happy dog will want to play with you 24/7. This playful behavior often implies jumping on the owner – and some dogs can jump pretty high.
Pay attention when you're coming home from work, for example. A full body slam from your Frenchie is a clear sign that it's glad that you are back – and that it's happy.
It's probably looking forward to playtime.
#2 Licking Your Face (A Lot)
Who could forget those sloppy kisses?
When you're happy, you kiss your loved one. The same goes for dogs – only this time, they'll constantly lick your face. It's just something they do.
It may ruin your make-up, but don't be mad at them. Dogs do this to express their happiness and love for their owner.
#3 Following You… Everywhere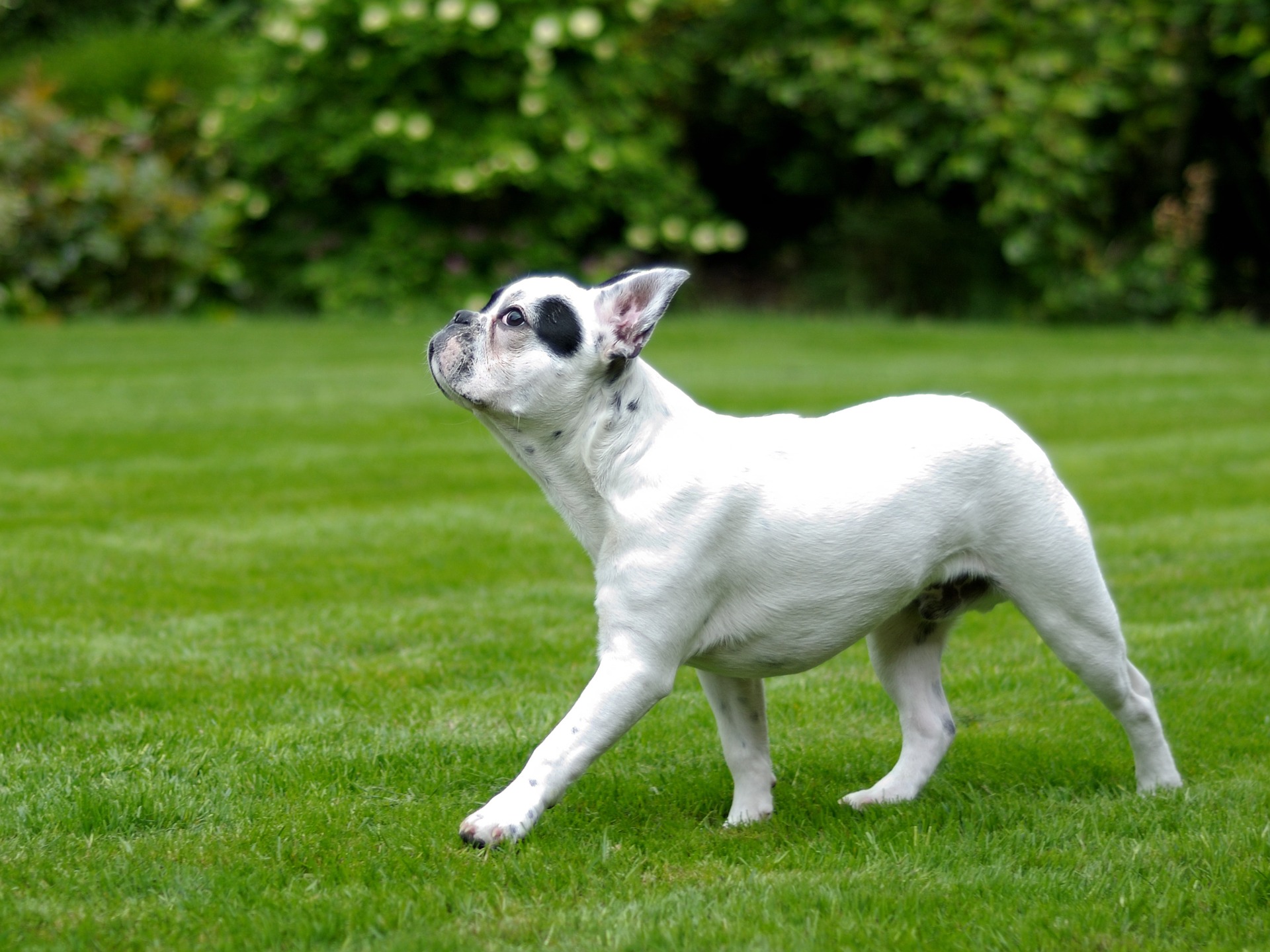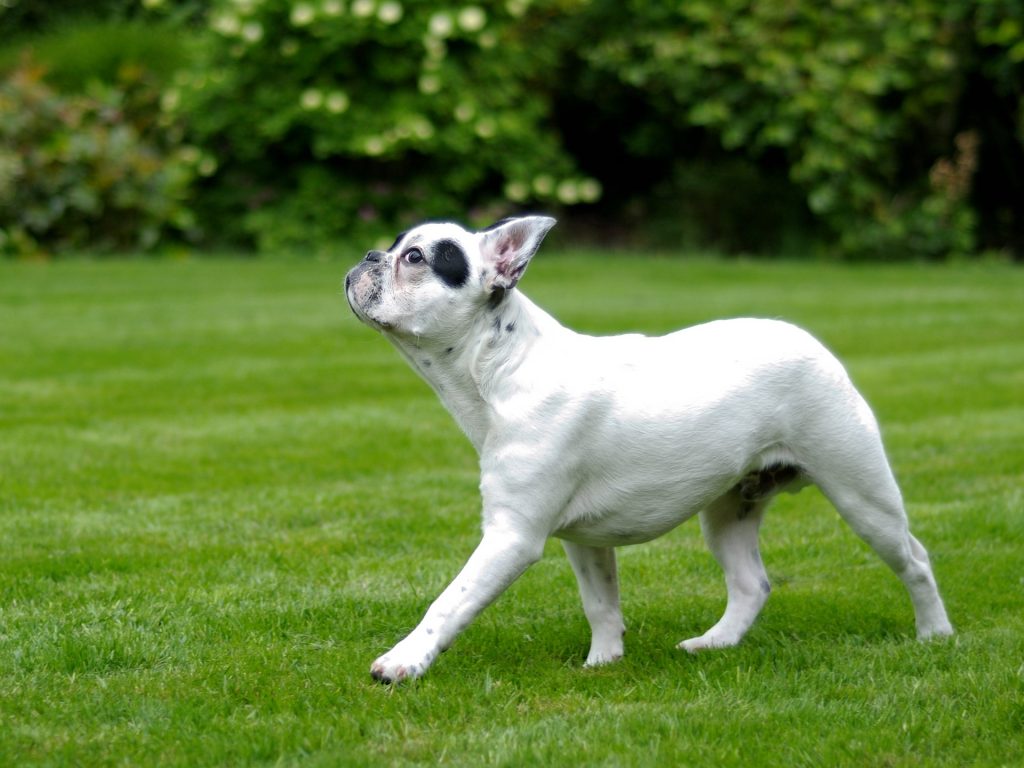 You wake up, and your Frenchie is sitting on your bed, staring right at you. And while you're making lunch, it's there waiting for a piece of food to fall from the kitchen counter. 
It even follows you to the bathroom!
You feel like you don't have a minute to yourself.
It might get on your nerves sometimes – but this is a clear sign of happiness. It means that your Frenchie wants to be by your side 24/7.
Are they clingy? Maybe… 
But most pet owners don't have a problem with their French bulldog sitting by the tub while they're taking a bath.
#4 Wagging Their Tail
You could've guessed this one yourself.
Tail wagging is probably the most famous indicator of happiness in animals, dogs especially. As usual, your Frenchie will wag its tail when it's time to eat or go to the dog park.
However, take note of tail wagging when there's nothing special going on – and it's just you and your Frenchie in the room. That's when you'll know that your pup's genuinely happy.
#5 Staring At You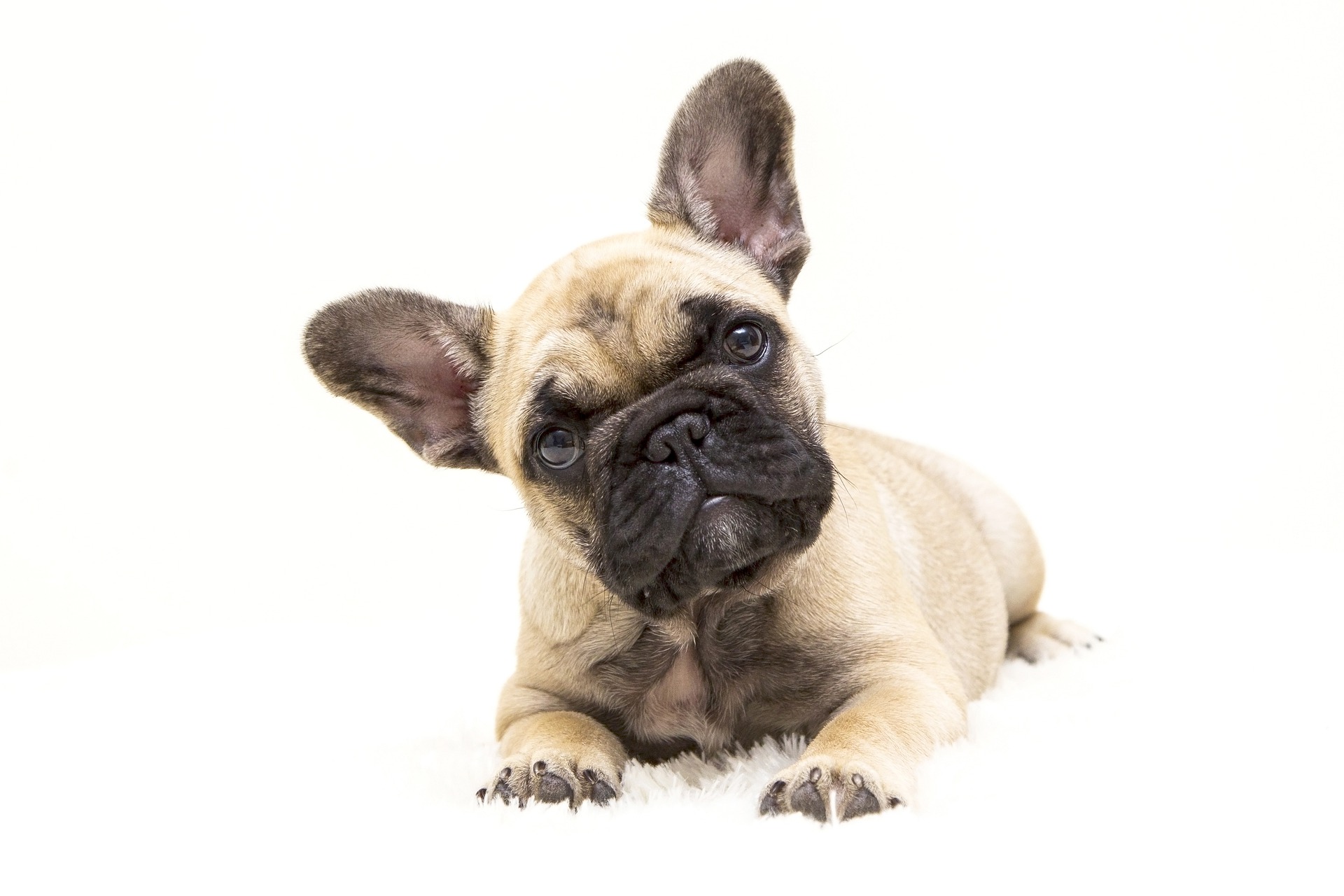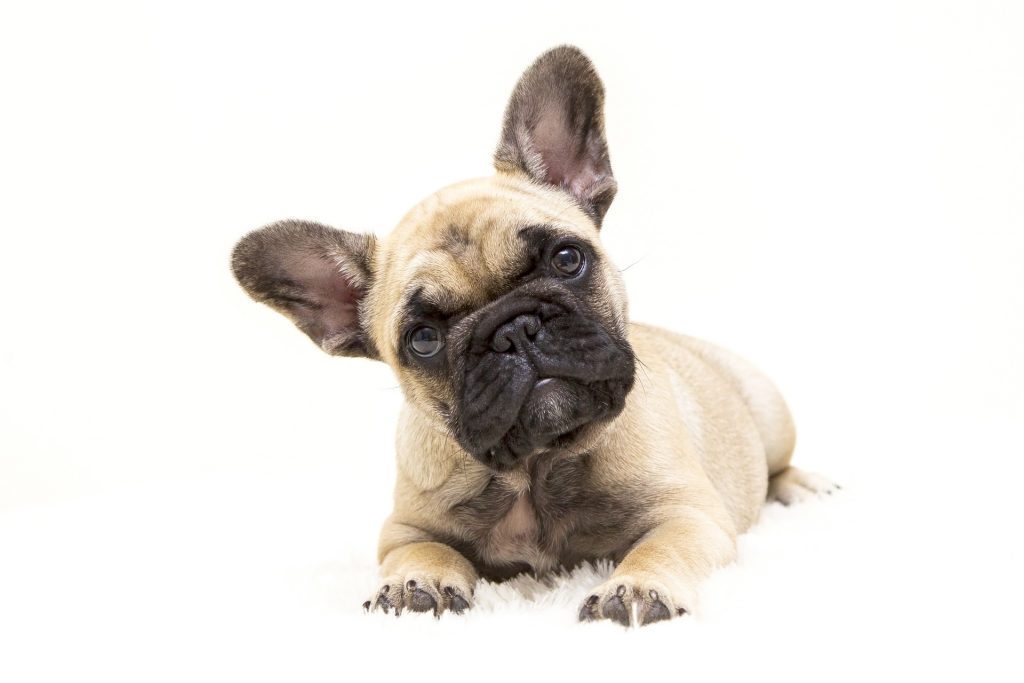 Have you ever caught your Frenchie giving you "the look?"
Well, if you noticed that your French bulldog keeps staring at you and not blinking at all, you shouldn't be intimidated. 
Despite the frown, they're just admiring you – and feeling oh-so-happy.
#6 A Healthy Coat
Happiness can also be seen in appearance.
When your Frenchie's happy, it's healthy – and vice versa. Namely, that's generally visible on your dog's coat: 
If the hair is thick and looks clean and shiny, happiness is guaranteed.
If you're wondering how this is related, it's simple. Inner health and happiness are reflected in beauty. If your French bulldog isn't feeling okay, that could reflect its mood or appearance.
#7 Eating Regularly
Avoiding food and dietary irregularities are often the first sign that something is wrong – both health and behavior-wise. 
If your Frenchie doesn't avoid its meals, eats regularly, and looks forward to treats, you have nothing to worry about: 
You have a happy – and hungry – dog with you.
Here's some advice.
Your Frenchie will probably be extra happy when you give it a couple more treats than usual – but keep it within normal limits. Some owners can't resist those puppy dog eyes and might provide one too many treats. 
Chubby is cute – but obesity is a serious health problem.
#8 Puppy Dog Eyes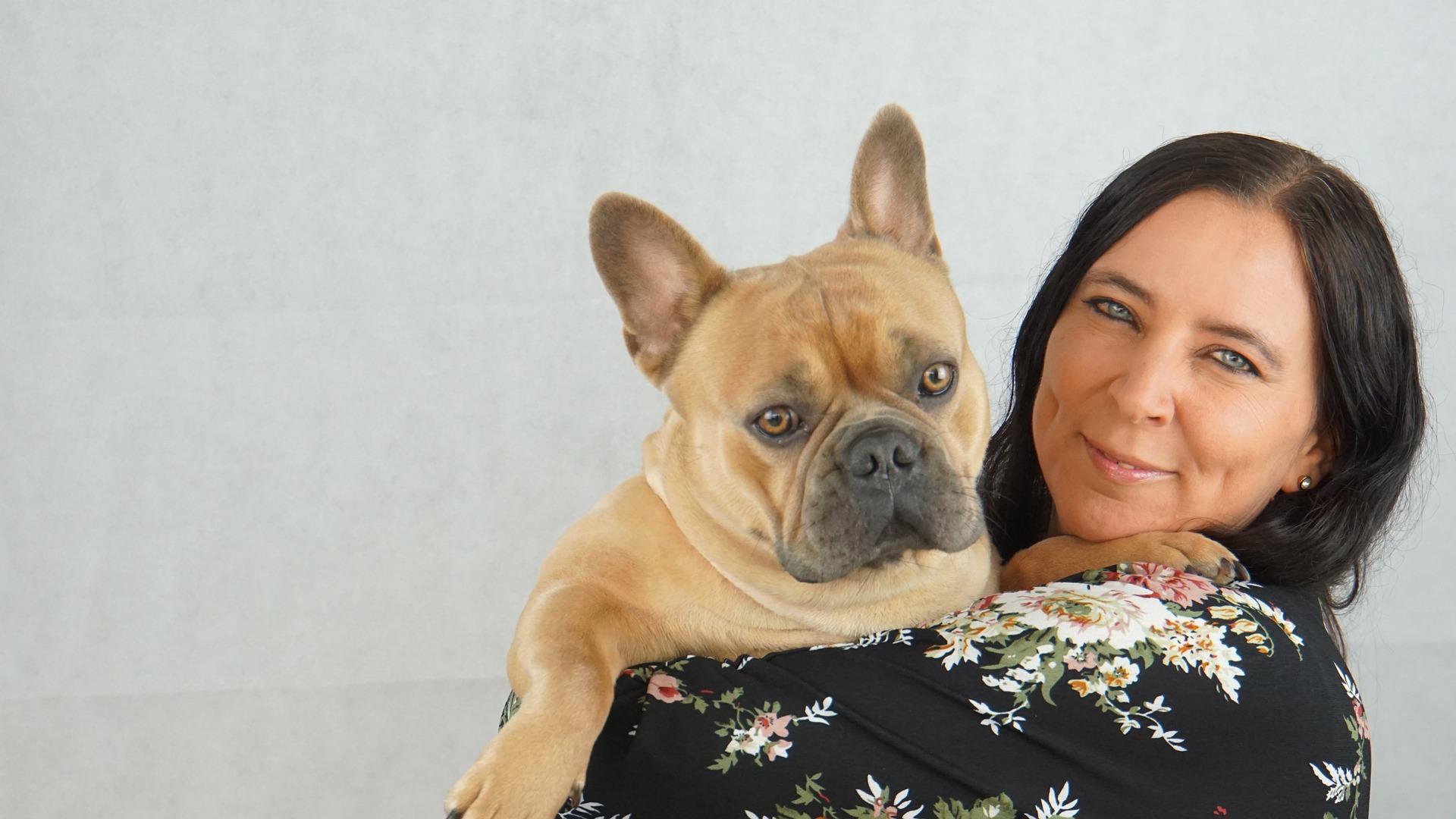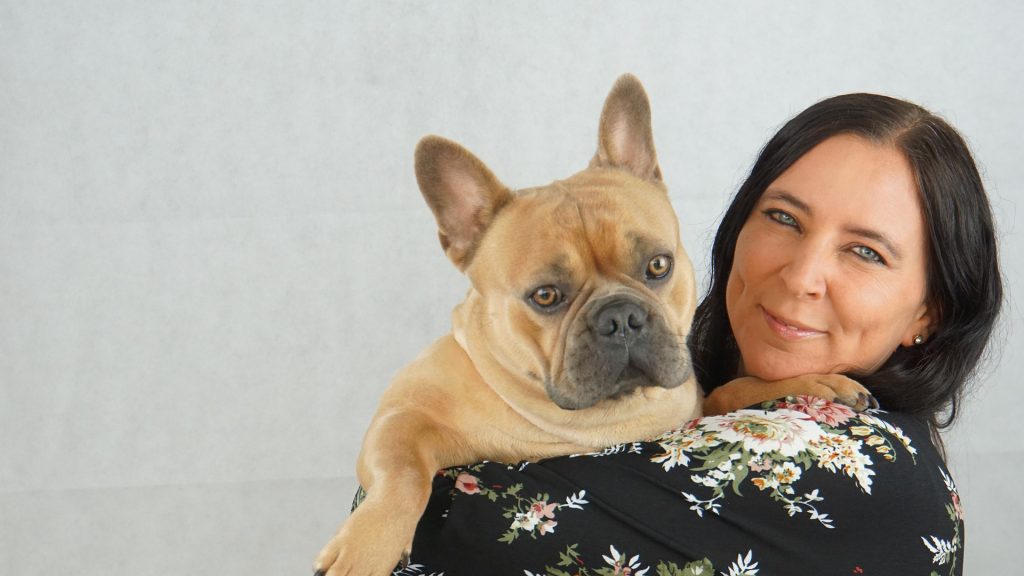 The relaxed look in their eyes is proof that your dog feels happy in your presence. Besides, no one can remain indifferent to their puppy dog eyes.
It's a fact.
Admit it; you feel happy as well watching them like that.
#9 Tongue That's Sticking Out 
Have you ever wondered why some dogs constantly have their tongue stuck out? 
Health-wise, this might have to do with a missing tooth. However, it can also have a positive side to it.
Here's something you might not have known before:
If your Frenchie decides to take a nap and sticks its tongue out while it's sleeping, it means that they're feeling relaxed, safe, and happy.
Want to test this theory? 
Keep an eye out the next time your Frenchie decides to nod off.
#10 Relaxed Ears
You probably heard it before, but we'll repeat it: 
Knowing dog body language can help you a lot. You can notice hints that tell whether your Frenchie is feeling stressed, relaxed, or sleepy.
Take a look at your French bulldog's ears.
If they're not pointed or flattened, that's a good sign. Ears that look relaxed and flutter are a sign that nothing is bothering your dog and that it's perfectly happy.
Wrapping Up
As we said, happiness is made up of little things. 
If you're a French bulldog owner, you'll see hints of happiness in everyday activities and appearance. They'll show their joy by always being around, licking your face, and wagging their tail.
But that's not all. You have to do your part, too. 
You need to take care of your pet – and provide it with a safe and loving home.
All in all, every French bulldog is unique. 
Maybe your pup has a different way of showing happiness? 
Think about it.
We're always looking for ways to improve our content and relate to French bulldog owners worldwide. If you'd like to add something – or share your personal experience – we'll be happy to hear from you.
Now, go cuddle with your pup!
About

Johnny

Johnny, a Frenchie owner and enthusiast, shares his wealth of knowledge on training and caring for French Bulldogs. When not writing, he enjoys hiking and time in nature with his pets.