Your Frenchie's teeth have a lot of work to do – they act as the main tool for eating, playing, and exploring the environment. Thanks to their teeth, French bulldogs are able to discover the world, so it's essential to keep them clean and healthy. 
If not suitably taken care of, your Frenchie's teeth could develop some severe issues. 
So, if you're worried about your dog's dental health, in this article, we'll discuss French bulldog teeth – how to deal with tartar and plaque. Be sure to stick around until the end and learn how to prevent your Frenchie's teeth from going bad!
What Are Tartar And Plaque On Your Frenchie's Teeth?
Tartar and plaque build-up on your little friend's teeth could result in some pretty serious dental problems. 
Plaque refers to the sticky mix of all kinds of food leftovers combined with your dog's saliva. And in case that plaque isn't cleaned regularly and adequately, it can turn into tartar.
Tartar, also called calculus, develops from collecting plaque on your Frenchie's teeth. It presents a brown or yellow porous cover that's hard to remove – and can lead to gum inflammation.
However, issues don't stop here: 
Painful gums often grow to periodontal disease – which results in tooth loss.
Common signs that your French bulldog's suffering from dental problems include:
Swollen gums

Red and bloody gums

Unpleasant odor coming from your Frenchie's mouth

Brown or yellow substance covering your dog's teeth

Appetite loss

Inability to chew food
If you notice these signs, please, visit your vet as they can help you Frenchie the best.
How To Prevent A Frenchie From Getting Tartar And Plaque?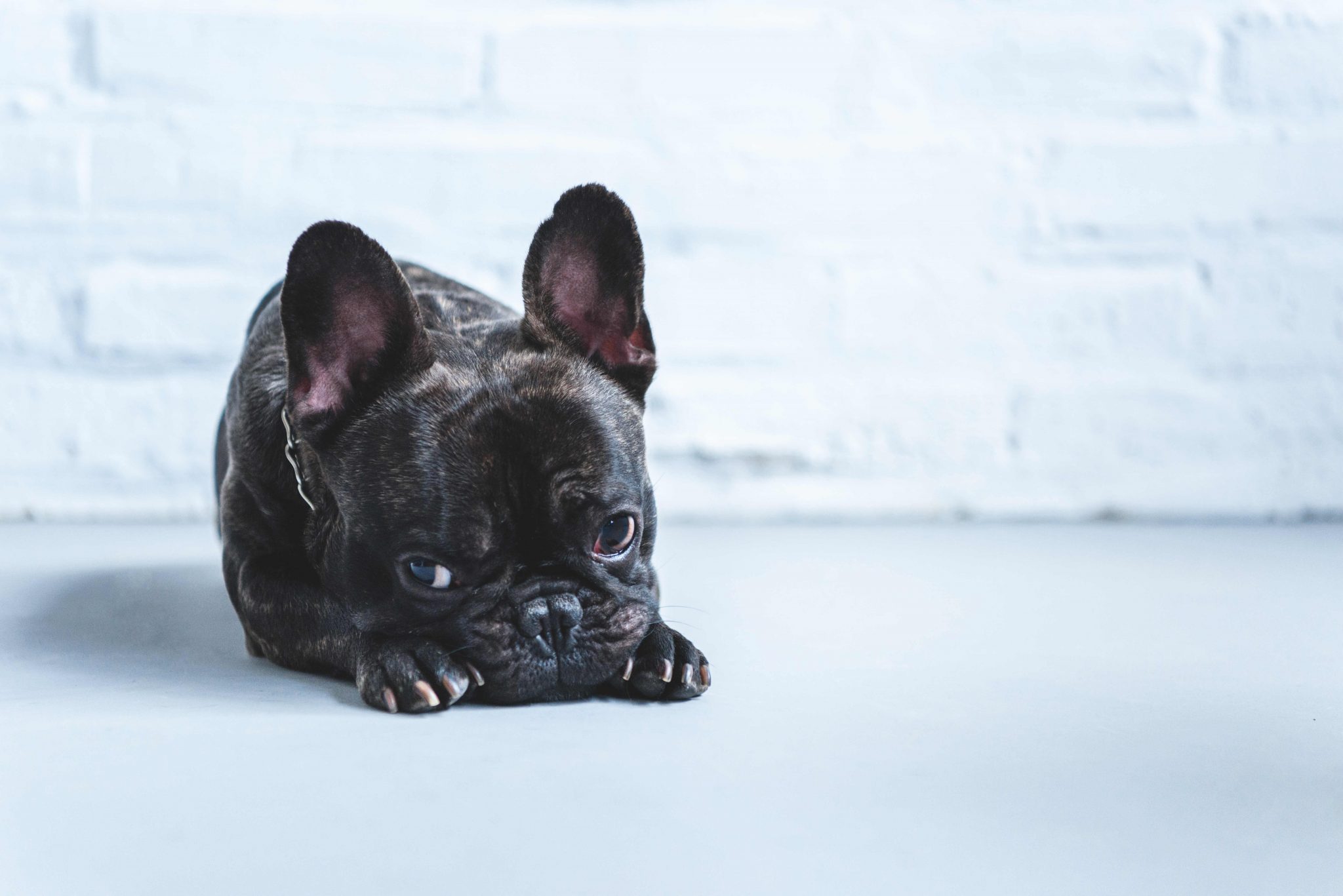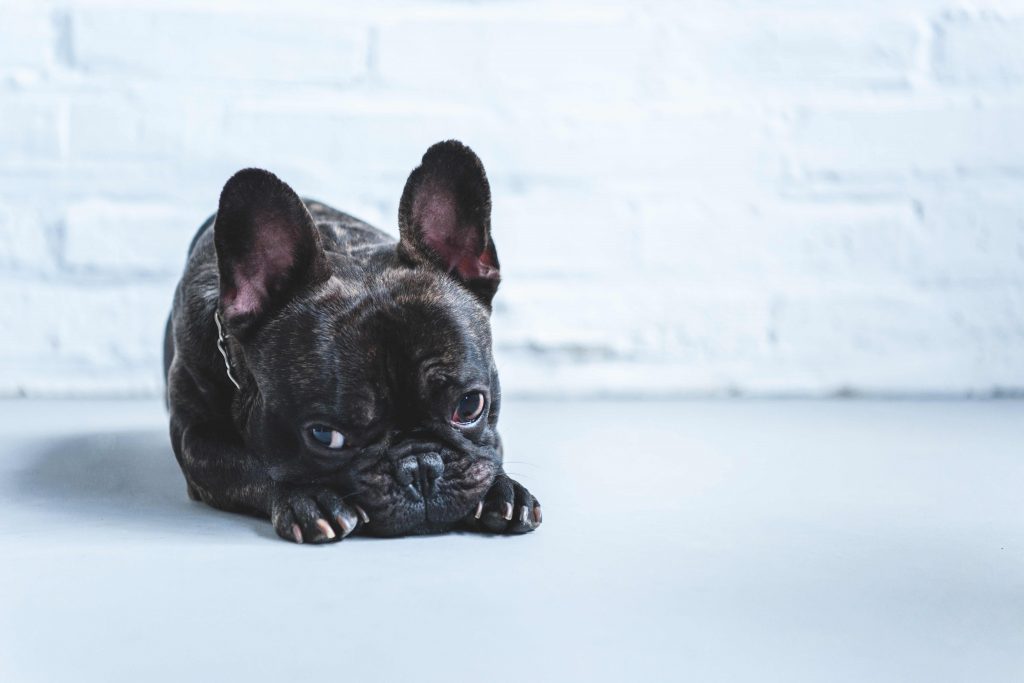 Let's look at some of the best ways to deal with tartar and plaque on your Frenchie's teeth.
Regular Teeth Brushing
Even though it sounds a bit hard to perform, it's crucial to brush your Frenchie's teeth frequently.
You should never use toothpaste that we humans use because it contains fluoride that can be highly poisonous to Frenchies – and dogs in general.
The best time to teach your Frenchie to get used to brushing is when they're still a puppy. We suggest you gradually teach your puppy to become relaxed by allowing them first to sniff the toothbrush and the toothpaste.
Some praise words and tasty snacks as a reward can go a long way in the learning process.
Interestingly enough, you can also select a toothpaste with the taste of dog food – there's no way your French bulldog will not like it!
Adding A Dental Additive Into Water Bowl
If your puppy doesn't like the feeling of brushing teeth, another solution might be to include a dental water additive in your Frenchie's water bowl. 
This dental additive reduces plaque on your dog's teeth that harbors bacteria and freshens your Frenchie's breath. It's a win-win!
Using Dental Wipes
You can also use dental wipes to remove plaque from your Frenchie's teeth. Dental wipes are great for many reasons, mainly because you can gently go over all your dog's teeth – without the need for using a toothbrush. 
Using Dental Treats
Let's be honest, what dog doesn't love treats? 
Dental treats are created to protect your dog's teeth and gums from tartar and plaque build-up – and they come in many different shapes, sizes, and tastes, too.
We recommend you reward your French bulldog with dental treats while training or playing and use them about three times per week. In the meantime, you can use the previously mentioned teeth-cleaning solutions.
Using Dog Chewing Toys
Every Frenchie needs toys – not only to play and learn new tricks but also to clean their teeth on their own. 
Toys can be an excellent solution for Frenchies that go through a terrible teething phase. They'll teach your pup what to chew, too. That way, you won't have to come back home from work and find your furniture ruined.
The Role Of Diet In Teeth Care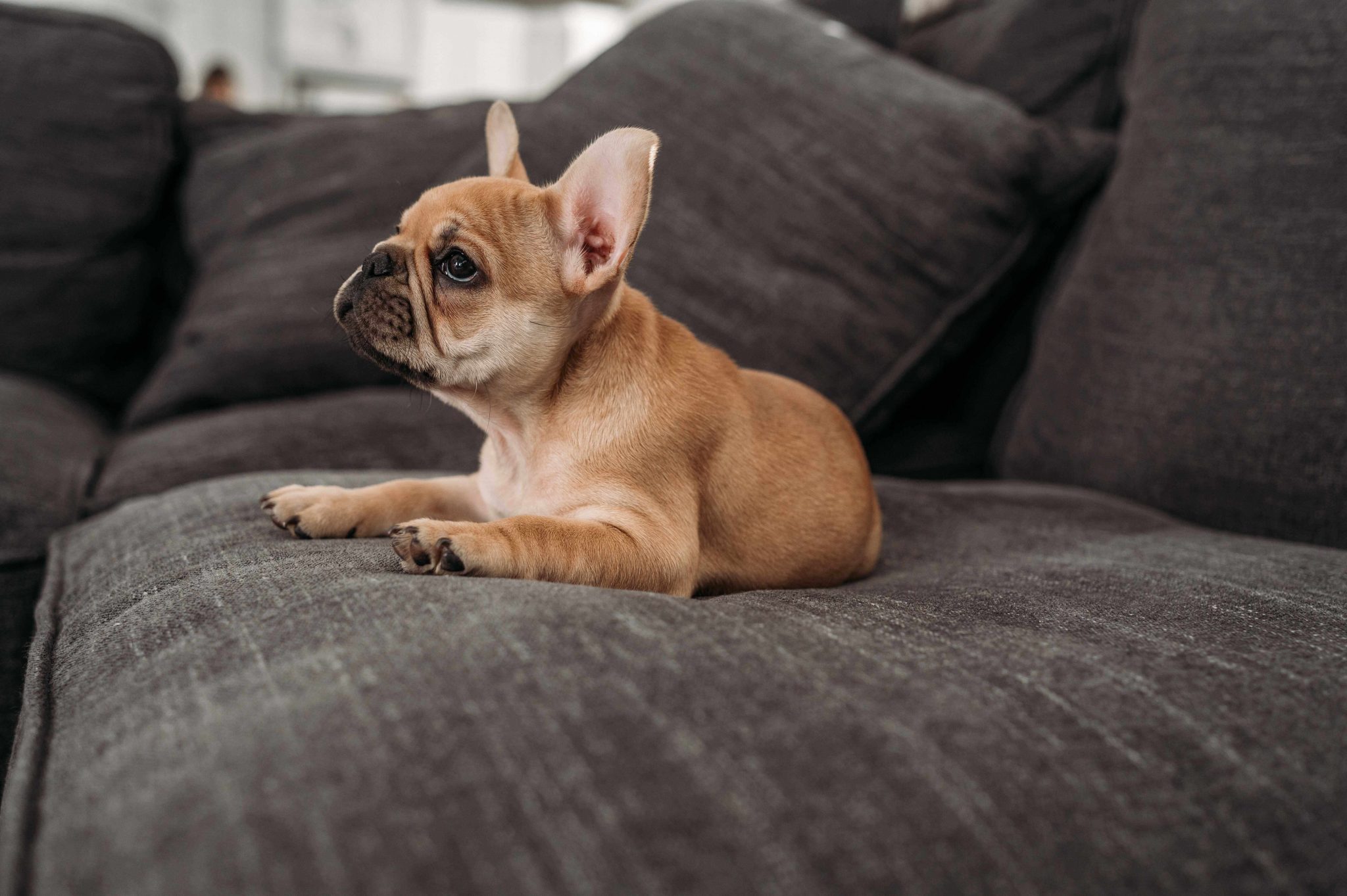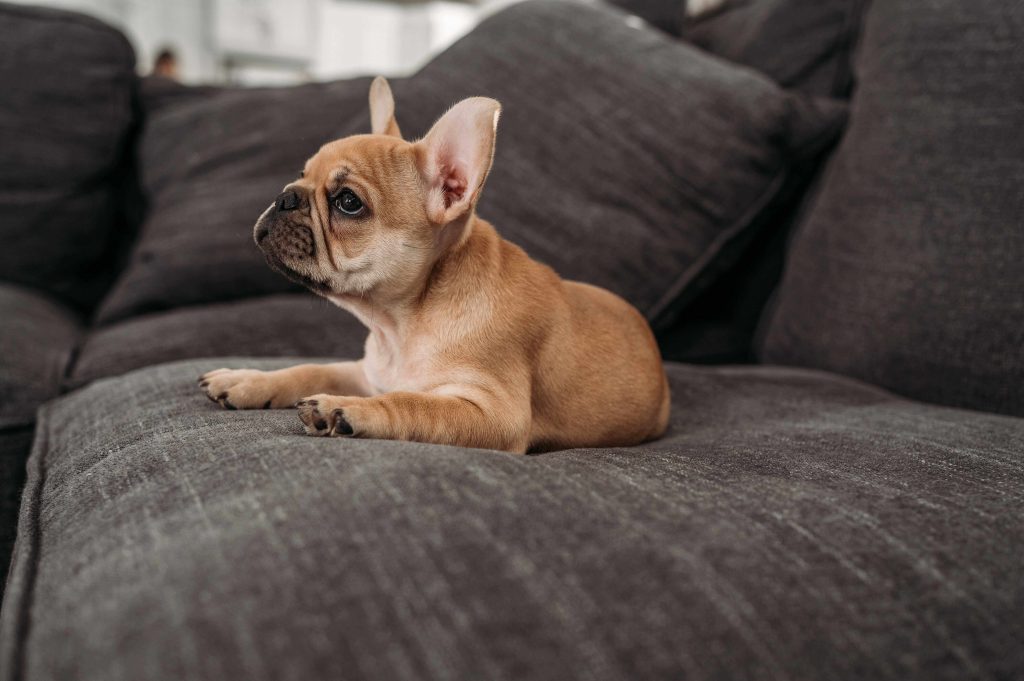 Besides all the previously mentioned tips, the diet you provide your Frenchie with can impact its dental health – a lot.
We recommend that you try feeding your French bulldog the so-called "BARF" diet. 
It doesn't sound great, we know – but a biologically-approved raw food diet is generally suitable for your Frenchie's sensitive digestive system and skin that's usually prone to allergies. 
Benefits Of BARF Diet
As a dog owner, you're probably thinking of the best foods and ingredients that you can add to your Frenchie's diet.
When you feed your little friend with canned food or dry kibble food, the only thing left is to trust in what's written on the label.
Sure, there are plenty of great choices when it comes to canned food and dry kibble dog food – but a carefully thought-out menu is something that will suit your Frenchie's sensitive body the best.
Considering how much you spend on canned food, the BARF diet is not only a healthier alternative but also a cheaper choice.
Let us remind you of something before we continue: 
Dogs are part carnivores, part omnivores, and were around for hundreds of years – their genetic material remained pretty much the same.
That means that, throughout history, dogs ate raw meat and other fresh ingredients; their bellies are made to digest that kind of food. 
In other words, Frenchies need the same type of nutrition as their wild ancestors to stay healthy.
When we talk about providing a Frenchie with the BARF diet, we can assure you that it's going to improve your dog's mood and energy level. Other benefits of the BARF diet include healthier skin, a shiny coat, and, of course, healthy teeth. 
All of this implies reduced vet visits, too.
How To Tailor The BARF Diet?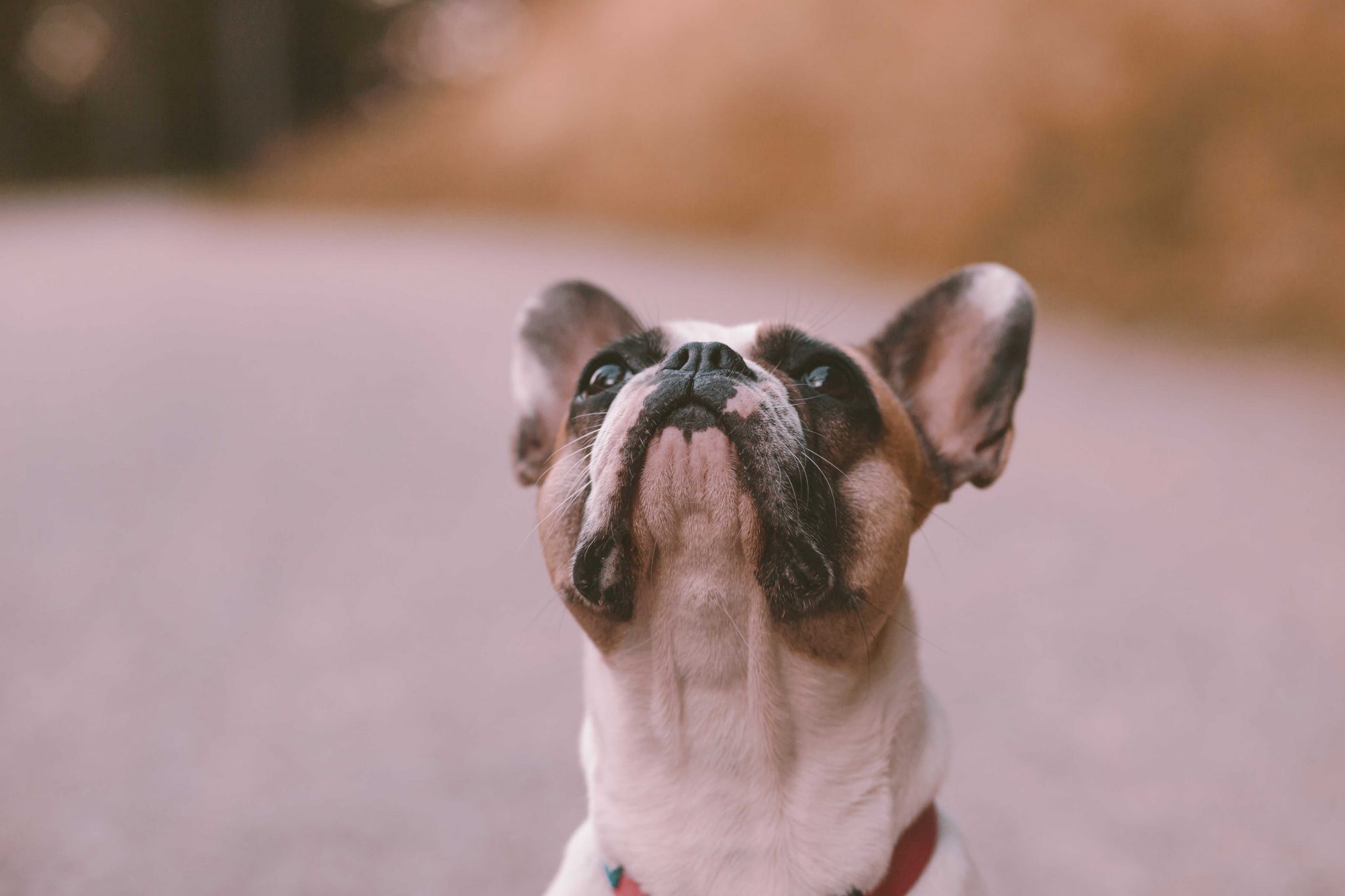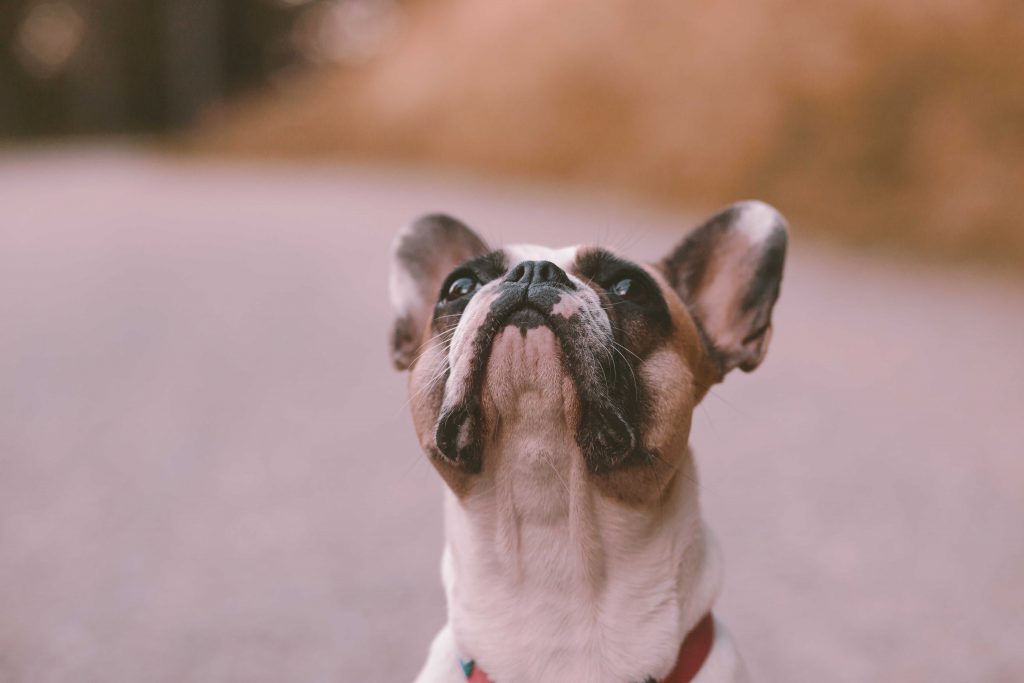 Ideally, this diet should consist of raw meat – between 25% and 75% – and the so-called natural additives. 
"Natural additives" refer to organ meat, veggies, bones, and supplements. The percentage of meat depends on your dog's age and energy level, of course. 
If you have a Frenchie puppy, their diet should be 50-75% meat. On the other hand, adult and senior Frenchie's diet shouldn't consist of more than 25% meat.
What To Pay Attention To?
Dogs – especially puppies – require a sufficient amount of minerals, especially phosphorus and calcium. These are important for keeping your French bulldog's teeth, joints, hips, and bones, in general, healthy.
While meat is rich in phosphorus, bones are rich in minerals. So, you should add some calcium to your Frenchie's diet, too.
You can include fish and eggshells in ⅓ of your French bulldog's meal, or you can use a calcium supplement. 
That said, we don't recommend raw eggs or eggs in general for French bulldogs since they can lead to allergies. Also, we suggest you don't feed your Frenchie chicken heads and skin.
Conclusion: French Bulldog Teeth – How To Deal With Tartar And Plaque?
So, how to deal with tartar and plaque in your Frenchie? There are several things you can do to take care of your Frenchie's teeth.
Regular teeth brushing, use of dental wipes, dental treats, and dog chewing toys are all great examples of good teeth health care for your French bulldog.
Additionally, diet plays a massive role in your Frenchie's teeth, health. We recommend checking out the BARF diet. 
Ultimately, if you notice your little friend suffers from swollen gums, appetite loss, or inability to chew, don't hesitate to visit your vet. They'll be able to help your French bulldog with their dental troubles.
About

Johnny

Johnny, a Frenchie owner and enthusiast, shares his wealth of knowledge on training and caring for French Bulldogs. When not writing, he enjoys hiking and time in nature with his pets.