If you want your Frenchie to be as healthy and happy as they can be, dental care must be one of your priorities. Regular dental care is one of the best ways to preserve your French bulldog's well-being because numerous health issues start in the dog's mouth. 
The good news is that Frenchies are easy-going dogs that will need only a bit of proper training for you two to begin practicing good dental hygiene. You shouldn't have any problems as long as you start early on.
There are two ways to clean your Frenchie's teeth: 
One includes a toothbrush and toothpaste, and the other has to do with dog toys. It's best to combine both, though!
Maintaining good oral hygiene will help protect your Frenchie from common dental health issues – such as oral malodor, plaque, tartar buildup, and periodontal disease. 
We have some great tips to keep your French bulldog's teeth healthy. So, if you're ready to learn, let's start!
How to Brush Your Frenchie's Teeth: A Step By Step Guide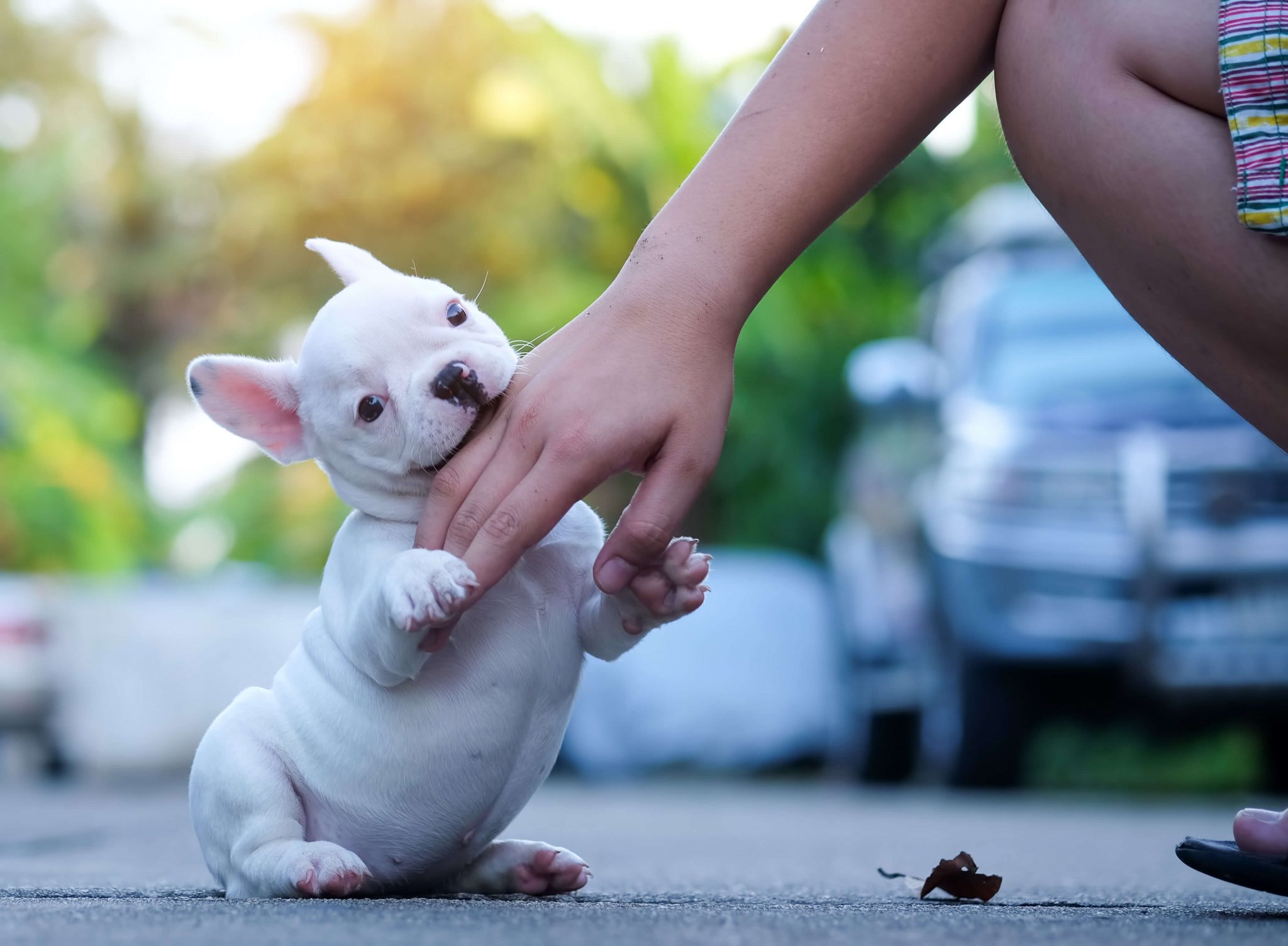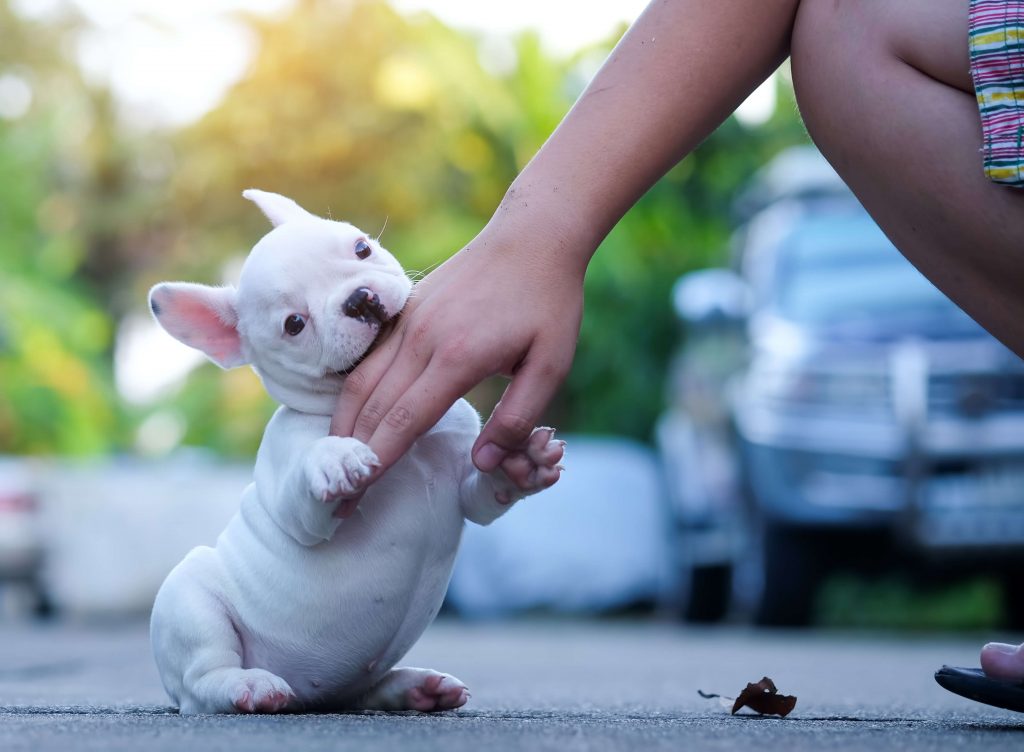 Allow us to guide you through the teeth-cleaning process; it'll make things a whole lot easier for you and your Frenchie. 
Get The Right Tools
Make sure you buy a toothbrush and toothpaste that are specially designed for canines. Never use products made for people – they are not suitable for dogs! 
Your toothbrush is too big for your Frenchie, while your toothpaste is packed with chemicals and additives that can endanger their health.
For an even more convenient solution, get a special spray and wipes intended for canine dental hygiene. 
Choose The Right Moment
Your Frenchie will have to sit still for you to clean their teeth, and as you probably already know, that can be an issue because French bulldogs have a ton of energy. 
So, make sure your Frenchie's tired and well-fed before you start the procedure. A tired dog is a compliant dog. It would be best to eliminate all the potential distractions, too. 
Start Cleaning Your Frenchie's Teeth
Wet the toothbrush and apply a bit of toothpaste to it. Frenchies' mouths are small, so be careful not to overdo it; a pea-sized amount will suffice.
You should clean canine teeth with soft circular motions. Make sure you clean them thoroughly. The back molars might be a bit difficult to reach due to your Frenchie's fleshy cheeks – but they are often the ones most covered in plaque and must not be overlooked. 
If you choose to take an alternative route and use the spray and wipes we've mentioned before, all you have to do is rub your Frenchie's teeth with the wipes.
Reward Your Frenchie With A Favorite Treat
Once you're done cleaning your Frenchie's teeth, and they're as white as shiny as they can be, your pup deserves a reward for being patient. 
Frenchies are incredibly food motivated, and knowing that they'll have a tasty bite at the end of the procedure will make them cooperate way better!
The Best Teeth Cleaning Toys For French Bulldogs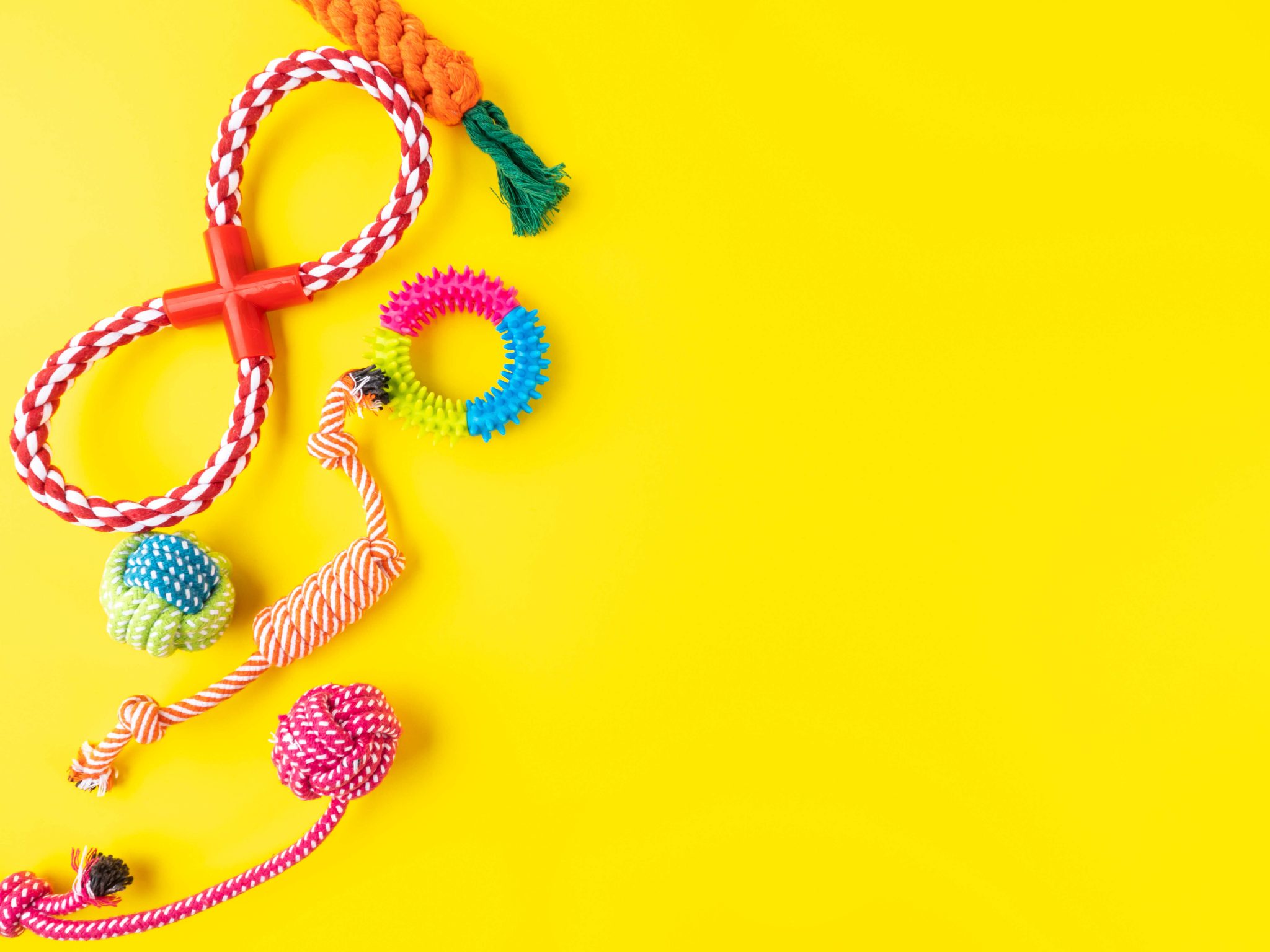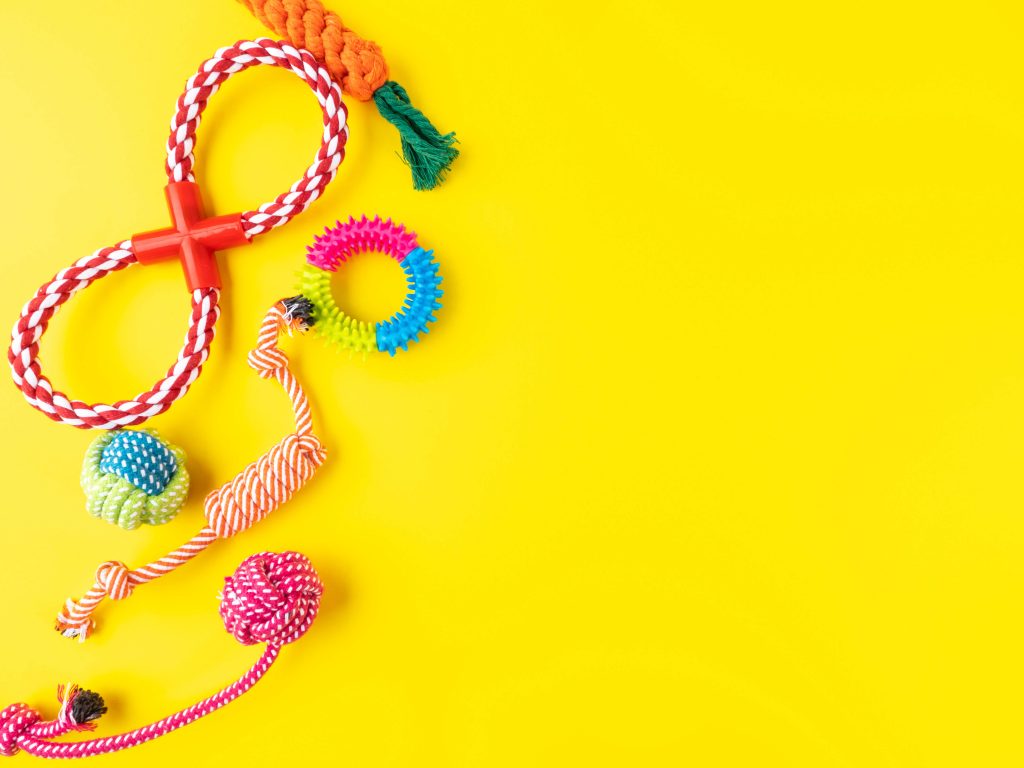 The importance of cleaning a dog's teeth cannot be overemphasized! Yet, brushing your French bulldog's teeth can be pretty challenging. 
These little cuties can be a real handful sometimes.
To make things a bit easier and more fun for your Frenchie, you should get creative about it! For example, using specially designed dog toys and dental snacks can significantly help clean your Frenchie's teeth efficiently and stress-free.
So let's see what the seven best teeth cleaning dog toys you can give to your French bulldog are, shall we? 
1. Brushing Sticks
A brushing stick is a neatly-designed dog toy that enables your little Frenchie to clean its teeth on its own. In short, it's a highly-effective dog toothbrush.
The unique design of the toy encourages your French bulldog to bite on and chew it – and while doing so, your pet will clean their teeth from top to bottom – even the notorious back molars. 
The best part is that your dog will be utterly oblivious to doing anything but having fun and playing. Your Frenchie will love the stick and use it often, which will enhance its oral hygiene even further.
You could add some toothpaste to the brushing stick, too. In this way, you'll make the toy even more effective. Dog toothpaste is designed not only to clean canine teeth but also to strengthen and protect them.
2. Wood Chews
If your Frenchie is particularly fond of chewing on tree branches, a wooden chew toy might be one of the best choices for dental care. These toys are a genuine chewy attraction – but they're much safer than actual pieces of wood.
Wood chews are typically made of natural wood and special synthetic materials that eliminate the risk of splintering, choking, or bacterial infections. 
Yet, these toys look and smell just like the real thing – and any canine chewing enthusiast will be as happy as a dog with two tails.
Chewing an artificial wood stick will brush your Frenchie's teeth, remove plaque, and exercise their gums. 
Choose the right size for your little pooch – and playtime can begin!
3. Real Flavor Dental Chew Toys
Your food-loving Frenchie will appreciate any chew toy that has an authentic bacon flavor. It'll be an instant hit!
The mouth-watering aroma will keep your pup busy for hours – and once they're done playing, their smile will be brighter than ever. 
Most of these chew toys come in different sizes so that dogs of all shapes and sizes can enjoy them. Small size is the best choice for little dogs, like Frenchies. 
4. Rope Dog Toys
Young Frenchies will have no problem chewing on tough materials and super strong rubber, but it might become dangerous when they get older. 
Older teeth are more prone to breaking and chipping; it's best to avoid any unnecessary risk. 
Luckily for you – and your dog – there are soft chewing toys such as ropes made of cotton. 
The blended cotton piece of rope is much softer than rubber – but it will invigorate the Frenchie's gums and make their chompers shine. 
Chewing this natural toy will also stimulate your pet's saliva, rinsing their mouth and eliminating unwanted bacteria.
You can improve the results by putting a little bit of toothpaste on the rope. You're allowed to be sneaky if it's for a good cause! 
The best thing about rope dog toys is that the fibers act like dental floss, cleaning hard-to-reach areas between teeth. And teething puppies will adore and greatly benefit from these toys, too!
If your Frenchie is an overly-enthusiastic chewer, you should supervise them when playing with a cotton rope toy, though. It's not a very tough toy – and vicious chewers could bite through it.
5. Bristle Bones
Bristle bones are great chewing toys available in a range of sizes. They typically feature rubber nubs and nylon bristles designed to keep your Frenchie's teeth clean and stimulate the gums. 
Plus, they're often equipped with treats that your pup can chew on to their heart's content – and you can refill the treats for endless fun, too. 
Your Frenchie will never get tired of it!
6. Tug Dog Toys
If you Frenchie likes to play tug of war with you, you can kill two flies with one stone and get a tug dog toy that cleans their teeth. 
Your pooch won't even notice that dental maintenance is on – they'll be having too much fun to doubt anything is wrong! 
Tug of war is generally a highly beneficial game as far as dental health is concerned. It keeps your dog's teeth and gums clean. The best tug dog toys are made of tough, high-quality rubber and have a bumpy texture that helps clean your canine's teeth.
7. Puzzle Teething Balls
A ball with a teeth-like design allows you to add some yummies and make things even more interesting for your Frenchie: 
Your Frenchie will spend a lot of time trying to figure out how to get the treats out of the teething ball and devour them. During this adorable "struggle," your French bulldog's teeth and mouth will be thoroughly cleaned, too. 
Make sure the ball you choose is made of robust and non-toxic rubber, though.
Final Tip & Summary
Before you go, remember just how important dental hygiene is for dogs! 
It's not about bad breath and yellow teeth – dogs can develop serious problems, such as plaque buildup, gingivitis, and even life-threatening infections. Be responsible and keep your Frenchie's teeth clean!
About

Johnny

Johnny, a Frenchie owner and enthusiast, shares his wealth of knowledge on training and caring for French Bulldogs. When not writing, he enjoys hiking and time in nature with his pets.