Your Frenchie's eyes are as sensitive as yours. Therefore, they are prone to irritation, allergic reaction, some illness, or trauma.
That said, do your French bulldog's eyes seem different than usual?
Don't worry. 
If you're looking for an answer to "Why are my French bulldog's eyes bloodshot?" you are at the right place.
We know that you're worried and that you want quick answers. So, let`s start right away!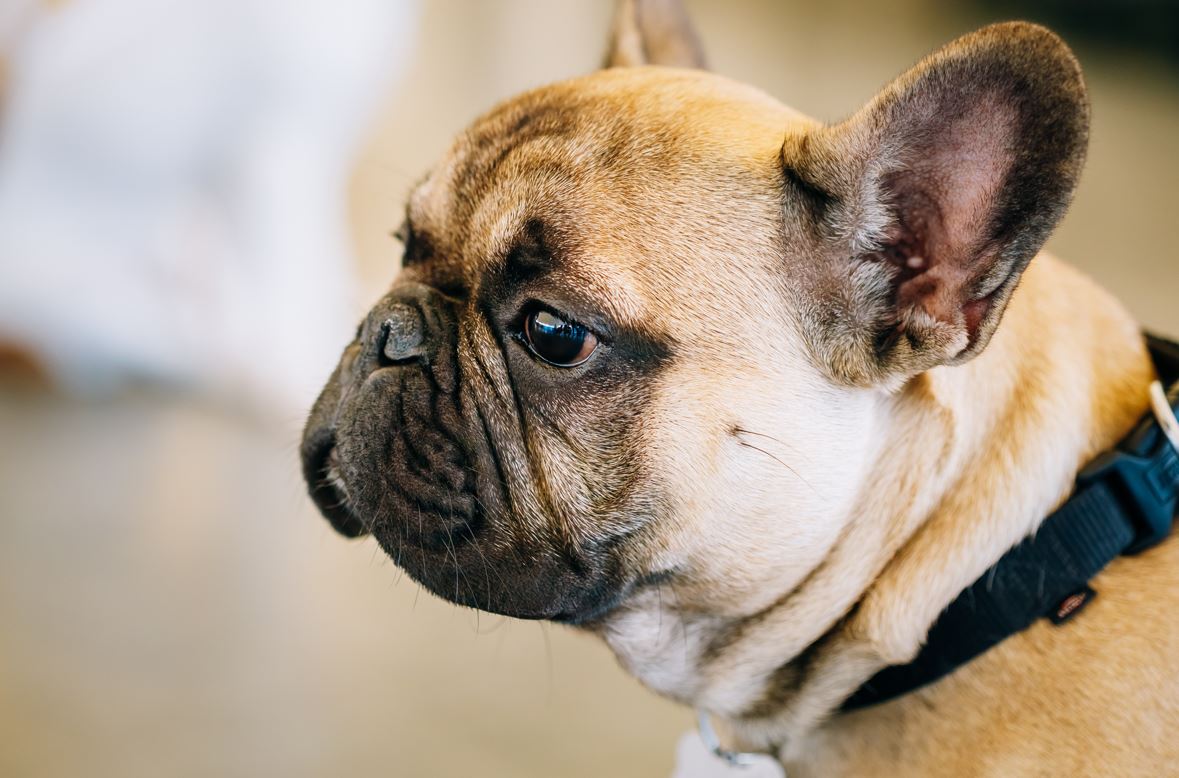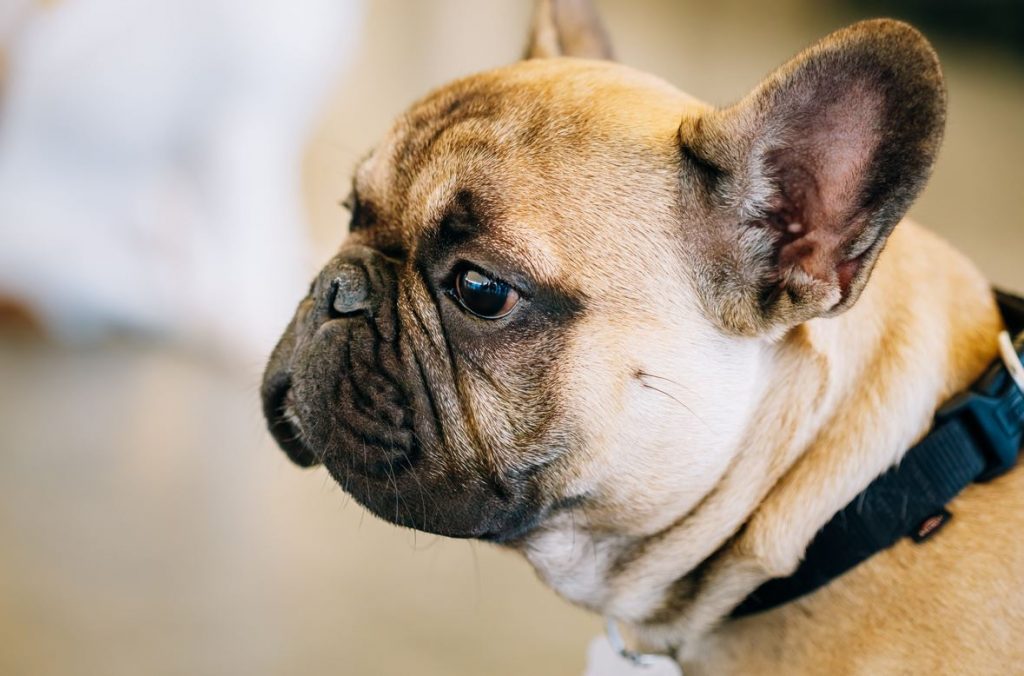 Why Do French Bulldogs Have Red Eyes?
Our beloved Frenchies are very sensitive – especially their eyes. So, it should not surprise you that these cute pooches often develop bloodshot, red eyes. The real question is: 
Why does this happen?
There are numerous possible reasons for your pet's bloodshot eyes, such as:
Cherry eye
Allergies
Conjunctivitis 
Dry eye syndrome
Corneal ulcers
Fever
Glaucoma
Let's talk about each condition in more depth!
Cherry Eye
Red and bloodshot eyes in French bulldogs are often the result of a cherry eye. This condition is characterized by red tissue protruding from the inside corner of a dog`s eye.
Symptoms:
Prolapsed gland of the eyelid
Watery eyes 
Discharge
Redness
Treatment
Even though this condition can seem quite scary and hurtful, it's not. Nevertheless, you have to visit the vet ASAP. 
If you fail to treat your Frenchie`s eyes properly, you risk various complications.
Treatment usually includes surgical intervention so that the gland can be sutured back in place – or removed. You might also receive some eye drops for your best friend. 
Allergies
Your Frenchie can develop allergies – just like you. 
The most common canine allergies are seasonal or food allergies. Many dogs are also allergic to mold, dust, or some chemicals used around the house.
Symptoms:
Redness
Tears 
Watery discharge
Itchiness and scratching
Excessive licking 
Sneezing
Inflamed skin
Hair loss
Treatment 
The treatment depends on the type of allergy your Frenchie has. Only your vet can tell you what to do to help your pup get better. 
Be patient, though; pinpointing allergens can take a lot of time.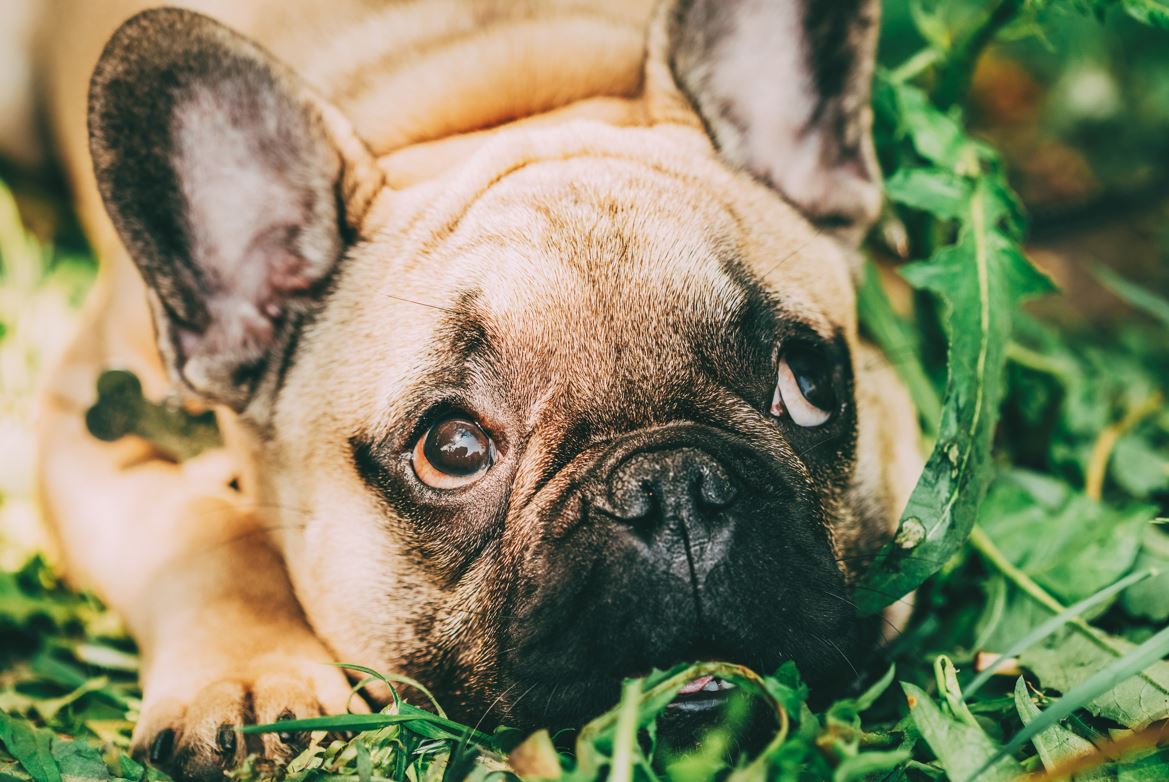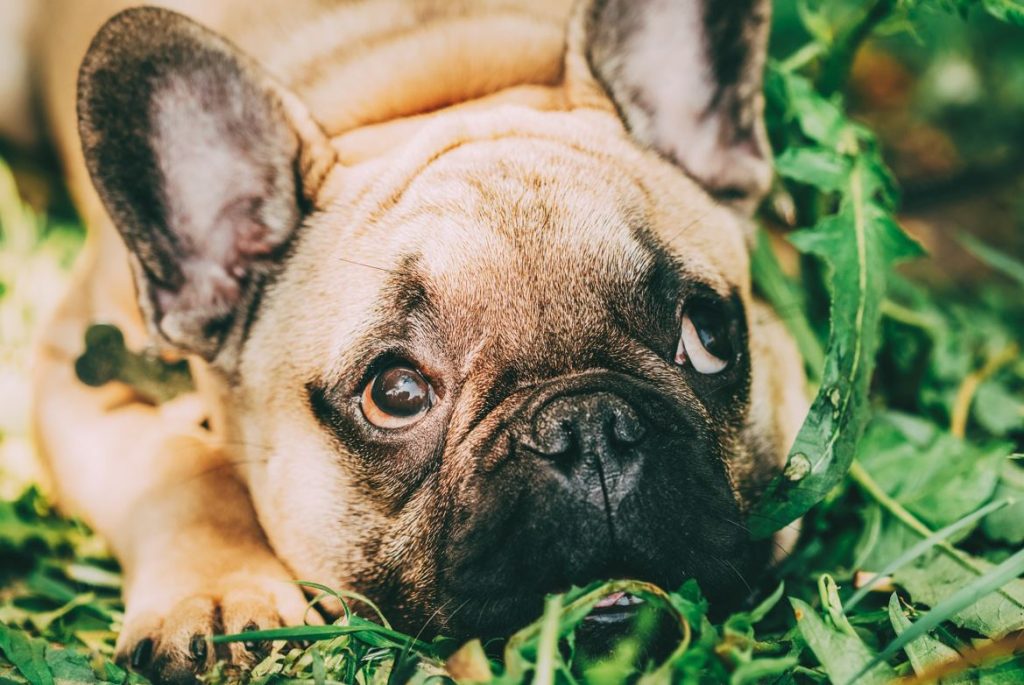 Conjunctivitis
Conjunctivitis or pink eye can be both infectious and non-infectious. 
Infectious conjunctivitis is a  result of a virus or bacterial infection, while the non-infectious pink eye is usually caused by irritation, allergy, injury, illness, or a congenital condition.
Symptoms:
Redness
Puffy eyes
Itchiness
Eye discharge
Eyelids stuck together
Squinting
Swelling of the eyelid lining (conjunctiva)
Treatment 
The vet will first determine the underlying cause of your Frenchie`s pink eye and prescribe the proper treatment accordingly. Infectious conjunctivitis is treated with antibacterial or antifungal medicines. The therapy usually includes anti-inflammatory medications, as well.
Dry Eye Syndrome
If your French bulldog's eyes appear dry, the problem might be the lack of tears. This condition is called keratoconjunctivitis sicca (KCS), or simply the dry eye.
KCS occurs when your dog's tear glands fail to produce enough moisture. It can result from eye trauma or some underlying health condition.
Symptoms:
Redness
Itchiness
Pain
Thick, yellow-green discharge
Excessive blinking
Treatment 
The vet will most probably prescribe eye drops that will help keep your Frenchie's eyes moist. You will have to make sure the eyes are always clean, too. Since dry eye can be a chronic condition, the treatment might be lifelong.
Corneal Ulcers
Corneal ulcers are one of the most severe eye conditions your Frenchie can have. It can result from untreated dry eye syndrome, physical trauma, or chemical burns caused by the grooming products you use – or other substances that got into your pup's eyes. 
It's a painful condition – and it can lead to blindness. Take your Frenchie to the vet immediately! 
Symptoms:
Cloudy, bloodshot eyes
Visible crater
Closed eye
Squinting
Watery discharge
Excessive blinking
Scratching the eye
Avoiding bright light
Treatment
The treatment of corneal ulcers usually involves some type of antibiotic and dog-friendly pain medication. If your French bulldog has a severe case of this condition, it may require surgical intervention to prevent blindness.
Fever
Bloodshot eyes can be caused by fever, too. You should always check your French bulldog's temperature – especially if there are other symptoms present.
Symptoms:
Red, glassy-looking eyes
Warm nose and ears
Loss of appetite
Shivering
Panting
Lack of energy
Runny nose
Coughing
Treatment
There are a few things you can do to help reduce your Frenchie's temperature. 
First, apply cool, soaked towels around your friend's paws and ears. Make sure your Frenchie's hydrated, too. Your vet will prescribe medications to bring down the fever and proper therapy to treat the actual cause of the increased bodily temperature. 
Glaucoma
Glaucoma is caused by fluid buildup in your French bulldog's eyes. It's a rather painful condition characterized by swelling and pressure. 
If left untreated, glaucoma could lead to damage of the optic nerve – or even blindness.
Symptoms:
Pain
Cloudy bloodshot eyes
Swollen eyes
Receding eyeballs
Dilated pupils
Unresponsive pupils
Impaired vision
Treatment 
Take your French bulldog to the vet as soon as you notice any signs of glaucoma. It'll give your pooch the best chance of full recovery. Treatment usually consists of topical medicine or laser surgery. 
A word of caution: 
Wait too long, and the chances are the vet will have to remove one (or both) eyes surgically.
Other Possible Reasons For Bloodshot Eyes In French Bulldogs
In addition to all the above-listed causes, bloodshot eyes in French bulldogs can be a sign of an eye injury – or a chronic condition, such as diabetes or hyperthyroidism. It might also result from an illness, such as distemper. 
And in some cases, red eyes could indicate certain types of cancer.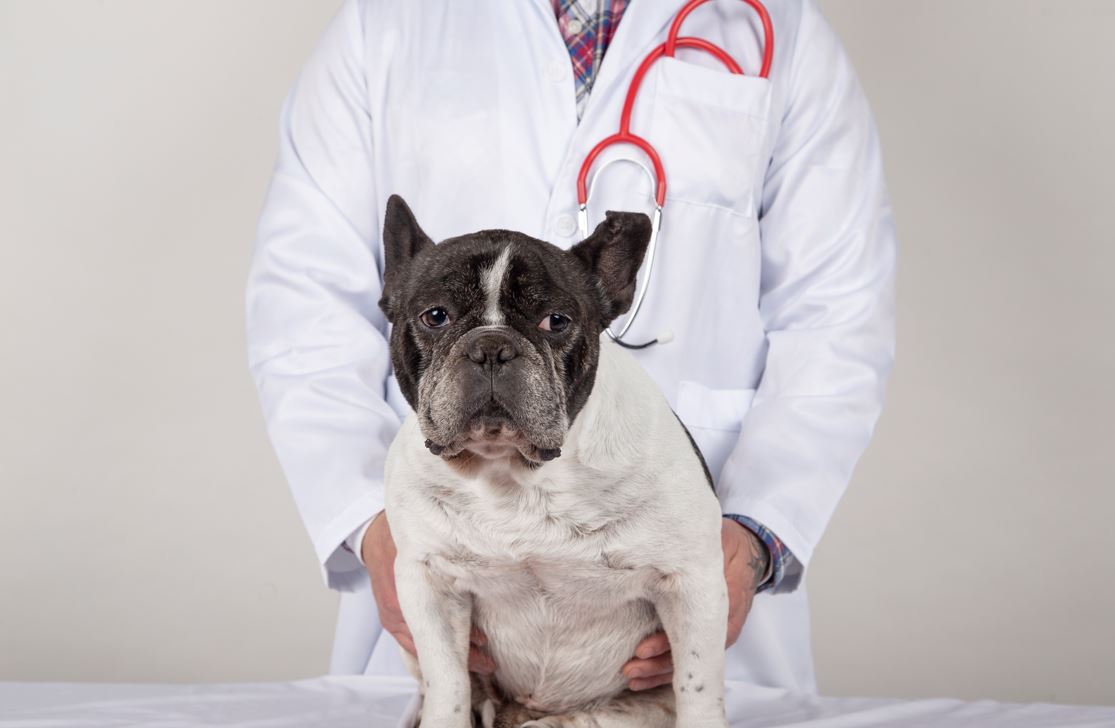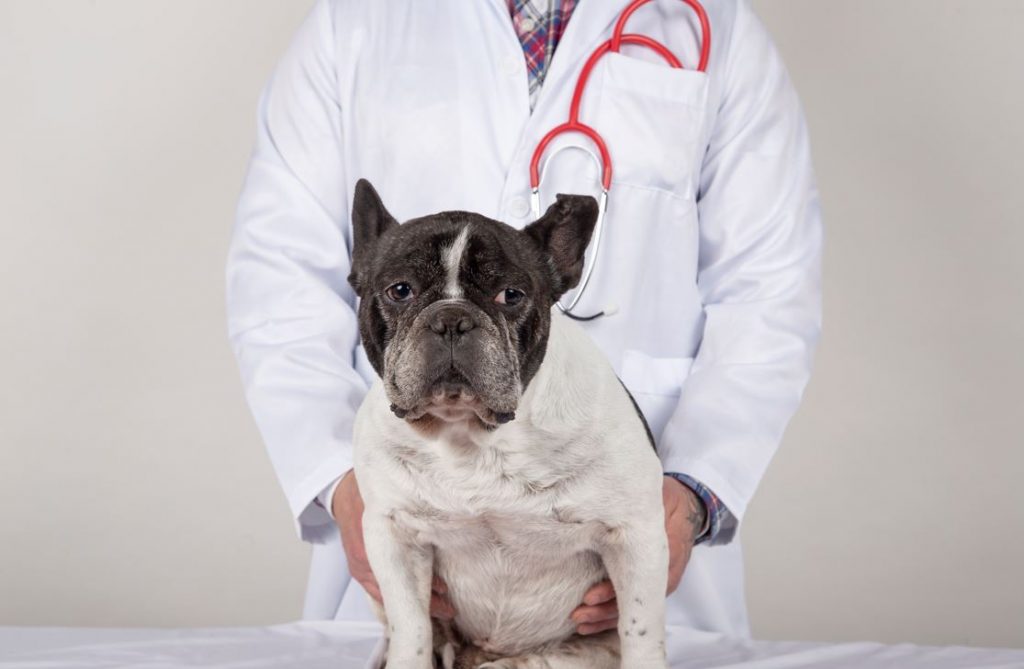 How To Reduce The Risk Of French Bulldog Red Eyes
Unfortunately, flat-faced dog breeds – such as French bulldogs – have a genetic disposition for eye problems. So, you're likely to encounter eye-related health issues sooner or later.
Here are some things that might reduce the risk:
Use only gentle dog shampoos and make sure the soap doesn't get into your Frenchie's eyes.
Try to minimize the risk of an eye injury by keeping sharp objects away from your pet.
Do not use harsh chemicals around your house.
Examine your dog's eyes regularly and check for dry eye, unusual discharge, or marks.
Clean your Frenchie's tear stains regularly to prevent infection. Use only sterile eyewash and eyewash pads.
Finally – and please remember this – do not try to treat your French bulldog on your own! Do not buy over-the-counter medications without consulting your vet first. 
Contact your vet as soon as you notice bloodshot eyes. It's the only proper way to deal with this problem.
The vet will determine the underlying cause and prescribe the meds that your furry friend needs! Do not risk your Frenchie's health by playing doctor yourself!
About

Johnny

Johnny, a Frenchie owner and enthusiast, shares his wealth of knowledge on training and caring for French Bulldogs. When not writing, he enjoys hiking and time in nature with his pets.